There are high expectations for 20-year-old players in major junior hockey. Teams are only allowed three, which considerably whittles down a pool of players selected for a transitional season sandwiched between the late teenage years and the more clearly defined hockey-as-a-profession leap that the most qualified are able to take. Those "20's" are expected to reach important levels of productivity while establishing a bar of accountability and leadership that can later be replicated by the next crop of 20-year-olds, and Spencer Watson did just that.

Watson, who was only returned to the AHL because wrist surgery the off-season prior delayed his entrance to the professional game by a year, posted 28 goals in 41 regular season games with the Mississauga Steelheads, who had lost nine in a row and sat in last place in the conference in early December but ended the year on a 28-7-3-4 tear that coincided with the Kings prospect's return to health in the late fall after a November trade from Kingston. That stretch, which catapulted the Steelheads to the top of the Central Division and past Ottawa, Oshawa and Peterborough in the playoffs, culminated in a five-game loss to Erie in the OHL Championship. In those 20 playoff games, Watson tied for the league lead with 15 goals – mirroring the postseason success forged by leading WHL goal scorer and fellow Kings prospect Austin Wagner – and emerged as a dynamic threat every time he took the ice.

He does this as a 5-foot-10, 170-pound forward who isn't among the league's fastest skaters but someone gifted with superior offensive awareness and the willingness to position himself in tough areas on the ice.

"I think 10 years ago, that might've been a brick wall for him," said James Richmond, Watson's coach in Mississauga and a former member of the Kings' development team. "But then we've seen in the last five, six years the smaller players knocking down those barriers again, which is nice to see because they've got an innate ability to make good things happen on the ice, and that's what Spencer does. Yeah, he's 5-foot-10, but he's really tough to knock off the puck. He's got a great balance on his feet, so he's able to make the hockey plays. It's one thing to be big and heavy. But you've got to be able to make plays, and this kid can make plays and helps the team win hockey games all the time."

His contributions to Mississauga's worst-to-first run capped off a 274-game OHL career in which he totaled 147 goals and 301 points. The consistency to which he both made and finished plays adds to the intrigue of a player who was chosen with the second-to-last pick of the 2014 draft but has done nothing but score at the major junior level.

Because the ultimate validation of a seventh round draft pick is whether the player plays at all in the National Hockey League, Watson isn't exactly a slam-dunk case study for a player who should be expected to rise quickly through the professional ranks before embarking on a lengthy career. The transition from major junior to the AHL is a challenging leap for 21-year-olds, and there will be a transition as he adjusts to the rigors of the professional game. Since the NHL Draft was reduced in length from nine rounds to seven in 2005, only 24 players selected in the seventh round have gone on to play more than 100 games in the NHL, and while Ondrej Palat will give it a good shot, no seventh rounder over that span has bested Patric Hornqvist's 362 career points.

But there does seem to be a marriage of sorts between what the Kings are in search of and what Watson is able to provide. Voted as the Eastern Conference's Best Playmaker and Smartest Player and the second best shootout artist of the east in the 2016-17 OHL Coaches Poll, Watson is a reliable offensive threat who plays bigger than his size and didn't show any hesitation in the OHL in driving to the hard areas of the ice to score goals.

While he goes to those areas, there are also those surrounding hard-to-define soft spots on the ice in which goal scorers with regularity find themselves in opportune situations.

"You can call it the quiet ice, you can call it the soft ice, but he plays the middle of the ice better than anybody," Richmond said. "He's not afraid of going to the net, but he's got tremendous hands. I'm aware I'm always testing him about having the best lob shot that I've ever seen, but all of his shots go on the net and they miss the goalie. He's got a great set of hands, great vision in the offensive zone, so that makes for a real high, high-end scorer, for sure."

It's finding those areas and converging on the same spot as the puck that make the best goal scorers who they are in an era when the most common goal is one scored off a second or third chance from close range, or a rebound.

"If I could write down on paper what I see and how everything goes, it'd help a lot of people, but for me, that's just kind of how I wake up in the morning and that's kind of what drives me to play the game," Watson said. "Obviously doing my best to help the team win in any situation, but I think as a kid, I kind of had that mentality to just find open areas, find space, do whatever I can to be an offensive threat. I would definitely put that back to my childhood and just how I developed that sense, and it drives me. It drives me every day – once I'm out there, I can't really explain it, but I think when you have that mentality of just doing whatever it takes to put that puck in the net, it helps and you're able to find ways or dig deep or find some aspect to get to where you want to be."

That offensive zone awareness works in concert with a set of skills refined through simple, home-taught retention.

"I grew up with a backyard rink when I was younger, so I can't tell you how many times I was out there, just whether it was shooting pucks or even just kind of working on my hands with a tennis ball, I feel that all kind of made its way into my shot and that quick release, because you're not skating on perfect ice on your backyard rink," he said. "I think that way, it kind of helped me a lot. Practicing on ice that's not really that smooth, I really had to bear down and focus on how I'm releasing the puck and how I'm aiming, and obviously just repetition."

The attention now turns towards the American Hockey League, where he'll have the opportunity to join an Ontario group in the process of graduating Jonny Brodzinski and Adrian Kempe to the NHL level while turning over a chunk of minutes to a younger group in Michael Amadio, who has a full season of AHL hockey under his belt, along with Alex Iafallo and Boko Imama, who will be making their professional debuts, along with AHL signees Brett Sutter, TJ Hensick, Phillipe Maillet, Sean Walker and Keegan Iverson.

"He'll go in there now and get to work with probably the best development group in the league and learn how to protect pucks and how to get to the corners and get to the net and the different things that guys teach there, and obviously continue to work on his skating," Richmond said. "But it's a progression for all these guys, from teenagers into being a pro, he'll have to learn the grind of the pro game. It's big bodies leaning on you all the time, and he'll have to learn that side of it, and the only way to learn it is to live it."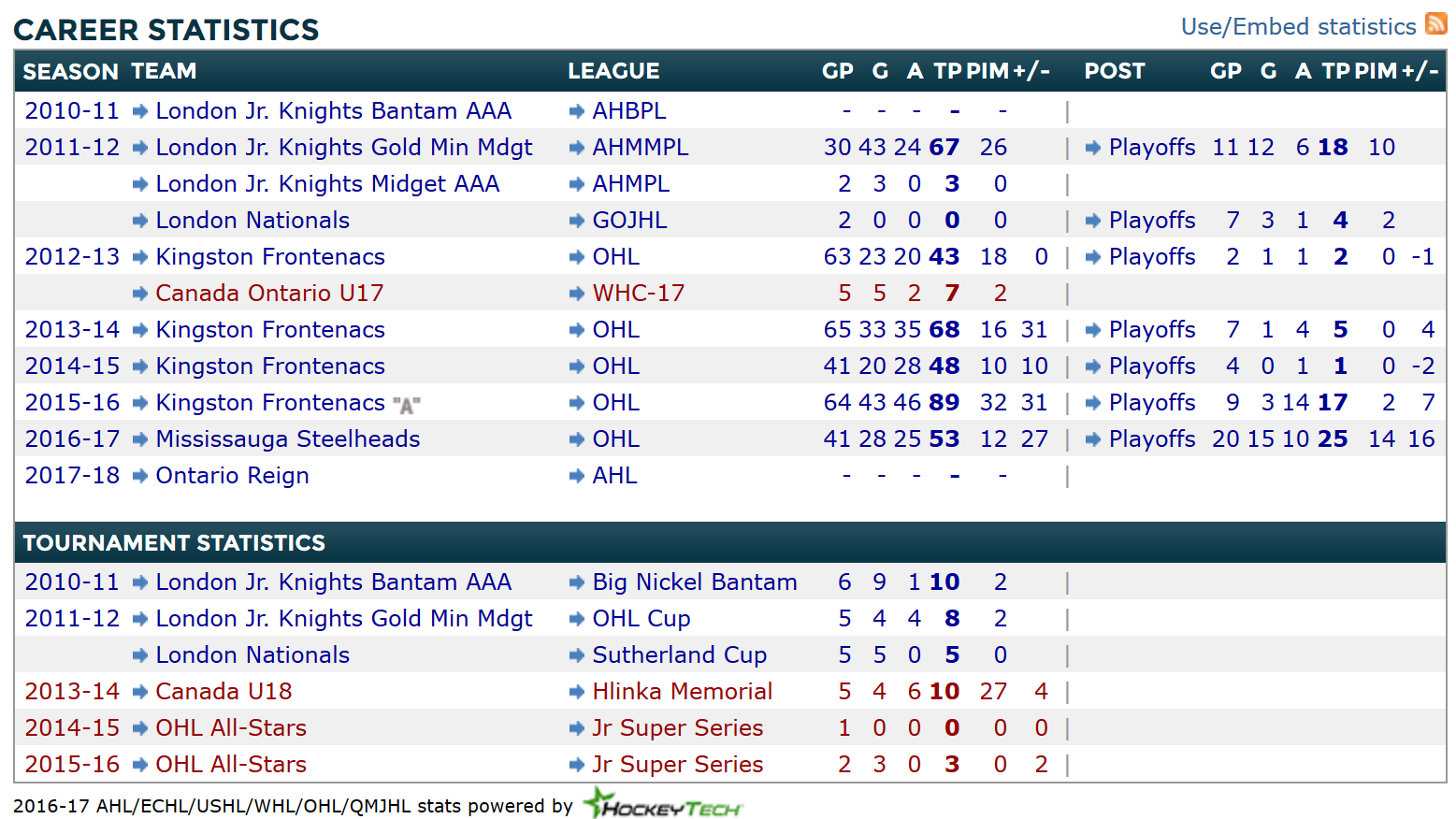 Watson has worked hard on his skating, and in his standout half-season in Mississauga regularly skated with Matthew McLeod, one of the league's fastest skaters and a 2016 New Jersey first round draft pick. That ability to play at a raised pace and make plays against the other team's elite players appears to align well with an organization that will be focusing on wringing additional offense out of its players at the NHL level. It does not at all seem to be a stretch that with the organizational focus on growing the offense that a premier playmaker and reliable goal scorer will be among the more interesting subjects to follow in the coming years.
"I look at is as a huge opportunity to show that I can be one of those players, to provide that offense, and obviously do stuff away from the puck and everything to help the team out that way I just look at it as a huge positive, and obviously that's kind of the core of my game, and I think it fits well to the way the game's going, and certainly with the speed aspect, I'm working really hard on that this summer to ensure that when I get put in that role I'm able to sustain it and be successful that way," he said.
Watson described his return to major junior hockey as "bizarre" when, in a perfect world, he'd have played his 20-year-old season in Ontario. But he's an experienced player who understood the ramifications of his injury and understood that his status as a young and intriguing offensive-minded player in Los Angeles' pipeline hadn't changed.
"I kind of embraced the fact that, hey, I'm going back for one more year. Let's make it count. Let's make everything worth the progress of getting back into healthy shape here and just kind of go from there," he said. "Obviously I would've loved the chance to make the next step, but at the same time, looking at my health and I'm still kind of young, it didn't really seem like too much of a big deal to get one more year in … and just allow my wrist to heal and kind of make sure it's ready for the next step."