Several additional notes that didn't make it into ODDS AND ENDS: VOL. I:
CAMP CLAGUE. Not exactly news: Kale Clague, who totaled six assists in seven games while stepping into a wide role during this past year's World Junior Championships, has been invited to Hockey Canada's national junior team development camp, which will be held in Plymouth, Mich. in late July and early August. His invitation will bring him to the 2017 World Junior Summer Showcase, where he'll participate in a round robin of exhibitions between the national junior teams of the United States, Canada, Sweden and Finland; he'll likely compete against Swedish defenseman Jacob Moverare, the Kings prospect who narrowly missed out on a 2017 WJC bid. Clague, who is coming off a five-goal, 40-point season with WHL-Brandon, will return to the Wheat Kings after training camp, barring lightning twice striking the same square centimeter in El Segundo. It's too bad Cale Makar has shot up the draft boards, because there was a real potential for L.A. to ice a defensive pairing of Kale and Cale. Meanwhile, of Canada's 42 invites, nine are first round picks, 10 are second round picks, three were drafted out of the third round, three out of the fourth, and one each from the fifth, sixth and seventh rounds. Fourteen players are eligible to be drafted this weekend.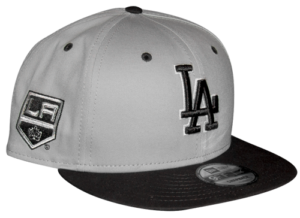 KINGS OF THE RAVINE. The annual LA Kings Night at Dodger Stadium will take place on August 26. There's a special hat available for fans who purchase tickets through this link. Again, it's not a full stadium giveaway, but rather a silver and black Dodgers hat (at right) reserved for those who purchase seats through the link above. There is a giveaway that night, though, as the first 40,000 fans through the gates will also receive a Rick Monday flag-saving commemorative Great Dodger Moments coin.
DEVELOPERS DEVELOPERS DEVELOPERS DEVELOPERS. I've probably linked to that dumb Steve Ballmer clip 13 times, but it's too good not to use at least three times a year. Development camp is upon us, and it will be moved up a week compared to previous years. The camp's first on-ice session will be Tuesday, June 27, and it will conclude with a scrimmage scheduled for 10:00 a.m. on Friday, June 30. The full roster will take firm shape after the NHL Draft, and I'll have word from Chicago on potential free agent invites.
PAJ DAJ: Teams can't officially re-sign players during the current roster freeze, but Peter Budaj has agreed on a two-year contract extension with the Tampa Bay Lightning that will come with a $1.025-million cap hit, as first reported by TSN's Bob McKenzie. This is no surprise; indications at the end of the season revealed Budaj's desire to remain in Tampa, and the club expressed mutual interest. Budaj's return and strong play was a terrific story in the 2016-17 season, and it's almost a shame that the trade took place before Los Angeles-area PHWA members had an opportunity to vote on their Masterton Trophy nominee.