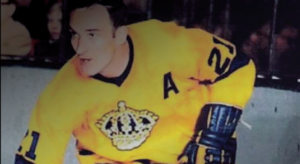 Original Los Angeles King and 1972 Summit Series participant Bill White passed away over the weekend at the age of 77, the Los Angeles Kings and Chicago Blackhawks announced. A Toronto native, White was highly respected throughout the sport as an All-Star defenseman who scored a game-tying, second period goal in Canada's Game Eight win over the U.S.S.R. and was on the ice at the end of the game to protect his country's historic 6-5 victory.
Having played seven AHL seasons before his NHL debut in 1967, White spent five seasons with the Springfield Indians under owner Eddie Shore and had his rights purchased by the expansion Kings as part of the purchase of the AHL franchise. He went on to lead all Kings defensemen in scoring during the inaugural 1967-68 season with 11 goals and 38 points, and was the team's lone All-Star Game participant at the 1969 game in Montreal and the 1970 game in St. Louis.
White played nearly three full seasons for Los Angeles before he was traded to Chicago along with Bryan Campbell and Gerry Desjardins in exchange for Dennis Dejordy, Gilles Marotte and Jim Stanfield on February 20, 1970. After finishing the 1969-70 season with the Blackhawks, he played an additional six seasons at Chicago Stadium and appeared in the 1971, 1972, 1973 and 1974 All-Star Games.
Via Blackhawks Team Historian Bob Verdi:
When Paul Henderson scored his legendary goal with 34 seconds remaining in the third period of the eighth and deciding contest to effect a 6-5 victory in Moscow, White and Stapleton had already been on the ice for a minute or so. Although exhausted, they stayed there until time expired. Folklore has it that Stapleton fetched the landmark puck at game's end, but he insists that it was White who collected and kept the most famous memento in the annals of Canadian hockey. At the Blackhawks Convention a couple summers ago, White was informed of Stapleton's assertion. Smiling, White intoned, "consider the source." Those two could toy with each other too.

In 1976, Reay was dismissed as coach via a note under his office door. White, Stan Mikita and Bobby Orr were named as replacements, although the injured White got the nominal nod as head coach. When asked what his first move would be in the new assignment, White responded, "I'm going to remove that door from my office."
Other recommended links: Chicago Sun Times | The Hockey Writers | Legends of Hockey | Chicago Blackhawks
The Hockey Writers' story, based on comments White made at a forum hosted by "The Ultimate Leafs Fan" Mike Wilson, detail the labor issues that simmered under Shore. White made sure to credit Shore for his work with defenseman and also spoke highly of the late owner, as also captured in Verdi's story captioned above.
Bill spoke of his early playing days, which featured five years playing for Eddie Shore. He related the story of the 1964-65 season and how the Springfield players went on strike over Shore's unreasonable treatment. Bill described the situation this way:

"Eddie was starting to get a little out of hand suspending players and going crazy. Myself and Dale Rolfe and Dave Amadio, went on strike. We just told Eddie 'we're just not playing right at this time.' So he tried to get some players to come in and play in our places. So, we got Brian Kilrea, and there was a young lawyer at that time named Alan Eagleson in Toronto. He came down with one of his partners, Bob Watson and they gave Eddie the ultimatum – either lighten up or you lose your franchise. Eddie reluctantly gave in and eventually the team was sold. This was really the true start of the players association."

But Mr. White wasn't going to completely vilify Shore, one of the NHL's all-time greatest defensemen.

"I gotta admit, Eddie, he had some good points and some bad ones. You just had to weed out the ones you thought were crazy for defensemen to be doing. If you stood up to Eddie, he respected you.

"He had some really beneficial drills, especially for defensemen. I was tall and he brought my centre of balance down to where I was more manoeuvrable. left and right. Whatever I did on my natural side, he made us do on the other side, so we became very manoeuvrable each way."