This edition of Bus Texts with Stothers comes as the Reign are staying over in San Jose following a lopsided loss in a crucial late-season game.
San Jose 5, Reign 1
For Ontario, the game fell apart in the third period but the start wasn't great either. Ontario got within one goal early in the third on a T.J. Hensick power play mark but then surrendered three unanswered goals in a span of 4:15 to allow the Western Conference leaders earn what looked like an easy win by the scoreline. The Reign were first plagued by one of their now-becoming-more-common bad starts and that was reason alone in the early stages to believe the game would end with a loss. At one point they were being outshot 14-1 and took the game's first three minors in the first 10 minutes. But goalie Jeff Zatkoff fended off a lot of pressure and a lot of pucks to keep the game locked at zero after one. San Jose finally broke through in the second on a pair of goals by Timo Meier, the first being an odd-angle rising shot from the left circle and the second being off a in-tight pass from Daniel O'Regan for an easy bury. Despite being doubled-up in shots at 28-16 entering the third, the Reign got a little life from Hensick, who put away a bounce off the back boards of a Zac Leslie shot that had been blocked on the way in. It went rapidly downhill from there. First, Tim Heed blasted a shot from the point by Zatkoff at 12:31 and then Buddy Robinson got away from the Reign defense and deked around Zatkoff's pokecheck attempt for a backhanded finish at 15:57. San Jose's fifth mark came from Adam Helewka as he finished a 2-on-1 skip pass over Cameron Schilling from Rourke Chartier at 16:45. Now with just five games remaining on their schedule and their magic number to clinch a postseason berth is at three, the Reign are in a spot where they need wins fast and face San Diego, second in the West, four more times. Help could be on the way if Justin Auger, Kurtis MacDermid and Zach Trotman get healthy and Adrian Kempe, Jonny Brodzinski and Paul LaDue return from the Kings, but there's work to do with the group that's currently available.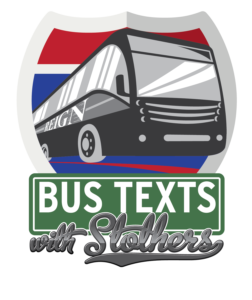 BUS TEXTS WITH STOTHERS
ORI: Hi, Stutts. Did you feel like the team had gotten back into the game after the Hensick goal and what went wrong after that?
Stothers: Yes I do feel like the team had gotten back into the game. I really felt that there was at least a point to be had. Then the best team in the league dug their heels in and exposed some of our inexperience and soft plays.
ORI: At this juncture in the season I know the team is without key players and the focus is on the ones that are here, but what do you want to see from the ones that are? More grit? More execution?
Stothers: I want to see more growth, more improvement. It does not matter if it's your first week, or you have been here all year long. If you are getting more minutes, and more ice time, in the absence of others, then prove that you belong. Make a contribution.
ORI: A crucial stretch the rest of the way and four games against a tough San Diego team. Without having clinched a playoff spot, how do you approach this final stint and press on?
Stothers: Press on!!