The Los Angeles Kings and the National Hockey league are familiar with growing the sport of hockey at the most grassroots levels.
This is a league, through work with its member clubs and the NHLPA, that has created the Learn to Play program, which outfits children between the ages of four and eight, free of cost, and provides certified coaching by NHL alumni. The Kings have made inroads locally with the Lil' Kings Learn to Play endeavor, which, in coordination with the league's outreach, encourages participation at an early age and creates hockey fandom that resonates long after the players grow out of their equipment.
Such an undertaking will be replicated as the National Hockey League strives to make inroads in China in advancement of the 2022 Beijing Winter Olympics and beyond. The league and its Chinese partners, including O.R.G. Packaging and Bloomage International Group, as well as the Kings and the Vancouver Canucks, announced early Thursday morning Beijing time that Los Angeles and Vancouver will travel to China to participate in two exhibition games while taking part in clinics and joining forces to grow the game in a massive, untapped market.
The games will take place at Mercedes-Benz Arena in Shanghai on September 21 and Huaxi LIVE Wukesong's Le Sports Center in Beijing on September 23. Travel packages will be available for fans interested in attending.
"This is a huge opportunity to share the game of hockey with a big world. There are a billion and a half people, and you can clearly see that the game of hockey is on its way," Luc Robitaille, Los Angeles Kings President, Business Operations, told LA Kings Insider from Beijing. "There is a tremendous amount of room to grow, but we can see that the people are playing hockey and there's a little bit of a buzz about it, and for the LA Kings to be here and be a part of the first game in China ever is very exciting."
This is not a partnership based solely on sheer goodwill. Obviously there are branding opportunities that appeal to NHL teams, and the Kings, who sent multiple delegates to China this week to take part in meetings in advance of the announcement, also held clinics overseen by alumni Derek Armstrong and Brandon Convery last summer.
"That's something we intend to keep going over time," Robitaille said.
With the interest in winter sports and professional hockey expected to grow in advance of the 2022 Games – including a partnership between both the private sector and the Chinese government, which, according to Fortune.com, is "pushing to boost participation, predicting the country's sports industry should grow five-fold to $780 billion by 2025" – the NHL is stepping in at an opportune time to build access to ice rinks and equipment and ultimately hopes to come to an agreement on a more comprehensive broadcast platform.
Kevin Westgarth, the former Kings enforcer who served as the team's NHLPA representative and played a key role in the players association's delegation in negotiating the current collective bargaining agreement, is now the NHL's Vice President of Business Development and International Affairs, and is among the league's representatives who traveled to China to continue to lay the foundation for the upcoming events.
Westgarth noted that the partnership to grow the game in China was not just an NHL-centric endeavor. A rising tide lifts all boats, and the ultimate goal, while also to build branding and marketing opportunities, is to grow the sport, not just NHL fandom and partnerships, in the world's most populous country. The plan will be to connect preseason games with the grassroots efforts in holding clinics and building better access to a sport that to this point had been more accessible to the highly affluent in a country that has a rapidly growing middle class.
"In a sense, it's almost a relaunch of our international initiatives," Westgarth said from Beijing.
There have been early reports and some speculation, as well as an estimation by Washington Capitals owner Ted Leonsis, that there are expected to be 200 ice rinks constructed in China, a massive undertaking coordinating with the country's initiatives to boost its spending in winter sports and enhance its domestic recreational and professional sports qualifications.
"What that talk is symbolizing is the support that there is across the country, from the government to private industry, and that's certainly how you build up winter sports, is by building up participants," Westgarth said. "Ice hockey and the NHL can be a big help in providing … that programming for those facilities, and obviously our goal is to make sure that we are able to give them as much support as we can give them."
So, the league will do its best to help the country broaden its own hockey base and increase participation to improve the level of play and the systems in place.
"I think there's a big interest in supporting Winter Sports from not just the incoming Olympics, but the goal of participation of 300-million interested in winter sports, that mobilizes the entire community – whether public or private – and you see people are willing to make those investments for long-term gain."
It's not entirely different to the push to enhance participation beyond the NHL's traditional footprint and relatable to the expansion of interest when Wayne Gretzky joined the Kings.
China won't have a similar sudden explosion of interest, but the infrastructure from the most grassroots levels to the professional leagues are poised to grow significantly.
"Growing the game in China right now is very similar to 25-30 years ago in Los Angeles," AEG COO Kelly Cheeseman said from Beijing via email, where he is among the team delegation meeting with potential partners interested in the Kings and gaining a firsthand look at the venues the team will play in come September.
"It is a massive market in population, media and sports following, however we are just at the beginning of infrastructure for rinks and teams here in comparison to the size of the country. We have to start with growing the game at a young level by getting kids introduced to playing hockey on the street and then transition them to the ice. By playing games here, we will pique their interest, but we need to give them access to playing. Providing ball hockey programs as well as investing in to camps and youth programs like ourselves and other teams have done, along with bringing the best players in the world to China, will ultimately create great LA Kings and NHL fans for decades to come. It's not all that different than the arrival of Gretzky to LA. Now we just have to do a great job of investing and taking care of the fans here."
That will come with continued camps catering to younger players, whose families will, in turn, purchase team jerseys and paraphernalia, and invest the broad support necessary to cultivate a base for long-term success. Again, there's no sudden impetus, but it's still somewhat similar to the spike in participation in the youth levels when Gretzky arrived in Southern California, which ultimately resulted in a wave of Californians born in the late 1980's making their mark on the collegiate, junior and professional ranks.
That's not an exact model here, and it's still premature to expect that there will be a sharp influx of Chinese-born players playing the sport in North America at high levels some 15 years from now. But with these outreach programs, those roots will have a much greater opportunity to yield players at a high level, which would continue to boost interest and participation.
"California – and Los Angeles – is one of the best examples," Westgarth said. "It's certainly not a short-term project. The goal is to plant seeds and encourage participation across the boards."
More from the Beijing announcement: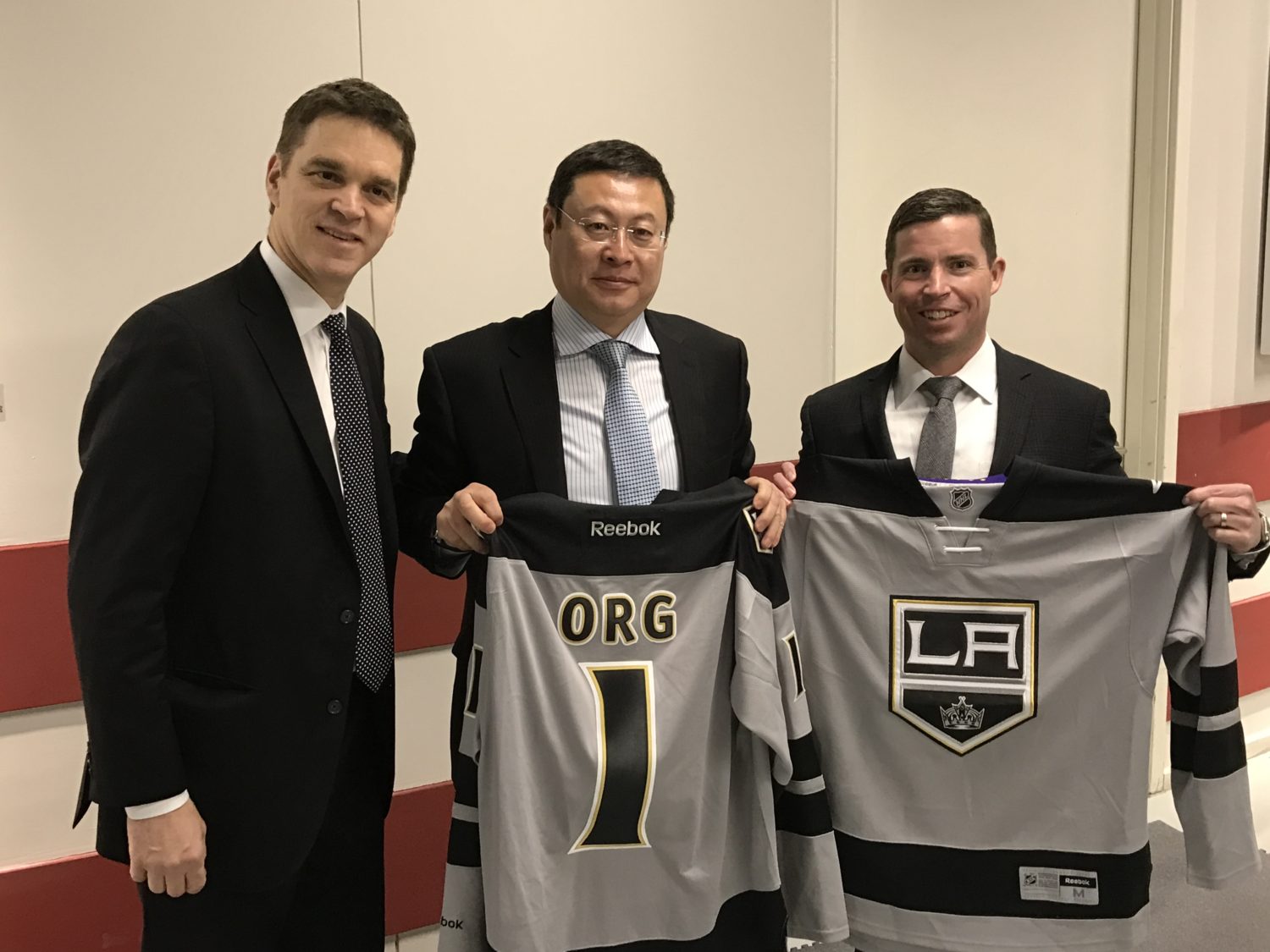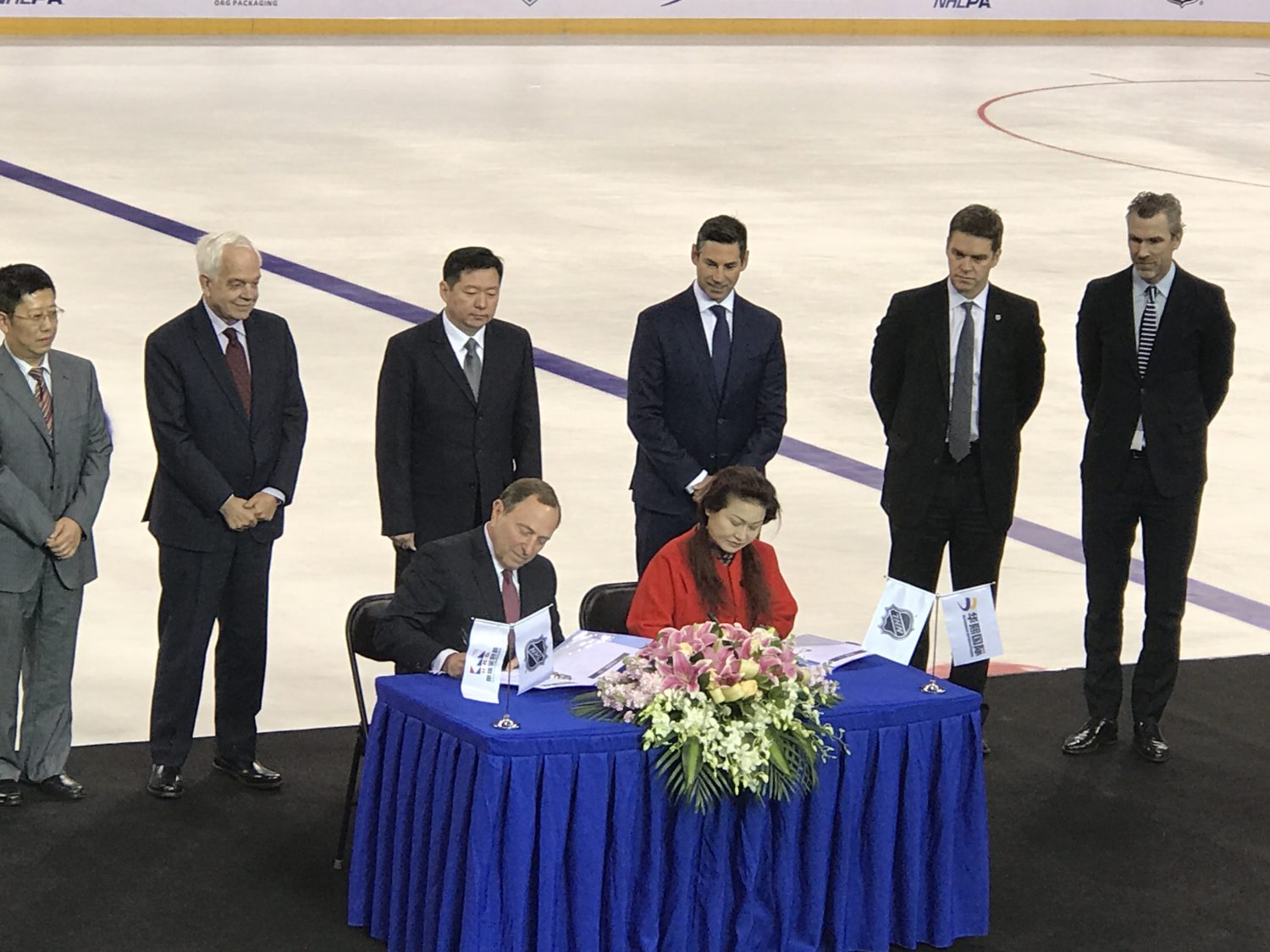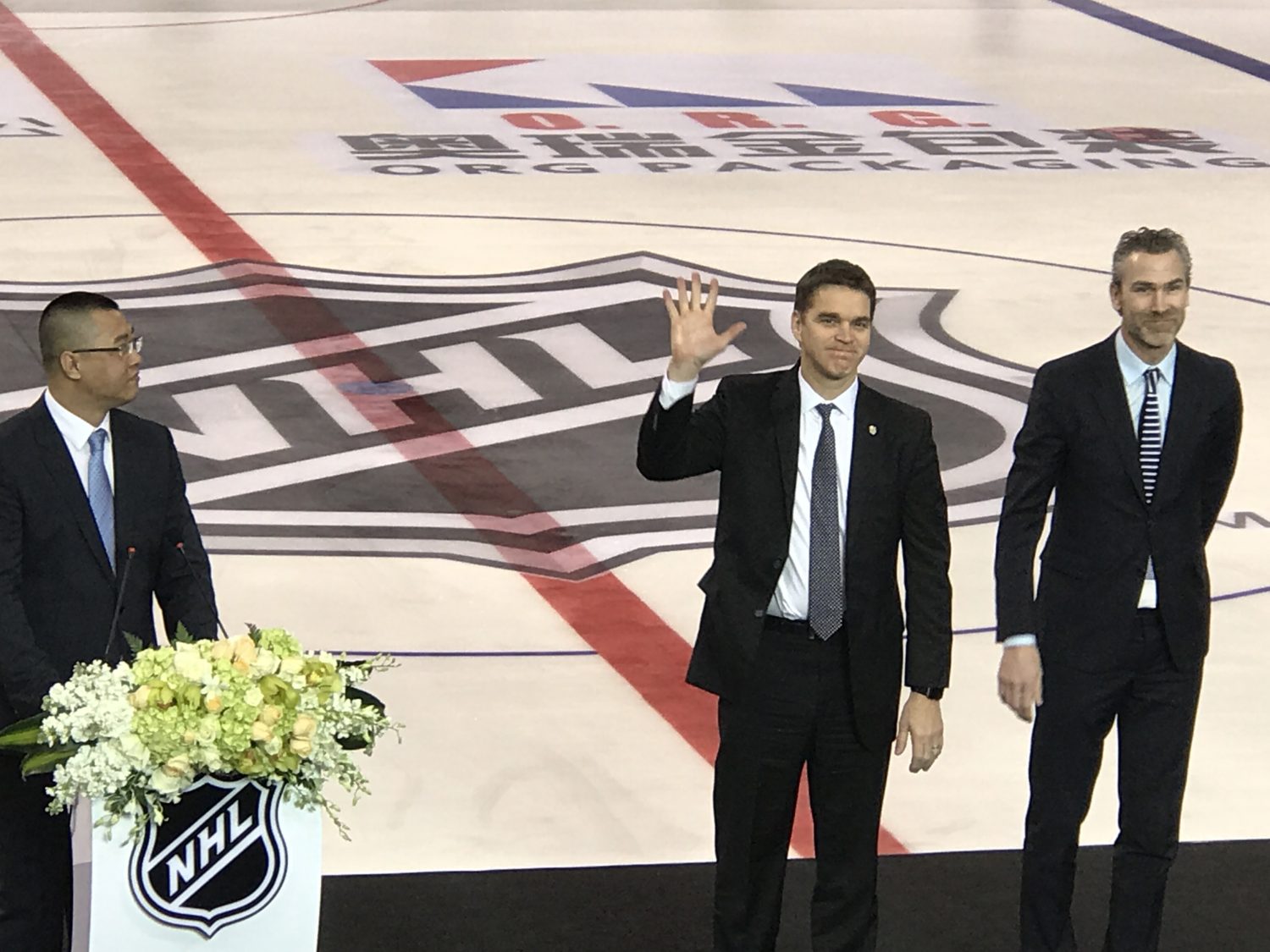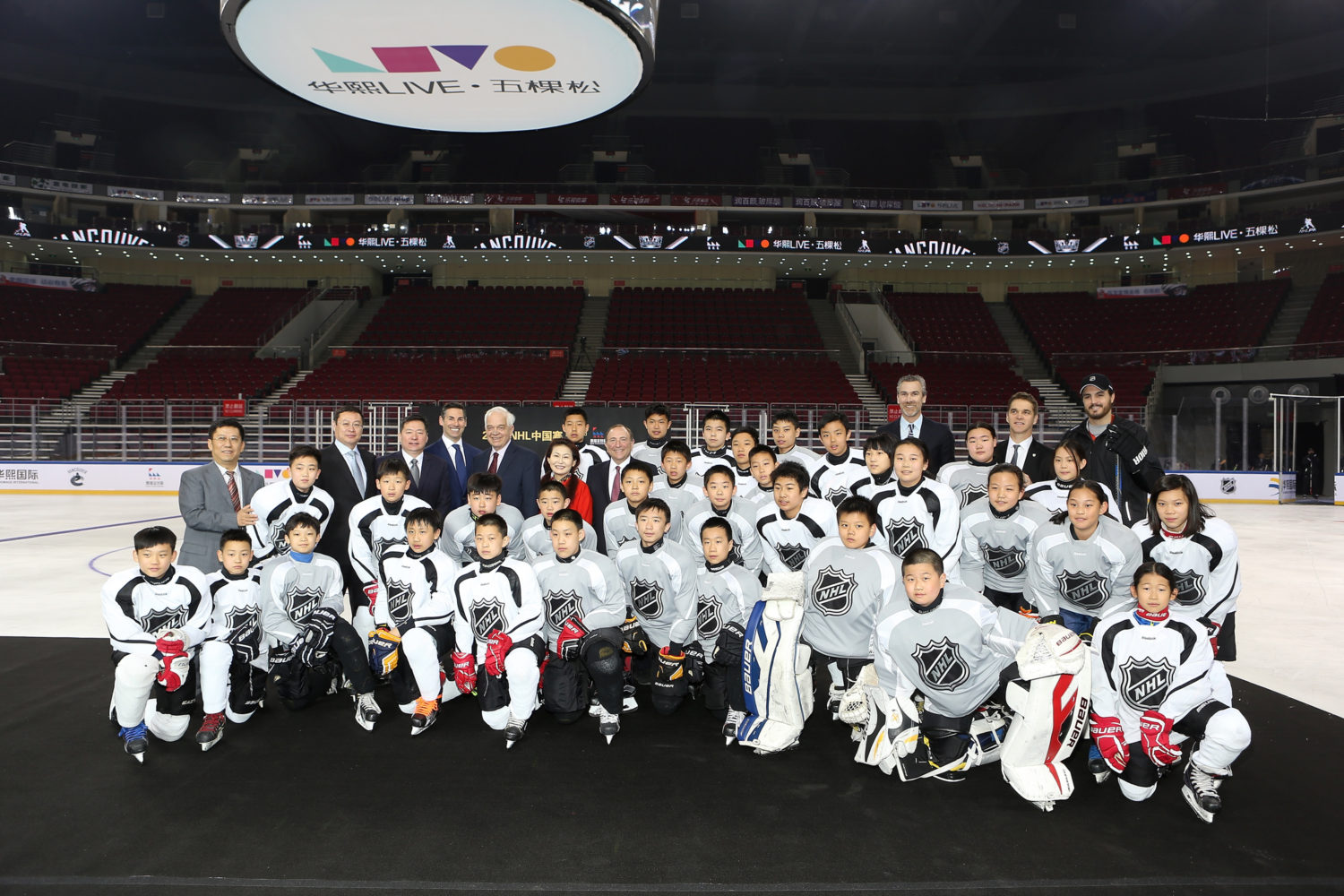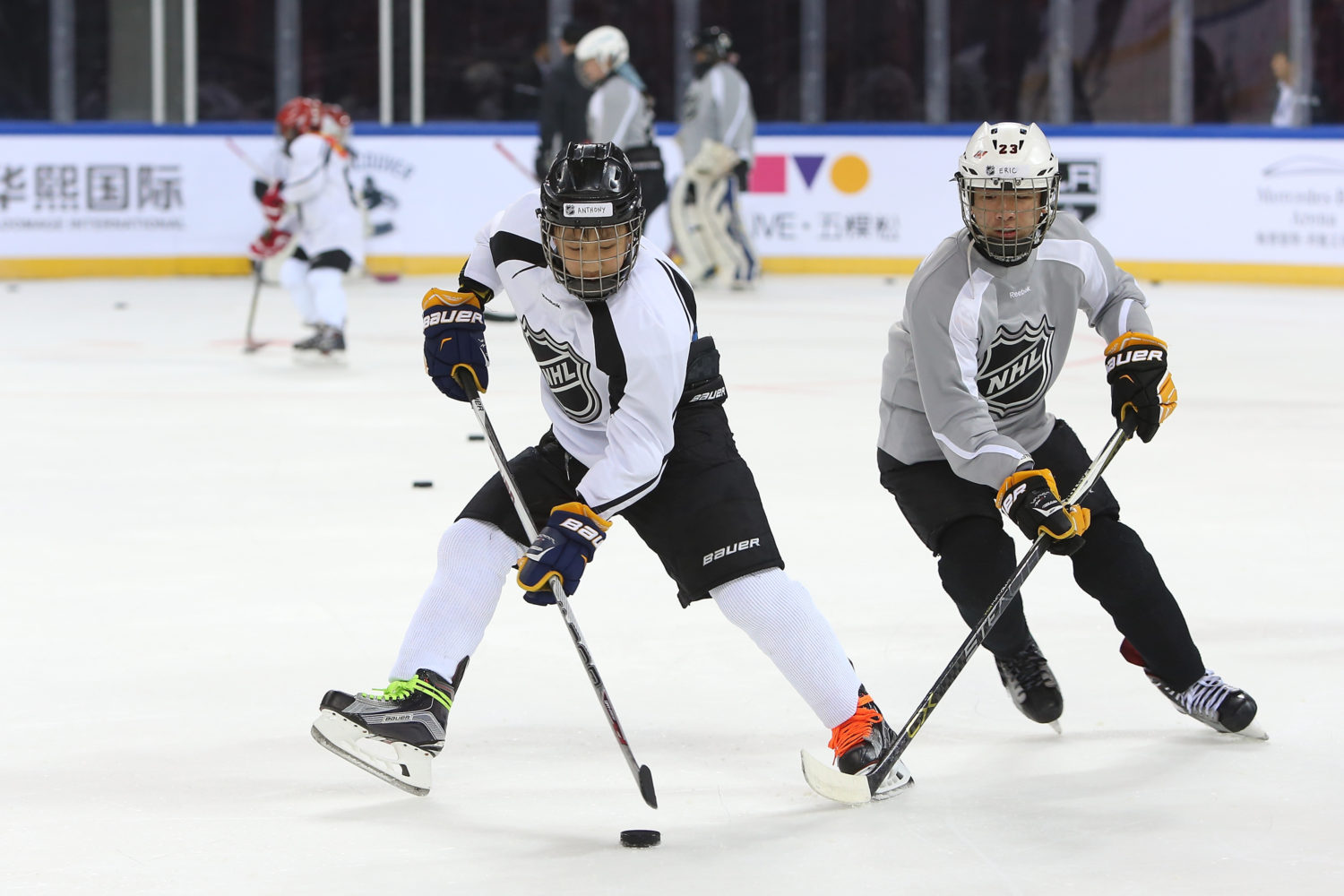 Photos via Emmanuel Wong, NHL Images, Getty Images, LA Kings | Kings Chinese content | Official release