Good morning from CBBA, where the Reign took the ice at 10 a.m. This was very much a work day with some stern moments from head coach Mike Stothers. Practice included some full-ice line drills and also one-on-one into two-on-two battle sequences. Ontario did not practice Sunday and Tuesday will serve as another recovery day.
–On the injury front, both defenseman Zach Trotman (upper-body) and winger Justin Auger (upper-body) took the ice late and stayed on for additional skating work with assistant coach Chris Hajt. Trotman has not played since Nov. 9 of last year after being injured during a fight against San Antonio.
"We're optimistic for he's getting closer," Stothers said, with an emphasis on the -er in closer. "He's not a write off, which at one point we were thinking that he'd probably be next training camp. I think that's a positive."
Should he be able to return it would be a much welcomed addition to the blue line that's now lost Kurtis MacDermid, who did not practice and is expected to miss a few weeks with an upper-body injury suffered Friday against San Antonio. "We'll take some time here with Derm, unfortunately," Stothers said.
Auger has missed the last three games due to an injury via shot block two Fridays ago in Charlotte. "Augs is getting there," Stothers said. "I don't think it's as fast as we would like. Again, it could have been a worse situation too with him. He would be an outside possibility for Bako. Outside possibility, probably not." That's a reference to the Reign's upcoming games on Friday and Saturday in Bakersfield against the Condors.
–One new forward was on the ice and that was Philippe Maillet (prounounced MY-YAY), fresh off a back-to-back University Cup championships with the University of New Brunswick. His Varsity Reds won the title just over a week ago and the 24-year-old was named MVP.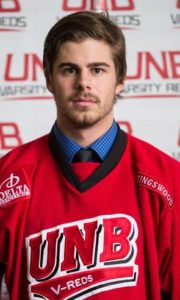 "It all happened during the tournament actually," said Maillet of being courted by the Reign. "Spoke with my agent a couple times. Didn't want to talk about it too much during the tournament but we won on Sunday and then on Monday he called me and said Ontario Reign, the L.A. Kings were interested. I signed my contract for next year too so I'm under contract for next year. They wanted to have me for the rest of the season and obviously I wasn't going to refuse that."
The 5-foot-9, Lachenaie, Quebec, native played four seasons with UNB (2013-17) and recorded 166 points (60-106=166). In juniors he played for Victoriaville (QMJHL) for three seasons totaling 240 points (92-148=240) in 252 contests. He'll wear jersey No. 14 with the Reign.
"Obviously I'm small. Small speed forward," he said when asked to describe his game. "I like to have the puck, I like to control the game and hopefully bring some offense. But I pride myself to work both ways. I don't like to be on the ice when we get scored on. I pride myself in my defensive zone and what I can bring offensively."
As first impressions go, Stothers had drew some positives from Maillet's first day.
"I don't know a whole lot about him," Stothers said. "I know he got some points. He's small, skilled. Supposed to be creative and have a good set of hands. That was my first look at him today. He actually scored a couple goals that found a way to sneak through a goalie that only goal scorers kind of do. I'm encouraged by that, but then again it's practice. We'll wait and see if we can get him in a game and see how it goes."
–The Reign are closing in on a Calder Cup playoff berth as their magic number to reach the postseason is down to a single-digit 7.
.@ontarioreign Magic Number at 7 pts. 2 ONT wins and 2 @AHLHeat Ls and postseason berth CLINCHED! STK at TX tomorrow. At SA on Fri/Sat.

— Joseph Zakrzewski (@JoeyZReign) March 27, 2017