INSIDERS. It's an all-caps Friday. It's also Clickbait Friday. YOU WOULDN'T BELIEVE who skated together at today's practice:
Yellow: Gaborik-Kopitar-Iginla
Blue: Pearson-Carter-Toffoli
Purple: Kempe-Dowd-Brodzinski
Green: Andreoff-Lewis-Brown
Red: Clifford-Shore-Nolan
-So, it looks like Jonny Brodzinski should make his debut against the New York Rangers. Adrian Kempe moved to his left to accommodate Nic Dowd at center, though that's not exactly a familiar alignment with the Reign. In Ontario this season, Brodzinski skated primarily with Mike Amadio and Brett Sutter. Meanwhile, Nick Shore isn't expected to play against the Rangers, so that doesn't bode particularly well for Kyle Clifford or Jordan Nolan's chances of playing Saturday, based on today's groupings.
-Meanwhile, Shore. The center took part in practice from the outset for the second consecutive day, but Darryl Sutter threw some cold water on any sort of impending return, saying, "I don't even know if he's going to play this year. We've got to make the playoffs, probably, for him to play, so that's a stretch." Still, Shore, after getting bag skated at the end of his day on the ice, said he was "getting there" and indicated that he was progressing in his attempt to return from an upper-body injury.
-The Los Angeles chapter of the Professional Hockey Writers Association nominated Jarome Iginla for the Masterton Trophy. Three months ago, when Peter Budaj and Devin Setoguchi were on the roster and Iginla was playing in Colorado, this would've been a ludicrous thought. Life comes at you fast, though, and the 39-year-old who has devoted his life to the game and has served as a wonderful ambassador in Calgary, Pittsburgh, Boston, Denver and Los Angeles, is one of 30 nominees for the trophy awarded annually to the player "who best exemplifies the qualities of perseverance, sportsmanship, and dedication to hockey." Iginla is a fine choice. "…It's a little bit different for me because I've been very fortunate in being able to play the amount of games, but when you break it down it is a very nice compliment and I try to play determined and passionate and I've been very fortunate to play the game this long and I've had a ton of fun," he said. "And yeah it is, it's a lot of different battles. Every guy goes through their own [battles], team-wise sometimes and personally, and you're always trying to get your game back up and everyone goes through peaks and valleys but like I said, I feel I've been extremely blessed and I've had fun, I'm still having fun but it is a nice compliment. One that I didn't expect and I think my parents will enjoy that and that's cool. It's neat."
It's the latest accolade in a storied career for a player who was drafted 11th overall in 1995 but wasn't selected in the WHL Bantam Draft as a teenager who ultimately starred for the Kamloops Blazers. "Yeah, the WHL one, it was tough," he said. "There's a draft it's at 14 years old there and I got letters from teams, junior teams and some phone calls and they said, 'Hey, we're really interested and we'll draft you,' or, 'we think we might if you're available,' so I was very excited and it came and I didn't get drafted and I had guys on my team who, say, got no letters or one letter and I literally had without exaggeration maybe 10 or 15 and so I must have had a bad week or something right there before. I didn't get drafted. It was devastating. I don't know at 14 if you call it humbling but it was like you think, 'Oh my gosh.' I really thought I was going to and was excited to find a team then when you hear it, it's also a wake-up call, you're a little bit more determined, but then there was a draft. They only had a few rounds back then so they had a rollover draft. I guess it was like the first year of it where they figured they should extend the draft, there were enough kids left. So a weeks later, a few days later, I got drafted in that one but not the initial one and it was tough. I remember the day and everything, still."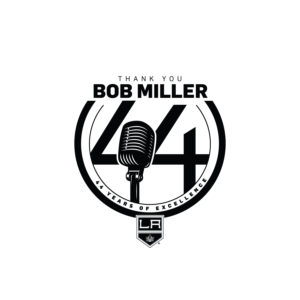 -The Kings will celebrate Bob Miller Day on April 8. That Saturday represents the final home game of the regular season and one of the final two games that Miller will call to finalize his Hall of Fame broadcasting career. More details are available here, but the release states "The unique event will recognize Miller's 44-year career as the "Voice of the Kings" as he calls two more Kings games on FOX Sports West – April 8 at home against the Chicago Blackhawks (3 p.m.) and April 9 at Anaheim against the Ducks (5:30 p.m.). "As far as any of us can remember, Bob Miller has been the Voice of the LA Kings and we are looking forward to honoring Bob and his many, many great contributions to our club and to our sport," said Kings President, Business Operations Luc Robitaille. "This is a chance for our tremendous fans and the Kings organization itself to give back to Bob and his family. Watching a Kings game will never be the same after these two games but we are thrilled that Bob gets to go out on top."
The entire day will be dedicated to Miller, who will address the crowd at center ice upon the conclusion of the annual Jerseys Off The Back event. The details: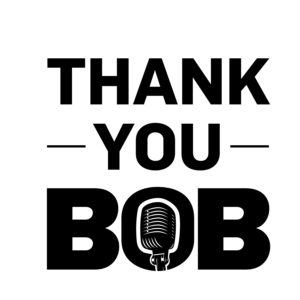 -The entire day will be dedicated to Bob Miller.
-A pregame Fan Fest takes place outside STAPLES Center from 1-3 p.m. and fans there can sign a special 20-foot Signature Wall and leave personal messages.
-From now until April 8, fans are encouraged to submit their favorite photos and/or messages via social media using hashtag #ThankYouBob, some of which will be featured in-arena throughout the game.
-Two special Bob Miller logos have been unveiled and the "Thank You Bob" logo will be etched into the ice behind both goal nets.
-During warm-ups, all Kings players will wear jerseys with "Bob/44" on the back. The jerseys will be auctioned off during the game by the Kings Care Foundation.
-T-shirts presented by FOX Sports West will be given away to all fans in attendance, and each fan in attendance will receive a "Thank You Bob" cheer card presented by FOX Sports West. The backside of the card includes a special letter from Bob.
-Multiple interior and exterior – including the large City View Terrace Banner – atmosphere and décor elements will be changed out to honor Bob.
-Several testimonial videos will run throughout the game and special Bob Miller tribute videos will run in-arena to start the game, to start the third period, and midway through the third period.
-For the first time in his career, Bob will participate in the Kings players annual "Jerseys Off Their Back" ceremony at the end of the games with the winner of the Bob Miller sweater being decided by a special "Jerseys Off Their Back" sweepstakes.
-The league will be making "a special announcement in China" at 10:30 a.m. Beijing time on Thursday, March 30, and 7:30 p.m. Los Angeles time on Wednesday, March 29. (The Kings will be facing the Flames on the road during this announcement.) Expect a portion of the announcement to reveal the details of the Kings-Canucks exhibition series in China next September.
-I'll have more tomorrow morning, but the news from El Segundo is that The King will not make his return at Staples Center.
.@HLundqvist30 says he'll start for #NYR Sunday in Anaheim.

— New York Rangers (@NYRangers) March 24, 2017
Antti Raanta will get the nod in Los Angeles for the Kings' final game against an Eastern Conference opponent this season.
Jarome Iginla, on playing alongside several younger players who are starting their NHL careers:
I don't really think of it like that. I think it's kind of like you go through a transition maybe around 35 where you're like, 'Ok, now they're starting to make me look older.' And then you just kind of accept. Yeah, I'm an older guy in the league and you kind of get used to it and embrace it. I used to bug, I believe it was Craig Conroy when he was the oldest guy on the team and we used to bug him all the time about it but it's a good thing. It means you're still playing, you're still around and you've got to have some longevity and I do like to talk to the younger guys and eat with 'em and do stuff with them because yeah, I think it keeps you young and it brings back memories, too, when you see what they're talking about or going through or things like that. It's pretty cool. [Reporter: And maybe you're passing on what somebody did for you at some point, too, when you came in the league.] Hopefully. Hopefully there's some things you can share over time because yeah, guys did help me and the older guys. Funny, another fun thing is that I used to think the older guys when they were 30 or 31 when I was 19. [laughs] I wonder what I would have thought if – I didn't play a lot of 40, 39 or 38 year-olds so I do know how when you come out of junior and you come out of being young you're always in such a cluster of ages where it's just three years different or four years different and that feels like a lot. So I do remember that and what a difference it is when all of a sudden you're playing with people that are 10 years older or even more.

Iginla, on whether he felt as if he had "something extra to prove" heading into his first junior camp:
Well, no, after getting drafted I really wasn't that concerned about it. But yeah, when I got to my first camp you're playing with people that are 20-years-old and you're 16, as far as going to try to make it, it's a big adjustment. It's really big and to try to get that confidence and just to keep learning and the strength and go from minor hockey to you're sitting out games. We had a good team and they would sit out, you know, I would play 48 out of 72. That was tough, too. You're like, 'what's going on?' In minor hockey everybody plays and in games sometime you play 3 or 4 shifts in the period so it was a huge adjustment. It was a great learning curve and I was fortunate because the organization was really good and a lot of guys that were really good young pros that were getting ready to be pros that you'd follow and you'd watch so it was really helpful in that area but it was a kind of a mixed thing because you go from all about fun, hockey's all fun, to all of a sudden it's not all about fun and some people don't play and you just start learning a few of those things.
Practice photos, courtesy of Jon Bradley (follow him on Instagram)