In the things-of-note category from the Reign's two-day swing in Charlotte, Jonny Brodzinski hit the 25-goal mark and Justin Auger is returning to Ontario with an upper-body injury. The Reign also picked up just one of four possible points (5-3 loss on Friday, 3-2 OT loss on Saturday) against the Checkers, a Central Division team fighting for a playoff spot. Ontario continues to sit at third in the Pacific, but desperately needs to start stringing some wins together in this final segment of the season (more on that later).
Auger was injured when he went down to one knee to block a Trevor Carrick shot in the second period of Friday's contest. He later returned in the middle frame but did not dress on Saturday. Head coach Mike Stothers said the 6-foot-7 winger will be evaluated upon the team's return to Ontario. The Reign are not practicing today.
Brodzinski ripped in a power play goal from the left circle to force overtime on Saturday. His 25th goal added to his team-high mark, and also surpassed the AHL-Reign record of 24 established by Michael Mersch a season ago.
Forward Paul Bissonnette made the trip and took the ice for warmups for both games, but did not play. It appears that he's turning the corner from a lower-body injury. His veteran presence when he officially returns will be a welcomed addition for a team that's lost five out of its last six games.
S.O.S = STRENGTH OF SCHEDULE = …
The Reign have just 10 games remaining in the regular season, the fewest among Pacific Division teams, and they're facing the toughest strength of schedule at .597, according the AHL's 2017 Calder Cup Playoff Primer. That's because they will face first-place San Jose, which has already secured a playoff berth, once and second-place San Diego four times the rest of the way.
Here's a look at the Pacific Division race and then the Reign's schedule for the remainder of the regular season: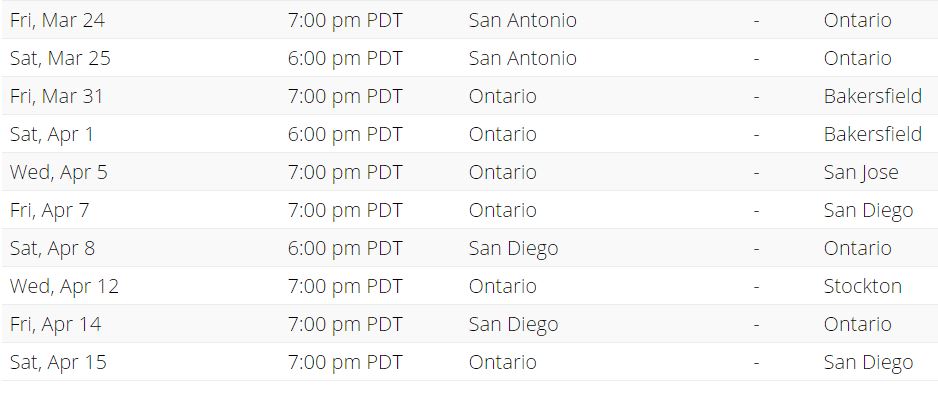 The Reign entered the weekend with their magic number to reach the playoffs at 15 and it's been dwindled down to 12 by virtue of them picking up a point and having others below them in the standings lose over the weekend. They'll host last-place San Antonio this Friday and Saturday.