Insiders! Good afternoon from Hollywood, where the Kings are visiting Children's Hospital Los Angeles. More on that in a moment. First! There were doings a happenin' at Toyota Sports Center this morning.
-For the second straight day, former Olympic speedskater Dave Cruikshank worked closely with a handful of players on their skating technique. Whereas on Monday players were restrained by a large elastic band that allowed them to work on their power stride, on Tuesday, the foreign props brought onto the ice surface were buckets. Each player skated around the circles with one hand attached to the bucket as part of a drill that allowed them to focus on their balance and how far they were able to lean over when making tight turns.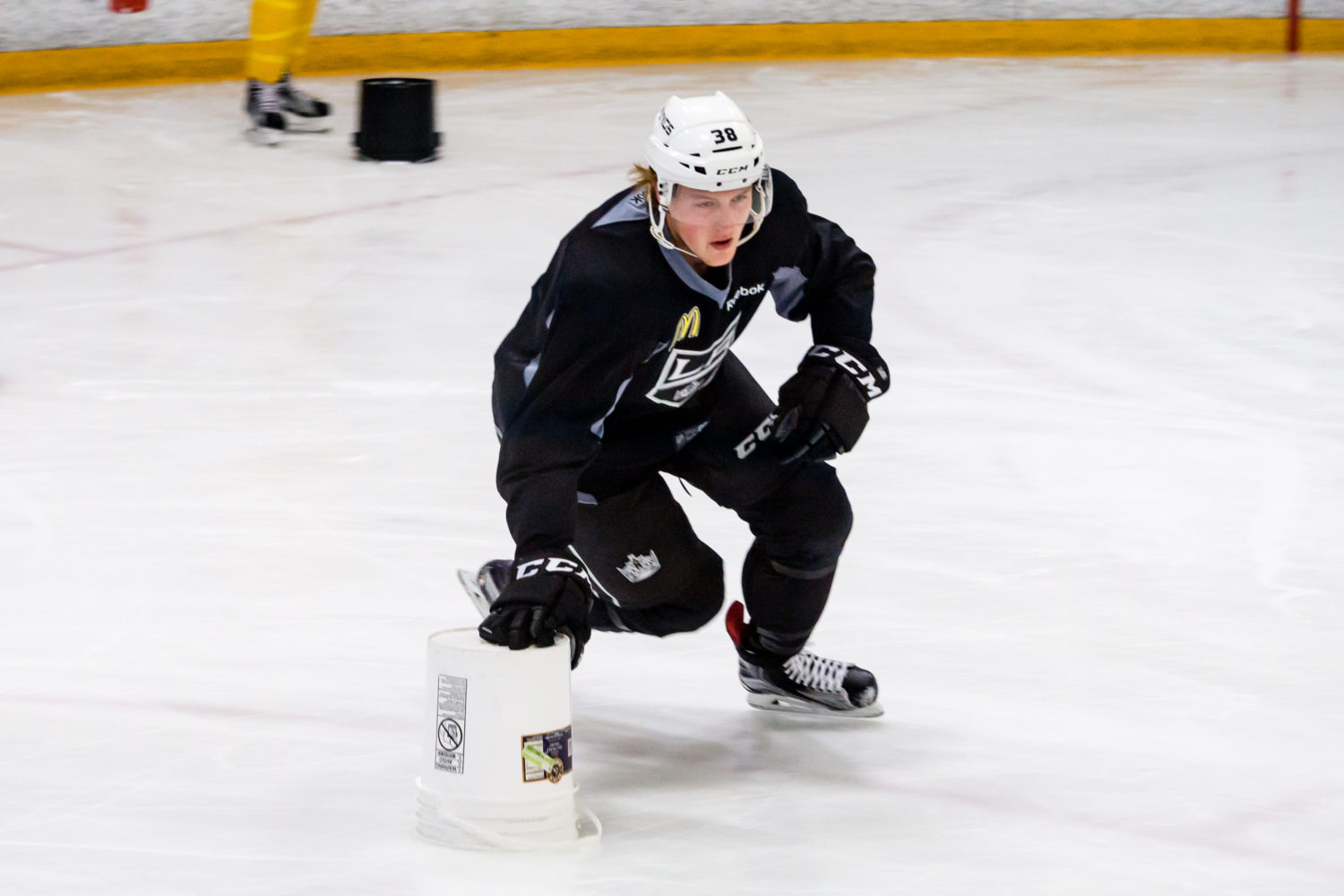 -Andy Andreoff, Nic Dowd, Kyle Clifford, Kevin Gravel, Paul LaDue and Brayden McNabb were on the ice for the session. After an 11:00 start Tuesday, practice will resume at 10:00 on Wednesday. "We approached the players last week – we play Thursday Saturday – and gave them a schedule for this whole week leading into the Nashville game, what we were going to do," Darryl Sutter said. After a practice heavy on skating and finishing, and with a battle element on Monday, on Wednesday the full team will address things that weren't covered on Monday, according to Sutter.
-Neither Nick Shore or Jordan Nolan skated on Tuesday. Correspondence with hockey operations early in the day reaffirmed that both players are day-to-day, but speaking with Sutter after practice, it sounds like Shore may be a bit closer than Nolan and should be expected to rejoin the team in some practice capacity soon.
-When asked about any particular "focus" down the stretch, Sutter responded that "other than one or two games, we've been really good," though he hasn't been particularly happy with the team's three-on-three play following the back-to-back overtime losses last week. "Going to Minnesota, you lose in overtime, right? So if you win three-on-three, then you go to Calgary, you lose in overtime, if you win three-on-three, it's a regulation win, it's really important," he said. "At the end of the year it's going to be more important than a shootout win, three-on-three is. We almost came all the way back after we pulled our goalie [against Vancouver]. We scored two power play goals and a shorthanded [goal]. I'm not disappointed, other than we didn't get more points."
-Because he hadn't been asked about Dwight King since last week's trade, I brought up the ex-King just to get one final quote on a player who played an important role for the team and was centrally involved in both Stanley Cup runs. "Awesome guy. We were really close. Low-maintenance player," Sutter said of King. "That's how the league is now. Unrestricted free agents, you have trouble [re-signing them in a salary cap]. It's not easy for Dean. It's like last summer with Lewie being that close, and we were thinking we were going to lose Lewie. Hey, salary cap doesn't allow it. It's the way it is. Actually, quite honest, our deadline, the trades this team made, at the end of the day, they didn't cost the team nothing. The whole thing coming into the season was we hadn't had many picks the last few years, and Dean was adamant he wasn't going to give up any more picks. He was trying to restock again, so actually, we gained two picks and a right winger for a left winger."
Practice photos, courtesy Jon Bradley