Good morning, North Jersey, and good morning, Insiders.
The hits just keep coming: The Kings are now in Newark. If there is anything that can tide us all over before we reach the much more charming Research Triangle, it's that there appears to be some sort of Munters-like device on the roof of the building in the foreground below.
Other than that, it remains overcast and dreary, and probably not too different from what it has felt like across Southern California, except about 15 degrees cooler. We're also dealing with high winds and, as was the case throughout the evening and into last night, lots of weather. Loading up the bus outside the Madison Square Garden loading dock, and unloading it at our new hotel in Jersey, there was certainly a lot of…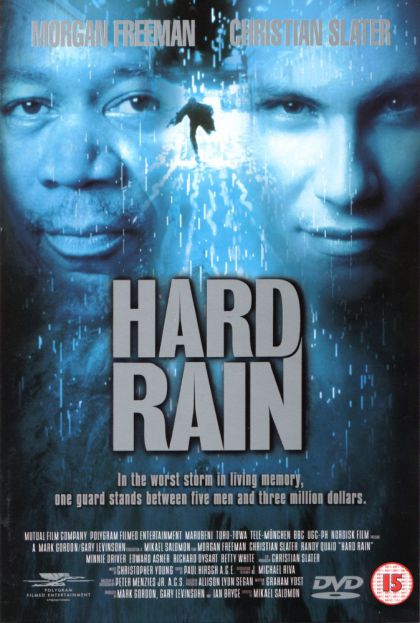 What was your favorite Morgan Freeman movie, The Shawshank Redemption, or Hard Rain?
I would probably be remiss to mention Hard Rain but not the Oscar nominations, which were announced today. I don't want too caught up in acknowledgements or snubs, but I was very happy to see Michelle Williams receive a nomination for her brief but powerful appearance in Manchester by the Sea. She may not have received more than 12 minutes of screen time, but the focus and realism bound to the character she played, and the stakes inherent in such a performance require a commitment that is difficult to fathom but representative of a beautifully and painfully recreated human condition. If you could measure quarks or neutrinos or coulombs to generate #fancystats depicting drama/60, her performance would be off the charts, even beyond 2014 Jake Muzzin CF%. If you saw the film, I have a feeling you know what I'm talking about.
No morning skate today, Insiders. I'll be downstairs to pick up some materials and chat with a player or two for some afternoon stories, and Darryl is expected to meet with the media at 5:00 p.m. local time from the Prudential Center. Andy Greene, John Moore and former L.A. Junior King Beau Bennett are expected to be out for the Devils, who will most likely turn to Cory Schneider in net after he had dealt with a stomach bug over the weekend. Andy Andreoff will be my bench guest on KingsLive pre-game. Let's talk soon, Insiders.