Good morning, Insiders, and good morning, Glendale, Arizona.
I missed you, Westgate Entertainment District. I thought we were really working on something after our rookie games and that preseason split-squad. You drew me in with chicken tortilla soup and sports highlights at Yardhouse. With each of the 50 steps it takes to walk up to Gila River Arena, I felt that we were getting so much closer – literally and figuratively. And then you paid me no mind for the better part of two and a half months. Did you call? No. Did you think of me? Doubt it. And I see you've been much cozier with San Jose. I'm jealous, Glendale. I really am. [howling]
To be perfectly honest, I am a bit devastated. I'm not very Real Life Devastated – everything is fine, all things willing, with my family, my health, my state of mind, thank goodness – but, rather, Sports Devastated. There is a big difference between being Real Life Devastated and Sports Devastated; they're really not at all comparable, because, let's face it, in the grand scheme of things, sports are awesome and as long as you're not a highly competitive or professional athlete, aren't actually "real life." But we all know Sports Devastated can still be very painful, and five days after it appeared my Wolverines stopped JT Barrett on a fourth-and-one in overtime (not to mention the other routinely awful non-calls in that game), I'm still having a very difficult time getting over it. It's funny – I read the comments here, and my mentions on Twitter, and when I hear things like "GAHH THE REFS ARE CLEARLY PAID BY ANAHEIM HOW COME WE NEVER GET ONE [expletive] CALL EVER AGAINST THE DUCKS," I roll my eyes and pay little attention. But when this affects a Michigan football game, I turn into Angry Guy Online, and every single conspiracy theory has credence. DID YOU KNOW ONE REFEREE WAS BARRED FROM OFFICIATING THE 2006 GAME BECAUSE HE IS A BUCKEYE FAN, AND ANOTHER HAD BEEN INDUCTED INTO THE OHIO HIGH SCHOOL ATHLETIC ASSOCIATION'S HALL OF FAME? LOOK AT THAT ONE PHOTO! THAT REFEREE IS CLEARLY PATTING MIKE WEBER ON THE BUTT AFTER HIS RECEPTION.
So, that spurs this morning's discussion. What is the most Sports Devastated you've ever been? 1993 Stanley Cup Final? Joe Thornton's Staples Center Slip and Slide? Or, for the old-timers, losing to Toronto twice by one goal in the best-of-three Preliminary Round in 1975? I'm trying to think of the most devastating losses to witness as a partisan fan. For Chicago fans, that Cubs-Marlins series from 2003 would have to be up there. Cleveland fans have it rough. I couldn't imagine dealing with a blown save in the bottom of the ninth inning of a Game 7, but that's something Indians fans, still clearly reeling from the Curse of Rocky Colavito, have had to endure since 1997.
If there's something that can cheer us up, it's that we've finally had our first Munters sighting of 2016-17: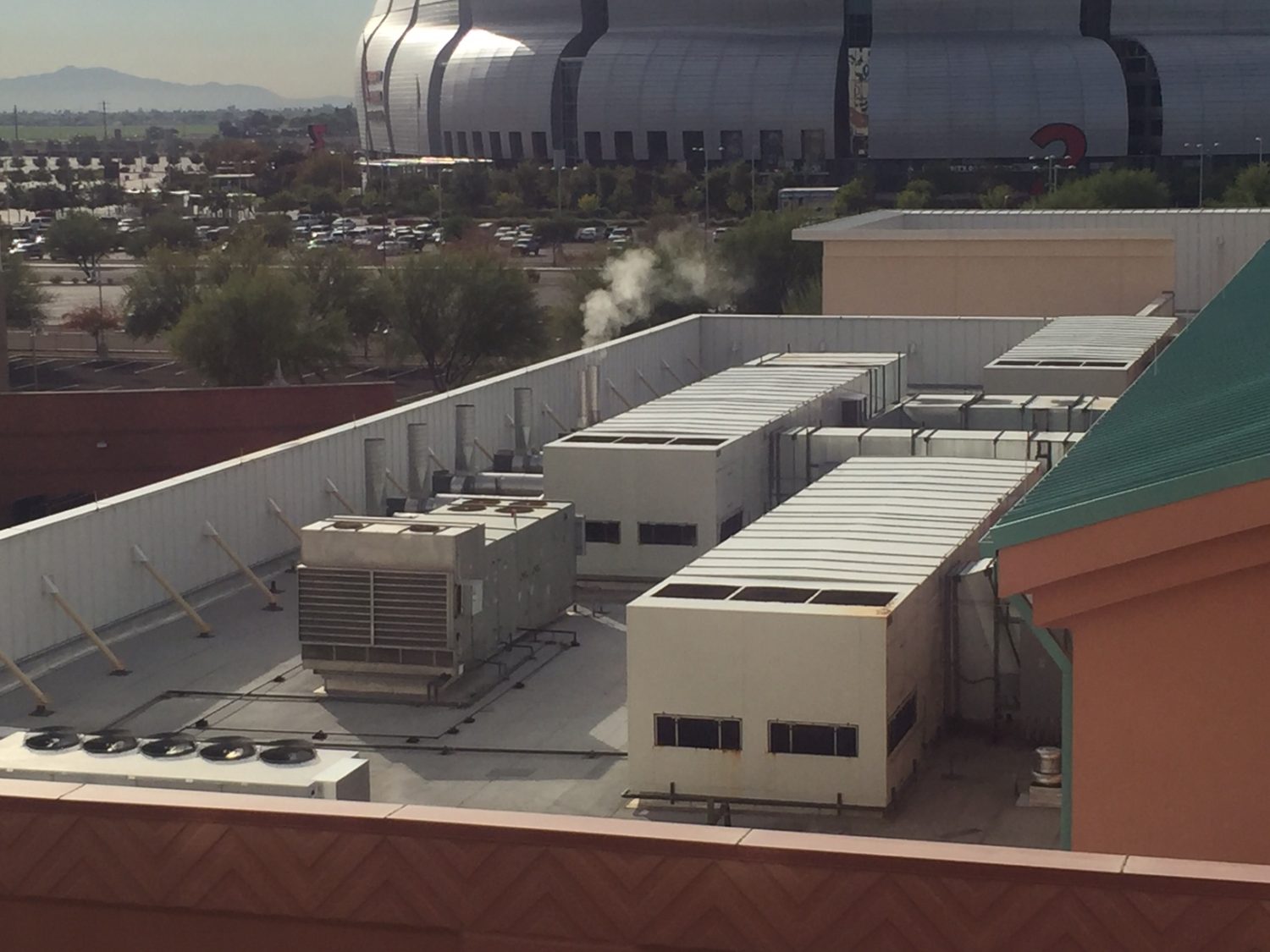 I'm not sure if those are actual Munters units, or if it's a cheap, knockoff Trane air conditioning system, but hey, it's all part of the Glendale Gas Absorption Network, and for that we're thankful. It's a bit chilly here this morning, so I'm not sure if we'll see them used to the same capacity as the 2012 playoff series between these teams, when it was regularly upwards of 105 degrees during the day, but we can still relax in the knowledge that the climate in our hotel rooms will be comfortably controlled.
There's a lot more to come, Insiders. The team is expected to gather for a team meeting at the rink at 10:45 a.m. Arizona time, and while it's unlikely that we'll get a full team skate the morning after a late-night arrival, there will still be some updates from the banks of the mighty Gila River. Waking up with the Kings will follow. Let's talk soon, gang.