Taking part in an optional practice was more or less the extent to which defenseman Tom Gilbert can get on the ice with his teammates as he serves his three-game suspension from a play along the boards during Tuesday's loss to Anaheim in which it was determined that he boarded the Ducks' Nick Ritchie.
The surprise that Gilbert received as lengthy of a suspension as he did wasn't limited to some members of the media and Darryl Sutter.
"Obviously with the whole thing my intent was not to injure anybody, but unfortunately that's what happened," Gilbert said. "I don't like seeing that in the game at all. It's unfortunate that it happened, but I think that's it. They decided three games, but I was just trying to make a hockey play."
The Kings' front office was also surprised at the length of the suspension, which will keep Gilbert out of the lineup for the home game against Calgary on Saturday and Tuesday's road trip opener in Toronto.
But though there was disbelief over the length of the suspension, Gilbert understood the reasoning behind the league's decision.
"They just thought that he was in an unprotected position, that was the biggest argument," he said.
Still, there was particular disappointment that a player who had never been suspended through 645 NHL games had one fine from six years ago used as evidence to support the three-game verdict. Gilbert remembered that the fine, which resulted from a hit on Calgary's Matt Stajan, came from his "Edmonton days a while ago."
"That's why it's disappointing that I'm out three games," he said. "Not a whole lot I can do."
_______________________________________________________________________________
Peter Budaj played in the American Hockey League last year, and while the California teams were treated with kid gloves from a schedule maker that minimized the usage of three-in-threes, he still played on back-to-back nights 16 different times.
So this current stretch, in which Los Angeles wraps up seven games in 12 nights when Calgary visits on Saturday, isn't particularly grueling for the goaltender who played over 300 more minutes than any other AHL netminder a season ago.
"Everybody's different," I think," said Budaj, who was among those who took the ice for an optional skate on Friday. "Over the years when you play you start knowing your body, knowing what you need and what you don't need. So I like to go on the ice and I like to do my things. I don't necessarily like to not go on the ice personally because even if I put the gear on for five, ten minutes it's better for me then if I don't. Especially at this long stretch we have a tough schedule coming up and we already have so we just got to make sure that we also get some rest, too. Sometimes you don't feel like you need it but sometimes – Joe Sakic said that rest is a weapon sometimes – you might not feel that you need it, but you do. It's important to stay on top of it because it can creep up on you, especially on a many games in a short amount of time so just have to try to prepare yourself. … I think you know your body at a certain age and you start realizing what you need and what you don't need."
_______________________________________________________________________________
Teddy Purcell's start to the season wasn't ideal. Two games in, he suffered an undisclosed injury that kept him out of the lineup for the next eight games. It wasn't a bad injury – he was still able to practice and work out in a capacity that on the surface didn't appear to be particularly limiting, and in the NHL's game notes he was listed as a healthy scratch over those eight games – but given how early in the long season it took place, there wasn't much sense in rushing him back.
When he returned to action on Thursday, he drew 15:44 of ice time, much of which was spent on the ice with Anze Kopitar.
"I've been fortunate enough since I left here, basically, to play with really good players and kind of settle in to a complimentary role, I guess you could say," Purcell said. "Play with guys like Stamkos and St. Louis … Taylor Hall in Edmonton, Leon Draisatl is really coming in to a good player, and obviously Kopi here is very established and like I said he's easy to play with and when you have a horse like that sometimes you have the tendency to, when I was younger you'd always try to almost force the puck to him at times, you kind of get away from things but with Kopi you've just got to play your game. I thought we did a good job coming out of our zone with possession, going into their zone a couple of times and had a couple of chances."
In their even strength time on ice together, they saw a regular rotation of Pittsburgh's top players. Purcell, whose on-ice five-on-five Corsi events finished with a minus-two shot attempt differential, saw more than four minutes of even strength ice time against Sidney Crosby, Evgeni Malkin, Patric Hornqvist and Phil Kessel, and nearly six minutes against Kris Letang.
In vying to cultivate chemistry with Kopitar and Tanner Pearson, those were some challenging circumstances.
"You've got to, one, gain Darryl's trust," Purcell said. "Kopi's obviously very responsible, and Darryl has to learn to trust me with him in all situations. … If we keep playing together, the chances are going to be there. We played together last night and we had our looks, with a guy as skilled and talented as he is, I think I can help get him the puck and keep plays alive. I'm hoping we can form a little chemistry and Darryl can trust us and stick with us for a bit."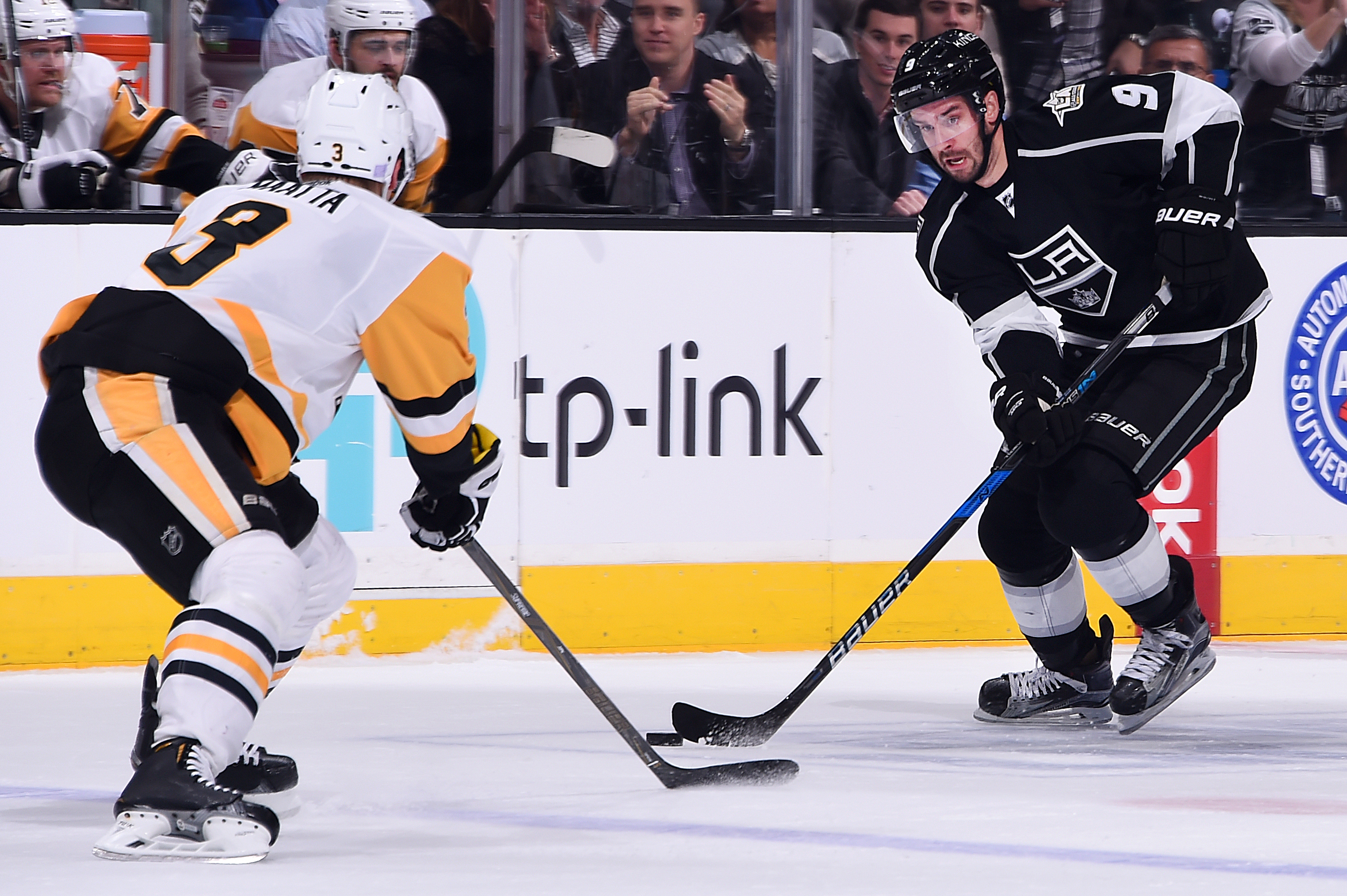 _______________________________________________________________________________
Jeff Zatkoff is on the verge of a return. Sutter noted on Friday that there was a conversation over whether he'd be able to step in and back Peter Budaj up against Calgary on Saturday, but the decision was made to provide Zatkoff several extra days to prepare for the road trip, which opens Tuesday in Toronto.
"He'll travel with us, for sure," Sutter said.
Traveling to Zatkoff, on the other hand, was his championship ring. When the Pittsburgh Penguins made their only visit to Staples Center, there was a special present that accompanied them.
"They obviously didn't slack on the ring at all, for sure," Zatkoff said. "This was kind of that one last final straw to get your ring, but I was kind of waiting for it, so kind of a final straw to turn the page. It was exciting though, I had seen the rings when the guys had gotten 'em earlier in the year so I was anxious to get mine. I knew they were going to bring it out here. You're excited to see it, then you get it and you put it in a safe and it just hangs out."
It just "hangs out?" Might it make an appearance at weddings, ceremonies, family functions?
"Probably not weddings, maybe charity events, functions maybe down the road with the team when the guys get together. But I think nowadays they're made so big that they're beautiful and obviously an honor to have but they're a little gaudy to wear sometimes, just on a regular basis. You just bring them out for special events and like I said, charities or times when you kind of have a reason to."
"I'm sure it'll be fun to have, especially when I'm older. Show my kid, and for other kids too, kind of be able to get to see it. Lot of times you'll see it in person and kind of realize how big it is. So for me it's just a lot of good memories that are associated with last year and just kind of the ups and downs of pro hockey and everything you go through and played for that. That's the ultimate prize, that's why you play, and that's the end result so you always kind of have that to reflect on."
Jeff Zatkoff, on who was in the room when he received his ring:
Sully, Coach Sullivan. Rutherford and Mike Bales, he was the goalie coach with me there. Yeah it was nice, my wife was in there too and she got a little pendant. Pittsburgh is a first class, I've said it's a first class organization and then LA I think are two of the best organizations out there. So they did it right and they took care of us and I'm thankful for that.
Zatkoff, on the nickname "Mr. Game 1":
I'm sure they were joking around because I played Game 1 [of the playoffs], and I won, then we lost the next two game ones, and so I told Sully before the finals I was available for Game 1 if he needed me. It just kind of went from there. So it was just a joke, a fun thing that we obviously that we won it kind of comes to life and it's fun to be a part of. But that's just part of the journey, part of the memories that go along with that year.
Zatkoff, on whether he feels like he's getting closer to being ready:
Yeah, I do. I've been able to a little more each and every day, just kind of building. Today felt really good as another good step for me just to kind of, just seeing almost normal shots, just reacting, reading the play and kind of trusting my body that I'll be able to handle the strain. Yeah, it's getting better and kind of like I said before it's one day at a time and you just want to keep making those steps 'til you feel like it's 100% ready to go.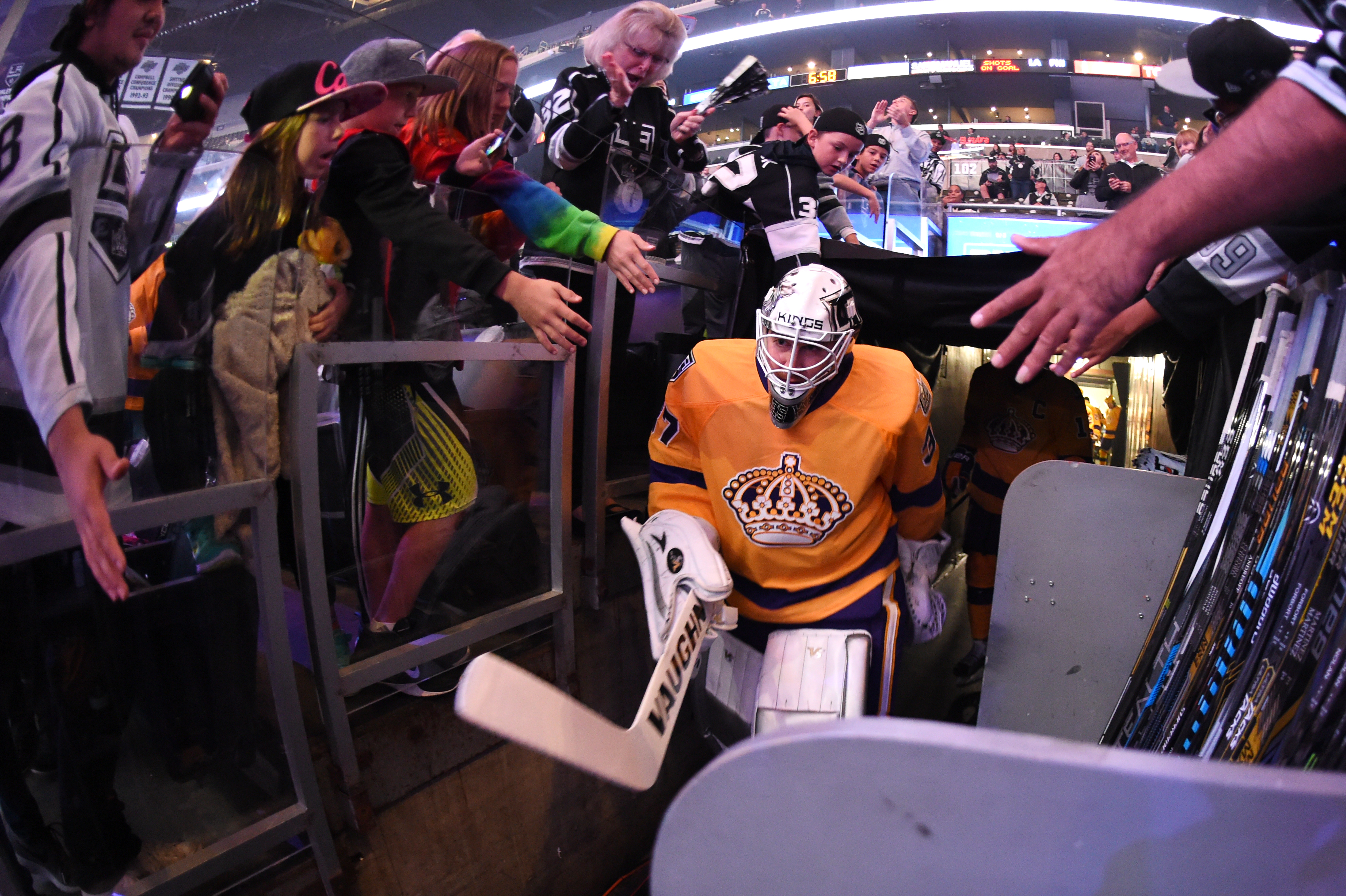 -advanced stats via Natural Stat Trick, Corsica