The Los Angeles Kings, who entered the year with questions about depth up front and on the back end, lost Andy Andreoff on Sunday night – the third player lost to injury in the span of nine days and the sixth player targeted for the opening night roster to have suffered an injury this fall – during a punchless 3-0 loss to the Chicago Blackhawks that did not serve as any sort of encouraging referendum on the current state of the team or what should be expected in the near future. One-third of the Holy Trinity is out, two potential top-six forwards are gone (though it shouldn't be a surprise if Teddy Purcell returns this week), and while the team also lost a role player in Andreoff who has a potential to boost depth scoring, the weekend's biggest casualty was Brayden McNabb, who had forged forward with a promising set of eight games to begin the season, earning over 20 minutes per game to the left of Drew Doughty and appearing viable as a shutdown defender capable of eating up tough minutes against the opposition's top players. There wasn't much of a margin for error at the start of the season, and while 4-5-0 generally isn't a cause for panic, that margin has been obliterated.
Chicago's possession game pinned Los Angeles back in its own zone for the better part of the first 40 minutes. To some degree that's generally to be expected; the Blackhawks are among the teams that you can count on to come out flying at home over the game's first 10 minutes or so. After an early Jonathan Toews power play marker – surprisingly, his first of the season – the Kings admirably killed off an additional six minutes of power play time. While it's difficult to find any sort of rhythm of attack when you spend 7:27 on the kill in the first period, the Kings were still in striking distance where a greasy goal could've evened things up in the second. That never materialized, though L.A. did come out with a quality succession of shifts to begin the period as Jeff Carter and Trevor Lewis' lines established some offensive zone time and generated a few B-type chances. But there wasn't anything that resembled the quality chances at the other end of the ice, where Chicago ultimately set up shop once again and was able to play with a raised even strength pace. The Toews goal wasn't the finest moment of the mini-road trip, but if not for some very good Peter Budaj goaltending, the aggregate 4-0 score on the road trip would've been wider. Los Angeles rebounded with a strong 20 minutes to close the game, but given the score effects, that ending was mostly academic. Through two periods, LA Kings Insider Associate Bo Hamby counted 12 scoring chances for the Blackhawks and four for the Kings.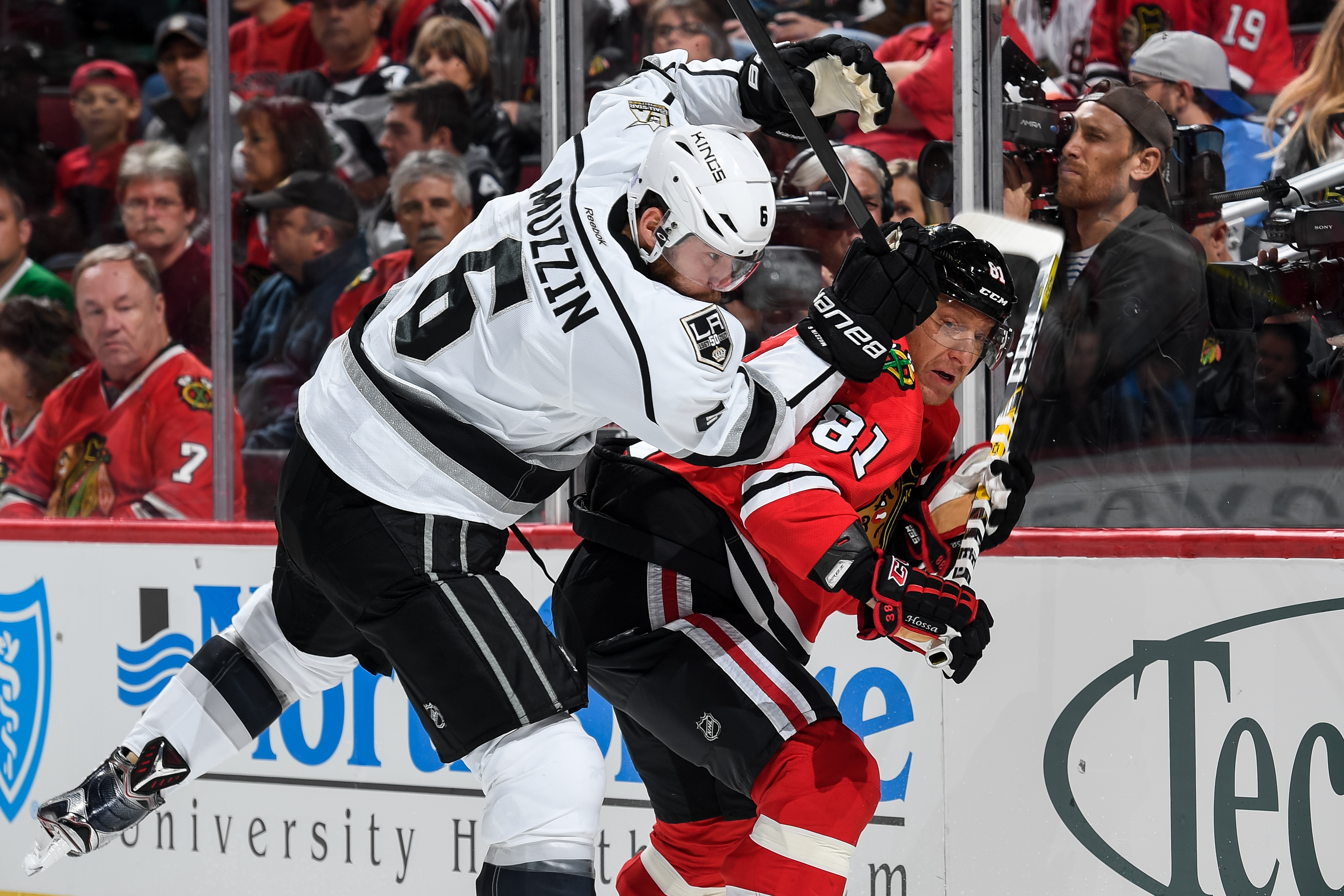 Call-ups are coming, and we may get a sense of who's on their way up at practice later today. (Practice, from what I've learned, is optional this morning.) I've been reading mentions and comments on who should get an opportunity, and where they're likely to slot. Adrian Kempe seems to be a popular name up front, and for a good reason: he's young, a first round draft pick, had a good camp, and owns a good deal of skill and speed that makes for an intriguing addition of a player who more and more looks to ultimately serve in the top-six forward group. Kempe will get his opportunity at some point this year; the goal with the versatile Swedish center, should he earn his opportunity, is to ultimately serve as someone able to stake a claim on some minutes in the second half of the season. That's not too different from previous years, when Dwight King, Jordan Nolan, Tyler Toffoli and Tanner Pearson took on responsibilities in the second half and served as important role players, or in the latter two, viable secondary scorers. But, again, keep those expectations tempered. Kempe was held scoreless in the preseason, and through five AHL games this year has one goal. Is he ready for his first NHL shot? Would L.A. slot him as a depth center role? Would they call him up as a wing after he had played almost exclusively at center this season? Is this the right opportunity to put him in a position to succeed? Or is someone like Michael Mersch more likely to earn the call? Answers are coming.