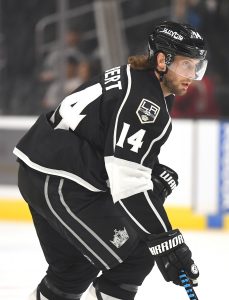 So, let's talk Tom Gilbert, Insiders. Early returns? Not bad. The defenseman, signed to a one-year, $1.4-million contract on July 1, was coming off knee surgery, and based on early correspondence with the coaching staff, would need some time to re-acclimate himself following his injury. As Darryl Sutter noted, there was a preseason process in getting him up to speed, but the defenseman has "gotten better." With ice times of 18:59, 15:06, 13:06 and 17:47 in his four games – a span in which he's logged three assists and established a respectable 53.3% Corsi-for while playing alongside Derek Forbort – he has provided effective defensive depth while sanding off some of the excess minutes logged by Drew Doughty that accumulate when the team isn't getting enough from its depth defenders.
On Thursday, Sutter spoke about Gilbert's five-month segue from free agent to top-six defender.
Darryl Sutter, on Tom Gilbert:Tom Gilbert,
I can give just give you the sort of timeline. I flew in here and talked to Tommy prior to him signing just to get a feeling of where he was with his injury, career. You're always concerned when guys are coming back from surgery – limb surgery, at that age – how long it's going to take, or if they still have the desire to play still, right? I left that meeting feeling good about him. At that point he wasn't medically totally cleared. I think it was almost four months to the day, and he was on a good path. I think that he came to training camp and he was behind. I think he was still in his mind thinking about the injury and getting up to speed again. He's played a lot of different styles on teams when you look at it, right? He was well schooled in the Jacques Lemaire defending part of the game, so that's why I still think he's a really good shooting lane, shot block, reading play guy. I think a lot of that is in there still. Edmonton was different. They wanted the wide-open, freelance, that sort of a game when he was there. I think when he went through the transition, Florida and Montreal, that's more structure to it, I would say. So I think that would be sort of the order. I think that I've seen that. I think that he's a good teammate, and he works hard, trains hard. I think he can help us as we go forward. I mean, we've played him lots in the preseason because I wanted him to play in a lot of games because I wanted him to get up to what we were doing. There are areas of the game that we're different from other teams, and you have to be able to play it. It's a big area, and you have to be able to play in that area. A lot of players, quite honestly, you watch, more teams are doing it, and then the mobility part of it, your defense has to be mobile. … He's made strides in that, and hopefully he can. [Reporter: Darryl, when you meet with somebody like that, I assume the meeting was in L.A. Do you usually put away the feeling "yes" or "no" after that meeting?] You know what, first off, when you're with an older player, because we've both in the league a long time, you generally have a pretty good idea of not only what kind of a player he is, but because he played a long time, you're familiar with what type of character, personality they have. So you usually have a really good thing. As I said, the biggest thing is, 'do they still have a great desire to play?' and 'are they willing to do the work?' and that's kind of what we did. [Reporter: What was the surgery?] He had knee surgery. [Reporter: I mean, what kind – like, a ligament?] Yeah. He had it I believe right around the first of March, but he'd been playing with it since after the New Year, and finally they shut him down. But it appeared they weren't going to be a playoff team when he had the surgery, so that was right around the four-month thing when I met with him, post-surgery.