Since the implementation of three-on-three overtime, the Kings have won 14 of 17 games decided in the extra session. There are reasons behind this. First, there's a tremendous base of talent. When the Kings can trot out Anze Kopitar, Drew Doughty and Jeff Carter as a top unit, and then the excellent transitional puckmover and skater in Alec Martinez as part of (this year's) second group that also includes net-hitters in Tyler Toffoli and Tanner Pearson, their personnel is of high quality. Los Angeles is also a team that checks well and exchanges the puck between the defensemen and forwards quickly, and last night's game-winner was a representation of Darryl Sutter's post-game observation that the club is "trying to play close together and hang on to the puck and check when the other team has it." Checking well, whether in the case of Drew Doughty's dive to break up a three-on-one last season against Nashville or last night, when Seth Jones tried to force a pass to Brandon Saad, who was draped by Tyler Toffoli, has led to the Kings' odd-man rushes in the other direction. Similar to last year's Martinez game-winner against Columbus when Ryan Johansen was caught taking wide loops in his defensive zone, a gassed Saad wasn't able to keep up with the play in the other direction, and Martinez beat him up-ice for the game winner. I remember speaking last season with Darryl Sutter, who said that Martinez would be a big asset in the new overtime format, and he certainly has been. But so much of the team's success has been their ability to check well without the puck, and once they have it, to manage it well and remain patient until sniffing out the appropriate play (or, in Tuesday's case, generate a rebound off a three-on-two rush).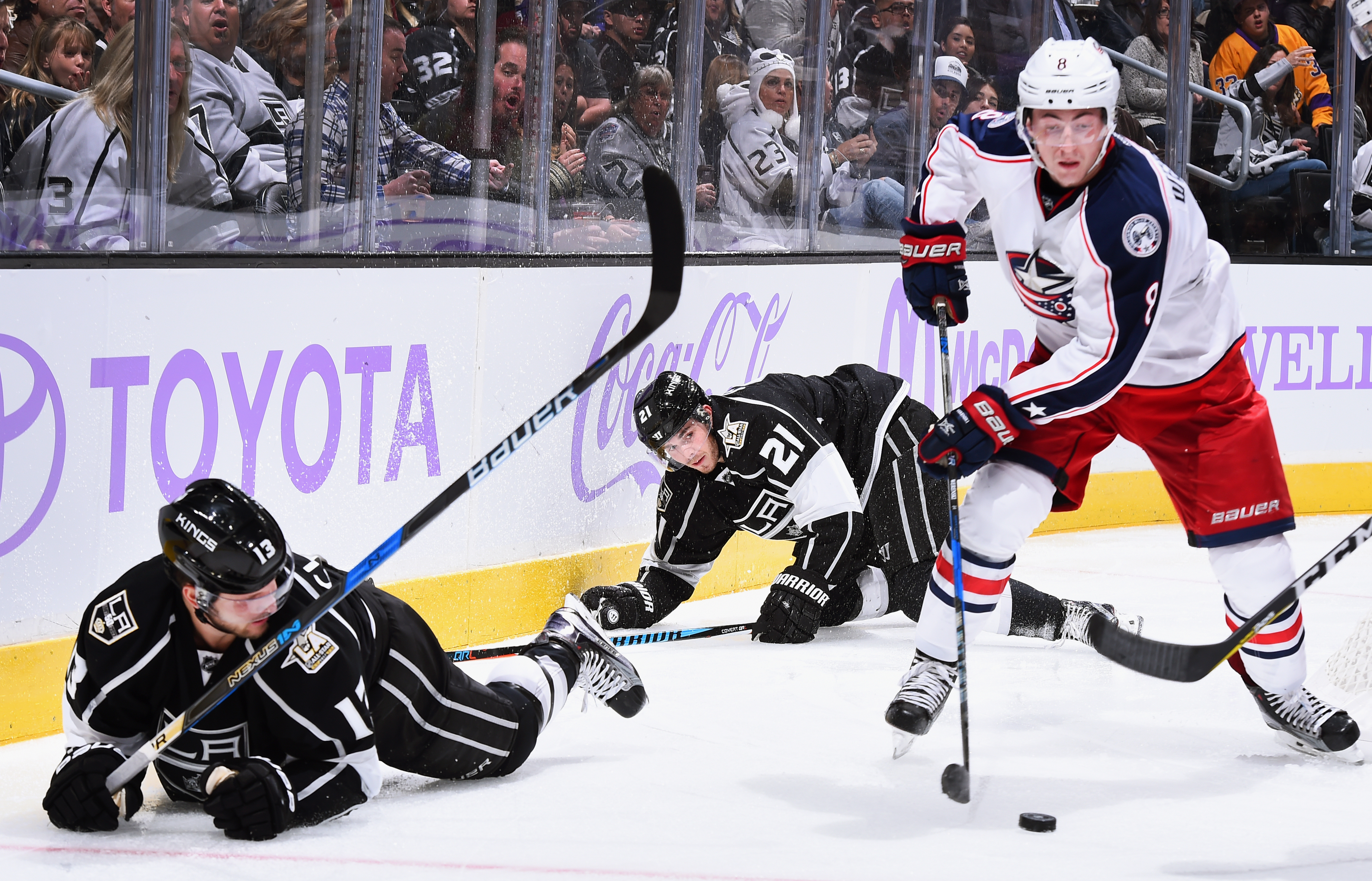 The team played with a good pace and generated all three of its goals from strong zone entries. Again, the Kings aren't comprised by a glut of individually fast skaters, but rather a team that has shown that it can make poised decisions while playing with a good pace and exchange the puck from the hands of the defensemen to the forwards quickly. On the first goal, Toffoli's entry and drop pass allowed Kopitar to deftly circle the net before Jack Johnson decided that he would cover a pack of bodies in the slot instead of an unmarked Kopitar on his side of the ice; that didn't end well for him. On the late game-tying goal – one that Sergei Bobrovsky would want a second chance at – Nick Shore made his mark on the game after a relatively quiet 10-12 shifts by gaining the zone, waiting for Drew Doughty to catch up to the play, and issuing him the puck in stride with the ability to make something happen. Though the Kings fell into their second period trap again – they've now been outscored 12-5 in second periods this season – they ceded very, very little at their own end of the ice. The possession discrepancy between the two teams was wide; the scoring chances discrepancy was probably even wider. During five-on-five play, Columbus generated very few high quality scoring chances.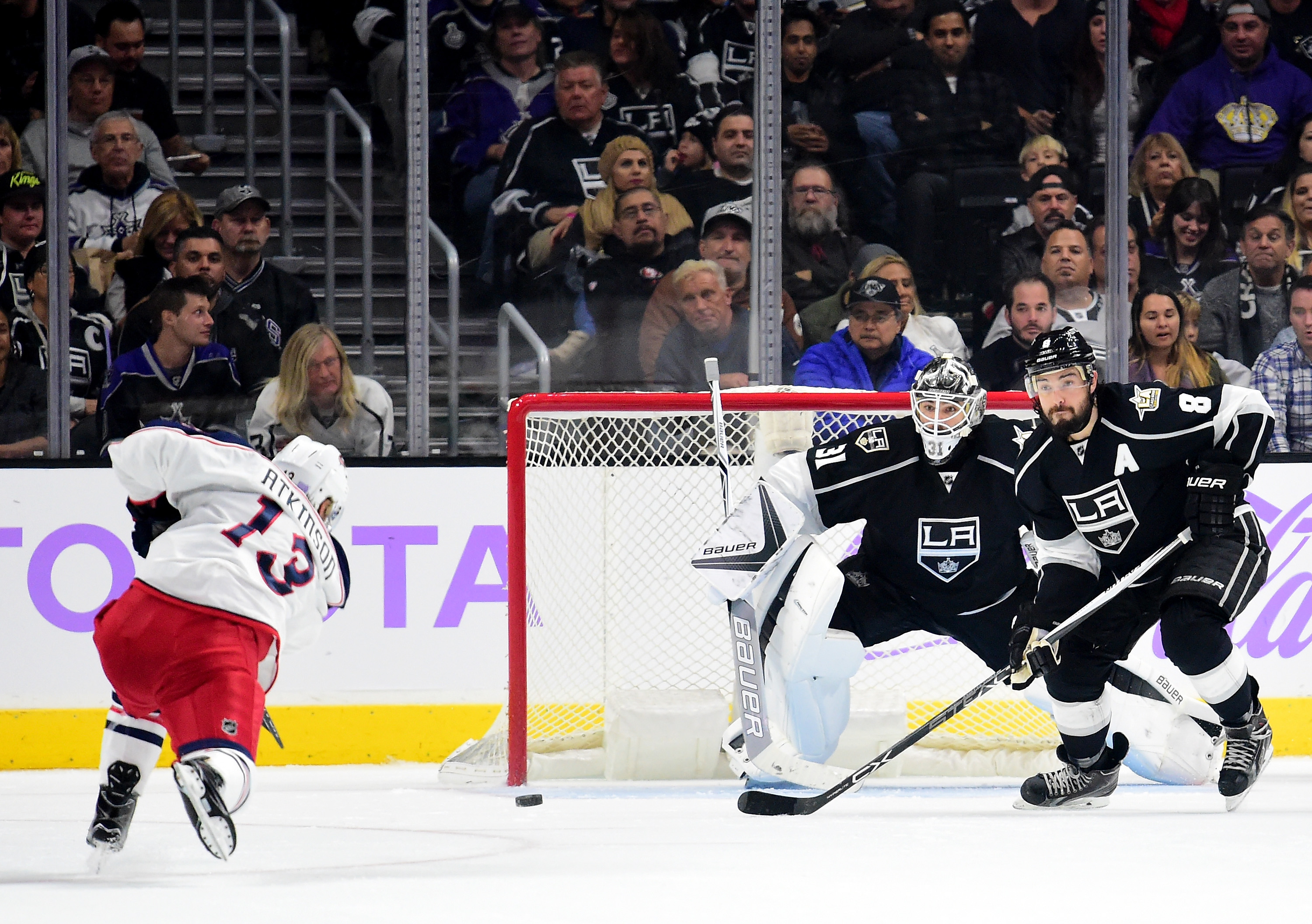 In reading comments on the site and on Twitter, I'm seeing two seemingly conflicting points of view that are actually related: 1) There's better balance throughout the lineup with the insertions of Tanner Pearson and Nic Dowd, and 2) Dwight King should not play on Anze Kopitar's line. Those notions are congruent; there is better balance throughout the lineup in part because King is playing on Kopitar's line. I'm not sure if anyone has noticed, but Marian Gaborik is injured, and the Kings have to make adjustments despite having very few options on the left side of the lineup. King, who played three very good games to start the season before a few games of less descript play, hasn't hurt the team alongside the most dynamic forward of the group. In fact, the first two lines have, more or less, thrived since October 12. Production and possession from the Kopitar and Carter lines haven't really been an issue at all. Eventually Teddy Purcell will be moved back into a slot in which he will have the opportunity to supply production; perhaps he'll play alongside Kopitar and Toffoli, or Carter and Pearson. Or two other completely different sets of forwards. But the most significant challenge the forwards will face this year will be how to wring production from the third and fourth lines; King, playing alongside Kopitar, doesn't centrally factor into that. The top two lines have been good.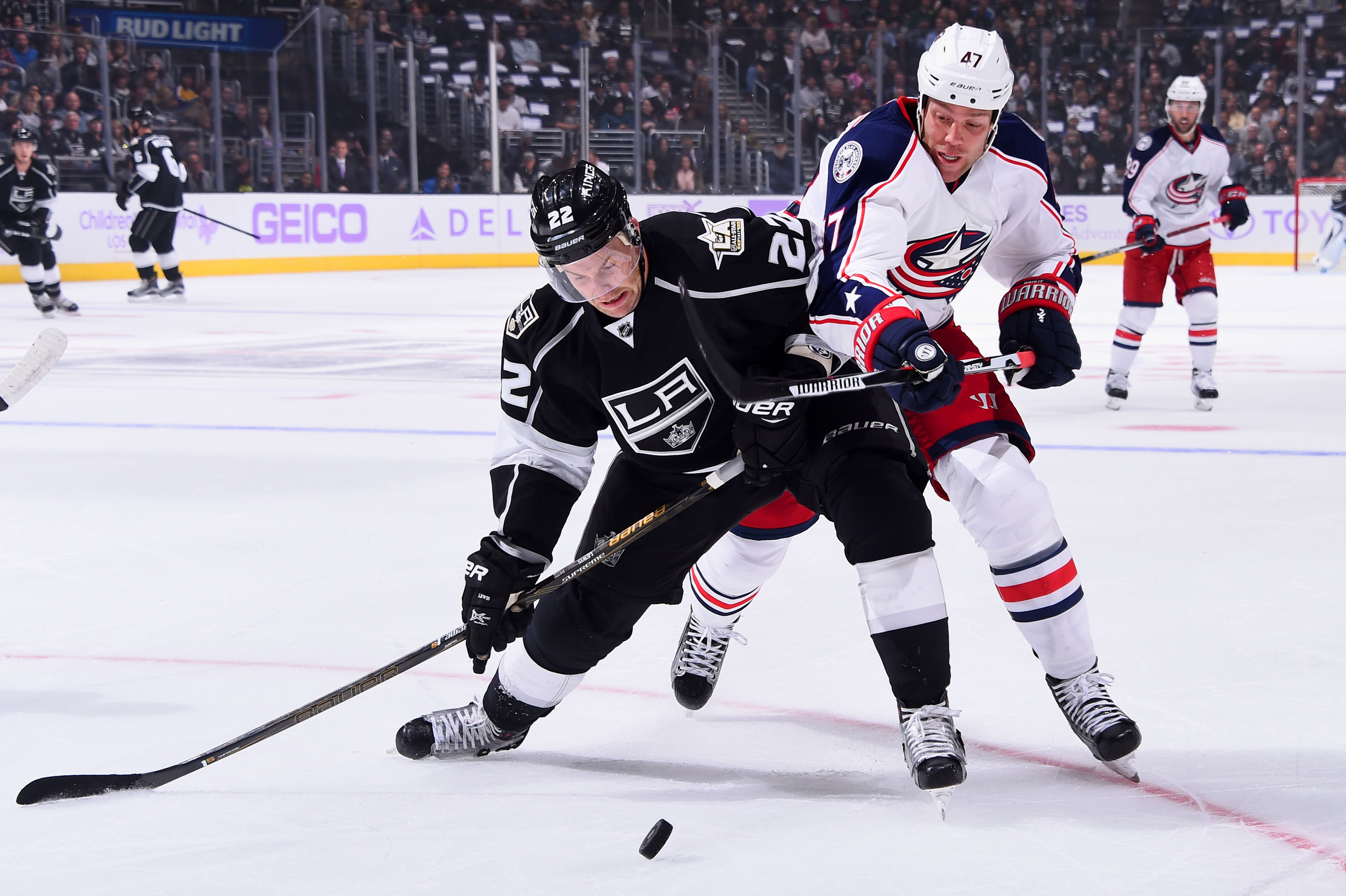 Los Angeles has won three in a row, but there's some tough sledding ahead. The next five games begin with nearly as challenging of a three-in-four as you can find in the Western Conference: versus Nashville, followed by a road back-to-back in St. Louis and Chicago. After returning home, the Kings face Anaheim and Pittsburgh. In a span of eight days, they'll play the defending champions, a conference finalist last year, a team that advanced to the second round, a team that has won three titles in six years, and a very good divisional rival. L.A.'s game has been coming together, but we'll know a bit more about this team one week from now.