Element of speed boosts Pearson-Carter-Setoguchi
So, what did the Kings receive in the two most recent games that wasn't there for them in the previous two? How about Tanner Pearson's three goals, one assist, plus-four rating, seven shots on goal, three penalties drawn and one forechecking stick tie-up leading to Nic Dowd's first career goal at the end of a bang-bang play?
Pearson, who has come roaring into the season following a four-game suspension for a preseason checking to the head major penalty against Edmonton's Brandon Davidson, has found early dividends opposite Devin Setoguchi on a line centered by Jeff Carter.
"Yeah, I think the whole line is a pretty quick line," Pearson said. "With Carts up the middle, it hardly looks like he's moving, but he's flying. It's definitely a good speed line, and it's working well."
That element of speed is welcome on any team, and while the Kings might not play with the exact same cadence of some of the fastest teams around the league, they've always still been able to play with poise at a good pace under Darryl Sutter due in part to the team's up-tempo practice habits.
"Speed is not just lining up and going to the race and seeing who finishes first at the other end," Darryl Sutter said. "Speed is also being able to operate going fast, and to think going fast, and that matters a lot."
Setoguchi has assists in back-to-back games and started a nice play when he turned towards the offensive zone, faked a dump-in and instead issued a hard pass that hit Pearson in stride – "It was literally tape to tape. I didn't even know it was coming, and it just kind of hopped on my stick, and I went for it," Pearson said – and has "gotten better as we've gone along, for sure," according to Sutter.
"I think he's a little more settled in his game. We just need to push him into areas of the ice where he can get still better at. I think Tanner, as I said when he came back, hey, you want him to score any game, but he's going to get opportunities and he can play in your top two lines, and that's, quite honest, what we need."
It's a bit of unexpected chemistry formed by necessity in the wake of injuries and adjustments, and through a tiny sample size, it's held up well.
"Even Carts and I were walking to the rink in Minnesota," Pearson said. "I asked him if he's practiced at all with Seto, and he goes, 'no.' It was actually good that we had a good first game, and we kept 'er going in the second."
Alabama Getaway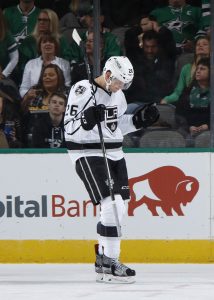 Just like players who grew up along the Highway 401 corridor in Ontario and played in tournaments in Toronto, London and Windsor, Nic Dowd's family also put miles on the car when traveling to places like Atlanta, Memphis, Nashville and Birmingham.
The first Alabama-born player to score an NHL goal since Enterprise, Ala. native Aud Tuten scored four times for the Chicago Blackhawks from 1941-43, Dowd, a product of the Huntsville hockey scene, grew up attending games at the University of Alabama-Huntsville, the Southeastern United States' lone Division I hockey outpost, and occasionally made the 90-minute drive with his family to check out the Nashvile Predators.
It's not quite hockey manifest destiny on the same scale as Scottsdale, Arizona native Auston Matthews being drafted first overall and scoring four goals in his NHL debut, but it's always impressive when players come from well outside the more traditional cold-weather footprint.
(Or, in this case, inside the footprint of extreme college football fervor.)
"We're definitely an Auburn War Eagle family, just because both of my brothers went there, but I wouldn't say we're fanatical, by any means," Dowd said. "If they're playing, root against Alabama."
Unlike his friend Jared Ross, another Huntsville native who became the second Alabaman to play in the NHL and who has a playoff goal with the Philadelphia Flyers to his credit, Dowd decided to travel to play Division I college instead of remaining at home to play for the UAH program and was a two-way playmaking standout with the St. Cloud State Huskies in Minnesota, in the middle of one of the cradles of American hockey support. It was a bit different from the hockey culture where he grew up.
"Obviously you've seen the growth here in Southern California," Dowd said. "I wouldn't say Alabama is quite there by any means, but I would say that the college and youth programs are really good."
Dowd doesn't really speak with anything resembling a thick southern drawl – his parents were both born in England – but in terms of accent, he's looking to let his play do the talking… so to speak.
"Coming to a new team, especially as a new guy, the first time starting the season in the NHL, you want to feel like you're contributing, you know what I mean? Make yourself part of the team."
It's representative of what will be a season-long thrust to spur the offense.
"We need some production – that was something we talked about last spring – from our third and fourth lines," Sutter said. "So that was the first goal out of our third and fourth lines."