There are personnel concerns for this Kings team at the moment – without Marian Gaborik, Tanner Pearson and Jonathan Quick, the lineup isn't as balanced, and there's no All-World goalie in net – but the manner in which they allowed four second period goals exuded a more unfamiliar unease than that brought on by who was missing. All goals are the result of some mistake at some point by the defending team, but these were errors in both detail and coverage, areas not generally associated with the traditionally heady play and airtight checking under Darryl Sutter. The first two Flyers goals were aided by poor line changes during rushes that led to wider swaths of open ice in the neutral zone. There were missed assignments in coverage on the third and fourth goal, with several missed opportunities to clear the zone, turning the game from a two-goal deficit into a second period rout. It was a rough night for the Forbort-Greene pairing, which was victimized on a succession of shifts midway through the period and resulted in Greene drawing only 3:35 of additional ice time after Los Angeles fell behind by three. It's too bad for the Kings that the game deteriorated the way it did. L.A. was the better team in the first period, and while there wasn't a surplus of Grade-A type chances, total opportunities still favored the club 20 minutes in. After falling behind 7-0 in shots midway through the first, Philadelphia took 30 of the remaining 48 shots in the game.
The personnel challenges will be mitigated somewhat by Pearson's debut on Tuesday, but this was a team on Friday that didn't get much assistance up front beyond the Kopitar line. With injuries, suspensions and off-season departures, there are ample opportunities for players to step up and assume a more defined role. Two games into the season, that hasn't happened yet, and few players are making enough of a positive impact. When Pearson returns, he's going to have to produce, just as Tyler Toffoli will have to produce, and Jeff Carter will have to continue to produce, and players like Andy Andreoff, who had a good training camp, and Dustin Brown, and Dwight King, and Alec Martinez and Jake Muzzin and Drew Doughty and Brayden McNabb and others are all going to have to continue to progress towards the next level in their careers for this Kings team to continue to operate within its window of contention.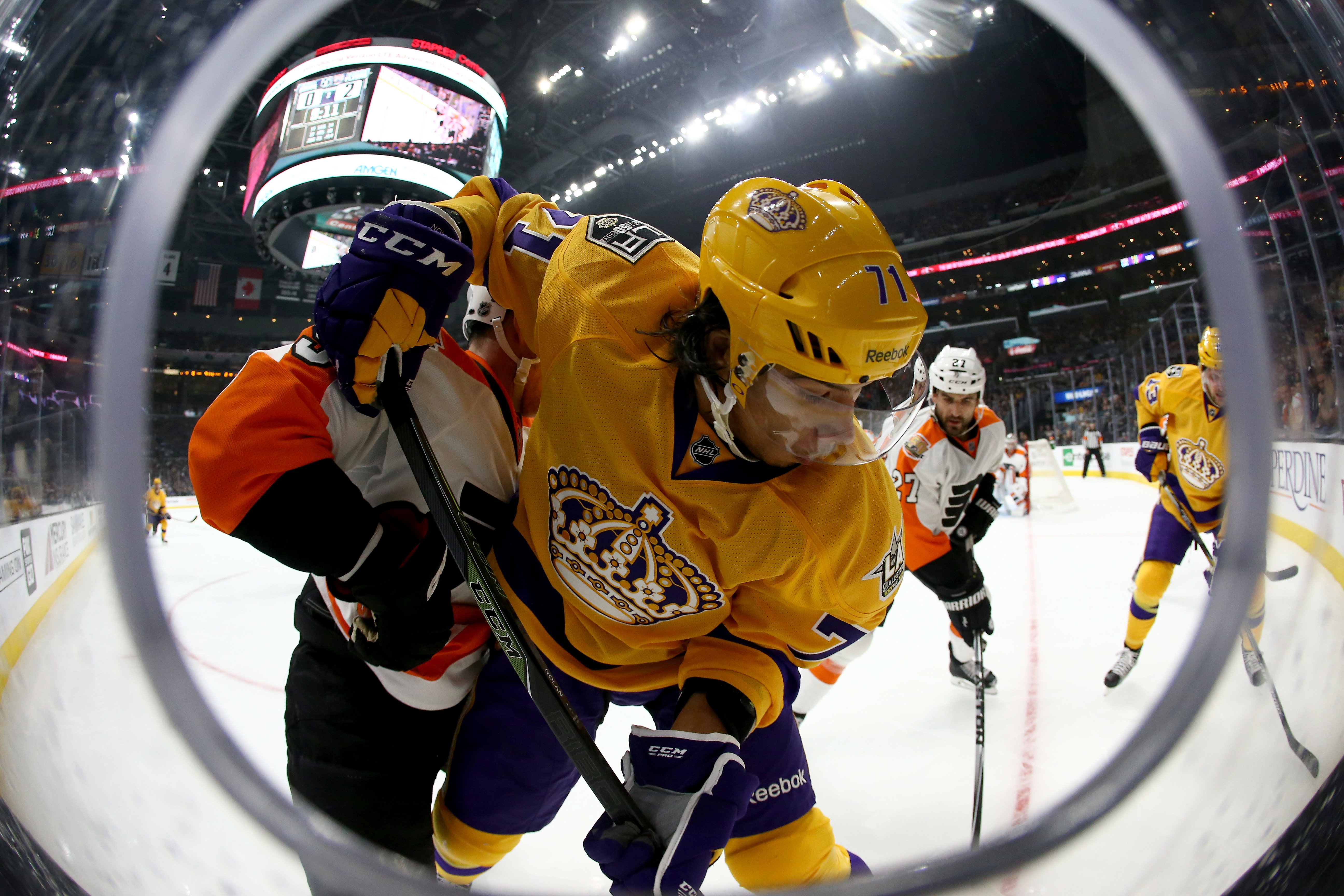 Forbort-Greene opened the season for the club, but ultimately, if their partnership can't be righted after a forgettable night, there will be other options that can help the team. There are young, intriguing players at AHL-Ontario, and while two games does not a season make, it's pretty safe to assume that players like Kevin Gravel and, perhaps a touch later in the season, Paul LaDue could step into this lineup and provide different looks than what has been shown through 120 minutes. There are, of course, questions that will be asked when there is the consideration over whether younger players will be thrust into an NHL lineup, the least of which are "Will this move help the team win games?" "Is this decision good for their development?" "Are they being put in a position to succeed?" Again, only two games have been played, and the decision to bring up any assortment of the team's NHL-cusp prospects will be made deliberately and after ensuring that all parties have been given the appropriate opportunity to show what they are capable of providing while also the chance for those already on the roster to work through any kinks in their games.