Time to buckle up, Kings fans. There are no immediate answers at this point – only concern, on the part of fans and management – as one third of the Holy Trinity suffered what could be a serious injury, perhaps throwing off the trajectory of the club's 50th anniversary celebration 19 and a half minutes into the first game. This is a club equipped to handle the loss of its all-world goaltender better than most by virtue of its strong possession game, aggressive checking and tight structure and detail, but this team isn't as deep personnel-wise as the 2013-14 team was when it lost Jonathan Quick for nearly two months and rallied to earn points in 17 of the first 19 games following his injury. Until the MRI results are known, this is all just window dressing and speculation; a firmer idea where this highway travels will be learned in the coming days.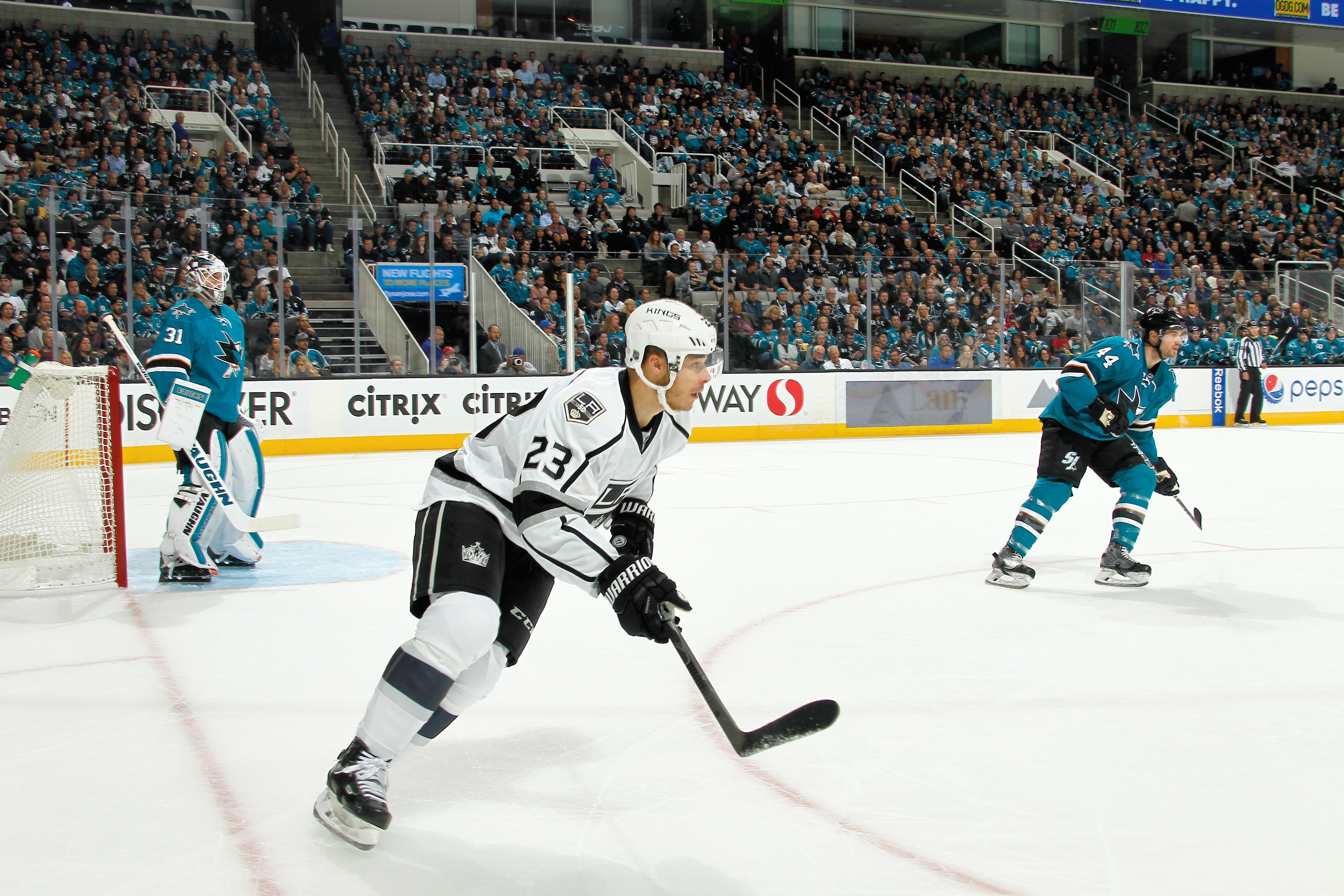 Darryl Sutter thought the Kings "played really well." That's part Contrarian Darryl looking to send a message during an early bout of adversity, but I understand where he's coming from, even if I don't necessarily agree fully with his assessment. Los Angeles struggled to string consecutive passes together while leaving its zone beginning with roughly 10 minutes to play in the first period, and as a result didn't operate with any zone time advantage; that's probably to be expected, given their personnel challenges in a difficult road environment against a team that looks set to defend its Western Conference title. On the other hand, a superb power play cashed in early to allow the team to play with a lead in a building where winning the first 10 minutes is important, the team received excellent goaltending, and there were near misses – Dustin Brown's netfront chance off Devin Setoguchi's late second period feed and Carter's deflection that trickled wide in the third period were among them – that very nearly reclaimed the lead. In the end, it was a one-goal game – a loss – but still a one goal game. Counterpoint: San Jose operated with a heavy possession and scoring chance advantage, and the goal difference, if not for the standout goaltending, could've been wider. Drew Doughty was a conduit for the team's emotion when he pounded his fist on the ice after hesitating instead of playing a loose puck before recovering to deftly block Joonas Donskoi's centering feed. Brent Burns, who had slipped past Setoguchi, cleaned up the garbage for the game-winner early in the third. (EDIT: While Setoguchi was visible in the highlight, Dustin Brown, the left wing, would be tasked to keep an eye on brent Burns, the right defenseman.)
We generally know better than to predict a June parade along Market Street in downtown San Jose, but it's hard to look at the Sharks' roster, and the players the Penguins return, and make a case against the two meeting in the Stanley Cup Final once again. The Capitals will be a force, the Predators are in their contending window, and the Blackhawks are still probably the Blackhawks – and as long as there is minimal disruption to the Holy Trinity, the Kings still have as good of a core as any in the league – but I dare you to find me a better team top-to-bottom than San Jose in the Western Conference. They're a team that's both heavy down low and strong on the forecheck yet equipped with ample speed, their role players in Donskoi, Joel Ward, Chris Tierney and Melker Karlsson are highly effective two-way players, and they have a goaltender who has already lifted a Stanley Cup and came within two games of winning one on his own. Perhaps Father Time begins to take notice ever so slightly of Joe Thornton, and maybe that aging curve continues to add a pound or two to Patrick Marleau's stride. The back end of their defense, while sturdy in Brenden Dillon and David Schlemko, may not check as tightly as some other pairs in the division. But virtually all teams have holes in the salary cap era, and it's tough to find many dents in the Sharks' armor at the start of the season.