Good day from Las Vegas, and farewell, Frozen Fury. The Kings will play their final preseason game tonight at T-Mobile Arena at 7 p.m. against the Colorado Avalanche.
–It seems as though the assessment process is over for head coach Darryl Sutter and the importance of tonight's game is getting players like Drew Doughty and Anze Kopitar into their first preseason game. When Sutter was asked if players are getting one last shot to prove their worth, his response was, "No. I think we're finishing up camp and I don't think one game's going to have an impact on who's here and who's not." Both Doughty and Kopitar have not played since Sept. 28 in the final game of the World Cup.
–Kopitar tonight will play with RW Devin Setoguchi, Sutter said. Lisa Dillman of the Los Angeles Times later reported that Dustin Brown would skate on that line as well. Setoguchi and Brown did not partake in the morning skate.
–Jonathan Quick is expected to start in net. He posted a 31-save shutout last Sunday in a 1-0 win over the Ducks in his only other preseason outing.
–The morning skate was an optional one and for those interested there were no usual line rushes. Jeff Carter did do a few drills at center with Tyler Toffoli and Dwight King, so there's an indication that Carter could be in the lineup as well.
–The Kings will fly back to Los Angeles following tonight's game and be off Sunday. They'll practice again on Monday and Tuesday before flying to San Jose for Wednesday's season opener.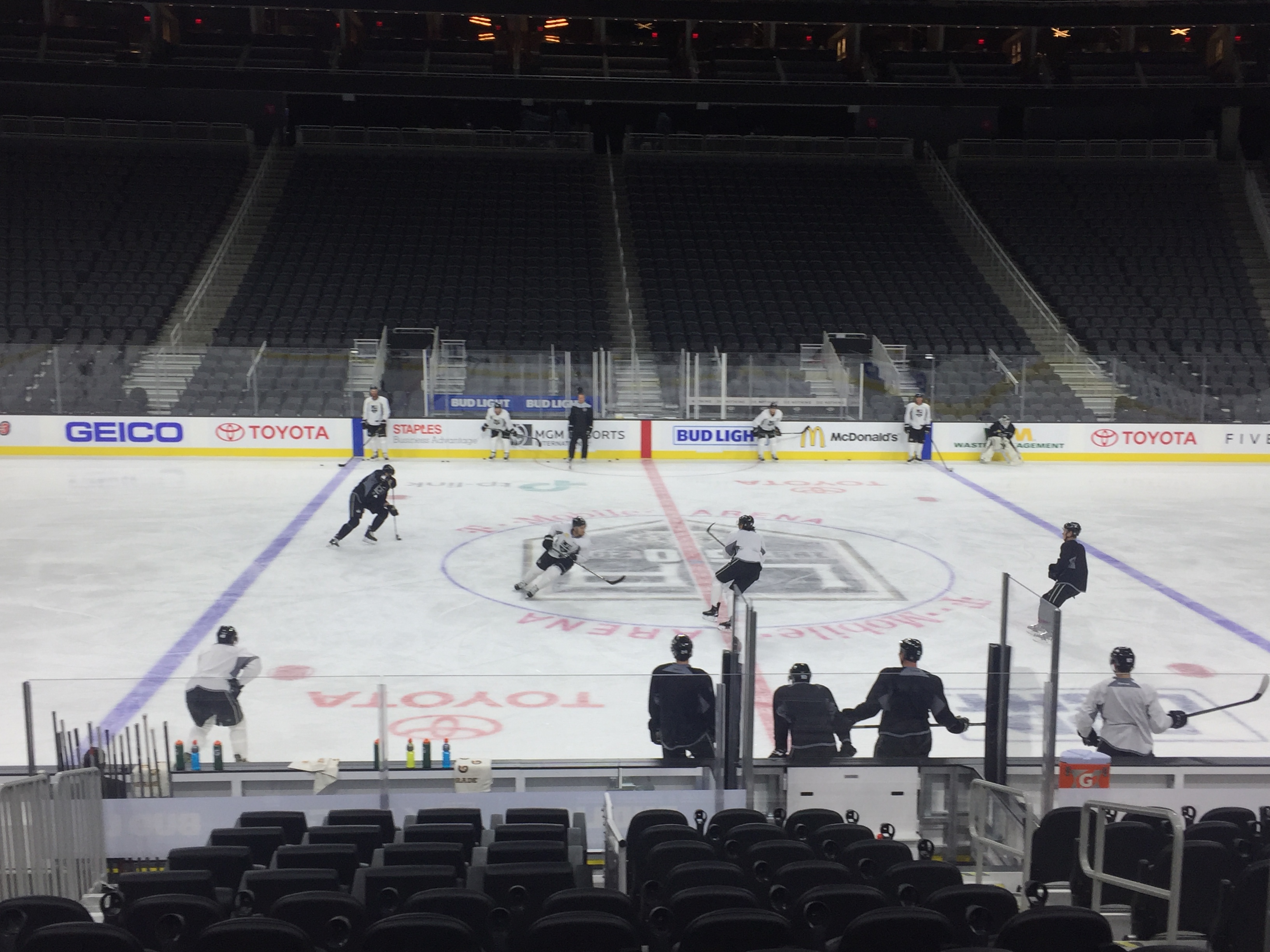 –Also had the chance to speak with defensive hopeful Kevin Gravel today, who said he's prepared to be in the lineup tonight after not suiting up a day ago.
Gravel, on what the training camp process has been like:
Obviously we're aware of the situation, I think everyone is in terms of the spots that are open and all that. Once the game starts or the practice starts you take the thinking out of it and just go play. That's what the summers are for to try to prepare yourself to be in the best spots. When camp comes around you've just got to trust your training and trust your game. It's been good. It's my longest time I've been up at camp so it's been fun. I've enjoyed every bit of it. We got to go on some pretty cool road trips with the Hockeyville game and now in Vegas here. It's been fun, I've enjoyed it and hopefully it finishes well.
Gravel, on having other prospects share the experience with:
I'm still rooming with Mike [Mersch], so that's the same as the last three years or whatever it's been. There's a comforting factor with that and the Dowder, Forby, Kemps, Dermy, all those guys that are here. Even I got to know these guys a little bit in my call-up last year, which is nice. I'm not trying to feel that process out, I kind of got to go through that last year and just kind of come in here and just worry about my game and play hockey. Not worrying about stepping on guys' toes or anything like that, so that's been good.
Gravel, on if any teammates have taken him under their wing:
I think just as a whole they've got a great locker room up here. All the older guys, they do a really good job of including us younger guys and if we have a question here or there. You can learn a lot from these guys whether you're talking to them or watching them on the ice, away from the rink or whatever, there's a lot you can learn and especially for a guy like myself who's still got a lot to learn and a lot to pick up on and being around guys who played in the league 10-15 years is very beneficial for me.
Gravel, on any feedback he's had from the coaching staff:
Kind of take it like a regular season game, after every game you break down the film. I've done a little bit of video here and there and they obviously go over your shifts and what you did well, what you could work on. It's a process, it's still a process and you try to build on it every game and every game you hope to get better and feel more comfortable and I think for the most part I have. You just try to keep that going as long as you can.