One quick note: I've been told by hockey ops that forward Austin Wagner (WHL-Regina) and Chaz Redekopp (WHL-Victoria) have been assigned back to their junior teams. Both players were on the Denver-Vernon trip and took part in practice earlier today before traveling north with the team to B.C.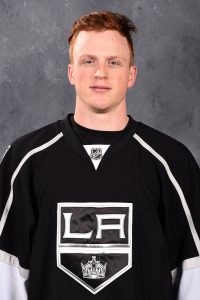 Wagner (right), a 6-foot-1, 178-pound forward, has been described by multiple people in hockey operations as the fastest skater in the entire organization. The 19-year-old is still in the process of matching his decisionmaking with his pure, unadulterated speed, and will head back to a loaded Regina Pats team that could contend for a WHL title, especially if it receives 20-year-old playmaker Adam Brooks, a 5-foot-10 forward who led the league in scoring last season, back from the Toronto Maple Leafs. Wagner, a fourth round draft pick in 2015, totaled 28 goals and 62 points in his 18-year-old season last year.
Reddekopp (pictured above), a sturdy, lockdown defender who plays a hard game, was chosen in the seventh round of the 2015 draft, and will return to a Victoria team that is also capable of making a run this season but has opened the year with one win in three games. The 6-foot-3, 219-pound 19-year-old totaled four goals, 30 points and 102 penalty minutes a year ago.
Because both players are 19-year-olds and were drafted out of major junior hockey, they will not become eligible to play professionally until their club season ends.
Barring any additional assignments, the Kings officially have 55 players in camp, though that counts Spencer Watson, who underwent off-season wrist surgery and is not with the team.
Los Angeles plays split-squad games against Edmonton (in Vernon, BC) and Anaheim (at Honda Center) on Sunday, October 2.