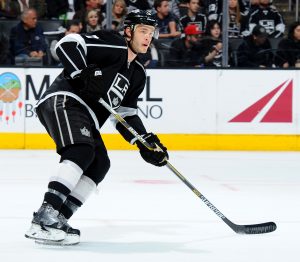 Brayden McNabb, who welcomes opposing forwards into his defensive zone office with jarring, cacophonous body checks, is looking to transfer his country strong power into his skating, which could hold the key to the degree in which he'll continue to develop in the coming year.
Looking to implant more power into his stride, the 6-foot-4, 216-pound left defenseman worked with three-time Olympic speedskater Dave Cruikshank over the summer in an effort to maximize his skill development and return to Los Angeles with greater force in his legs.
"At the end of the day, that's how you're going to get faster," McNabb said. "It's just more power. It's something I worked on a lot this summer and I'm going to continue to do."
McNabb visited Cruikshank in Milwaukee, while Cruikshank also traveled to Saskatoon and Los Angeles in an effort to raise the defenseman's ability to get up and down the ice.
McNabb is an interesting case in early-career accomplishment. A 2011 champion with the Kootenay Ice, the Davidson, Saskatchewan product actually took part in warm-ups prior to several playoff games during Los Angeles' Stanley Cup run three years later without having appeared in any regular season games with the team. He never drew into the lineup, but was with the black aces as the team celebrated on the ice at Staples Center on June 13, 2014. Since then, he's played in just five playoff games, winning one.
"[I want to] play to win," McNabb said about the next step he'd like to take in his career. "I want to be a winner, and I've got to go up and show that, and I've got to be a solid D for us and be consistent and limit the mistakes and just be a solid defender."
Los Angeles needs McNabb to be among the players who take the next step in their development this coming season.
"We're counting on Brady to really step his game up," Darryl Sutter said. "It's no different than when we talk about guys who've got to produce more offensively. We're counting on Brayden to be a much better defender and a much better puckmover this year, and because we think he's capable of doing that, and he wants to do it, and he's a good competitor – all of those things. So it's the time in this stage of his career to take that next step."
Following the team's practice in Denver on Saturday, McNabb spoke with LA Kings Insider about his efforts to continue to develop his skating ability.
Brayden McNabb, on how he has evolved from his early days with the organization:
I mean, I'm more experienced, obviously, and I kind of changed my workout plans. Did a lot of skating, worked on that, and started to feel really good with that. It's something that I've got to continue to work at, and I'm going to, but I like the direction it's going at.
McNabb, on whether he's trying to improve his footspeed:
Yeah, footspeed's a part of it, but there's a lot of other things that kind of go into it with the skating, a lot of technical stuff. It's been a good summer regarding that, and I've learned a lot, and I think it's helped so far.
McNabb, on working on the ice with Dave Cruikshank:
There's drills off-ice, too, that quite a bit that Dave kind of gave me, and that's stuff that's really important, too, so it's something I've got to stay on throughout the year and in continuing my career. There's stuff like that, and obviously the strength stuff is always something I'm going to have to work at.
McNabb, on the aspects Cruikshank has worked with him on:
Just how you push in your stride, the force, the angles. A lot of it's how you ride on your blade and how you're leaning, how your body should be positioning. It all makes sense. It's a science, it's physics. He explained that, and when you believe in something, it definitely helps with you getting better.
McNabb, on using video to improve skating:
Yeah, lots of video with me. You can kind of see the progress and how you're getting better. You can kind of see it in the games and stuff. We do it all, everything. Even little skate tests, video, the whole nine yards.
McNabb, on his goals for the coming year:
You just want to be a solid defender, and you want to contribute to the team the best you can. I want to take that next step in my career and establish myself as a top-four D-man, and I just want to be a solid defender.