While recent years may have elicited a collection of players vying for one or two open spots on a roster that had more or less been solidified, this fall features some good, hardened, old fashioned competition at Kings training camp.
As it stands, there are four players who don't have to worry at all about apartment hunting in Ontario. Drew Doughty, Jake Muzzin, Alec Martinez and Brayden McNabb will play for this year's team, barring any unforeseen and unlikely player movement away from a unit that will be looking to add depth, not subtract from it.
That leaves six players vying for three or four spots – Los Angeles has traditionally kept seven defensemen as part of the 23-man roster – on this year's team, and there's a mix of tenured, veteran presence with a group of hungry younger players looking to prove that they can not only make the team but remain with the big club for the entire 82-game season.
The symmetry is noticeable. The veterans are Rob Scuderi, Tom Gilbert and Matt Greene, and the younger players are Kevin Gravel, Derek Forbort and Zach Trotman. Gravel and Forbort have been nurtured and developed by the club, Trotman and Gilbert signed with the team through free agency, and Scuderi and Greene have been brought in through trades, though in Greene's case, that trade came eight years ago and ultimately served as a character and culture-building pillar that played a major role in the team's two Stanley Cup titles.
This competition will play out in earnest over the coming week. Following last night's split-squad games against Arizona, the team faces Anaheim at Staples Center on Wednesday and Colorado at the Pepsi Center on Friday before a Sunday evening that will feature both a Kings-Ducks match at Honda Center and a Kraft Hockeyville split-squad against the Edmonton Oilers at Kal Tire Place in Vernon, British Columbia.
"Hey, we only have so many games," Darryl Sutter said. "It's marching on, so they should be thankful if they're in, and they should be really putting their foot on the pedal to show what they've got. I mean, we're going to really start getting down into who we see where by Wednesday."
ZACH TROTMAN
26-year-old Zach Trotman, who signed a one-year, $650,000 contract with the club over the summer, is a right-handed shooter vying for a spot on a team that features only one righty embedded on the roster. Though lefty Alec Martinez has comfortably played his off-side for a good part of the last two and a half seasons, the team still hasn't been able to rely on a multi-situational righty who can spell minutes from Drew Doughty since Slava Voynov's selfish and cruel actions two Octobers ago.
Trotman isn't likely to eat profoundly into the allotment of minutes on the right side should he make the team, but he should still provide a versatile option who plays a modern game on the back-end.
"I skate well for my size, so being able to move the puck, especially through the neutral zone, is one of my stronger suits, so in order to really seal up that back end, I need to play solid in my own end, and that, I would say, is my identity, along with being able to get some shots through here and there and set up some plays in the O-zone," the former Boston Bruin said.
Trotman was raised 30 minutes south of Indianapolis in the city of Greenwood, where there was one ice rink within 40 minutes of his house. "It was a rink-slash-water fun park," he said.
The 6-foot-3, 217 pound defender wasn't among the most heralded players in his age group and played in-house hockey before working his way onto AA and AAA travel teams. He says that his Indiana-based teams were "spanked by the Michigan teams a lot," but after his family relocated to suburban Detroit, his path to the NHL included a stint with Wichita Falls in the NAHL, and, ultimately, a role with Lake Superior State University, from which he was drafted by the Bruins in the seventh round of the 2010 NHL Draft, hosted by the Kings at Staples Center.
He's been making the most of those overnight bus rides from Sault Ste. Marie, Michigan.
"We had a couple 12-hour rides," Trotman said. "We had an 18 or 20-hour one one year to Alabama-Huntsville on a sleeper bus. It was pretty fun. I really enjoyed that stuff, it was fun."
He remains close with his Lakers teammates and now looks to make an impression on his new mates with the Kings, a team he chose to sign with because of the success the organization has experienced and the "tremendous coaching staff." He acknowledges there's still room for him to learn while in Los Angeles, a team that employs somewhat similar systems to Boston, another defensively-minded team.
"I think a lot of teams want you to move it up when you can. I think there are some teams that are more prone to bringing the puck back and kind of resetting the play," he said. "There's benefits to each, but if you can get the puck up quick you can catch the other team off guard and out of position and it kind of creates chaos for them. It's definitely something that's becoming more popular in the game. The way about which you do that can be different from team to team. There's a little more strong side plays here whereas Boston was more of the D kind of go back and spread out, so that's another subtle difference between a similar style, but how it's done is different."
"The big similarity is obviously a defense-first mentality. It's take care of your own end, play hard hockey, and don't give up anything, so with that being said, I find so far that LA's a little more aggressive about how they go about it. It's trying to be more of an in-your-face game – gaps up right away, attacking right away, take away time and space immediately. So there's a little more – I don't know if 'free reins' are the right words – but a little more room to kind of step out and get around and get on guys. It's an adjustment, for sure. I still have some old habits of maybe sagging back in or something like that, but I like it. I don't know if 'easier' is the way to go, but it's easier in a sense for me to just kind of attack, just go, go, go. … They're pretty similar in the style of mindset."
ROB SCUDERI
You know Rob Scuderi. You know Scuderi from his nickname, "The Piece," assigned in his earlier Pittsburgh tenure. You know him from his original four-year stint with the Kings, in which the team made the playoffs each season and won the Stanley Cup in 2012, a spring in which he weathered a Steve Bernier boarding major in the Stanley Cup Final, setting the stage for the team to score three times in the ensuing power play to facilitate a Game 6 rout and the emotional collective catharsis experienced by Kings fans following 40 years of wandering through the wilderness.
But his campaign last season followed a non-linear path. Scuderi was traded from Pittsburgh to Chicago and assigned to AHL-Rockford before he was sent to the Kings in exchange for Christian Ehrhoff.
"Last year was certainly kind of crazy at points," Scuderi said. "I've been fortunate in my career to be in one place for a majority of the time, and when I made a decision to leave and go somewhere else, that was it. Last year, certainly a couple of times, not by choice, but I'm certainly happy the way it ended. It was kind of a long year, not so much for me, but for your family, but I couldn't be happier that I ended in Los Angeles. That's a place where you come back, where you feel familiar, you're comfortable with what they expect from you, and I thought given the fact that I was bouncing around last year, I thought I adjusted pretty well and was hopefully a positive contributor down the stretch."
He ultimately averaged 18:07 per game while with Los Angeles (shortly after averaging over 17 minutes for the Stanley Cup-bound Penguins) before his time on ice average rose to 19:20 in the playoffs. He's not mobile and poses no offensive threat, but there's still something to be said about a character player who has appeared in the playoffs every single year since 2007, totaling 122 games in all.
"For the major, major majority of my career, I've been a player in the top-six defensemen, and found a way to contribute on the penalty kill or even strength, whatever the coaches have chosen for me, and that's my goal. Nothing changes," he said. "As an older guy, I expect myself to be a bit of a leader and to speak up when those times come up, but as a player, you still expect the same things from yourself, and that's to play and be productive."
The two-time Cup winner turns 38 in December and, for the first time since breaking into the league, faces stiff competition for a spot on the team. Mid-summer conversations indicated the team, barring any change in trajectory from Scuderi and those he's competing against, would prefer that the veteran serve as a third pairing option, but performances are never static, and several of those he's competing with for playing time are on the upswing in their career directions.
"When you come into training camp, you have to be prepared to win a job," Scuderi said. "Whether you see that as maintaining your job or sticking when you weren't there before, that's the mindset you have to have. Even though you've been around for a while, you still have to be prepared to prove yourself that next season and prove yourself in that training camp. Even though that might be the case, it's not something I know myself, I personally don't concern myself with. You're trying to be the best that you can be, and that's it."
In the hypothetical event that Scuderi is assigned to the AHL, the Kings would receive $950,000 of relief from his cap hit, which is $1.125.
DEREK FORBORT
Like Trotman, Derek Forbort was chosen in the Staples Center-hosted draft in 2010. But unlike Trotman, whose name was announced as custodians were arriving to clean up the joint, Forbort took the stage in front of a large crowd the night before as the team's first round pick, 15th overall.
Forget that Forbort was chosen between St. Louis Blues stars in Jaden Schwartz and Vladimir Tarasenko, Forbort's path to the NHL was always seen as one that would take time and necessitate a concerted developmental push. At 24, the 6-foot-4, 216-pound smooth-skating defender has the tools to be able to remain on the team's roster after a one-goal, two-point, 14-game stint the previous season.
"[I want to] just show my game," the Duluth, Minnesota native said. "Show what I bring to the table, which is making simple plays and having a good stick defensively and just competing out there. That's what I try to do."
That compete level has been raised – he was an all-situational defender with the Calder Cup champion Manchester Monarchs in 2015 – but will still draw scrutiny from those watching him closely. He showed a spark of that battle element when engaging hardnosed forward Kyle Chipchura in a fight after the Arizona Coyote stuck out his leg to catch Marian Gaborik with a knee-on-knee hit in late December last year, and such a decision sat well with the players he hopes to play alongside permanently this season.
But Forbort, unlike Kevin Gravel, would have to clear waivers were the team to choose to assign him to the American Hockey League. That he might pass through seems like an iffy proposition, so this year's camp, in his seventh year in the organization, is the most important in his professional career. Summer correspondence with several team sources placed others ahead of Forbort in the battle for a roster spot, but if anything is to be gleaned from the Kings vs Kings game and the split-squad game against Arizona, it's that he's used his in-game action to present his case. He showed patience in understanding the time and space around him to step forward and unleash a blistering shot that Michael Mersch deflected past Jack Flinn for a goal in the intrasquad game before finding Teddy Purcell with a no-look snap-pass on the power play for an equalizing goal in Monday's preseason opener.
"Dowder just made a great play to me in the middle there, and Teddy did a good job of getting open, and I was just able to hit his stick," Forbort said, casually. It was the prettiest highlight of the team's preseason opener.
TOM GILBERT
Speaking of players who stated their cases well in Monday's action, Tom Gilbert logged two assists and registered an even rating and two shots on goal as part of four shot attempts in a game-high 26:59 of action in the 5-3 loss in Glendale. He consistently got pucks through towards the net and notched his first assist on a slapshot from the right point that Trevor Lewis deflected past Mike Smith to tie the game at two early in the second period.
It was the first game since February 19 played by Gilbert, whose season in Montreal ended prematurely when he underwent season-ending knee surgery.
But Gilbert was signed to a one-year, $1.4-million contract as a player who can generate offense from the blue line. He's a multifaceted defender, but does possess an interesting skill element that allows him to distribute the puck effectively and efficiently.
"I've always been a puck-mover in my career, so that's a big attribute that I take with me, and as much offense as I can throw out there obviously is a plus," he said. "But I think overall the last couple years defensively and rounding out my game has been a huge part of why I'm still playing, too."
The 33-year-old appears more likely to lock down a spot than several of the other players who are advancing in age, and as a righthanded shooter, he fits a position of need.
There might not be as much of a high ceiling in Gilbert's game as there was when he played for Edmonton – he amassed 13 goals in 2007-08 and 45 points in 2008-09 – but as a puckmover on a team that employs an aggressive, up-ice mentality in which defensemen are encouraged to quickly get pucks into the hands of the forwards, there could be a good fit in Los Angeles.
"There's nothing faster than how the puck moves," Gilbert said. "You can have the fastest skating team in the league, but if they can't move the puck, then they're as slow as the puck. That's what they're preaching here, and they do a good job of it."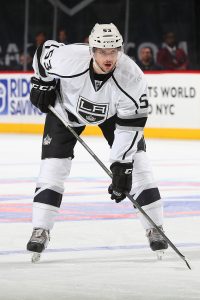 KEVIN GRAVEL
Of any of the moderately-heralded players in the Kings' developmental system, few have stated a case for themselves as strongly as Gravel in the past year and a half.
His Twitter name is @glassandout7, an appropriate handle given his steady defensive zone play and safe use of the rink's perimeter in clearing the puck out of danger. But in the strides he has made in the past 18 months, Gravel has shown that he has been able to play at a raised pace when acclimating to both the AHL and NHL.
"I mean, I think [my five-game NHL stint] went all right. I really don't have anything to base it off of, obviously with it being my first couple games," the 24-year-old said. "The feedback was for the most part pretty good, but you want to consistently build on it. I think with every game I played I felt better as the games went on, and then I got called back up later in the year and got to play in Calgary, and that's when I felt my most comfortable out there. I'd expected it, I already kind of known what was going on. You just try to build on that. That's kind of what's big for this camp, is I've been through it now and I'm familiar with the guys, comfortable around the guys, so I can just kind of be myself and just go out and play hockey."
In doing so, he actually lost five pounds, if his current weight is compared to last year's training camp weight, but he's fitter after spending a summer in the gym.
"For me, it's always been just getting stronger and putting on some muscle," Gravel said. "That's one thing that I really tried to focus on this summer, is spending a lot of time in the gym. For the most part, I think it was a good summer. I put on a little bit of weight, so that's always good. I think it's still coming, there's still room, but I did put on a little bit ofweight, which was good for me."
The offseason buzz-phrase of "playing the kids" or "trusting the kids" seems to focus more on Gravel than any other defenseman. He's eligible to be returned to Ontario without having to clear waivers, but if he shows better than the other defenders in the preseason, there would likely to be a spot for him. Of any of the group, he may have the highest upside as a multi-faceted blue liner capable of playing intelligently in his own zone while moving the puck crisply and making plays in the other two-thirds of the ice. He can chip in with some offense by virtue of an accurate shot and has 13 goals in 113 regular season AHL games over the past two years.
"Obviously I ended up going back down to Ontario after the season here and after I made my debut and all that. They gave me a few things to work on," he said. "They want to see you as a better player down there after you get sent down than before you get sent down. … We were trying to win another Calder down there, so that was obviously the first goal. You just want to have a good end of the season. Obviously it's an accomplishing feeling making your debut and a dream come true. You just want to continue to make those strides, because you're not there yet, so you've still got to continue to work."
Like the others, he's aware of the heavy competition and what the team is expecting from those vying for spots on the team, and welcomes the raised play elicited by healthy competition.
"I think we're all aware of it," he said. "There are a lot of guys up here, and there are a lot of guys who want to be here, and not enough room, probably, for everyone. We're aware of it, but … it doesn't affect our interaction away from the ice or anything like that. We're all good friends. We spend a lot of time with each other, we're all at the hotel with each other. There's not an issue with that. These guys are your best friends, so if anything, I think it brings out the best of you on the ice. You want to see your teammates do well, but you want to do well, too, and if you see your teammate doing well, you're going to do your best to probably try to top that. It definitely brings out the best in you, and that's what you need. You want that healthy competition, and competition always brings out the best in you and the other guys."
MATT GREENE
Like Scuderi, Matt Greene needs little introduction. An emotional pillar supplying so much of the team's intangible base, Greene has literally bled for the Kings and has served as an alternate captain for a pair of Stanley Cup-winning teams.
But Greene, like Gilbert and Scuderi, is part of a group that is advancing in age in a league that appears to be featuring a higher percentage of high-speed, highly skilled forwards. He passed through buyout waivers shortly before July 1 in a final attempt to clear up cap space in an effort to re-sign Milan Lucic. There were no takers then; that Greene missed the final 79 games of the season due to shoulder and elbow surgeries do not work in his favor. Like Scuderi, were Greene to be hypothetically assigned to AHL-Ontario, the team would recoup $950,000 of his cap hit, which is $2.5-million. He's signed through 2018.
Greene has returned from length absences before. He broke his ankle early in the 2007-08 season, returned two and a half months later, and ultimately played 82 games played the following season. He missed three months because of back surgery in 2012-13, but returned late in the year and got into nine of the team's 18 playoff games. The following season he was inserted into Game 7 of the San Jose series and played all but one playoff game the rest of the way.
But Greene is also 33 years old and will now be tasked with keeping up to speed after having gone since October 13 without playing in a regular season NHL game.
"I felt alright," Greene said after playing in Monday's exhibition game against the Coyotes. "Still a lot of things you've got to get used to. You can practice all you want, but games are different. Hopefully the intensity ramps up here as we go forward and you get a better feel for the game."
He noted making reads on plays and dealing with chaos-inducing turnovers from both sides as the variables that he's looking to get accustomed to in his return from injury.
"You can practice drills as much as you want and kind of kind of getting your gaps from there, but I think once you get into a game there are turnovers, there are guys who fall down, there are missed assignments, stuff like that, that you've got to react to all that stuff. That's what makes it interesting out there. That's why they've got these exhibition games, so it's going to take a little while to get used to," Greene said.
No writing on the wall needs to be translated this camp for the intelligent, well-tenured defender.
"There's always competition," Greene said. "There's always guys that are looking to take your job or younger guys coming up. For us to break in, we had to take somebody's job, and it's going to be the same way when we're on the way out, and it's up to us to make sure that we make sure that we do the best job we can to prove that you're still here and do whatever you can to help this team win a championship."