TOM'S TIME
The afternoon group at Toyota Sports Center on Friday contained a collection of interesting players who will be in a heated competition for roles on this year's Kings team. Nic Dowd, Michael Mersch, Devin Setoguchi, Matt Greene, Tom Gilbert, Derek Forbort and Peter Budaj skated this afternoon, and each is worthy of their own story as they state their case to be included on this year's 23-man roster. (More on camp competition for particular spots will come this weekend.)
Gilbert, 33, is a veteran looking to earn a depth role on the blue line amidst the heavy competition. Limited to 45 games before his season was cut short when he underwent knee surgery midway through his 2015-16 campaign, Gilbert has played 447 of his 637 career games in the Western Conference. Having played for both Edmonton and Minnesota, Darryl Sutter is familiar with his background and ability, and associates him more with the tenured defensemen competing for a role on the team as opposed to the younger defensemen such as Zach Trotman, Kevin Gravel and Derek Forbort.
"It's unfair to base it on age or any of that. I've said that with the defensemen," Sutter said. "Scuds, Greener, Tommy are all in the same spot, and then there's a group of young guys that are in the same spot. They will sort it out on their own."
In his career, Gilbert has been known as a skilled but well-rounded defenseman capable of pushing the puck up ice quickly.
"I try to make sure the puck is on and off my stick and it's getting up the ice as fast as possible," he said. "I've always been a puck-mover in my career, so that's a big attribute that I take with me, and as much offense as I can throw out there obviously is a plus. But I think overall the last couple years defensively and rounding out my game has been a huge part of why I'm still playing, too."
The ability to get the puck into the hands of the forwards quickly has been a staple of the Kings play under Darryl Sutter. Los Angeles isn't the most sleek-footed, skilled team, but they've had the reputation as a team that has been able to establish its possession game and work in the offensive zone in part because of their up-tempo practice habits and the minimal time the defensemen spend with the puck.
"There's nothing faster than how the puck moves," Gilbert said. "You can have the fastest skating team in the league, but if they can't move the puck, then they're as slow as the puck. That's what they're preaching here, and they do a good job of it."
Having signed a one-year, $1.4-million contract with the club on July 1, Gilbert now has an opportunity to etch out his own role with a team he strongly respected as an opponent.
"It's a no-brainer when it comes to the Kings. They've obviously had great success in the past," he said. "Just playing against them for the last however many years has been always tough. The games are tough. They've got good, hard, smart, skilled players, so when I had a chance to come here and have an opportunity maybe to sign here, it was a no-brainer to come here."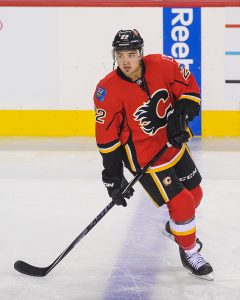 GOOD TO SEE YOU, SETOGUCHI
Devin Setoguchi, a thorn in the side of the Kings as a member of the San Jose Sharks earlier this decade, took part in his first training camp skate this afternoon and afterwards continued to share his background in becoming sober after struggles with alcohol, substance abuse and depression, as captured honestly and eloquently in an article by David Pollak of The Hockey News.
Setoguchi says that he's now about 19 months sober – The Hockey News's story came out late in his recovery – and that he understands the circumstances of this training camp invite after having totaled 24 points in 30 games last season with Switzerland's HC Davos after having been unable to capture a roster spot with the Toronto Maple Leafs in training camp.
"I mean, I've been out of the league for a year, so it's not like I can go two years out of the league and have a chance to make it next year," he said. "Yeah, this is a chance. Is it my last chance? Probably. If it doesn't work out, am I satisfied with my career and where it's at? Yeah, absolutely. I think just from myself and where I'm at, I'm just happy I'm allowed to play hockey. It may be here, it may be overseas, it may be in the American League. It doesn't matter. I get to play a sport for a living. I don't have to go sit in a desk … I get to do something fun. So, for me, I don't look at it as my last chance to play, because there's always opportunity to play somewhere."
That's some remarkable cerebral resilience that has been matched by an equally impressive corporal fortitude. To get into playing shape for his Toronto tryout a year ago, he dropped from 228 to 200 pounds in a rigorous conditioning regimen that saw him shed weight, even if it meant that he didn't prepare and acclimate himself for the season the same way that many of his colleagues did. While he was healthy in both mind and body, his substitute preparation didn't allow him to fully prepare himself for the rigors of an NHL training camp, and though he put forth a strong effort in trying to claim a spot on the Maple Leafs, he wasn't ultimately offered a contract.
"Last year when I went to play, I played in probably 20 games in over a year and a half, so it was good for me to go play this year," he said. "I went to Switzerland where it's just a lot of skating. A lot of skating and handling the puck, getting your confidence back. So when I came back, I was in relatively good shape so I didn't have to change too much. Being sober, you don't pollute your body as much as you used to in the summertime. I had weddings, I had bachelor parties, I had family get-togethers, and everyone, they drink and stuff. It doesn't bother me; it keeps me easier and maintains my training and [leads to] no setbacks. So it was actually easier for me this summer as opposed to other years."
Like his friend Kris Versteeg, he resides in Southwestern Alberta and is familiar with the tightknit hockey community that the Sutter family has been a central figure of.
"Darryl's been a family friend," Setoguchi said. "He knows my dad, he knows some people that I know from back home. The farming community in southern Alberta is a tight group, so I know the Sutter family. Actually, me and Kris Versteeg, we took over Rich and Ron's hockey school, so we run it together. I know Darryl. I'm sure they know everything that's happened to me. Like I said, I'm just thankful to be in this spot I am here, and I'm sure I'll get my chance, and when I have it, I just need to be able to seize it."
YO, ADRIAN
-Lindsay Czarnecki contributed to this report.
Top prospect Adrian Kempe, the Kings' first-round pick at No. 29 in 2014, is a longshot to make the team out of camp. His smooth skating spurns curiosity, but it's more realistic that he would be a midseason call-up candidate, should such an opportunity be earned.
The key for Kempe, who recently turned 20, will be to expand his role in Ontario.
"I've got one year here over now and I think this season is going to be really important for me," Kempe said. "I need to be more of a leader out there. I think I will be, too. After a year you learn a lot from the game and I think I played well last year and I know I'm going to be better this year. Just going to try to play better offense and hopefully play a lot better defensively, too."
Reign head coach Mike Stothers has already implied that he expects the Swedish forward to contribute more defensively than last season.
"Kempe should be able to kill penalties and contribute in all the areas you expect him to offensively," Stothers said earlier this week. "He should be a good penalty killer for us. Again, a guy like Kempe, who knows? He has a strong training camp, maybe he makes the Kings."
When notified of what Stothers said, Kempe responded with: "That's good to hear from him that he wants to trust me and he wants me to play penalty kill."
It would be a considerable leap for Kempe, who saw scant PK time a season ago and was often harped on by Stothers for his sometimes shaky two-way play.
"I think it's coming along well," Kempe said of his defensive zone play. "I think I got better and better the whole year. The first year we're here it was pretty tough in the beginning in the D zone to get the game, it's a smaller rink than back in Europe. During the year I got better and better and I think at the end of the season I played pretty well in the D zone but you can always be better. I want to be better there, too. I want the coach to trust me. I want to play penalty kill and power play and other things so I try to work on that every day."
How he embraces that challenge this season will translate into earning a potential roster spot with the Kings.
Kempe knows what he can bring offensively, but at times his numbers weren't always there. He finished with 11 goals and 17 assists in 55 regular season AHL games (limited games due to participating in the World Junior Championships and then a post-WJC slump). He excelled in the postseason though and was tied for a team-high four goals in in 13 games. Considering those numbers were established in his 19-year-old season, there's clearly an excellent base for a player who remains the club's top offensive prospect and who burst onto the scene with eight playoff goals as an 18-year-old during Manchester's 2015 Calder Cup run.
"It was my first year over there. You always want better numbers and I think I could put up better numbers, too," Kempe said. "I think I created a lot of chances out there and I could've scored more goals than I did. That's things I've got to work on but I still created chances so I think that's good for me. I still created opportunities and you've just got to bury it a couple more times. I don't think I had enough goals last year, so I think I need to work on that."