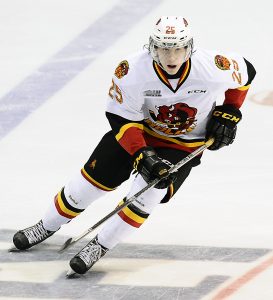 When writing about the signing of Patrick Bjorkstrand back in July, it became apparent that the team also had an eye on several players who had recently completed development camp. One of those players was Matt Luff, a 6-foot-2, 183-pound forward who posted 27 goals and 57 points in 61 games in his 18-year-old season with the OHL's Hamilton Bulldogs. On Thursday, the Kings signed Luff to a three-year entry level contract after he continued to impress in rookie camp and scored a goal in the Kings' 3-1 rookie game win over the Arizona Coyotes Tuesday night at Gila River Arena.
Very proud and honoured to announce I have signed with the @LAKings. Thank you to everyone who got me to this point! Especially my family

— Matt Luff (@Matt_Luff25) September 23, 2016
There are some interesting observations on Luff, who was ranked 96th amongst North American skaters when first draft-eligible in 2015. He wasn't drafted and the following year in the OHL, after the Belleville franchise moved to Hamilton, caught fire in the second half of the season. As a re-entry, his ranking of 183rd amongst North American skaters in 2016 wasn't likely to get him drafted, but he impressed in both development camp and rookie camp, and it was becoming more likely that the club would ink the Oakville, Ont. native to a three-year ELC, as they did on Thursday.
Here's what Brock Otten of OHL Prospects said of Luff in a review of the top OHL 2016 NHL Draft re-entries, where he ranked Luff second out of 10:
2. Matt Luff – Forward – Hamilton Bulldogs
On paper, Luff's stats don't look incredibly impressive. His 57 points did lead the Bulldogs in scoring, which is certainly a feat to be recognized (as we have above with McEwan and Artemov). But it's how he finished the year that should have scouts taking notice. In his final 20 games, Luff had 17 goals and 14 assists and was generally an unstoppable force for Hamilton. Last year many expected Luff to be a late round selection, but he finished the year very poorly and failed to have his name called. This year, the 6'2 winger made noticeable improvements to his skating, making him a much more dangerous option off the rush. His shot is definitely an asset and as the year went on, he really gained confidence in using it from anywhere on the ice. Luff also increased his intensity level away from the puck and is developing into a power winger who can score goals in a bunch of different ways. If an NHL team really liked what they saw in the last couple of months, we could see him off the board as early as the 3rd.
There are some other reviews of Luff's play over at Reckless Restraint, where Krist Hayes also praises his shot and ability to read the play.
To-be 21-year-old Justin Gutierrez was also noted as a player to keep an eye on when it came to an ELC, and though the former Lethbridge Hurricane dished the puck around well in the offensive zone in earning multiple assists in the rookie games, only Luff has thus far been inked to a contract.
That's a nice give-and-give-and-give-and-go that earned Luff an assist on a goal scored by Niki Petti, who countered Luff as a Coyote in this week's rookie games.
In addition to the signing, Los Angeles is expected to assign Brody Willms, who put together two shutout periods in net against the Arizona rookies, along with Alex Barre-Boulet and Kameron Kielly back to their junior teams, while Quentin Shore, who scored in Wednesday's 2-1 loss in Arizona, and Shane McColgan have been released from Kings camp and have been assigned to Ontario's camp.