Kings 3, Coyotes 1
Final
THIRD PERIOD:
20:00: Green Light: Now Begin. Flinn, Langhamer remain in goal.
17:55: PENALTY ARI. Tripping on Braid.
16:15: Lintuniemi power play wrister from straightaway at the blue line sneaks through traffic, catches the underside of the crossbar.
13:50: Training camp for the goal horn operator, too. Short-side wrister to Flinn's right catches the side of the net, but the fans cheer and the horn sounds. Did not go in. Play continues.
12:50: Nice slide and right pad save by Flinn on Crouse's tap-in attempt. Some Arizona pressure.
9:25: Good hit by Sharipzianov on Bushnell, who attempted to gain entry into the offensive zone. Separated body from puck, but still laid the lumber.
8:07: GOAL LAK. 3-1. Brodzinski, who has looked assertive all night, skates from behind the net to the right of Langhamer, goes top shelf far post. Had a teammate wide open in the low slot but elected to shoot. Poor defensive zone coverage by Coyotes.
6:00: Packing up and heading downstairs for media availability. End of live blog, for now.
SECOND PERIOD:
20:00: Play resumes. Jack Flinn now in net for LAK.
14:24: Jacob Friend with an unfriendly hit on Christian Fischer after activating deep into the offensive zone.
12:35: Dangerous centering feed deflects to Noted Rookie Game Kings Killer Brendan Perlini, but he had trouble getting a shot off. Puck cleared.
10:35: Good forechecking by Quentin Shore creates a turnover. (You can tell that there's not a glut of action when I'm commending the forechecking in a rookie game live blog.)
10:05: Flinn makes a big stop on Bunting, who found a seam down the left wing. Kings received a fortunate early whistle as the puck remained in covered in the crease.
9:45: Arizona pressure.
8:36: GOAL ARI. 1-1. Dvorak gets some momentum behind the net, circles unimpeded into the slot, unleashes snapper that beats Flinn. [howling]
6:47: Nice glove save by Langhamer on Lintuniemi's wrister on a three-on-two drop pass. Good transition by the Kings.
5:50: Brodzinski misses wide on two wristers from the slot. The second was deflected; both came after he did a good job of putting himself in position to shoot the puck. Showed some good strength on the puck.
4:24: GOAL LAK. 2-1. Herr angles himself well behind the net in preparation for a wraparound, spins, beats Langhamer inside the far post. Assist to Koules.
0:40: Braid's shot from the right point deflected off the outside of the post, to Flinn's left.
0:00: That'll do'er.
FIRST PERIOD:
20:00: Underway in Arizona. Jonny Brodzinski is wearing the C.
18:10: Heads up play by Schmaltz, who stripped a puck free on an Arizona breakout, creating a 2-on-1 rush towards the Coyotes' net. Pad save Langhamer on the wrister. Some pressure followed.
17:15: Grade-A-minus chance by Arizona. Lane Pederson's wrister from the high slot kicked out by Willms.
16:35: Brodzinski nicks the outside of the post from a sharp angle after Lowry's stuff attempt popped loose.
14:23: PENALTY LAK. Luff whistled for a high stick in the attacking zone.
12:29: Strome denied from the slot. No rebound.
12:23: Penalty over. No pressure early but some late, especially as Luff hustled back to join the play.
12:18: Nice Willms save from close range on MacInnis.
11:37: PENALTY ARI. Slashing on Bunting. Present participle on present participle. (This is the extent of my grammar knowledge.)
10:25: B-plus chance on Amadio's feed to Sharipzianov, which was one-timed at the net and denied by Langhamer.
10:07: Pretty good save by Langhamer on Amadio from the left circle stops play.
9:40: Shorthanded breakaway attempt by Strome. Attempted to tuck it between Willms' legs, but the Moose Jaw Warrior made the save. "…Who hails from, if I can read the card, Moose Jaw, Saskatchewan." Good period thus far by Willms.
8:50: Clague falls while defending a rush, leading to an odd-man situation. Coyotes get a pass off, not a shot. Yet to see the truculence that often defines Kings-Coyotes rookie games.
7:55: PENALTY ARI. Goulet for hooking in the offensive zone.
6:38: McColgan sneaks into the offensive zone and fires a shot off from the high circles, but Langhamer makes the save. No rebound.
5:05: LAK GOAL. 1-0. Luff sneaks into the slot, receives a pass from Gutierrez, snipes high glove on Langhamer.
4:15: Kings generate tremendous pressure but can't beat Langhamer to double the lead. Excellent saves from close range on Amadio, Lowry.
3:42: Mups lit for the first time this season. Missed you, hockey.
1:56: Terrific, aggressive play by Sharipzianov to jump into the play, disrupt an outlet pass, toe-drag around a defender, and unleash a hard wristshot. Save, Langhamer, no rebound. Created something out of what began as a routine Arizona breakout.
0:00: ~fin~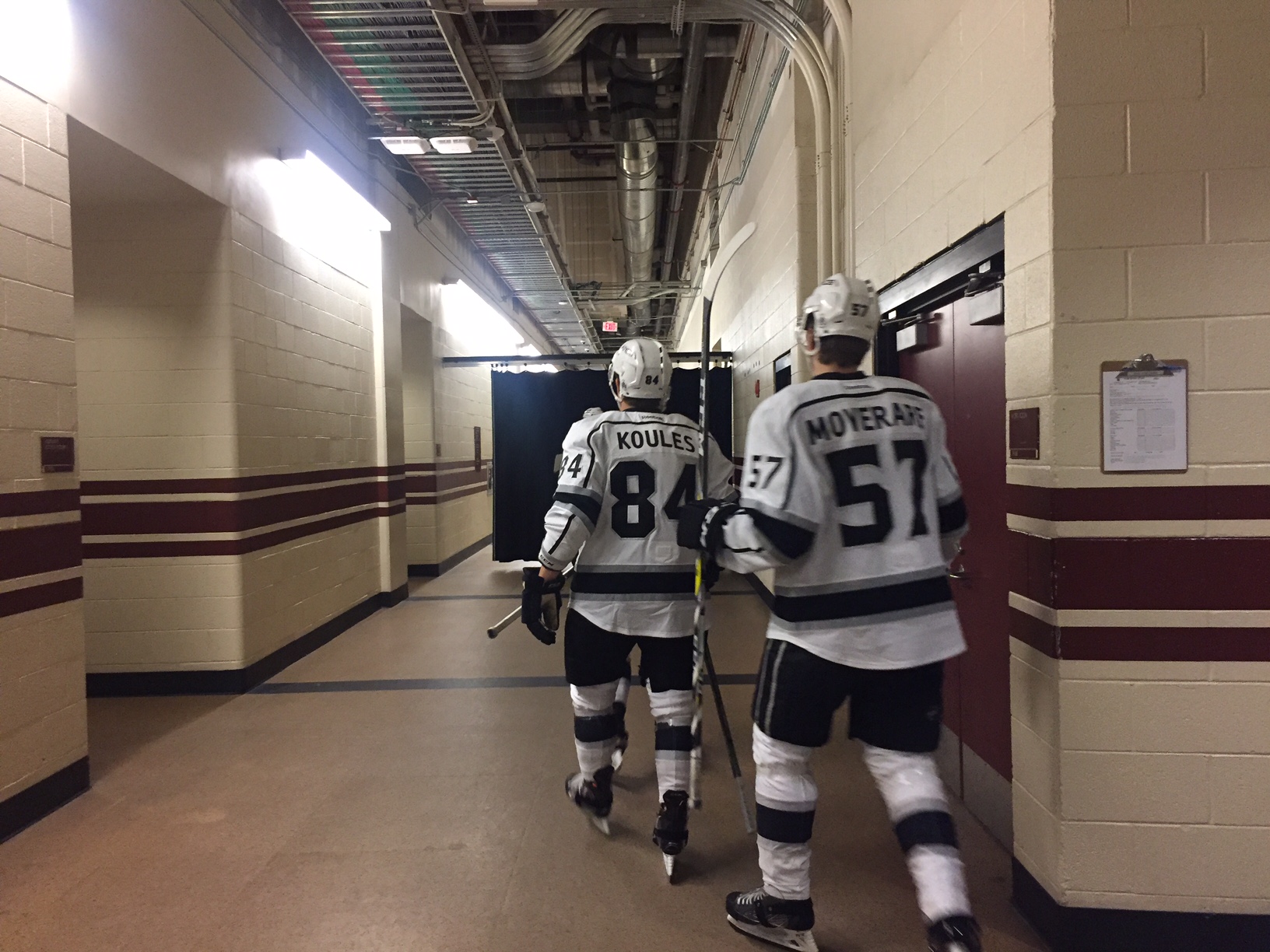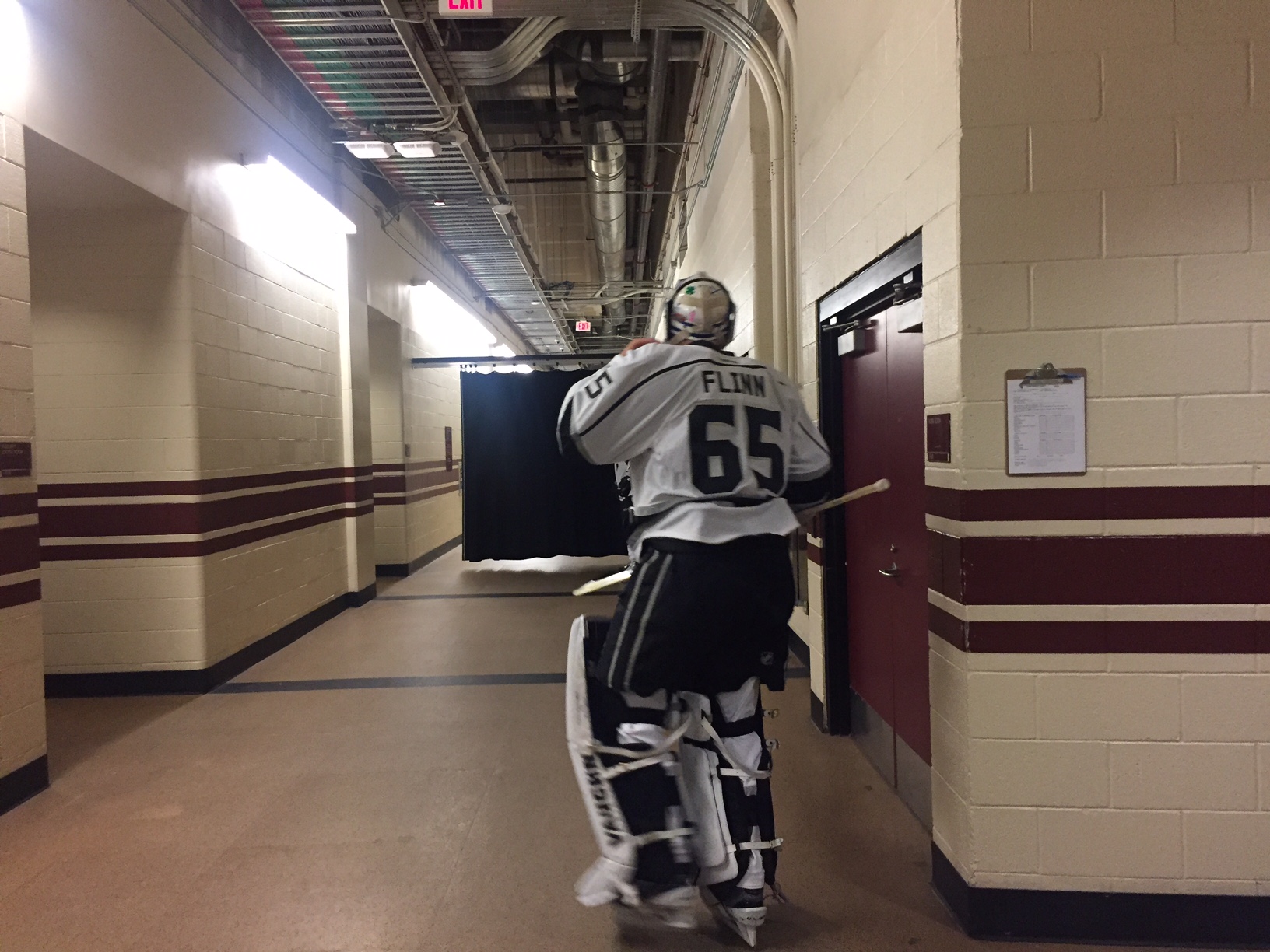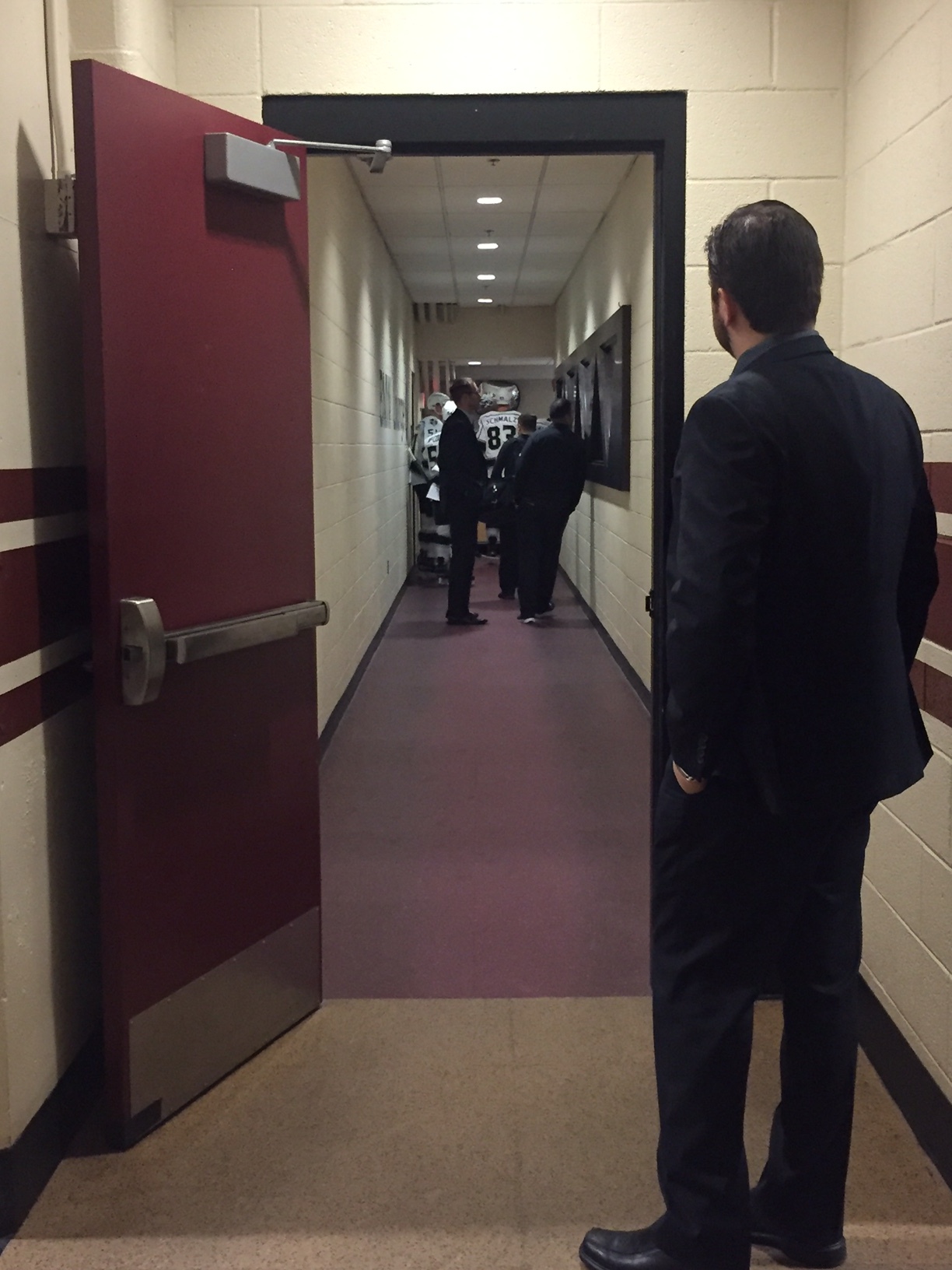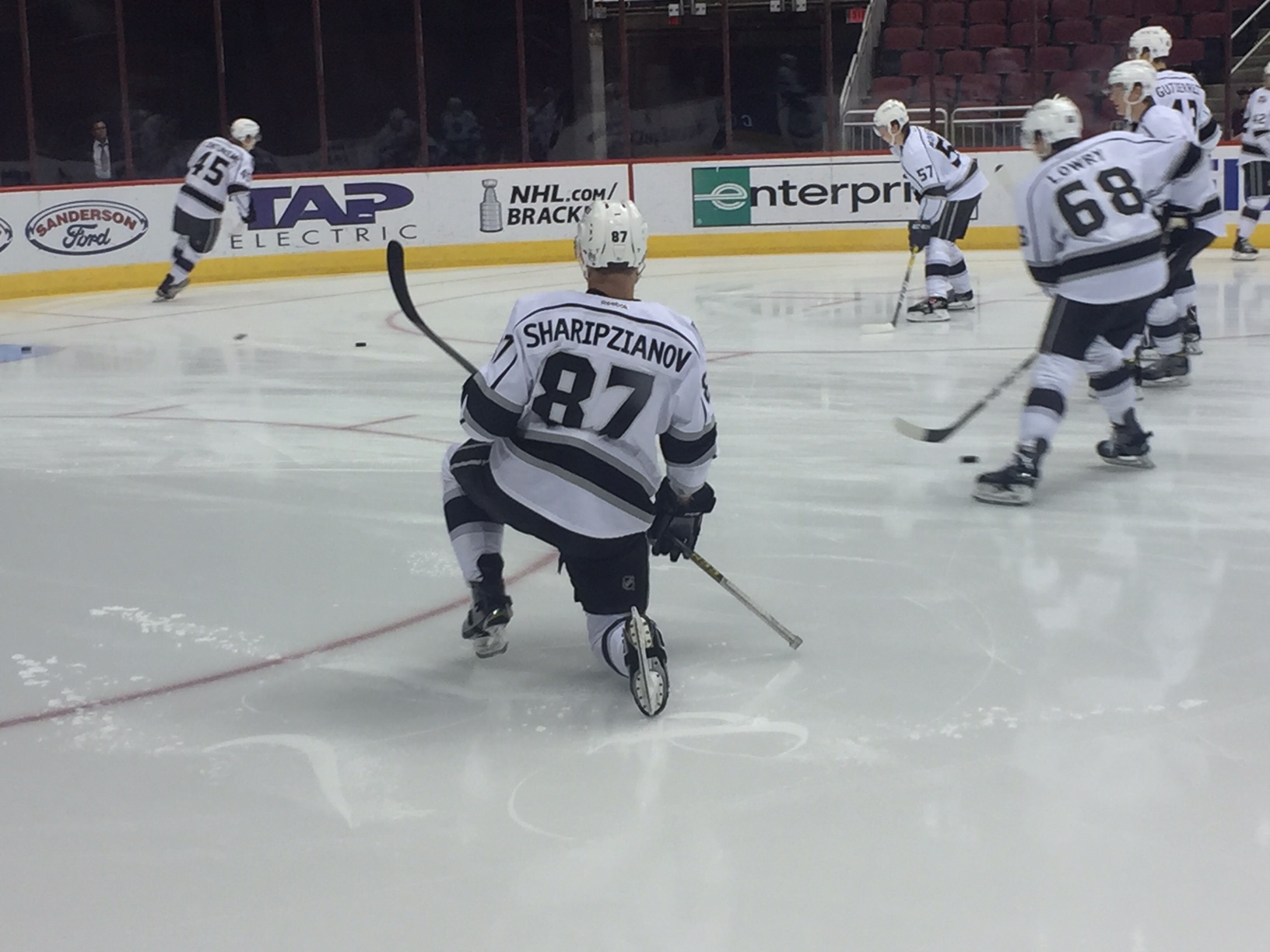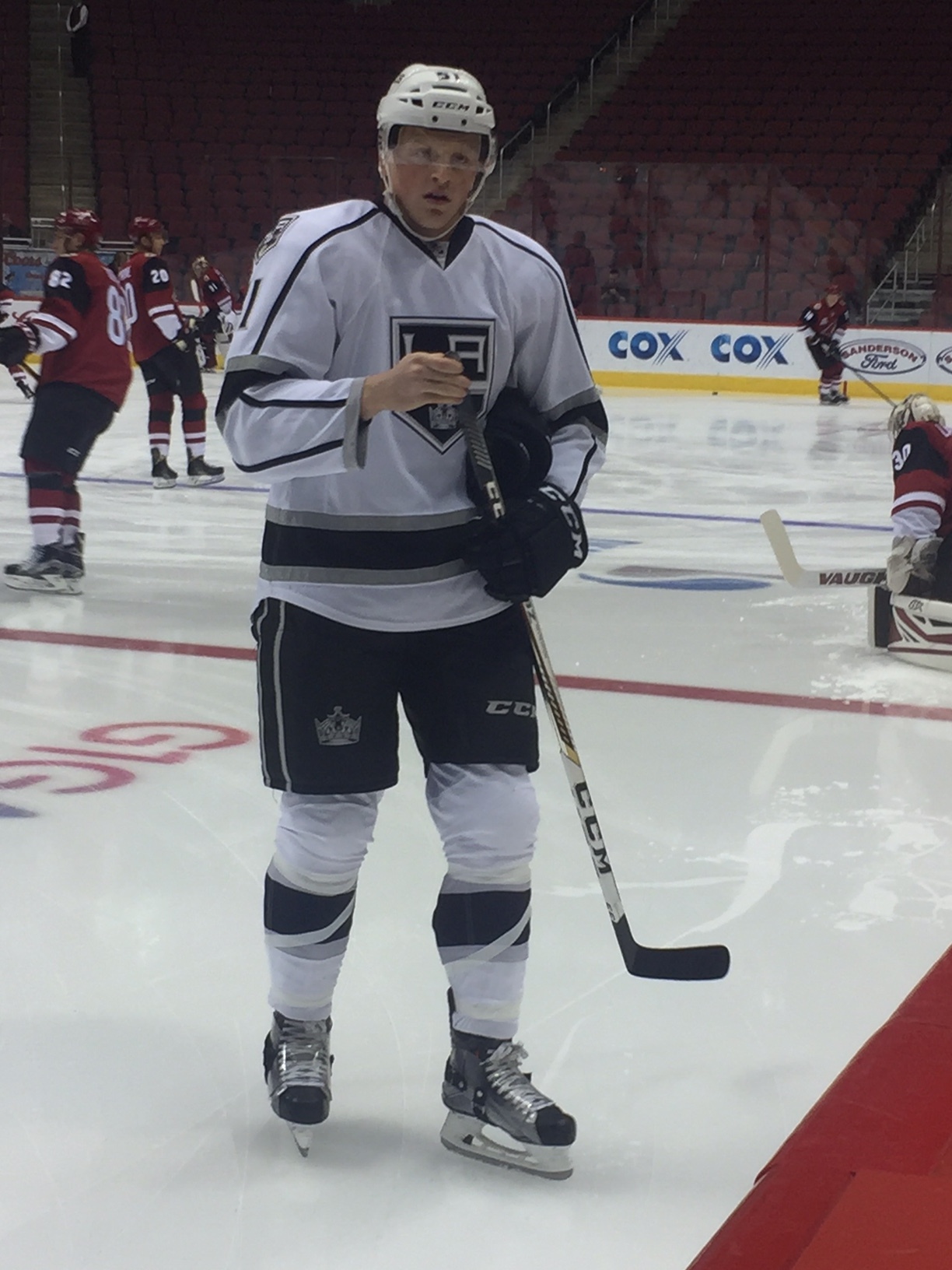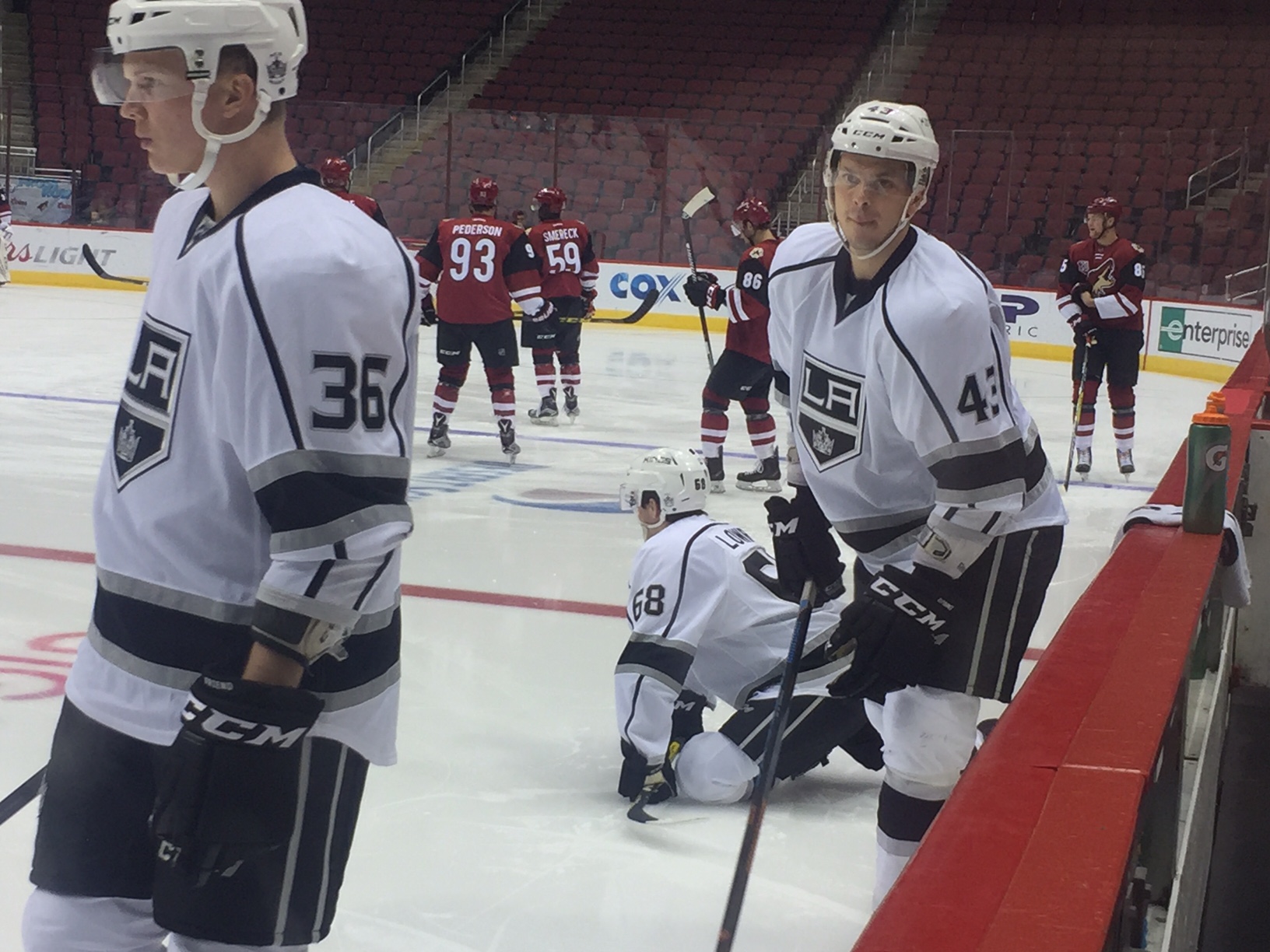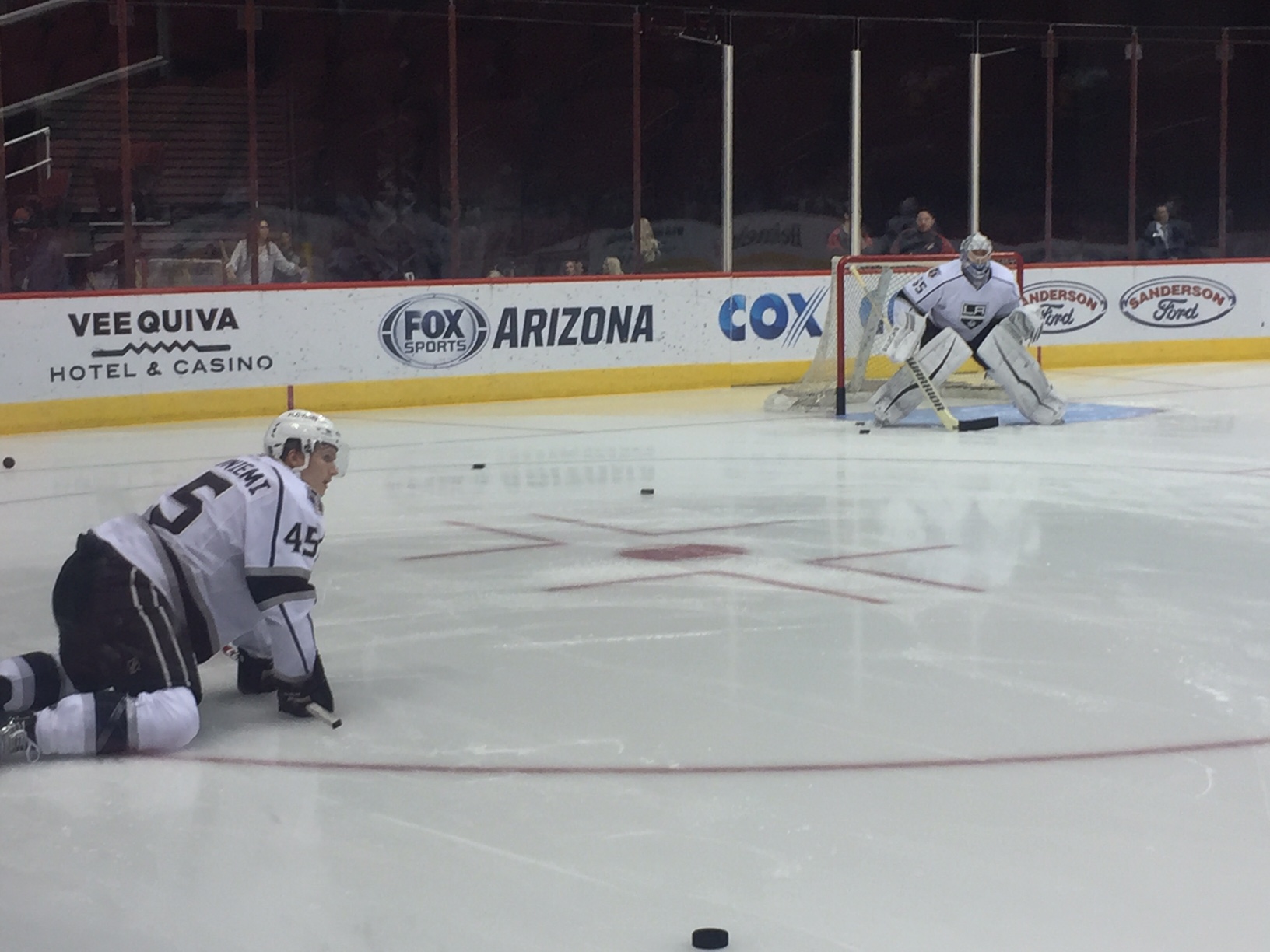 Kings lines:
Lowry-Amadio-Brodzinski
Herr-Bjorkstrand-Koules
Wagner-McColgan-Schmalz
Gutierrez-Shore-Luff
Moverare-Cernak
Clague-Sharipzianov
Lintuniemi-Friend
Willms
Flinn
LOS ANGELES KINGS:
Goalies
Jack Flinn
Brody Willms
Defensemen
Kale Clague
Jacob Friend
Alex Lintuniemi
Jacob Moverare
Erik Cernak
Damir Sharipzyanov
Forwards
Mike Amadio
Patrick Bjorkstrand
Jonny Brodzinski
Justin Gutierrez
Sam Herr
Miles Koules
Joel Lowry
Matt Luff
Shane McColgan
Matt Schmalz
Quentin Shore
Austin Wagner
ARIZONA COYOTES:
Goalies
Adin Hill
Marek Langhamer
Defensemen
MacKenzie Braid
Kyle Capobianco
Oliver Felixson
Dysin Mayo
Jalen Smereck
Kyle Wood
Forwards
Michael Bunting
Noah Bushnell
Lawson Crouse
Christian Dvorak
Christian Fischer
Conor Garland
Alex Goulet
Ryan MacInnis
Lane Pederson
Brendan Perlini
Nikki Petti
Dylan Strome