They aren't players with an inside shot at playing for the Kings this year, but as Southern Californians who grew up amidst the Los Angeles-area hockey boom of the last decade, 23-year-old Shane McColgan and 22-year-old Miles Koules have earned spots at rookie camp and will look to continue their careers while representing an area that has emerged as a talent supplier to all levels of organized hockey.
"I'm actually best friends with (New Jersey forward) Beau Bennett, (former Colgate University forward) Gudger Gentzler – we all played together on the Junior Kings here," said McColgan, who was born on January 1, 1993 and is a year and a half older than Koules. "(Detroit forward and Whittier native) Mitch Callahan – great friend of mine. I played with him in Kelowna. One of my favorite linemates I've played with so far. It just goes to show you the talent that's coming out of here. It's good to see, especially me being a hometown kid here. The Kings gave me a second chance, and I'm just taking every opportunity to show what I can do."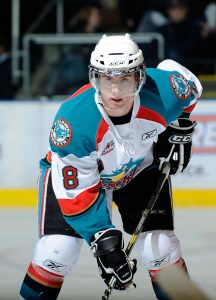 There's certainly a redemptive element to McColgan's story. A Manhattan Beach native, he attended Mira Costa High School before ultimately graduating in Kelowna, where he stood out as a lightning quick playmaker with the WHL's Rockets before a season in Saskatoon and a shorter stint one year later in Portland. A fifth round draft pick by the New York Rangers in 2011, McColgan's professional experience remains at five games, comprised entirely of an amateur tryout contract with the (then) Connecticut Whale in 2012 after his WHL season ended. His following season ended prematurely before he joined the BCHL's Penticton Vees, followed by a pair of seasons with St. Thomas University, a school that this summer discontinued its tenured hockey program, in New Brunswick.
That doesn't begin to tell the story of his background, and the type of expectations that had been lumped upon a player who had made his WHL debut as a 15-year-old who got into four games – tallying a goal and three points – with a 2008-09 Rockets team that also boasted a 19-year-old Jamie Benn, an 18-year-old Tyler Myers and a 17-year-old Tyson Barrie.
"It's a lot of pressure being a young guy coming into the league and doing that," McColgan said. "Doing what I did – it was like me and (Ryan) Nugent-Hopkins were rivals. It was kind of a cool thing, and seeing him pursue his career and go to the NHL was awesome, and I just wanted to be there. I saw my buddy Beau (Bennett) get there, and I'm just like, 'alright, now's the time where I have to put in the effort. I'm not getting any younger.' I'm just thankful for the Kings giving me this second opportunity."
That effort wasn't consistently there during his most prime developmental years. He also dealt with personal issues – "off-ice stuff," he said – that contributed to less-than-stellar preparation.
"With the working out, I worked out, I put in the time, but I was trying to do it by myself, I didn't have a trainer," he said. "I'm knowledgeable in the training, but I got a little lazy, and mentally, I had to fight through it."
Many players have to learn how to become professionals, and the 72-game Western Hockey League schedule is a good preparation for the levelheadedness necessary for such a marathon. Regardless of the league, there are always players who may need extra motivation to get into the weight room and to prepare as comprehensively as necessary over the summer, when supervision may be scant. When a 16-year-old phenom outscores Ryan Nugent-Hopkins, Emerson Etem and Ryan Johansen in his rookie season, he'll draw the appropriate scrutiny. At the time, it was a heavy amount for McColgan to handle.
"I think now I'm older, more mature. I've been through a lot," he said. "I just didn't know how to be a pro at the time. I was putting in the effort a little bit in the summer, but I wasn't training as hard as I could. I had my own issues, but right now I'm more mature, I'm comfortable, I'm at home. This is where I train all summer, and I train in Hermosa in the gym at the Yard there. So, to be honest, this is not as hectic. I'm just taking it in and just staying back and learning from the guys even though I'm one of the older guys here. Their culture, most of these guys are drafted by the team. I just want to learn everything I can, soak everything up, and hopefully the coaches see something in me."
He'll vie for a professional contract, one that his friend and teammate for these upcoming rookie games has already earned. Koules, who attended Campbell Hall in Studio City before departing for the prestigious Shattuck-St. Mary's program, and ultimately the U.S. National Team Development Program, signed an AHL contract with Ontario in the early summer. He'll open the year with either the Reign or the ECHL's Manchester Monarchs.
"Out here, you can tell the guys, especially that played for Ontario last year, they're just a dedicated and driven group, and I just want to be a part of that and be able to help contribute myself," Koules said.
Another Western Hockey League product, Koules played for the Medicine Hat Tigers and Portland Winterhawks – as did his father, Oren, a former owner of the Tampa Bay Lightning who produced the Saw movie franchise and the television show Two and a Half Men. His mother, Risa Shapiro, is a manager who represents Cher. There are unique backgrounds in all dressing rooms, but rarely are there players who've been surrounded by prominent figures in entertainment as Koules and other Los Angeles-based players have.
"Guys always kind of admired and respected where I came from, and they always were asking questions and want to know what my dad's working on or who my mom's representing, or stuff like that," Koules said. "I think my parents raised me in a way that I felt very comfortable just being one of the guys, and wherever I played, I always fit in with my friends, and it was great."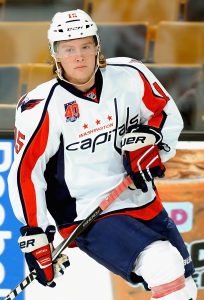 Koules recorded 19, 25 and 27 goals in his three WHL seasons before spending the 2015-16 with ECHL teams in Quad City (where he played for former King Terry Ruskowski) and Wichita. He attended training camp with the Washington Capitals in 2014 and 2015 and nearly earned an entry-level contract last year.
"This camp is different in the way that it's more demanding, but more rewarding at the same time," Koules said. "We're working extremely hard, but we're not working just to work, you know what I mean? They're teaching, and we're working and learning as we go, and I think it's the type of camp where you're actually improving, especially development camp and even coming here (to rookie camp). The first day, the skate, I was like, 'wow, it's a high pace, it's incredible,' and then as we've gone, [Sunday] morning was our fifth skate, and I felt great, and I could just tell that what we're working on, it's paying off already for me."
Koules played for the Sylmar Tigers and LA Hockey Club in addition to the Junior Kings before departing for Shattuck-St. Mary's and the USNTDP and is able to provide offense while logging tough minutes.
"I think in certain areas I've definitely underachieved in goal scoring where I think that if I can convert the way that I can shoot into games – working on getting open and getting some more shots off so I can score more – but in saying that, moving up in the ranks and different leagues and ultimately hoping to be an NHLer," he said. "Every guy there can score goals, so you need to find ways. For me, I think that I can win battles and be gritty and block shots and things like that, and when the opportunity arises, I would love to score goals for my team."
His goal will be to make a strong impression at rookie camp so that he sticks with the Reign instead of the ECHL's Monarchs. Both players will have an opportunity to make an impact in game situations when they face Arizona's rookies for a pair of games Tuesday at 6:00 p.m. and Wednesday at 2:00 p.m.
For a pair of Southern Californians, there have been more out-of-the-way stops than Glendale, Ariz.
"L.A., it's kind of a smaller hockey community where everyone knows everyone, so the older guys I know, like Beau Bennett, Emerson Etem, are guys I looked up to," Koules said. "Even when I was younger I used to look up to Shane, because he was incredible. You're tight with all age groups. It was just great. It's a good family out here of hockey."
McColgan does not retain the services of an agent. Instead, he got in touch with Toyota Sports Center General Manager Brad Sholl, and from there was put in contact with Kings hockey operations in earning his tryout.
"I can't thank my parents enough for what they've done," he said. "I couldn't have done this without them. I put a resume together, and it really humbled me. I would never think about doing it all myself when I was 16, 17, growing up. My path, I thought I was going to be in the NHL by 18, and it obviously didn't happen, but I think I'm putting in the effort now to make it."
"I think now I'm in the right mindset where I can get through this camp without getting frustrated. Obviously they're tough skates and you have to stay strong mentally and just keep the nose to the grindstone and just look forward of what's to come."