Jonny Brodzinski wants to pick up where he left off — where he was with his game before suffering a significant hand injury in last season's Calder Cup playoffs with the Ontario Reign.
No injury comes at a good time, but Brodzinski was a point-per-game forward for the Reign in their first-round series before a blocked shot forced to him to watch from the seats the rest of the way.
"It was extremely tough timing," said the 23-year-old Brodzinski at Saturday's Kings rookie camp. "I kind of hit a second stride there at the very end and I was feeling really good about my game."
Brodzinski at that point had many reasons to feel good about his game. His first full AHL season was bumpy at the beginning. His first goal didn't come until his 18th game. He eventually finished out the regular season with a respectable 15. Then playoff success (two goals, one assist in three games) came and went as his left, top hand required surgery.
Ontario advanced out of the first round by defeating San Jose, then bounced rival San Diego in the second round before running into eventual champ Lake Erie in the Western Conference final. The Reign were swept by the Monsters, missing Brodzinski as they averaged only a goal and a half per game in the series.
"We're never going to know for sure," said Reign head coach Mike Stothers when asked what effect Brodzinski could have had for the Reign on the rest of the playoffs, "but he was playing so well for us and doing so many things for us and was a legitimate threat to score, helped our power play.
"He had really evolved into a contributor on our team that the opposition really had to focus on. We missed him. When he went out with an injury … we knew it was going to be uncomfortable for us but I really think it was bigger than we even thought. I'm never going to make an excuse. … Could we have been a little bit better and have a little bit better depth with Jonny? No question. Would the result have changed? One will never know."
The injury resulted in Ontario missing an offensive weapon and Brodzinski missing out on the valuable learning experiences that come from the playoff grind.
"It's just another experience that I didn't really have," said Brodzinski, who played collegiately at St. Cloud State. "Same thing that I did two years ago in Manchester when I came after my junior year of college – I just watched the whole playoffs. It's a lot different playing in them than sitting upstairs watching 'em. You feel distant, away from the team."
So the summer turned into Brodzinski's grind to get healthy. He saw a few hand specialists the Kings recommended in his home state of Minnesota and got back to 100 percent by mid-July.
As the 2016-17 season approaches Brodzinski is ready to move on, but his injury via shot block will be a remembered testament to his developed two-way play.
"You don't get to play for Darryl Sutter or Mike Stothers unless you play away from the puck," said Kings Vice President of Hockey Operations and Director of Player Personnel, Mike Futa. "And that's something that he really matured with last year. He's learned it, all facets of the ice. It just doesn't naturally translate that you're going to start playing pro hockey and score 40. … Your attention to detail away from the puck has to be critical and crucial and you have to have the coach's trust, not just when it's on your stick but when it's not on your stick and that's something he's made huge strides with gaining Stutts' trust. You can just tell with Stutts talking about players he's obviously enthusiastic about all of them but there's a little extra enthusiasm when he speaks about what he has to offer with the puck and how far he's come without it."
Brodzinski already has a mark in mind as to where he wants to be from the start through to the finish of the season.
"I want to have a lot better start personally. I think 35 goals is where I want to be at at the end of the year," he said.
"I think if I have a lot better start and I just keep shooting the puck like I was toward the end of the year, I stay on top of my game. You're going to hit some streaks where you're not scoring a lot of goals but they're going to come if you stay on top of your game."
Even though Ontario's leading goal scorer from a season ago, Michael Mersch, capped at 24, Brodzinski's goal may not be far-fetched, especially considering a compelling comparison from Futa.
"He's always been a real fit, thick, compact kid. I think now it's starting to compartmentalize itself better. His body, it really looks like it's maturing and we've used that comparison and I don't feel uncomfortable throwing it out – [Tyler] Toffoli," Futa said.
"There's few kids that the puck comes off their stick in a natural way. There's certain guys that have hard shots and really good shots and heavy shots. There's other guys they just seem to know where the puck's going and it's natural for them to miss goalie and hit nets. Toffoli had that ability for the puck to come off his stick it just made goalies guess. You can tell, even the NHL goalies, the way they react to certain shooter, the release point throws them off. The way it comes off their stick it's natural and it catches them off guard and Brodzinski has the same ability, when he picks corners it seems to be something that's naturally instinctive. And then you throw in all the work that he does with the development team it's only going to make him more dangerous."
Toffoli of course had a breakout season of sorts in 2015-16 and led the Kings with 31 goals.
As far as players waiting in the wings of the Kings' development system, Futa said of Brodzinski: "I think he's the most natural shooter, without question."
With last year's top Reign forwards Mersch and Nic Dowd vying to earn jobs with the Kings, Brodzinski will be expected to take on the scoring load and implement what he's learned about the pro game and execute going forward. Part of that from his own assessment is just getting his shots off quicker.
"We always believed that Jonny was going to be the goal scorer he turned out to be towards the latter stages," Stothers said. "It just took him a little longer than anybody would have dreamed to score his first goal but he was playing well and doing a lot of good things for us and getting opportunities, they just weren't finding the back of the net.
"Once he got the puck to go in the back of the net he was a guy that we used late in periods, late in games protecting a lead, down a goal we need a big play. I think of he scores a big goal for us in San Antonio when we had that game where we came back late. Scores a big goal for us in San Jose, cross-ice pass, gets in behind their coverage and pumps it into the wide-open net. That's the things that he brings to the table. I think he's going to be a good penalty killer for us, I think he's going to be a good power play guy for us. He looks like an athlete and he's got a pretty good hockey head on his shoulders. Nothing's changed for me, I was excited from the first time I saw Brodz."
His work in the off-season has been commended – from his rehab to his training — which Futa called "incredible." Brodzinski went back and forth between Minnesota and in Los Angeles to put in work and has now been called into a leadership role at rookie camp.
The early reviews of his summer as it translates into these recent sessions?
"He clearly has put in the work and you can see that he's got an extra jump to him," Futa said.
Brodzinski missed out on enough so he took pride in "being the best that I could be right away and picking up where I left off last year,"
he said.
What remains of his injury is a two-inch scar from the bottom of his left thumb to his wrist and what lies ahead is what he makes of the
opportunity.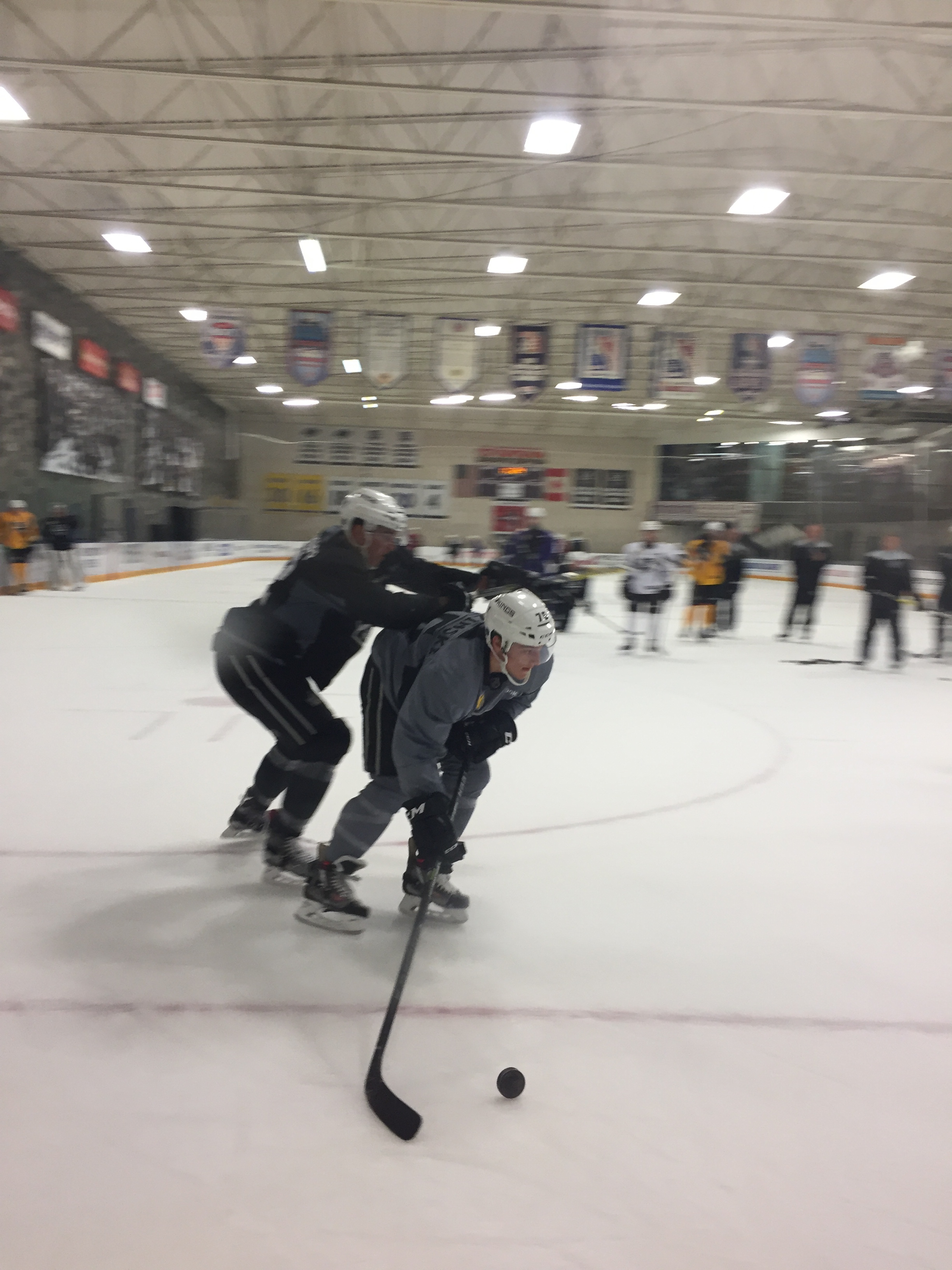 Jonny Brodzinski, on being part of rookie camp:
It's really good. I'm glad that I'm doing this because it's a chance for me to not only get it shape but I'm playing against guys who are lot younger than me and I can play my game a little bit more and put some pucks in the net and get the confidence up.
Mike Futa, on Brodzinski's injury and rookie camp:
At the beginning of the year he got off to the slow start and for a guy who scores goals for fun, that's got to wear on him. Once he got one you started to see the comfort level down the stretch. It's a credit to him. It's unfortunate, I was at the game when he put his hand down there (to block the shot). It's a freak injury but it's also a credit to him how much he was missed in the lineup. I think from that point on in a series where goals were tough to come by for them, he was sorely missed. Obviously had to do his rehab and get himself back to a good spot but he has put in incredible work this summer and now you're starting to see – there was a few of them we wanted to reward with handing them the leadership torch at the rookie camp. It wasn't in any way a slight, it was actually meant as a huge compliment to having Stutts have some guys who are more familiar with him to lead the way for this rookie group.
Futa, on Brodzinski's size:
He's a heavy kid but he's a smaller height stature than most of our guys but I don't look at him as a small player. He's 220 pounds or 225 pounds so he's a thick body and his center of gravity really makes him hard to move off the puck so I don't consider him a small player. That being said, he's got to learn to compete at the same level against bigger, stronger players. He's adapted to it well. I think he's extra hard on himself when he's not scoring, which is the sign of a scorer. That's good news.
Futa, on the importance of two-way play:
These guys have to understand that it doesn't matter if you score 30 and cause 30, that's not the value of a true shooter. You've got to be someone who ends up in the plus ledger and you're causing a lot more havoc in the offensive zone than you're causing your team in your own zone. And I don't think that's a problem with Jonny but something that's just an attention to detail that he's got to take to another level. I think he's going to be counted on huge to take that next step in Ontario this year. … He's another one of those kids a la Dowd and Merschy that are now ready to see NHL games and hopefully start making that transfer to being NHL players full time as opposed to 50-50 guys.