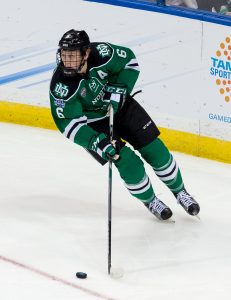 It was the first on-ice session on the first day of rookie camp, and early on there was a clear message directed towards prospects who could've used an additional lap or two to get their blood flowing.
In no uncertain terms, Ontario Reign Head Coach Mike Stothers let the players know that one particular drill was completed at a pace more befitting of a leisurely summertime skate. His cacophony echoed throughout Toyota Sports Center early on a Friday morning.
"As much as he yells, you know that just means that he cares," said defenseman Paul LaDue, a 2012 sixth round draft pick who is taking part in his first professional training camp after debuting for Stothers' Reign squad in the spring. "He looks out for all his teammates, and he's saying all the right things, so you've just got to take it all in and listen to him and go out there and do it better."
Such a directive isn't likely to be regularly directed towards the 24-year-old LaDue, who has drawn raves from those in Kings management for his preparation, detail, and most of all, his competitiveness. He's not at all in the same mold as a nasty, physical defenseman such as the 6-foot-5 Kurtis MacDermid, who made his professional debut in Ontario last season with a 56-game, 16-point, 121-penalty minute campaign, but the two have been linked by virtue of their work ethic and hustle. These are players who don't take losing well.
Naturally, LaDue's 2015-16 college season ended when he celebrated a national championship with his University of North Dakota teammates on the Amalie Arena ice in Tampa. From there, he signed a one-year entry-level contract with Los Angeles, and one month later, was facing the eventual Calder Cup champion Lake Erie Monsters in the AHL's Western Conference Final.
There was a challenge in returning to high-intensity practices after a brief layover, but, "I thought I played pretty well, and unfortunately we lost out in the semi-finals," LaDue said. "I would've liked to get a few more games in and maybe get that championship, but I felt pretty good out there, and I'm excited to get this season going."
In preparation, he hit the weight room with an enthusiasm that drew notice from Kings management. The 6-foot-1 right-shot defenseman's playing weight is listed at 186 pounds for the upcoming season, 19 pounds below what he had measured in at when participating in his previous development camp some 14 months prior.
"I just followed the Kings' program all throughout the summer, and I worked with a great trainer back in North Dakota when I was there," he said. "It's a little nerve-wracking coming into your first pro season, so you want to make sure you're prepared and you've got to have a good summer to do that."
The adherence to the club's fitness model should allow his game to thrive. LaDue is known as a poised, well-balanced defenseman who checks well and is sturdy in his own zone.
"He was impressive," Stothers said of his pro debut. "He's very mobile. He's got a good hockey sense about him. He's got a good demeanor. It doesn't appear that he gets rattled. He came into a tough situation at the end of the year – playoffs. That's a tough situation for any young D, and I thought he handled himself very well. I think throughout the summer the organization's been in contact with him. I think everybody's been impressed with his work ethic and the way he approaches the game. A little bit older than the typical rookie, so you can see a maturity level in his game both on and off the ice, and he's got a good compete, so I'm excited. I think the whole organization is just excited to see what he can do."
Because the Kings will be without five key players in training camp due to the World Cup of Hockey, there's a good chance that LaDue could draw into one of the split-squad games – whether in the Kings vs Kings exhibition in Ontario next Sunday, or one of the dual-roster preseason games – as he looks to rise up through the team's prospect ranks as a 24-year-old with three years of college hockey under his belt.
"Obviously that's the ultimate goal, to step in and be in that lineup and contribute to the L.A. Kings," LaDue said. "As quick as I can do that, the better."
In doing so, he'll look to complete his degree in business management, but as of right now, there's also an acute focus on hockey. "I'm not in any rush to finish that up, but I'd like to get that done in the next two or three years and hopefully get my degree," he said.
With his work ethic and maturity, he should be a fast learner in his first professional training camp.
"It was a little intimidating," LaDue said of his exposure to AHL hockey late last season. "It's definitely faster, and guys are bigger and stronger. You've just got to go out there and play your game and play with confidence, and then soon enough you'll realize that you can play out there. As the games went on, I thought I got more confident and started making more and more plays, and hopefully I can continue to do that at the beginning of this season."
Paul LaDue, on what he's working on to adjust to the pro game:
Just trying to slow the game down. I thought at times I was rushing plays, and that might be due to the speed of the game being heavier and more physical, but just trying to slow the game down and having that confidence that I played with last season at North Dakota.
LaDue, on his expectations heading into 2015-16:
I trust this coaching staff and this whole staff. Whenever I'm ready, they'll bring me up, but I just take it day-by-day and try to listen to them as much as possible and just got to keep getting better – every practice, every rep. That's the main goal, and that's what I try to focus on.
LaDue, on whether there's still a championship afterglow, or whether he's more focused on this season:
It's never really in the past. Obviously you start focusing on the next season as soon as possible, but I trained with a bunch of guys from North Dakota, and that will be a special moment for me for the rest of my life, and hopefully I can carry on the stuff that I learned about winning that championship last year onto these next couple years.