In terms of life expectancy, Staples Center is celebrating young adulthood. It isn't in its infancy, such as Edmonton's Rogers Arena, which has officially opened but is yet to host its first NHL game, nor are there blueprints and designs of a building that will postdate it, as there are in Calgary and Detroit, the former city of which is yet to begin construction, while the latter is expected to open the doors to a new building one year from now.
But Staples Center, which turns 17 next month, has been undergoing a facelift for the better part of the last three years in which WiFi access has improved, LED lighting has been installed, and retractable seating has eased transition between events in an arena that bills itself as "the sports and entertainment capital of the world."
Earlier this week, the arena publicly unveiled the results of a four-month refurbishment in which all 170 suites were upgraded, along with 16 event suites and premium level concession stands. The work, which began in May, cost $5-million to complete as part of a wider three-year, $20-million renovation process.
"We're coming into our 17th year, and probably throughout the 17 years, we had touched up paint, added new TVs in there, looked at new carpet," Staples Center President Lee Zeidman told LA Kings Insider. "We've done that over the years, but this was the first time we actually did a complete refresh, and we realized that when we were doing a top-to-bottom assessment of the arena three years ago that we were coming up on the shelf life of what a suite should look like."
Influencing the desire to renovate premier seating was Las Vegas' T-Mobile Arena, a property of AEG that opened over the summer and will host the NHL's Las Vegas expansion team beginning in the 2016-17 season.
"We had the opportunity to go out there and take a look at what they did for the suites, and then we conducted surveys with our suite owners and focus groups, and from that put together what we feel is a very fresh, up-to-date, sleek refresh of our suites," Zeidman said.
Designed by MEIS Architects, one of the original architects of Staples Center, the private suites have "a sophisticated and contemporary feel with new carpeting, cabinet finishes, and wood grain floor tile, that all adds up to a distinctly contemporary design," according to a release.
It continues: "With a palette of materials inspired by the carbon fiber and stainless steel details, the new suite designs evoke the qualities of a dynamic and technologically sophisticated machine."
Well, then! I hope you'll be able to join me and HAL 9000 when LA Kings Insider hosts an early season Suite Night, the details of which will be shared when we get closer to the season.
Until then, have a look for yourself. The suites depicted in the photos do look sharp:
-credit: Staples Center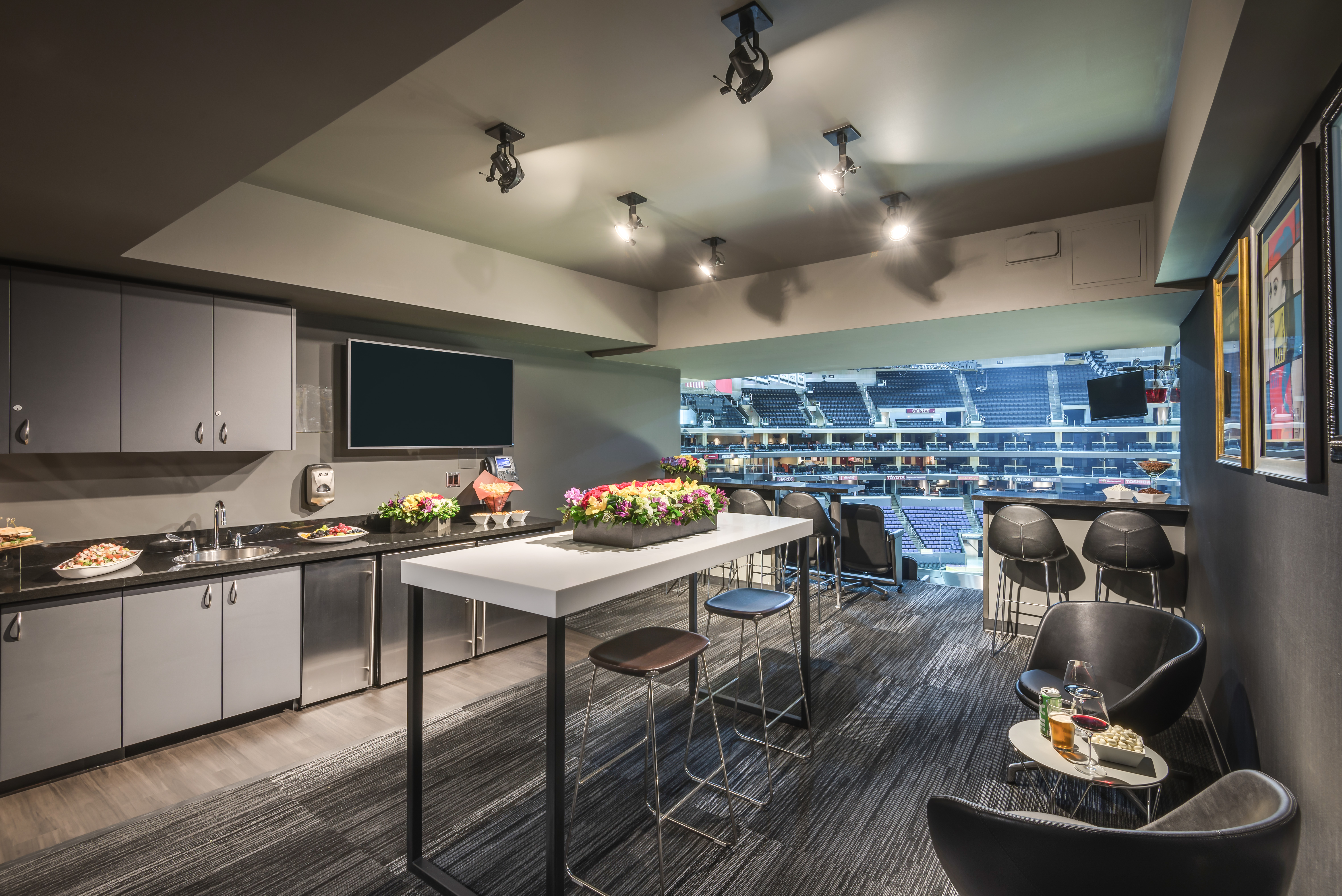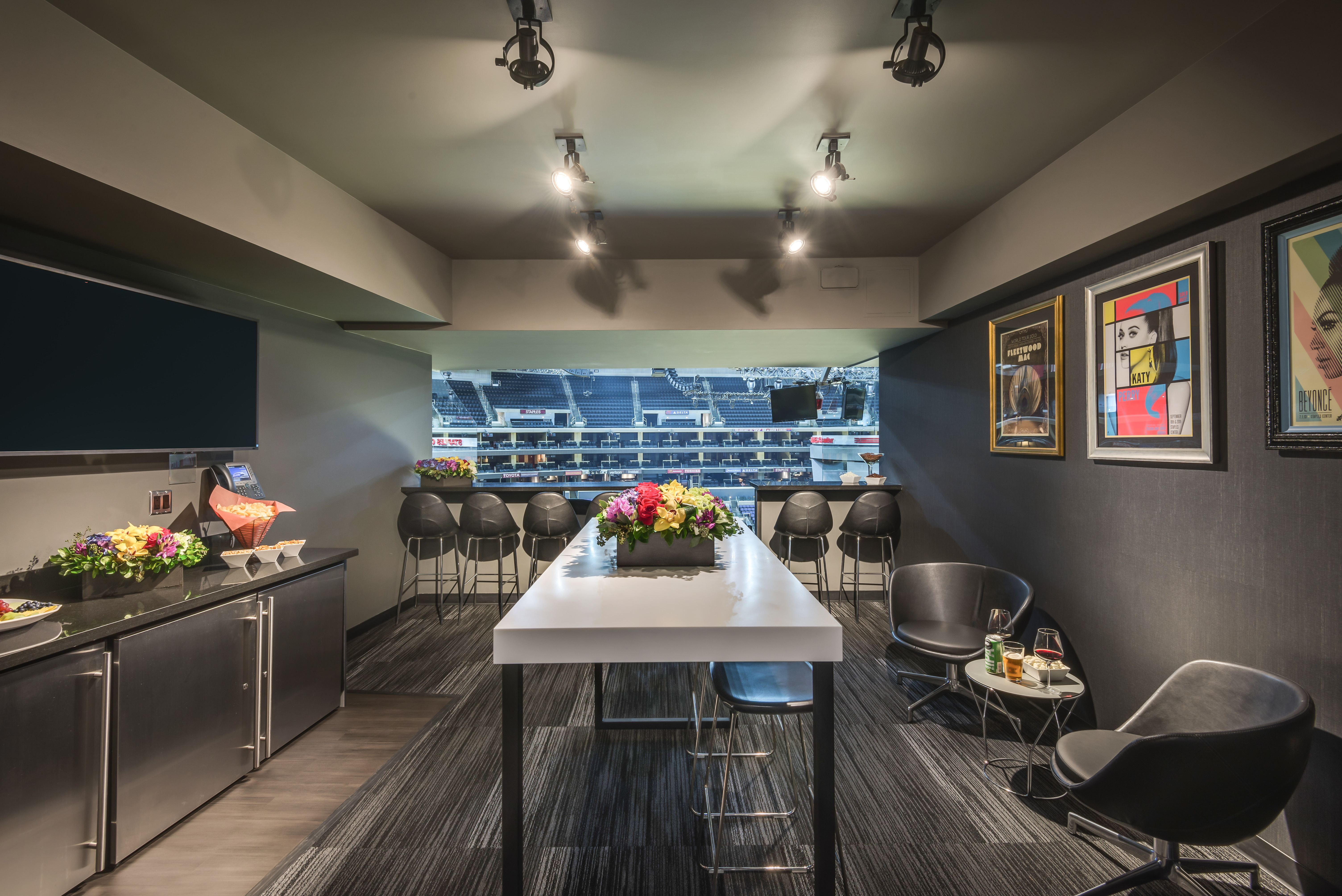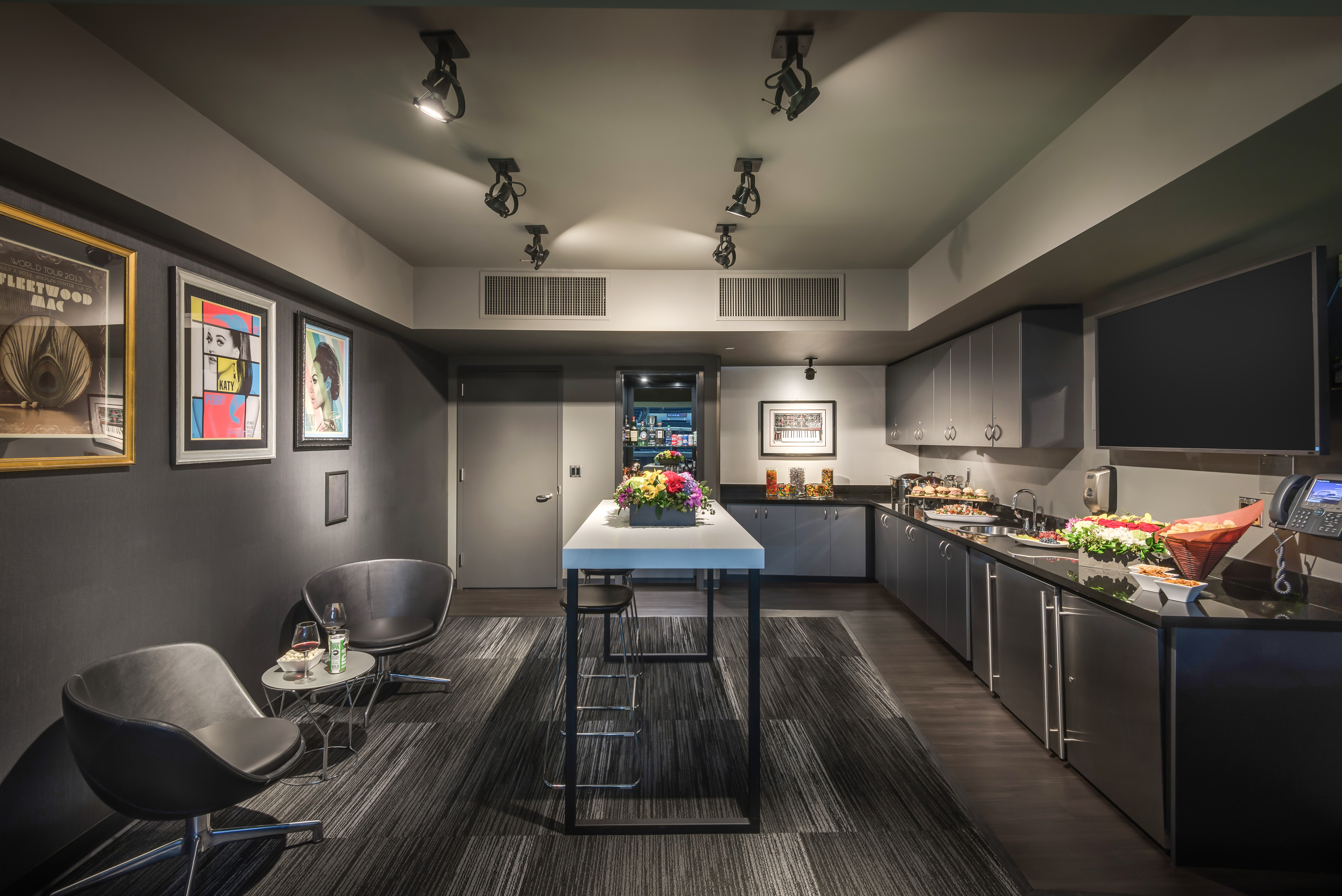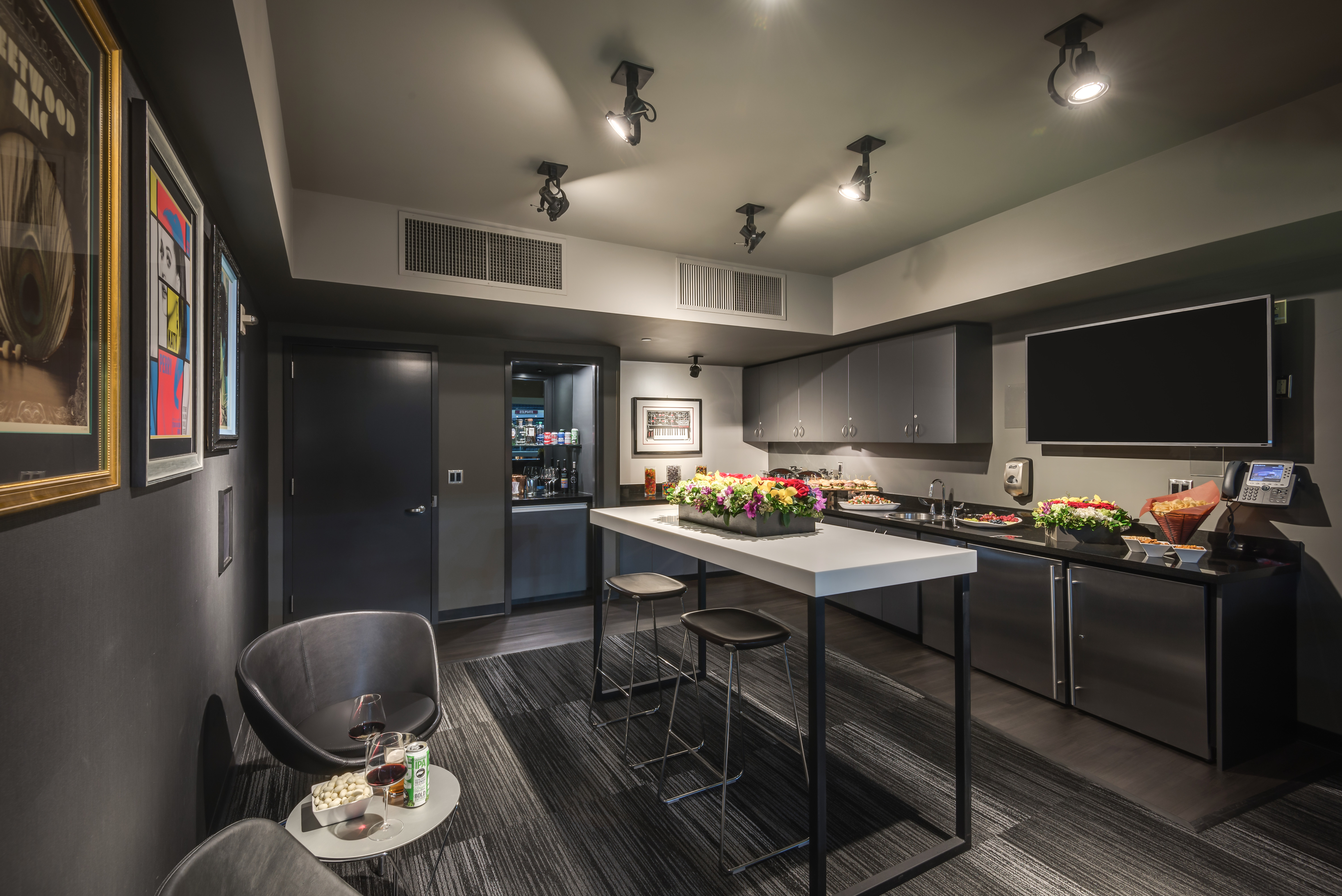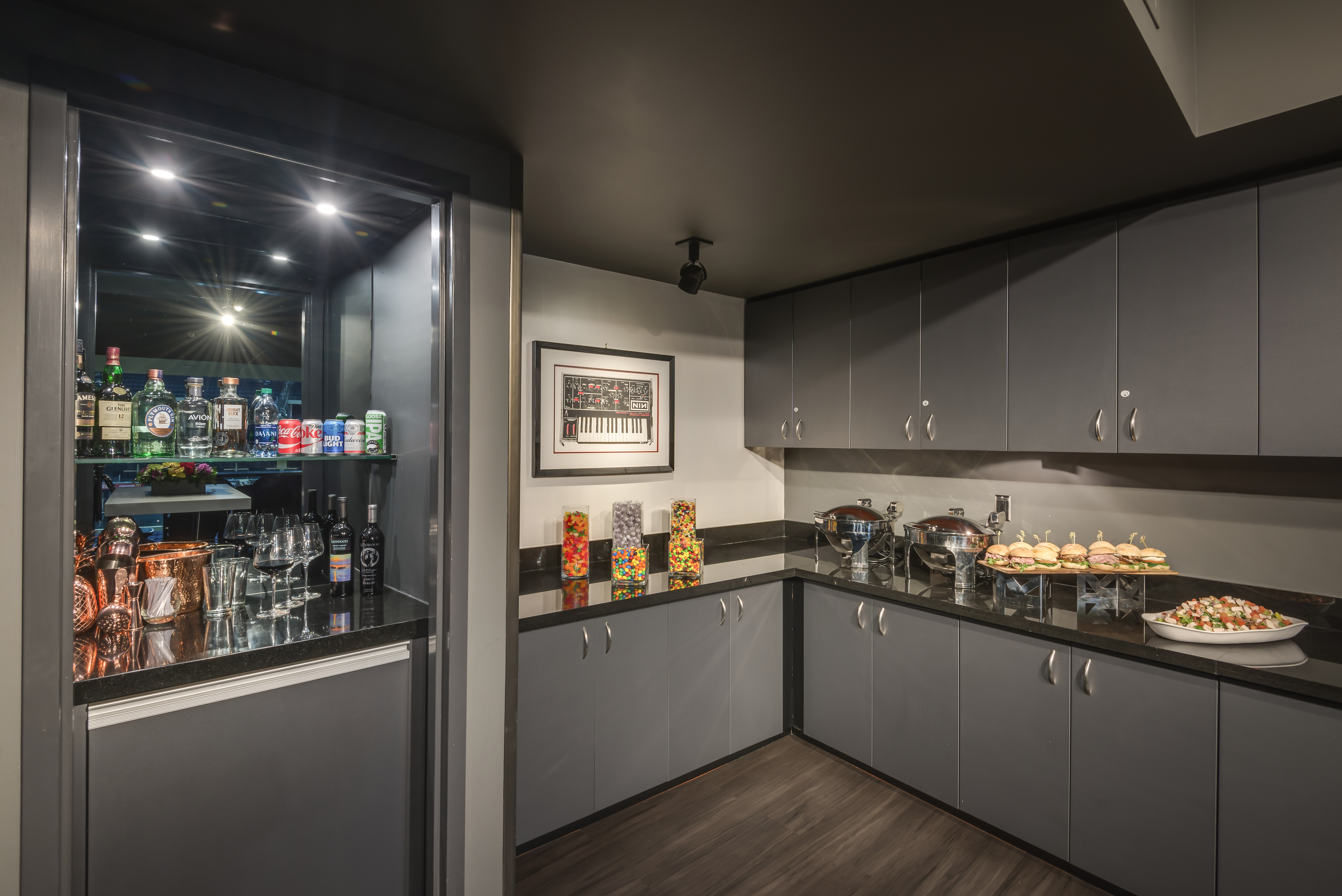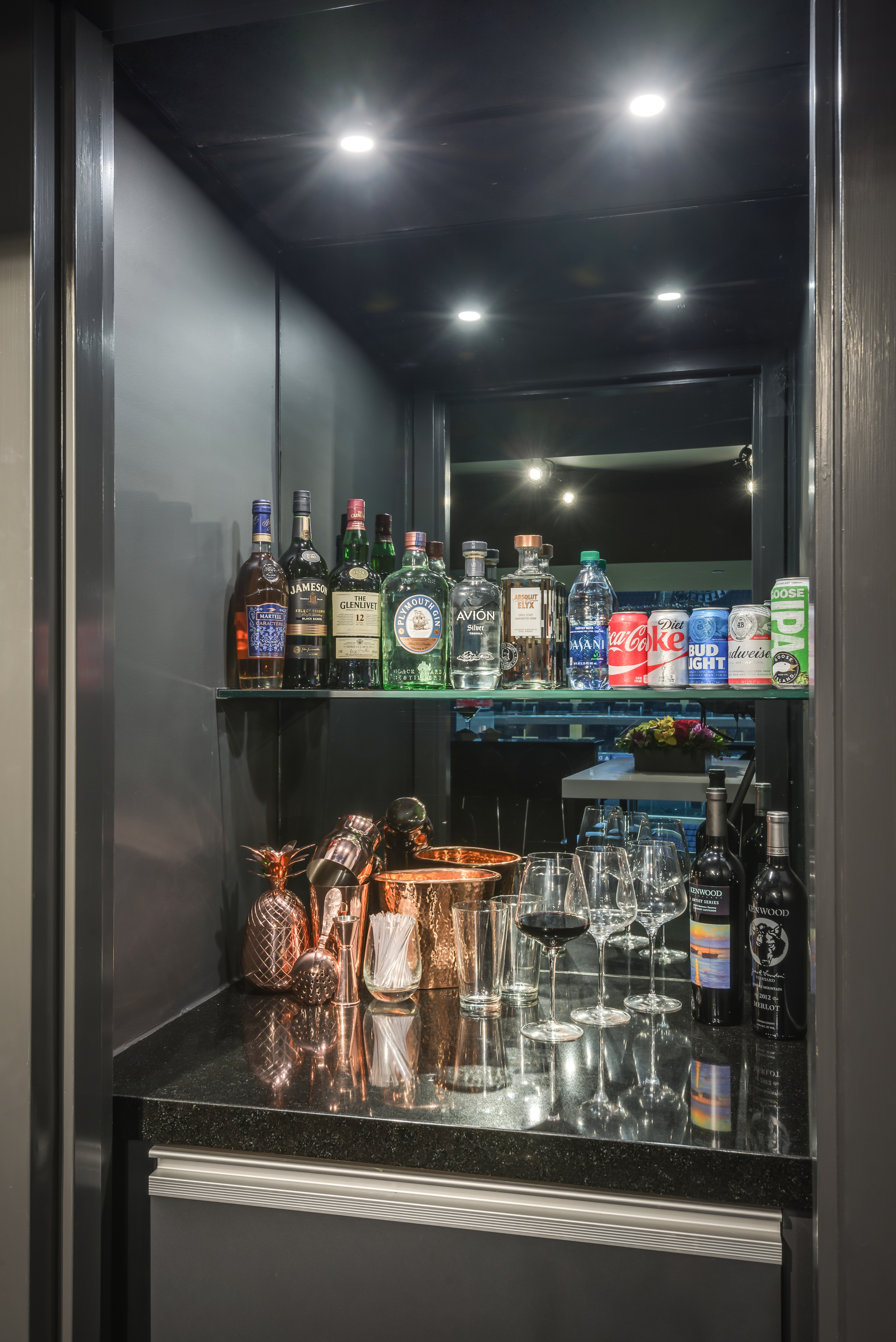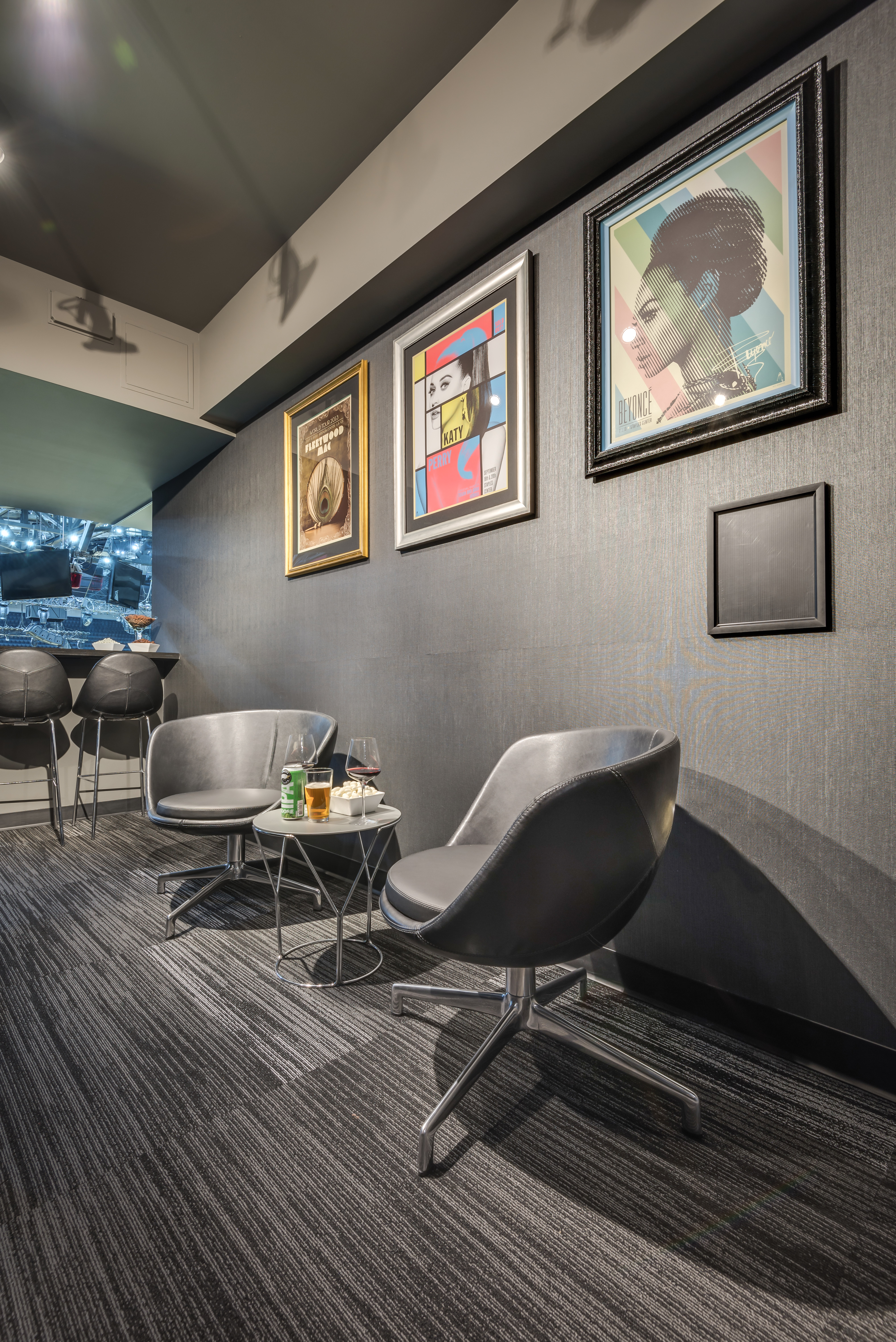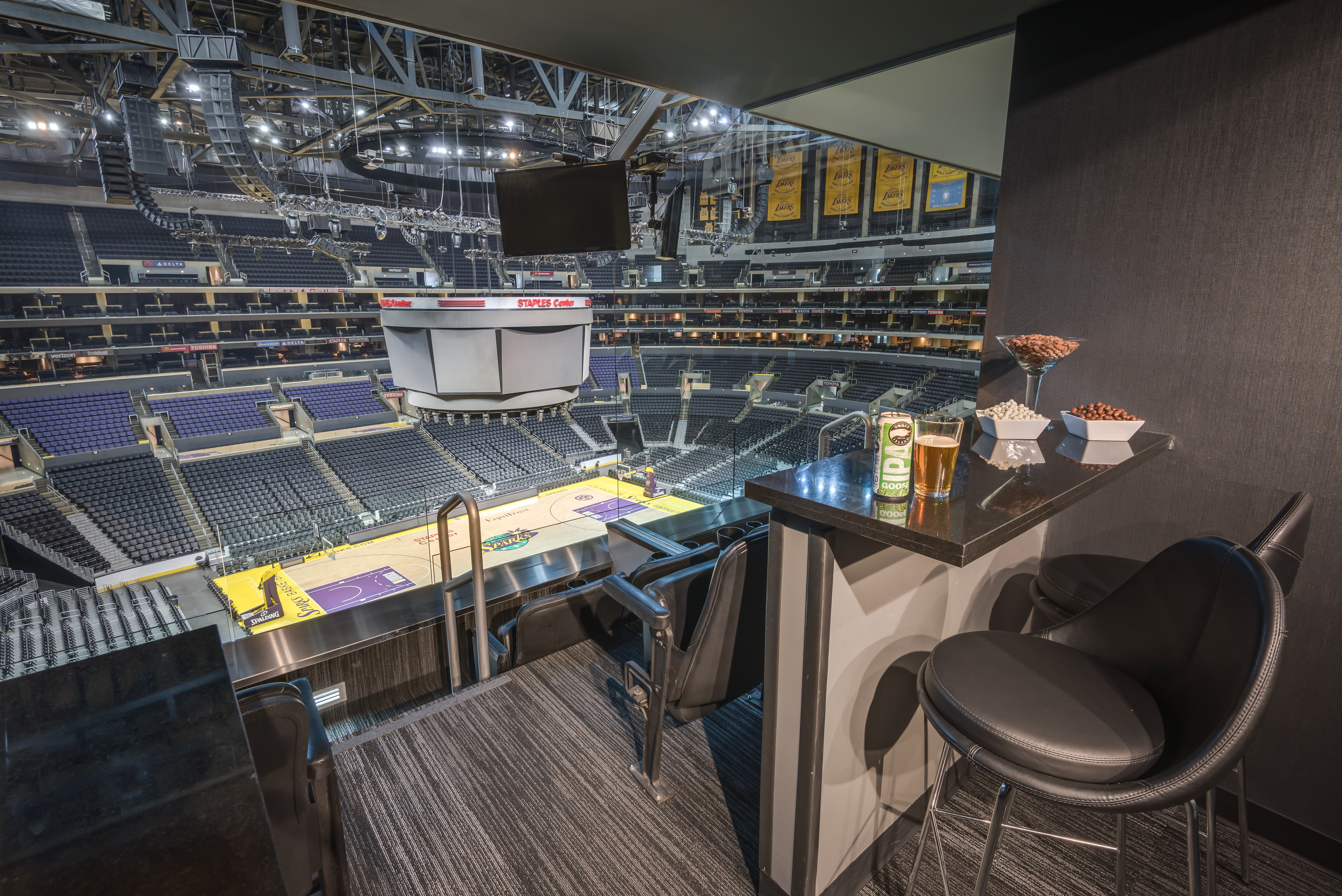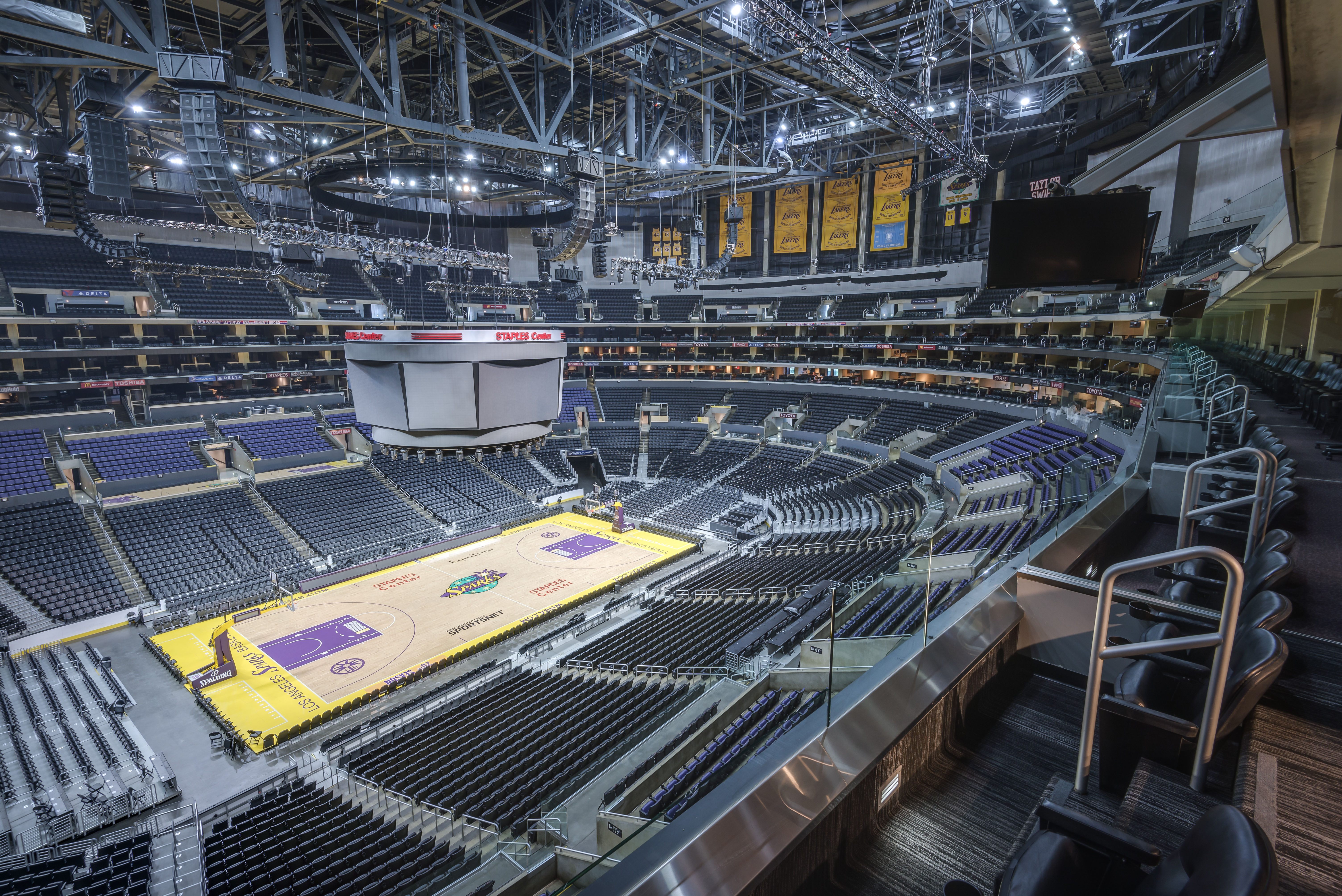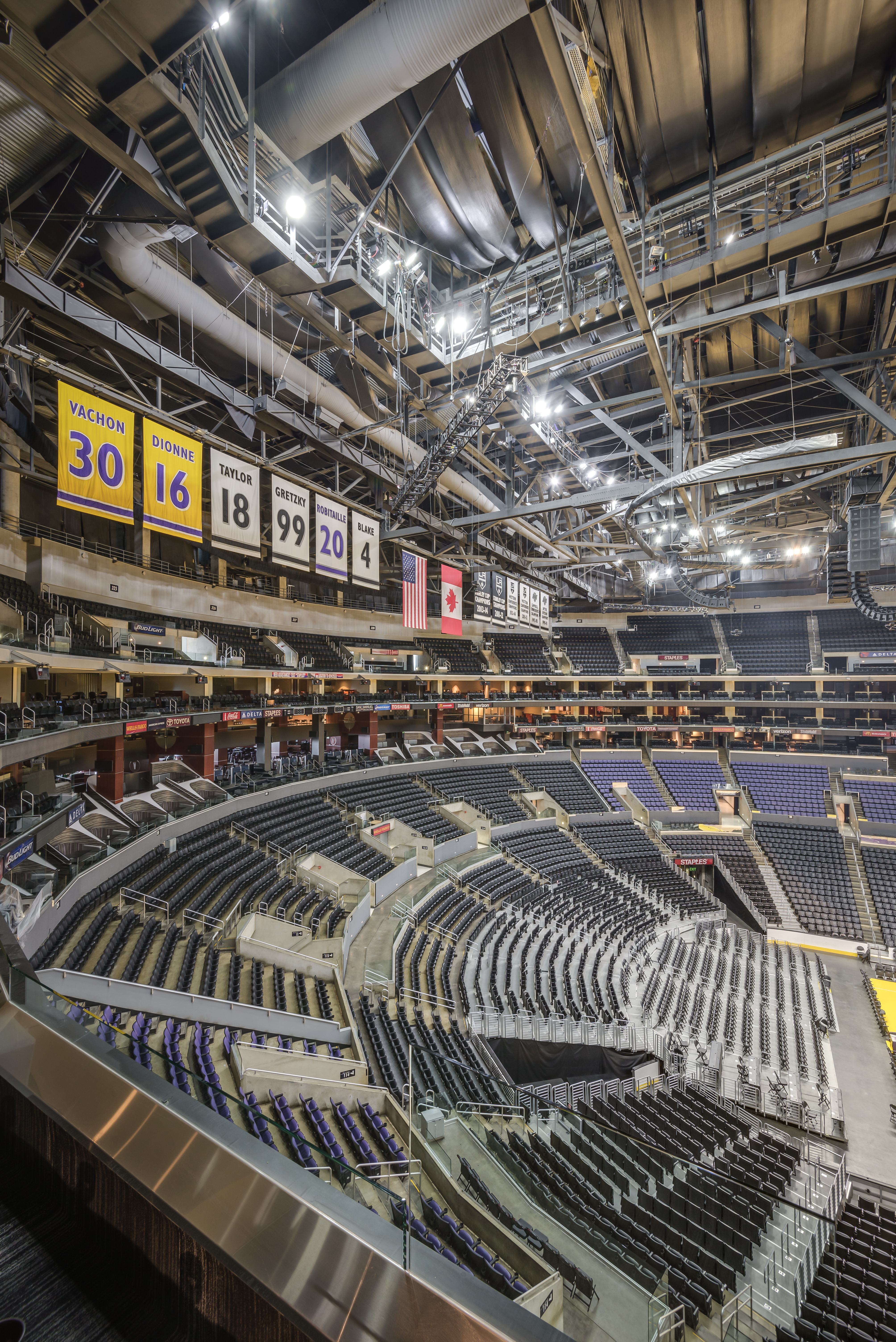 KTLA recently took a tour of the event suites, which have several different themes. Here's video depicting the sports-themed event suite, which is decorated with Andrew D. Bernstein photographs of important memories in the histories of the building's tenants.
I spoke with Zeidman about Staples Center's recent refurbishments and how he envisions the evolution of the building well into the next decade.
LA Kings Insider: Over the last three years, there have been improvements to LED lighting, WiFi, retractable seating and the premier levels. Given that this arena is nearly 17 years old, do you foresee the end of the boom in the refurbishment process? Or do you see continued significant improvements being made over the next several seasons as well?
Lee Zeidman: First of all, when we built this $400-million arena 17 years ago, we always knew that we were going to maintain it to a level that I believe is unparalleled in the arena industry, and the men and women who work here have taken great pride in maintaining the building, and if you walk around it, you'd be hard-pressed to realize that it's going into its 17th year. Secondly, we always knew that to compete in this marketplace, with all the venues that are out here, that we're going to have to make sure that we stay cutting edge not only from a technology standpoint, but from refreshing our current facilities. So we always knew that we were going to do that. The other side of it is while we're cosmetically changing certain things here, from an infrastructure standpoint, we're continuing to make sure that our HVAC systems, our electrical systems, our plumbing systems are top-notch, as well. This building hosts anywhere from 240 to 250 events a year, roughly four million people going through it. So it's worked pretty hard in the 17 years.
LAKI: After 16 years, how do you envision years 17-30? When you're at Year 25, Year 27 of Staples Center, what becomes the big picture, and how this building will continue to evolve perhaps a decade from now?
LZ: First, I envision myself on an island in Bora Bora during those years, so I'm not going to be that concerned about it. [laughs] With that said, we have a great ownership group in Mr. Phil Anschutz and a very forward-thinking executive committee led by Dan Beckerman, our President and CEO. They understand what it takes to keep this building fresh and cutting edge with technology. I foresee moving forward as myself and my staff put together the various capital projects that we feel we need to keep it going, I feel that we're going to continue to get the support not only from the three tenants, but from our ownership group and our upper-management team all throughout AEG, because they certainly understand the fact that in the next three years you're going to have two new stadiums coming on board here in Los Angeles which will compete with content as it relates to special events, family shows and concerts with those buildings as well, and we already have a crowded marketplace here. So they certainly understand what it takes, and we will continue to maintain the building at a first-class level throughout the year and the subsequent years coming, and we will continue to come up with cutting edge technology, and maybe in five years, it's a different scoreboard. Maybe in seven years, it's a different lighting technology and bells and whistles that we'll need to do here. So we will continue to bring forward what we believe are cutting edge technology projects as well as maintenance projects that will continue to maintain this $400-million investment and continue to keep it refreshed and looking as good as it did October 17 of 1999.
LAKI: For the Saturdays in which the Kings and Clippers split those dates, how is it determined and communicated between yourself, the arena, and the two teams which team has the afternoon game, and which team has the evening game?
LZ: Primarily it's done by the leagues. A lot of it depends on where they're coming from, where they're playing. What we'll do is we'll give the Saturdays to both the Kings and the Clippers, and we'll let the NHL and the NBA figure out exactly what they want to do. Generally the Clippers will have the afternoon game and the Kings will have the evening game if they're both in town, but there may be times where they'll work it out between the NHL and NBA switching that around. Or, the Kings may request an earlier start, depending what's going on in their schedule, and vice versa with the Clippers, as well. We'll give them all the dates, and a lot of the times and everything are worked out with the teams and the leagues.