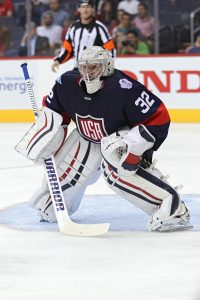 Jonathan Quick stopped 62 of 65 shots through five periods of World Cup of Hockey exhibition action and will start for the United States when the team opens the tournament against Europe on Saturday at 12:30 p.m. PT at the Air Canada Centre, USA Head Coach John Tortorella informed reporters Tuesday night. Ben Bishop will serve as the back-up, with Corey Schneider serving as the third goaltender.
"A lot of things can happen in the tournament, but I believe in the body of work from all three goalies," Tortorella said, as reported by the AP's Stephen Whyno. "It's a really hard decision. I think Jonathan has just done a little bit better than the other guys, so he'll be our No. 1 guy to start the tournament."
The United States will also face Canada at 5:00 p.m. PT on Tuesday, September 20, and the Czech Republic at 5:00 p.m. PT on Thursday, September 22. Should they advance out of Group A, they would take part in a semi-final game on either September 24 or 25, with times to be determined. All games take place at the Air Canada Centre in Toronto.
Quick earned the nod after holding Finland at bay for 40 minutes before Patrik Laine and Jussi Jokinen scored over the final 10 minutes of the game in a 3-2 United States victory that concluded the teams' pre-tournament schedules. T.J. Oshie, Ryan Kesler and Derek Stepan scored for the Americans, who finished the exhibition slate with a 2-1-0 record.
Quick, a Hamden, Connecticut native, is no stranger to international play, having served as the third goaltender during the United States' run to a silver medal at the 2010 Vancouver Games prior to compiling a 2.17 goals-against average and .923 save percentage at the 2014 Sochi Games, where the Americans finished in fourth place.
His performance in a pre-tournament win over Canada on September 9 in Columbus was particularly strong. With quality first period saves on Sidney Crosby, Steven Stamkos and Logan Couture, he allowed the United States to find their footing in a game in which they were out-shot 12-1 before registering 17 of the next 20 shots and scoring the game's only two first period goals.
Recap: Team USA defeats Team Finland 3-2

Also: Jonathan Quick is very happy.https://t.co/xGZd32rgXv #WCH2016 pic.twitter.com/Xfnoyh5Z92

— NHL (@NHL) September 14, 2016
Remaining pre-tournament games include exhibitions tonight between the Czech Republic and North America, Sweden and Europe, and Canada and Russia. Jake Muzzin isn't expected to dress tonight for Team Canada as Jay Bouwmeester is expected to skate to the left of Drew Doughty.

MORE WORLD CUP OF HOCKEY COVERAGE (via Sportsnet): Doughty on Team North America: Experience outweighs skill (video) | Jake Muzzin ascends to NHL's elite with Team Canada invite | Anze Kopitar stands alone