WE'RE BACK. Thank you for your patience during the twilight of the low season, Insiders. Vacation was had, batteries were recharged, and not a single comment section of a digital article was read. Barring anything unforeseen, this upcoming week will be spent preparing for the upcoming season and re-acclimating myself while contacting those who have expressed interest in the LAKI Associate position. There's probably one more slow week before things really start to pick up again.
TICK TICK TICK. Individual game tickets go on sale very soon. How soon? Thursday. Group tickets and suites are already on sale, while season ticket and partial plan members, American Express card members and eNews subscribers have received access to pre-sales in advance of the on-sale date. (For info on the pre-sale as shared by the team's social media outlets, click here.) Call 1-888-KINGS-LA (1.888.546.4752) for more information and to purchase tickets. Every game is expected to sell out this season, yada, yada, yada.
BUT ARE YOU ELITE? NHL 17 will be released on September 13, and to trumpet up the latest installment in the series, EA Sports, based on consultation with a pro NHL scout, released ratings for the top 50 players. The Holy Trinity grades well: Drew Doughty checks in at fourth with a 94 rating (leading all defensemen), Anze Kopitar ranks 10th with a 93 rating (fourth among centers), and Jonathan Quick ranks 16th with a 93 rating (second among goalies). Let's debate this endlessly and get Internet Angry (or, perhaps more accurately, Internet Smug?) six weeks before the start of the regular season. I looked for two and a half hours but didn't see Jake Muzzin's name listed in the top 50. /crying emoji
JHONI TO THE SIX. Jhonas Enroth will back up Frederik Andersen in Toronto this season after signing a one-year contract worth a reported $750K. Former Kings and Ducks goalies playing together in Toronto. Ex-Kings goalies in Anaheim and San Jose. Dogs and cats living together. The Enroth signing had been rumored for quite some time; less expectedly, the Swedish international was chosen to represent his country at the upcoming World Cup due to Robin Lehner's continued rehabilitation from an ankle injury suffered last year that necessitated surgery. Good luck at the World Cup, Jhonas.
SINCE WE'RE TALKING GOALIES. This news emerged shortly after I took my vacation, but former Detroit netminder Tom McCollum has signed a PTO with Los Angeles and will take part in training camp. Related: Peter Budaj, the best goaltender in the AHL last season, would have to clear waivers if the Kings ultimately choose to send him down to AHL-Ontario after the preseason. Barring any injuries or surprises, Jeff Zatkoff is penciled in as the back-up to Jonathan Quick, so the chance of losing Budaj to waivers is certainly within the realm of possibility. Jack Campbell is also bound for a role in Ontario; more of this will be covered by LAKI and ORI through camp and the preseason.
McCollum:

WHOOPS. In the rush to wrap up all evaluations with a neat little bow before heading out on vacation, Marian Gaborik's 2015-16 season was never included in the "everyone else" category (he's lumped in with the hoi polloi because of his mid-season injury).
MARIAN GABORIK
This season: 54 games, 12 goals, 10 assists, 22 points, 20 penalty minutes, -6 rating, +0.4 CF%Rel, 14:57 time on ice
The good: Prior to his February collision with Dominic Moore at Madison Square Garden, Marian Gaborik was enjoying his most productive stretch of an otherwise quiet two-thirds of a season. He had scored four times and logged five points in the 95 minutes and 40 seconds – spread over parts of seven games – prior to his injury. Similar to the 2014-15 season, he was showing clear signs of emergence after a sluggish start and appeared to be getting his game in order in advance of the season's home stretch. Gaborik returned for Game 2 against San Jose after missing two months and was limited to one assist in four games, though he was able to use his speed on several rushes, which created a wider cushion for the forwards as the defense backed off to respect his mobility. At the time of his injury, he had played in 99 consecutive games with the club.
The bad: Gaborik never hit any real stride in the season, save for the one that was just getting started when he was felled by injury. While his possession rates remained fine, his production dropped sharply as his average usage fell nearly two full minutes to a career-low 14:57. In that time, he established an even strength shooting percentage of 6.9%, his lowest since advanced stats sites began tracking such info. His personal points/60 was 1.24 – again, a low – which aligned closer to the rates generated by Dustin Brown, Andy Andreoff and Dwight King instead of the more skilled players on the club whose rates he should be expected to challenge. Despite the lack of even strength scoring, his only power play goal was scored in the season's 54th game, roughly four minutes before he got tangled up with Moore.
Going forward: Gaborik is 34 years old and commands a $4.875-million cap hit through 2021, so he's among the players who will be called upon to raise his production after a season in which there wasn't much positivity. The Kings will afford him opportunity to do so; early correspondence has him penciled as the left wing opposite Dustin Brown on Anze Kopitar's line, though there will be injuries and adjustments, and lines are never static. Gaborik found his energy and began generating a greater deal of shots midway through the season, and Sutter noted that the team was making an effort to get him the puck in space with greater regularity. "We're trying to get him off the walls and find open ice more, which allows him to use his ability more," he said on January 8. Despite a well-chiseled reputation as a burner and a high-skill guy, Gaborik is still a player who has generated a great deal of success by going to the tough areas – seriously, go look at the areas in which his 2014 playoff goals were scored, and the battles he waged to put himself in position to score them – and will need to continue to make those "bang-bang hands plays" in front of the net to generate dividends from his skill. It's not an issue this season but still bears noting that the team would not suffer any cap recapture penalties were Gaborik to retire before his contract ends in 2021. More important than the long-term implications of his significant cap hit are the levels of production he'll have to hit this season; because the team will be replacing Milan Lucic's production internally (and through the help of Teddy Purcell, and others), Gaborik simply has to bounce back from a forgettable 2015-16 season for Los Angeles to approach its ceiling in the upcoming year. The long-term implications of his contract, at this moment in time, are not rosy.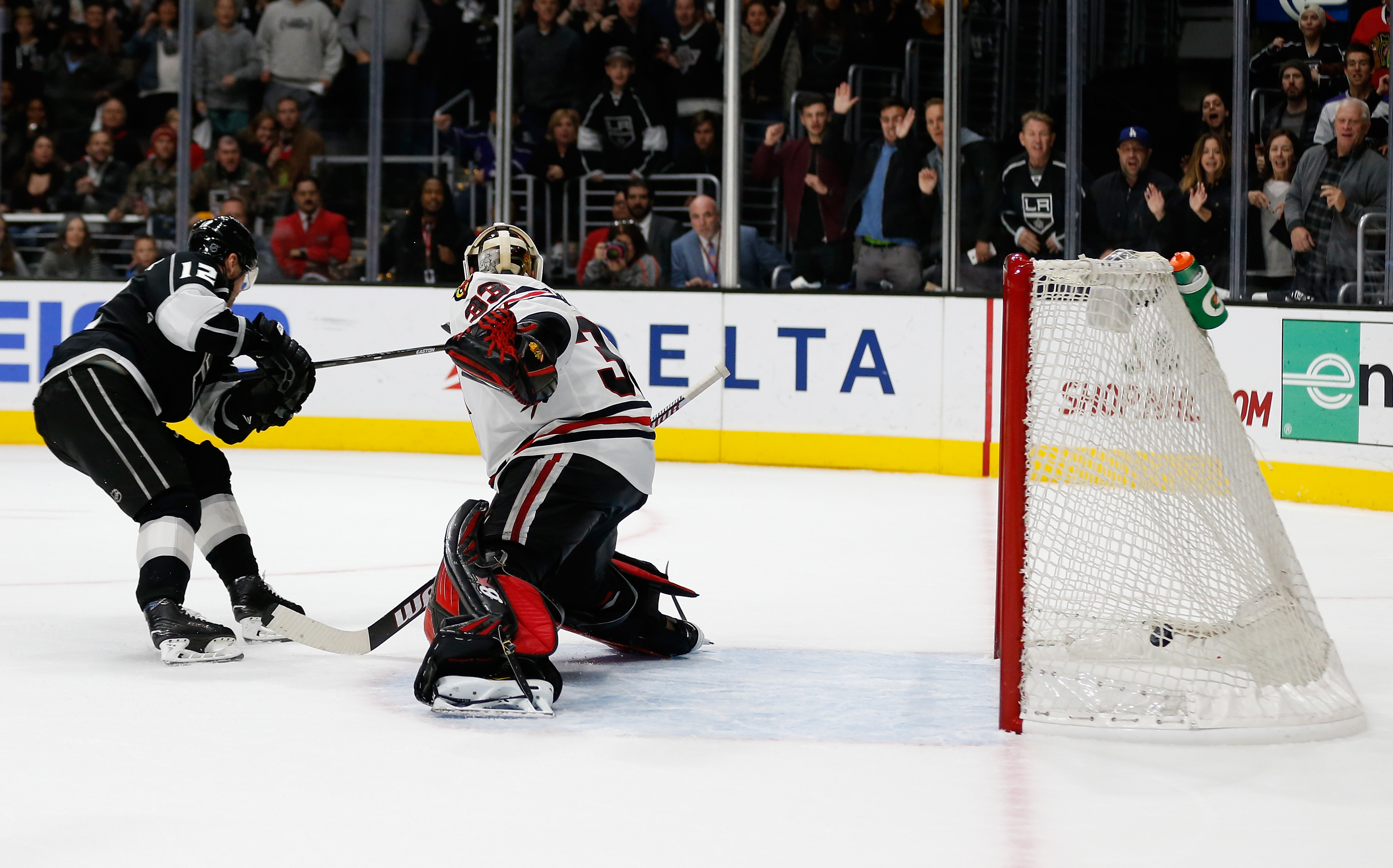 -advanced stats via Puckalytics