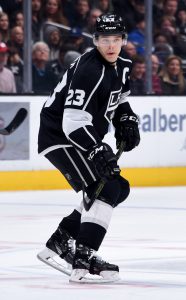 DUSTIN BROWN
This season: 82 games, 11 goals, 17 assists, 28 points, 30 penalty minutes, -5 rating, +3.4 CF%Rel, 16:10 time on ice
The good: By now, Dustin Brown's evaluation has actually been a multi-part reveal, beginning in May when the news that he'd no longer serve as captain was reported by TSN's Frank Seravalli. This has not been a particularly joyous or celebratory reveal. But let's separate, for now, the difference between *what Brown provides* and *what should be expected of Brown, given his massive contract,* because even though the latter has not been fulfilled by production, there is still good detail inherent in the winger's game that allows the team to play with strong structure and keep scores low. First off, his possession rates were stellar. You win in hockey by playing with the puck, and when Brown was on the ice in 2015-16, 58.4% of all shot attempts were directed towards the attacking net, and that's a very good rate on the league's top play-driving team. His possession rates have generally trended well, but this past year represents some of the best ability to tilt the ice in his career. He's also long been one of the more equipped players, along with Jeff Carter, Marian Gaborik and Trevor Lewis, at entering the offensive zone with the puck on his stick, and this past season was no exception. His .72 5×5 A/60 rate was his best rate since 2011-12 (though his FirstA/60 declined from 2014-15), and he played in all situations, averaging more than a minute per game in both power play and penalty killing usage. The Kings are not a chance-trading team, and they win, aided by Brown's tight checking and detail, by possessing the puck and keeping scores low. "We're not a skill, run-and-gun-type of team where we're going to rely on our skill to win," he said in March. "It's going to be relying on our system and our assets as players, what we do well, and that's not an easy thing to do the way we play, but it's a successful way." Many other positives from the past season are reflected in the incalculable. He entered the season in as good of shape as he had entered any prior season in his career, his day-to-day preparation remains a model for younger player, and has always been a lead-by-example presence in the team's room who draws his own share of the leadership's gravitational pull regardless of whether he wears a letter. Those who place gratuitous weight on the almighty spreadsheet may disagree with such an abstract, but as noted last year, Brown's focus and preparation allows for other players to find comfort and regularity in their own games. He spent more minutes alongside Anze Kopitar than anyone else and established an impressive 2.13 GF/60 and 0.91 GA/60 alongside his good buddy in five-on-five play.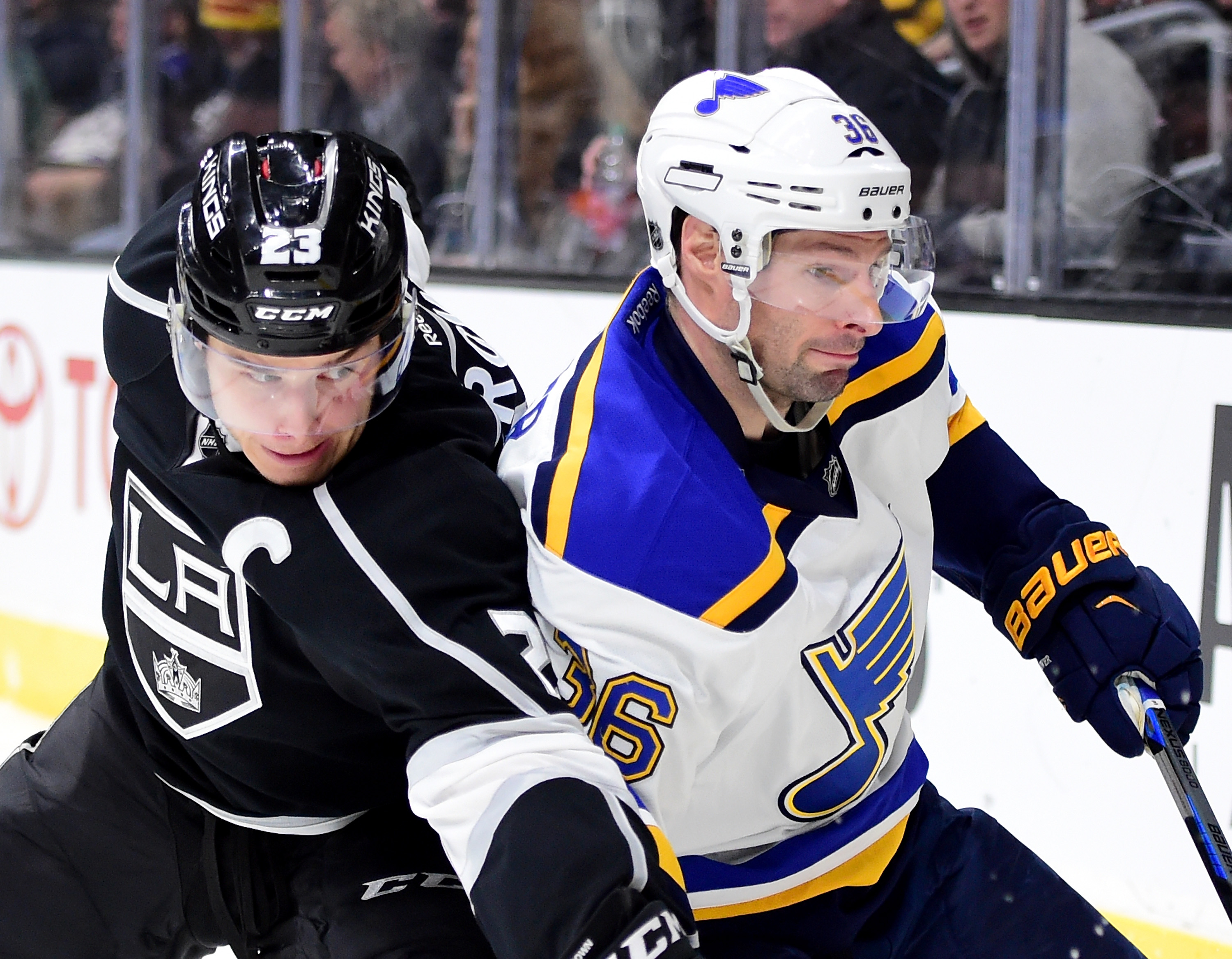 The bad: Brown is no longer a primary offensive threat, and several secondary skills have eroded enough to influence Dean Lombardi's observation that Brown needs to "figure out how to get his game back to a time not long ago where he was one of the best power forwards in the league." Don't let anyone tell you that his decreased production is a byproduct of who he's playing with; over the last two years, the three players he's seen the most ice with at even strength have been outstanding distributors in Drew Doughty, Jake Muzzin and Kopitar. But his shooting percentage has been dropping steadily since 2012-13, when he posted an unsustainable 12.7% shooting percentage in all situations, a rate lifted by his eight power play goals. More alarming than the stats are the eye-tests and correspondence that indicate that he's not consistently fitting into the same role in which he etched out so much success earlier in his career. His average shot distance of 33.8 feet in all situations was two feet more than any other forward on the team, while his 234 hits were tied for 15th in the league and represented his lowest hits-per-game rate since 2005-06. "Hits" can be a misleading stat and influenced by the home scorer's bias, but when someone whose physicality and forechecking is a staple of their game sees their hit total fall without any clear changes in deployment, it could be an indication that he's not as effectively playing to his identity as in past years. One of the league's elite players at drawing penalties – seriously, Corsica notes that he drew 72 penalties (!) in 2008-09 – the number of calls Brown drew fell to 19, his lowest total since his earliest NHL seasons. All of this points to Brown needing to rediscover his identity as one of the league's most physical straight line-type players and forecheckers, and in earlier chats with those in hockey operations, there was the hope that he'd re-establish his ability to carry the puck deep towards the attacking net and set up shop in front of the opposing goaltender with better regularity. Perhaps linked to his shooting distance, Brown's 4.1% 5×5 shooting percentage was his lowest rate dating back to 2007, when the advanced stats sites began keeping record.
Going forward: Kopitar has replaced Brown as captain, a development the two will be reminded of when answering questions from local media during the 41 morning skates at opposing arenas. (Based on early off-season correspondence, Doughty is likely to wear a letter, and Brown may not wear one at all.) Brown has a right to be upset about the decision and the anonymous leak (and came off quite well on his conference call), but realistically, what other decisions to disrupt the status quo could have been made? No trade discussions seriously arose because of the length and breadth of his term and payment, criteria that will still be in play when it comes time for Las Vegas to choose one player amongst Los Angeles' unprotected lot next June. Buying out Brown – which would have cost Los Angeles $681K against the cap in 2016-17 before peaking at $3.7M in 2021-22 and settling at $1.8M through 2027-28 – never seemed to be an option. The hope is now, with less pressure and mindfulness about having to keep tabs and an accounting of all voices across the room, his attention will be inward. "His focus so critically has to be on his game, and I think there is some merit to that," Dean Lombardi said in June. "The most important thing in our discussion, and having met with our assistant coaches, was that he's ready to buy in, so to speak, to micromanaging his game, because there's no question he works, there's no question he shows up physically prepared." That's all well and good, but will it lead to an uptick in production? To simply expect Brown to pot 20 goals because he's no longer wearing the "C" is the pure offseason demonstration of hope springing eternal. This is a bit of a quagmire. Expect Brown to have the first opportunity to play to the right of Kopitar as there will be a concerted push, mindful of both the production lost by Milan Lucic's departure and the loosened managerial strings were Brown to have a strong season, to revitalize his production and hopefully spur a renaissance of his scoring, role playing and his continued attention to detail. With a cap hit of $5.875M through 2022, he needs to shake the designation of someone earning first line payment while serving in a third line capacity. He has the constitution to direct his focus to the appropriate channels, but he also turns 32 in November. Was the Kings legend simply hit by a sharp and abrupt aging curve, or is there potential for recouped production?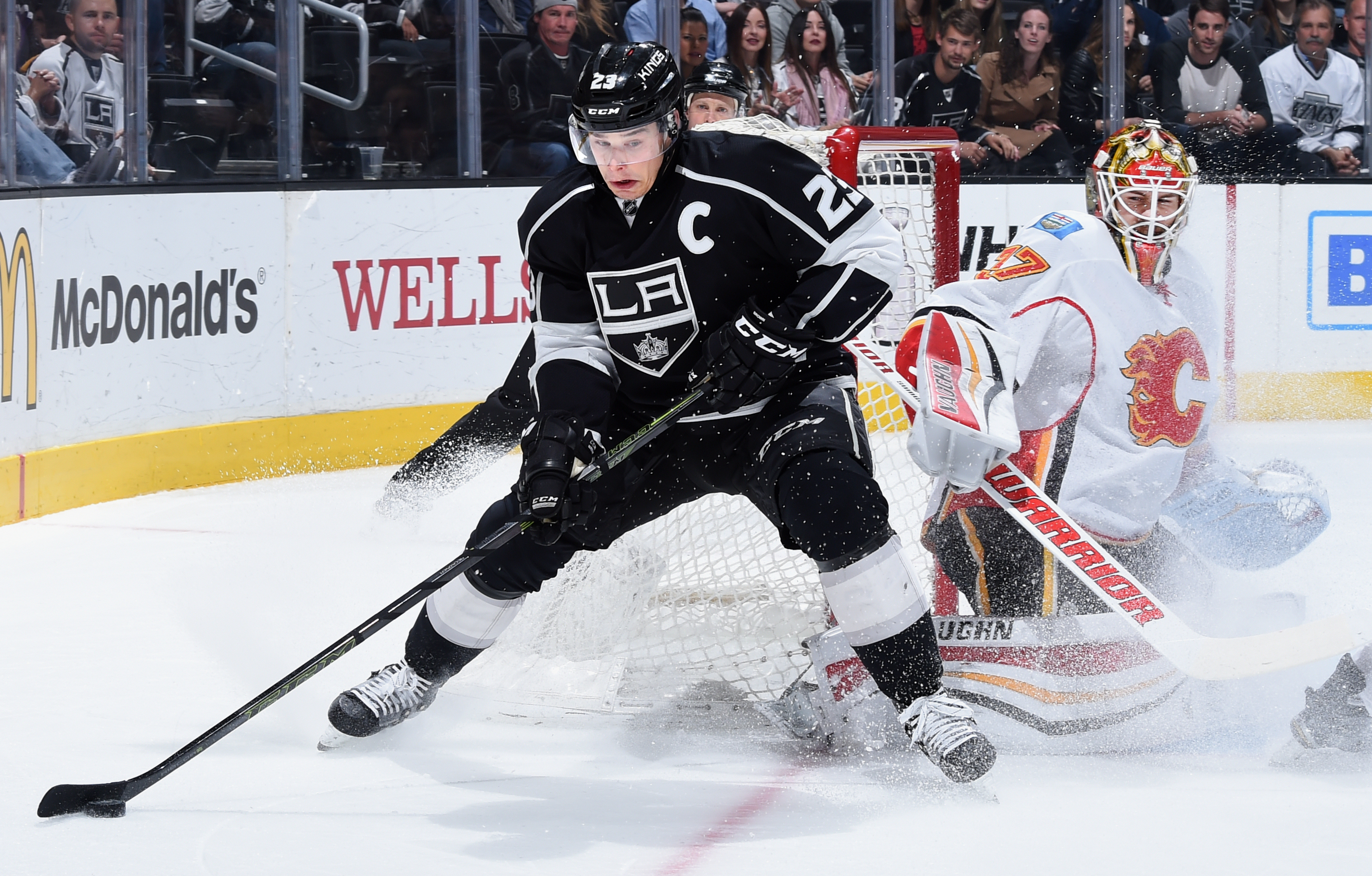 Player evaluations: Player evaluations: ANDREOFF | BROWN | CARTER | CLIFFORD | DOUGHTY | KING | KOPITAR | LEWIS | LUCIC | MARTINEZ | McNABB | MUZZIN | PEARSON | QUICK | SCHENN | SHORE | TOFFOLI | THE OTHERS
Brown evaluations: 2015 | 2014 | 2013 | 2012 | 2011 | 2010 | 2009 | 2008
-Advanced stats via Corsica, Stats.HockeyAnalysis.com / Puckalytics, Behind the Net