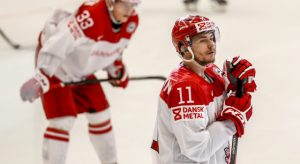 The Kings made official the transaction posted on LAKI last night: Danish forward Patrick Bjorkstrand has signed a one-year entry-level contract with the club and should be expected to spend the upcoming season with the Ontario Reign. The extent to which his game translates to North America will influence any potential call-ups to the parent club, though in speaking with those within and outside of the organization, his skill set should be well-suited for this side of the Atlantic from a low-risk standpoint.
Bjorkstrand isn't as skilled as his brother, Oliver, a top prospect with Columbus who acquitted himself quite well after making his NHL debut last season and who was named the MVP of the Calder Cup Playoffs while winning a title with Lake Erie. But he is the son of a coach, often an indication that he'll be a smart, two-way hockey player with good awareness in all zones.
Before joining KHL-Zagreb, where he spent the last three seasons, Patrick Bjorkstrand spent the 2012-13 season with Mora IK in Sweden's second-tier HockeyAllsvenskan, where he etched out an array of roles before the commencement of the NHL lockout, in which Anze Kopitar and Bobby Ryan joined the team and cut into some of his ice time. But he was an all-situational player with Mora, where he was under the tutelage of assistant coach Mark LeRose, a good friend of LAKI (and to whom LAKI will always be grateful for in saving a seat on Mora's bus during lockout reporting from Europe that season).
"He is a very powerful skater," said LeRose, who has been commended for cultivating players' skating ability and other skilled attributes and is currently the general manager of USHL-Sioux Falls.
That skating ability is part of an overall package that appealed to the Kings, who signed a low-risk-type player with the contractual space available to do so.
"He's a kid that we received some calls about. He played in the KHL last year," Los Angeles Kings Vice President of Hockey Operations and Director of Player Personnel Michael Futa said over phone. "It's just a different dimension. The only real opportunity we had to look at him was through development camp and some tape, and we spoke at length with the development guys and with the American League coaches and just talked about it. We've got a lot of grit and a lot of heart and a lot of character, and stuff like that, and the dimension of speed and some of the skills that he showed, it's kind of like one of those free swings to get a look at somebody who brings a different dimension."
Bjorkstrand's signing isn't completely different from the late-season free agency period in which players out of the CHL and NCAA sign entry-level contracts with NHL clubs. As a recently-turned 24-year-old, Bjorkstrand, a six-foot, 192-pound left-shooting forward who was never drafted, will now have the opportunity to earn recognition while taking part in training camp and skating for the club's top affiliate.
"We compared his age to being that of a kid that finished college," Futa said. "If you looked at a college free agent, how would he compare? Everybody felt that the tools that he was showing [were impressive], and the kid obviously made a very good impression as a person as well with his drive. It was just unique, so we kind of banged our heads and watched a little bit more tape and felt for a one-year deal it was worth taking the risk to add a different dimension. I think he'll get a chance to work hard at the NHL camp. It's his first time playing pro in North America, so we really see him more as a guy that's going to get an opportunity down at the American Hockey League to see if he can adapt to the North American style of play and forge his way into our future plans. It was an impressive camp, and it was something that we thought about on a lot of different dimensions as a group."
Futa referred to Bjorkstrand's father, Todd, whom he played alongside in Denmark, as "one of the Danish Gretzkys." Tenured Los Angeles pro scout Rob Laird also played alongside Todd Bjorkstrand with IHL-Fort Wayne in the early 1980's.
"There's a good competitive bloodline as far as competitive nature and North American roots and stuff like that. We felt the kid worked hard and it was worth a swing to see how he adapts to North America," Futa said.
Bjorkstrand's signing is likely to be the only invite signing that immediately follows development camp, though conversations with those in hockey operations have indicated that the team will also be closely watching forwards Matt Luff and Justin Gutierrez during rookie camp and training camp in September. Luff, who didn't take the ice late in development camp because of a rolled ankle suffered during off-ice workouts, is a 6-foot-2 forward and an Oakville, Ont. native who totaled 27 goals and 57 points in 61 games during his 18-year-old season for OHL-Hamilton. Gutierrez, a 6-foot-4, 205-pound Anchorage native whose major junior eligibility expired after his most recent season with WHL-Lethbridge, totaled 22 goals and 49 points in 46 games with the Hurricanes.
For more context, yesterday's story on Bjorkstrand is available here.