To look back at Kale Clague's 2015-16 season is to identify two sharply conflicting tours. There was his play through December 11, in which the 17-year-old posted one goal and eight points in his first 31 games, and then the next 61 games during the second half and WHL playoffs, in which the elite skater and slick puckmover posted 11 goals, 49 points and a plus-27 rating en route to a league championship and berth in the Memorial Cup with the Brandon Wheat Kings.
Two years earlier, Clague had arrived in Brandon, Manitoba with high expectations and a matching pedigree as the son of Jason Clague, a Regina and Red Deer goaltender in the early 1990's. Prior to being selected sixth overall in the 2013 WHL Bantam Draft, Clague had already broken the record for points by a defenseman in the Alberta Major Bantam Hockey League, eclipsing Dion Phaneuf's 65 points in 2000-01 with a 77-point effort in 2012-13. After his selection, he actually appeared into two games for Brandon as a 15-year-old that September – 15-year-olds can play a maximum of five games in the WHL before their midget season officially ends – and appeared comfortable in stepping into a lineup of a team that traditionally sets the bar in the league's Eastern Conference.
"If you walked into the rink and didn't know he was 15 years old, you'd think he was a drafted player," said Brent McEwen, Los Angeles' Western Canada-based amateur scout. "He was that calm and had a presence on the ice and was on their power play."
Expectations were obviously high when he returned to Brandon to begin his 16-year-old campaign the following year. An unfortunate spate of injuries – a broken wrist playing for Alberta at the U-17 Hockey Challenge, a leg injury following his February return, plus another injury in the playoffs – kept him off the ice for long stretches and limited him to 20 games that season, though he was still earned an "A" rating on NHL Central Scouting's September watch list as a highly regarded prospect prior to his draft season.
Early on, the numbers did not align with his potential. Perhaps because he had played a grand total of 53 major junior games prior to his second half surge, and perhaps because he had to build confidence while vying to earn exposure and a wider workload on a team that was among the most skilled in all of junior hockey and featured uber-prospect Ivan Provorov on the blue line, he had a difficult time living up to the expectations that had been set of him prior to the season.
And then he took off, averaging .88 points a game over the remaining 40 games of the regular season and carving out a dynamic identity on a Brandon team that won all four WHL playoff series it appeared in. It helped Clague finish as a player right on the cusp of a first or second round selection at the time of the draft. He was ranked 27th amongst North American skaters on NHL Central Scouting's final list; TSN and Bob McKenzie ranked him 30th overall.
"One of the things that I think and I think our group liked was the fact that he rebounded from that and just kept going up," said McEwen, who estimated that the number of times he had seen Clague was "in the teens," in addition to video observations and face-to-face meetings. "He didn't go up-and-down, up-and-down. Once he got consistent, he was consistent right to the end."
McEwen filled in any gaps with a regular conversation with Wheat Kings general manager and head coach Kelly McCrimmon. It was well established that confidence played a key role in his second half surge.
"Everybody had a good feel of what he was," McEwen said. "He's different than what we've got."
And that's somebody who skates at an elite level, distributes the puck with poise, owns a hard shot from the point and is capable of manning an effective power play. In essence, he's the type of player capable of succeeding in the modern NHL, where leaving the defensive zone quickly and operating in the offensive end has become paramount.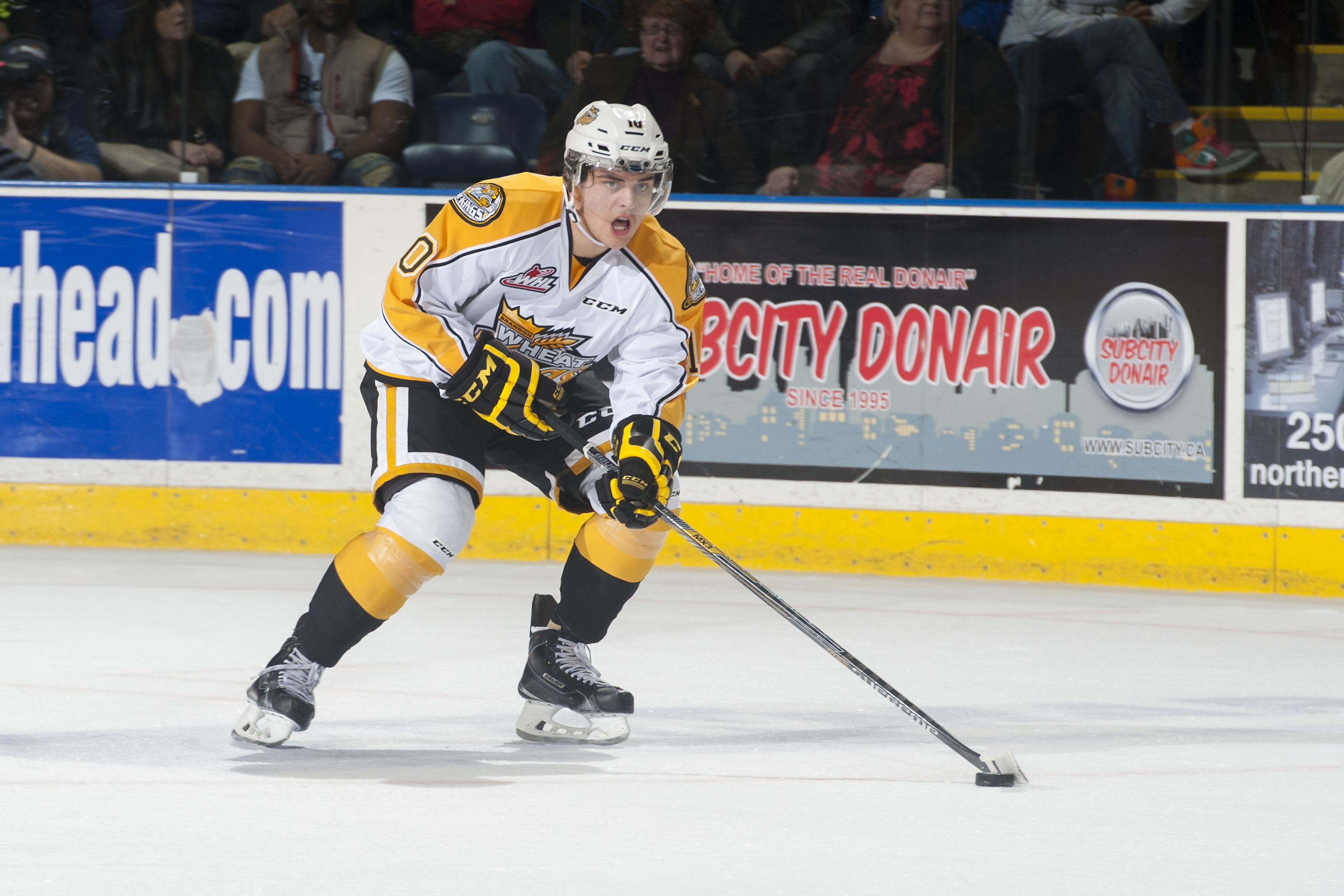 He's still only listed at 5-foot-11, though, and his first NHL development camp allowed him to gauge where he's at in his conditioning and development. The left-handed shooter understands that there are still areas in which he'll have to continue to fill out, and it aligns with his defensive game and readying himself for the rigors of professional hockey.
"I think I need to get a lot stronger – upper body – in the gym, and I think that's going to help translate into my game and just continue to work on all aspects of my game and continue to get better in all areas," he said from Los Angeles' development camp last week. "I think when I get stronger, I think it's going to help me in terms of my defending and being able to, not so much outmuscle guys but kind of be able to hold my own and finish some more checks."
He's familiar with Los Angeles. As a client of CAA Hockey, he had already taken part in hockey camps at Toyota Sports Center and had a general lay of the land when he began getting more comfortable with his fellow prospects.
"It's good. [Development camp is] obviously nerve-wracking," he said. "Right when I get here, came into it, I didn't really know anyone so I was a little nervous about that, but now it's starting to get more comfortable with the guys and starting to get to know them and I'm feeling really good on the ice."
Kale Clague, on what he learned at development camp:
Not too much that I haven't learned but they stress really detailed defensive-specific things: having a good stick, good gaps, always keeping your head up. I don't think it's something I haven't learned before but I just think it's something that's being stressed more than what I'm used to and I think it's good. I think it's going to help me. I'll take what they're teaching me or showing me this week and use it and get better.
Clague, on his first observations of the Kings organization:
I think in terms of the combine, my meeting with them was probably my best meeting. I wasn't really sure going into the draft where I was going to end up and it was pretty stressful, nerve-wracking that way, but when L.A. announced my name I was pretty excited. Aside from even a team standpoint, coming to a place like this, I don't think there'd be a better place to play in the NHL. I'm really excited and I'm kind of glad the draft stuff's all over with and now I have something to work towards.
Clague, on whether there were any nerves when he first went on the ice:
Yeah, I was just telling them I didn't really know anyone coming out here so definitely I was a little nervous and I want to make a good impression. There's probably a lot of people in this organization that haven't seen me play and I wanted to come and play well and show them what I have really.
Clague, on what he has been doing since the draft:
[Had] the combine for a week in Buffalo and then after that I kind of took some downtime because my season went a little later. Took a week off and then started to get back in the gym working out a bit. Then I went to the draft in Buffalo again there for a few days. I wasn't skating so I was just kind of working out, went to the draft, and when I got home I started to get back on the ice, skated a bit, continued to work out and now I'm here. I flew out of Edmonton. I'm from Lloydminster, Alberta.