JAKE MUZZIN
This season: 82 games, 8 goals, 32 assists, 40 points, 64 penalty minutes, +7 rating, +3.2% CF%Rel, 23:04 time on ice
The good: Though his misguided detractors are quick to call attention to the vaguest infraction, such inclinations are really the equivalent of a thinning swarm of oxpeckers nibbling away at the hide of a charging rhinoceros. Especially in the first half of the season, while the Kings' blue line was exceeding expectations, it was Jake Muzzin who played a significant role in establishing an early divisional lead. He scored three times and added 12 assists and a plus-five rating during a 15-5-1 stretch between late October and early December as Los Angeles held its opponents to two goals or fewer in 13 of 21 games. Though his production leveled off from the year prior, he shored up other aspects of his game that had previously been inconsistent and proved that he is a reliable top-pairing defender capable of taking shifts against the opposition's top players and battling deep in his own zone during hairier moments of the game than in previous years. "I think Muzz has always been a better player who focuses on the same thing – being a really good defender and being a shutdown guy," John Stevens said early in the season. "That's what he was when he played our best hockey, and then the offense will come natural to him because of the situation he ends up in because he's a really good defender. I mean, he's playing against top guys every night, so he first and foremost needs to shut guys down, and then the offense is usually a byproduct of doing that well. I think he's done a good job of getting his focus back in relation to that." One of the league's renowned play-drivers, Muzzin's advanced stats came back down to earth a bit in 2015-16, though he still remained comfortably afloat even when compared to teammates on the league's top possession club. Muzzin played in all 82 games for the first time in his career and absorbed a wider variety of defensive assignments. Though his time on ice experienced a modest increase to 23:03 per game, his average even strength and power play usage per game actually fell. He saw a massive increase in his shorthanded deployment, and fared pretty well in evolving from a player who earned 55 seconds of SH TOI/GP to someone who averaged 2:31. In four-on-five play, his 46.5 shots against per 60 minutes were in the middle of the pack amongst penalty killers (and negligibly better than Drew Doughty's SA60), though his 4.6 GA60 was the third best rate on the team. The 82-game sample indicates Los Angeles' penalty killing was only so-so, but Muzzin, in his first year of earning a regular shorthanded role, was a fairly positive influence on the overall numbers. He had said prior to the season that he had been working on generating better shooting lanes and using deception to get his shots through and ultimately registered a career-high 203 shots on goal, including 157 in five-on-five play – an increase of 44 over the year prior. Though he saw the ice alongside Drew Doughty when the team trailed in close games, his numbers alongside Alec Martinez – far and away his most regular partner – were encouraging if unremarkable as the team established a 2.30 GF60 and 1.80 GA while Muzzin and Martinez were on the ice together. "You don't have to be a rocket scientist to watch who Darryl Sutter and John Stevens and Davis Payne have on the ice when games are on the line," Michael Futa said in an episode of Black and White. "Whether they need a big goal, the kid's on the ice, or whether they need to keep the puck out of the net, the kid's on the ice, and that's the ultimate sign of respect." At the end of the season, he was credited with one fifth place vote for the Norris Trophy.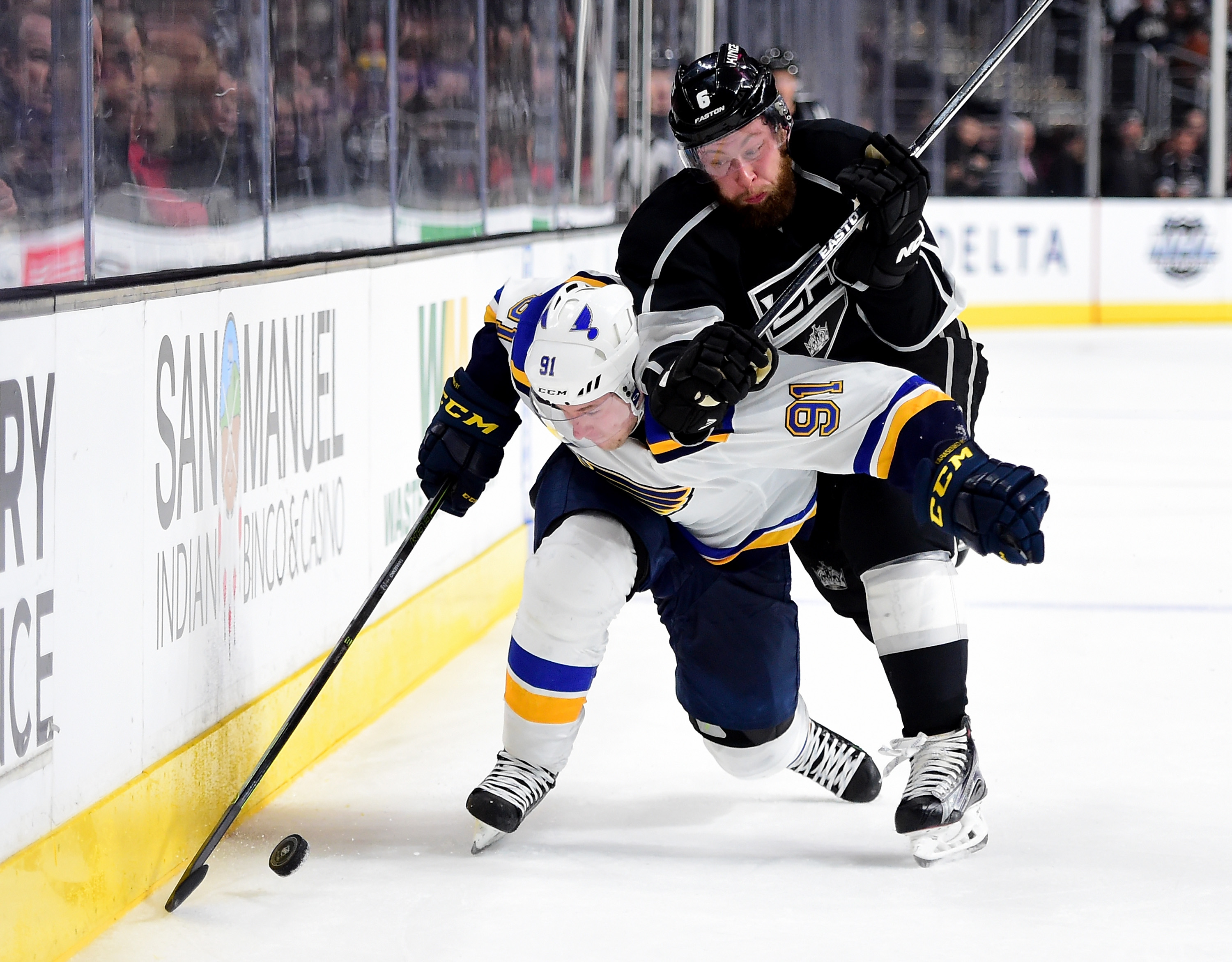 The bad: Whoa, Muzz. Every player in the league makes mistakes – each NHL goal is caused, in part, by a mistake – but he still hasn't exactly shed the reputation as someone who is mistake or turnover prone. (This is because he plays against really good players who force mistakes on other good players.) Like several teammates, he was also so-so down the stretch as the team let its foot off the gas pedal. Before rebounding with a point-a-game playoff performance, Muzzin recorded just two assists and a minus-nine rating in the 11 games that followed the team clinching a playoff berth. Again, this was a symptom of a team-wide performance, but there was a discrepancy between Muzzin's first 60 games and his final 22 games, even if he did rebound with a solid five-game postseason offering. Though his all-situations shot attempts were more likely to hit the net (45.4% in 2015-16, compared to 44.9% in 2014-15), this was largely a byproduct of his five-on-five play (in which he hit the net with 47.1% of attempts in 2015-16 and 41.9% in 2014-15). His attempts that hit the net on 5×4 power plays actually decreased from 50.6% in 2014-15 to 43.8% this past year.
Going forward: The signing of Muzzin after he had been drafted by Pittsburgh and had attended a training camp with Nashville was a major coup for a Kings team that also had to fend off a concerted push from Anaheim to nab the multifaceted defender in 2010. Six years after signing with the Kings, the Ducks' current general manager has actually become one of Muzzin's advocates in a role with Canada's World Cup of Hockey entry. In addition to Murray, Muzzin was also named by St. Louis and Team Canada General Manager Doug Armstrong as a player who had stood out during the national team's player evaluation in November. It culminated with a spot on Team Canada – among the greatest collections of talent ever assembled – when the final roster was revealed in late May. His national team ascension was further vindication that he's so much more than a player who posts pristine possession rates and is, at his core, a physical, sturdy defender who makes both physical plays and the more nuanced plays that decrease the amount of time the team scrambles in its own end. The question heading forward is whether he'll see the majority of his time with Drew Doughty, or Alec Martinez, or [Player X]. "For the players to become top-four defensemen, they have to be able to play first minute, last minute, probably more penalty killing than power play, to be quite honest, to be top-four guys that are on good teams," Darryl Sutter said in February. "There are top-four guys that can only play on the power play or can't play in situations, and they're basically offensive guys that don't play consistently on good teams. And [Muzzin] has, obviously, come along very well into a top-four role, and we think the ideal place for him is with Drew, so that means you're on the ice in a lot of situations. I think you see Muzz is still developing." With a $4M cap hit through 2020, his contract represents some of the best value any Pacific Division team receives from a defenseman.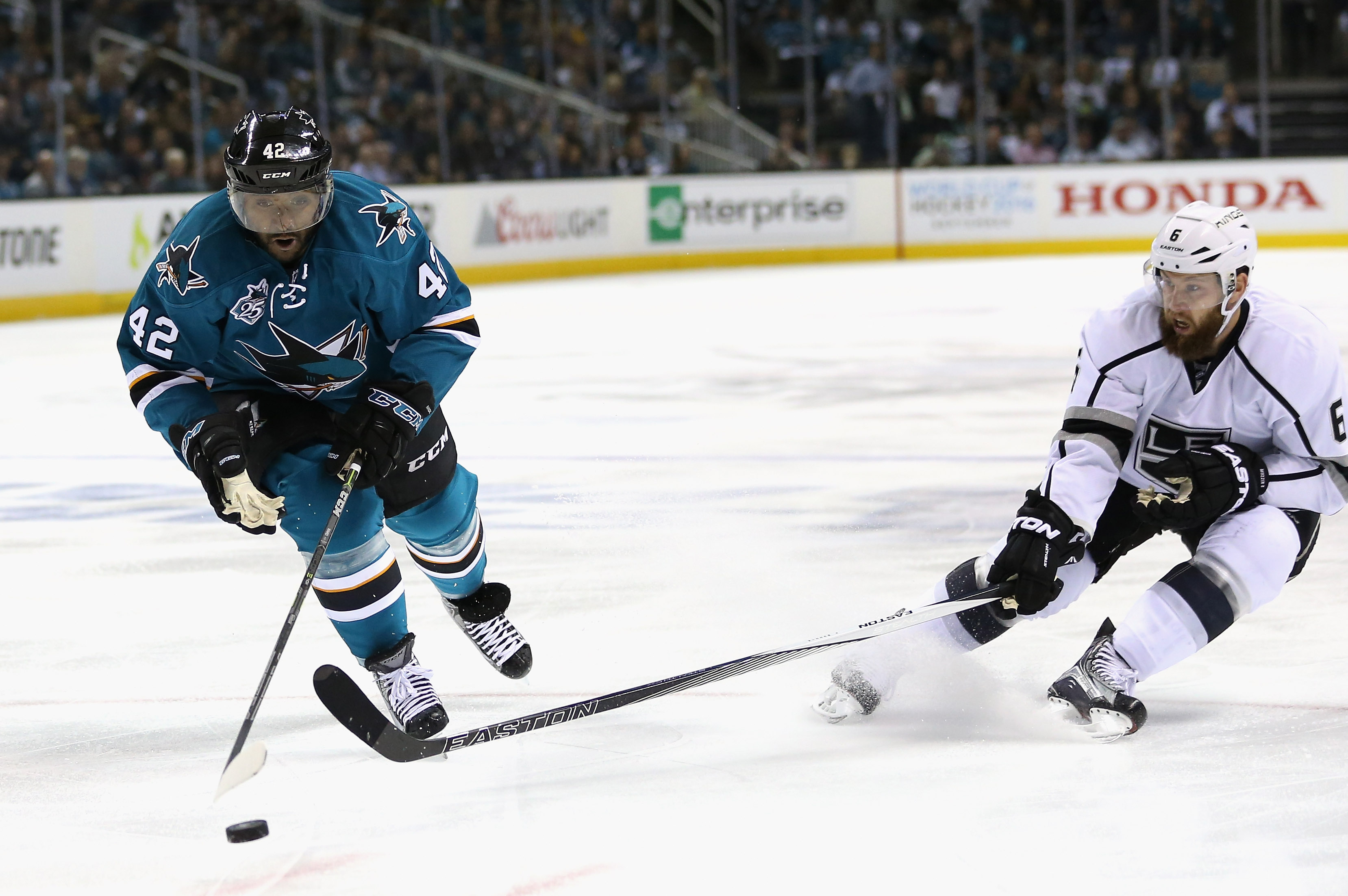 Player evaluations: ANDREOFF | BROWN | CARTER | CLIFFORD | DOUGHTY | ENROTH | KING | KOPITAR | LECAVALIER | LEWIS | LUCIC | MARTINEZ | McNABB | MUZZIN | PEARSON | QUICK | SCHENN | SHORE | TOFFOLI | THE OTHERS
Muzzin evaluations: 2015 | 2014 | 2013 | 2011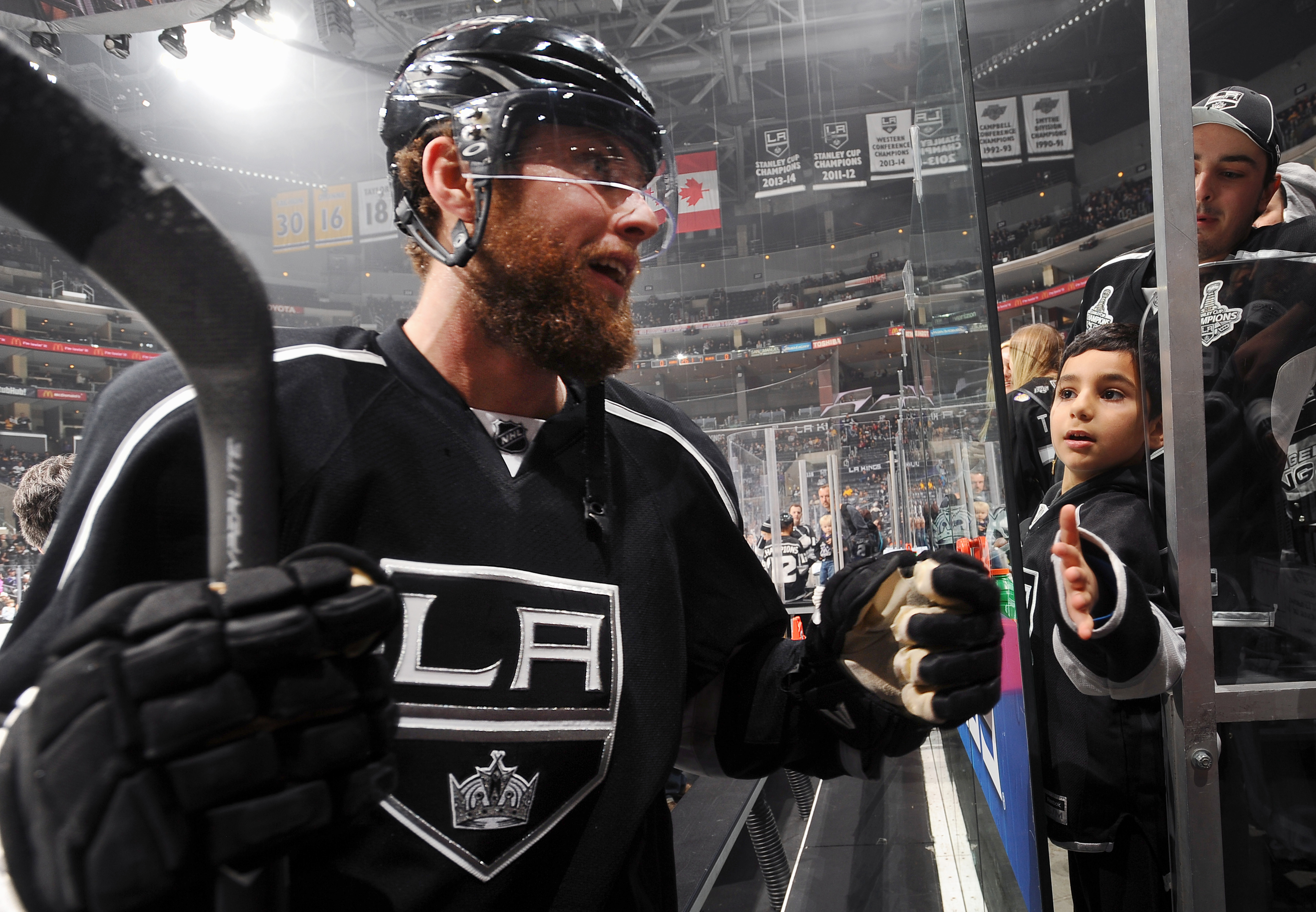 Advanced stats via Corsica Hockey, Stats.HockeyAnalysis.com