Reign exit interviews were held on Tuesday, May 31 and the media present had the opportunity to speak with NINETEEN players. This is the seventh entry of "Exit Entries," where what was discussed will be noted player by player. Rookies Mike Amadio and Paul LaDue got just a taste of AHL hockey in the 2015-16 season as they joined the Reign in the playoffs.
MIKE AMADIO
It was a season of firsts for Mike Amadio: His first 50-goal season in the OHL, his first pro game, and he even scored for the first time he could recall on his birthday, an overtime game-winner in a playoff game against San Diego as he turned 20.
Of the Reign's "Black Aces," Amadio made the most immediate impact.
"No, I didn't expect it," said Amadio, a third round pick by the Kings in 2014, "but it was nice to get in some games here and learn the culture and how to win on the ice so it was nice."
Amadio, fresh off his season with North Bay where he finished two points shy of 100, joined Ontario for the postseason and was called upon after injuries to other centers. He appeared his first AHL contest in Game 3 against San Jose in the first round on April 28.
"Just getting up to this level and how great all the guys were with me since I got here," Amadio said when asked what he would take away from his experience in Ontario. "It's a great culture in the room and they really helped me feel comfortable and be able to play my game out there so I think that was one of the biggest things."
Amadio finished the playoffs with one goal and four assists in 11 games. His game-winner in San Diego in Game 4 set up the Reign's close-out game the following night.
"After the first couple games I got my confidence up, being able to make some plays and do some things with the puck," he said. "I know that's what they expect from me and that's what I've got to bring to the table."
Amadio, on how long it will take for what he accomplished this year to sink in:
It's going to take a while. It's been a great year. It was a disappointing finish here but it was a great run back in junior with my team and here and can't be grateful enough.
Amadio, on if his teammates at North Bay kept tabs on him while he was in Ontario
I got a couple texts from my buddies back in junior, just saying that they're keeping up and seeing what I'm doing so it was really, really nice to see that.
Amadio, on his summer goals:
Just to come back stronger, faster and be able to make that step to be an impact player.
Amadio, on how comfortable he is playing at wing versus playing center:
Pretty comfortable. I'm more comfortable playing center out there. There's a little more freedom but you've got to be able to play each position. You've got to be able to play wherever Stuttsy wants you to play. I've got to be prepared for that.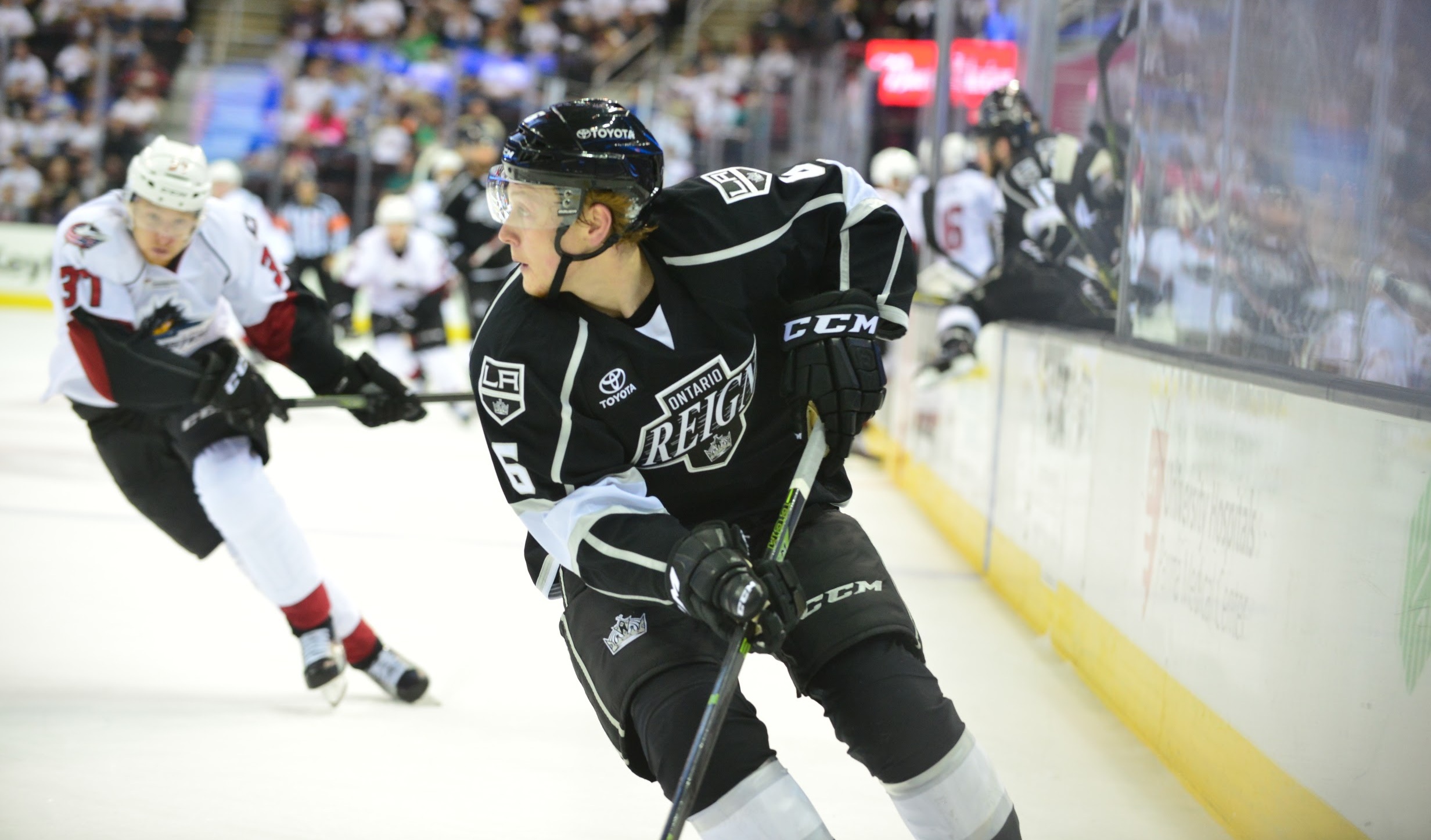 PAUL LADUE
Defenseman Paul LaDue was another rookie to crack the Reign lineup in the postseason.
"I thought it was great," he said. "Obviously it took a little getting used to but I thought I felt more confident as the games went on. Obviously it was a bummer that we couldn't keep it rolling and keep playing but it definitely made me excited for next year and ready to come in and have another good year with this team."
LaDue came to the Reign after he and his University of North Dakota teammates won the NCAA title on April 9, defeating Quinnipiac in a 5-1 romp.
"It was unbelievable and I think it helps out a lot," said LaDue, who is studying business management. "Any time you get a chance to win your season, just the experience, it's got to help and I'm glad I got to do that before I left and now I've got to turn the page and try to get another one here."
It took the puck-moving defenseman some time to get signed and get to Ontario — "[Finishing school] was my focus right away, just getting those credits done so it's possible for me to come in next year, take some classes online and finish out my schooling," — but once with the Reign the transition was almost seamless.
"There's a lot of similarities. I think where I came from we play pretty similar, a hard-nosed game, trying to make plays all over the ice," said LaDue, a sixth-round pick by the Kings in 2012. "Obviously that takes a little bit to get used to but I've been around these guys before. Been to development camp a few times so I definitely know a lot about it and hopefully I can pick it up in stride come next September."
LaDue appeared in three playoff games, all in the Western Conference finals defeat to eventual champ Lake Erie. Head coach Mike Stothers put LaDue in the lineup to give the Reign a different look and played him alongside veteran Jeff Schultz.
There was a lot to learn.
"Those guys were great," he said of the other defensemen. "Even watching them on the ice, a guy like Jeff Schultz just how calm he is out on the ice, the way he plays. Watching those few games before I got in I think it helped a lot. Obviously playing with him, too, just made the game a lot easier."
Now for the offseason, it's off to Grand Forks, North Dakota, the home of UND. LaDue said he will "probably be there the whole summer," expect for a few trips to skate with Nic Dowd and Derek Forbort and others in Minneapolis.
"Everything," answered LaDue when asked what he plans to work on. "Definitely getting bigger and stronger in the summer. I need a big summer training-wise. This being my first summer with their program I fully expect to be ready to go by September. Just all the little things … the pro game, making plays, head up on the ice, just everything they preach here.
"Just keep working on it and keep pounding away."
LaDue, on how his time in Ontario benefited him:
It definitely helped out. I'll probably feel a lot more confident going into training camp next year now with a few games under my belt. It was definitely a little faster and guys are bigger and stronger so it took a little to get used to but I feel pretty good.
LaDue, on the transition between UND and Ontario:
It's not too bad. With the way these guys work with you it's unbelievable. They make it pretty simple and they help you out and they're always available for questions and if you're ever confused about something they're right there. They definitely help us out and I'm excited to keep working with them.