Second Round, 51st overall: Kale Clague
Position: Defense
Shoots: Left
DOB: 6/5/98
Height: 5'11.75
Weight: 184
NHL Central Scouting final ranking: 30 (North American skaters)
NHL Central Scouting midterm ranking: 37 (North American skaters)
Bob McKenzie's final ranking: 30
Stats (WHL – Brandon): 71 GP, 6 G, 37 A, 43 Pts, 54 PIM, +25
Via TSN.com's Kale Clague page: "Very good puck skills. He can make passes that alleviate pressure and creates offensive opportunities. Very poised with puck and very good opening up passing lanes and setting offense"
On being drafted by the Los Angeles Kings:
It's an unbelievable feeling. Sitting here anxiously, waiting to get picked, it's nice to be finally chosen. I'm really excited to get out to L.A.
On what he'll look to do to develop and become a professional:
I think definitely the size and strength. It's a part of my game that I'm working on, and I think once I get there, it'll kind of translate into my defensive zone game, and I think that's going to help me get to the next level.
On his season with Brandon:
It was a great run. We had an outstanding team. It's a long year, and it's so much doing it in the playoffs. Obviously we didn't like how we ended at the Memorial Cup, but to get the job done in the Western League, it was a crazy feeling.
On whether his skill set is conducive with the modern NHL:
I think so. I think in the NHL, I think defensemen, people are looking for fast-moving defensemen, good puck movers, and I consider myself one of those defensemen. I think with the way I skate and move the puck, it's going to help at the next level, and I hope it helps at the next level.
On growing up in Lloydminster, Alberta:
It's a small town. There've been a lot of good hockey players coming out of it. Some current NHL players. It's nice to be a part of that group, getting drafted to L.A, and I hope one day I can play in the NHL.
On NHL players he looks up to:
I've skated with Braden Holtby in the summers a little bit. He's an outstanding goalie, won the Vezina.
On whether he considers himself from Alberta or Saskatchewan:
I'm an Albertan. I live on the Alberta side.
[Ed: Lloydminster straddles the Alberta-Saskatchewan border]
On speaking with Brent McEwen and the Kings through his draft year:
A little bit. Brent, he came to Brandon, and I met with him just briefly after one of our games. Then I met with him again at the combine. Really good meetings each and every time, so I'm happy and proud to be an L.A. King.
On who has left the strongest impression on him in his development:
Definitely my dad. He's kind of made me into the young man I am. He's kind of showed me that it's never easy to get to the next level and what it's going to take to get there, so I give a lot of credit to him.
On being able to take the ice with Drew Doughty at training camp:
Oh yeah, he's definitely a defenseman I've looked up to growing up. He's outstanding, so I'm definitely excited to meet those guys and skate with them. [Reporter: No autographs, though.] [Laughs.] No, I don't think I'll be getting autographs. Deep down I'll be pretty star-struck at the start, but I think it'll be really good.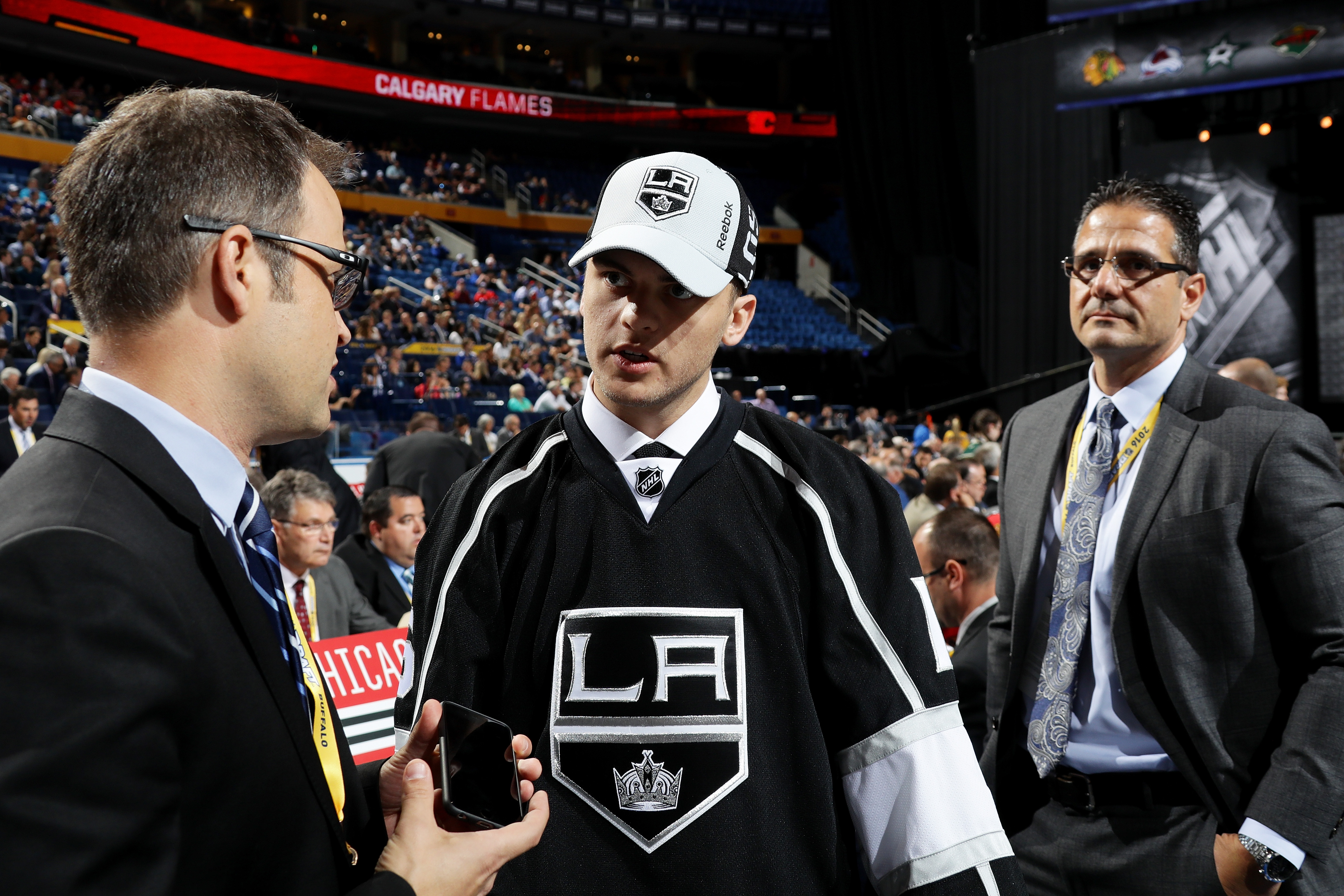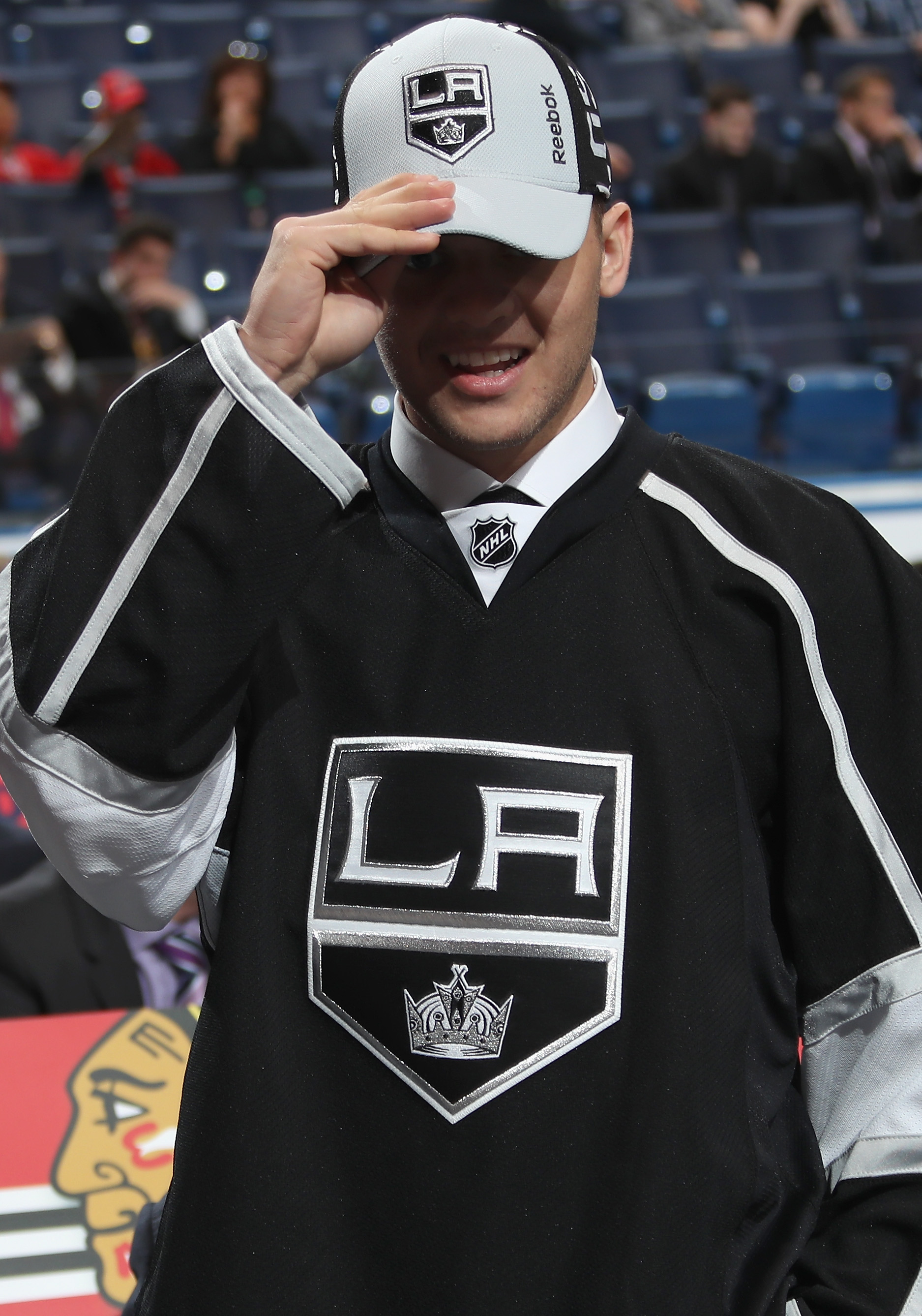 Kale Clague reports: HockeyBuzz | Habs Eyes on the Prize | The Hockey Writers
Via the Western Hockey League:
"Kale's best strength are his skating and his puck handling ability," said Wheat Kings Head Coach and General Manager Kelly McCrimmon when evaluating Clague's best strengths on the ice. "He's always been an elite skater and is a very good offensive defenceman."

McCrimmon mentioned that many NHL scouts see the same strengths in his game, particularly from an offensive stand point.

"He's very good at joining the rush and is a very good passer. He's good on the offensive blue line and those are aspects of his game that I believe differentiate him from other players. He's very strong for his age."