5:00 p.m.
Hello! The Kings don't have a draft pick in the first round. They probably won't end up with one, either. But that doesn't mean we can't have some fun hanging out on a Friday night, watching the NHL Draft and dropping double negatives! Stay tuned and check in when we get closer to roll call for insight and analysis of the night's proceedings, most of which will be serious.
5:09 p.m.
What you will not read on this live blog: feverish observations of GM of Team X having a draft floor conversation with GM of Team Y. Such are base observations and well below the standards of- WAIT. Hold on. There's a bag of pretzels being delivered to the Kings' table. Heading down to the floor to investigate.
6:15 p.m.
Have exchanged emails with a few people in hockey operations, and it sounds as though negotiations with Trevor Lewis have picked up again. The team would not have had the space to retain Lewis had Milan Lucic re-signed with the club, so it was expected that a push to re-sign the impending UFA would take place under these circumstances. Lewis is coming off a two-year, $3.05-million contract and totaled eight goals and 16 points in 75 games last season.
6:19 p.m.
Meant to share this earlier. From Elliotte Friedman's 30 Thoughts column:
16. Milan Lucic's negotiations with the Los Angeles Kings got really ugly. At the end of their season it seemed close, then turned into a 50-car pileup. Among the problems: the Kings, as is their philosophy, were not willing to offer much in the way of no-trade protection.
6:41 p.m.
I'm in the top row of the media risers alongside @LAKings. To our left are the digital and social staffs of Minnesota, to our right, Detroit. Anything you'd like us to pass along?
6:53 p.m.
QUIET, EVERYONE. It's time for roll call. Let's be a little quicker this year, Hurricanes.
6:54 p.m.
Oh man, Buffalo just went crazy when their city's name was announced.
Buffalonians don't much care for Toronto. Related: Buffalonian is a funny word.

— Mark Lazerus (@MarkLazerus) June 24, 2016
7:11 p.m.
Bettman booed. Can't really hear what he's saying because of the boos.
7:20 p.m.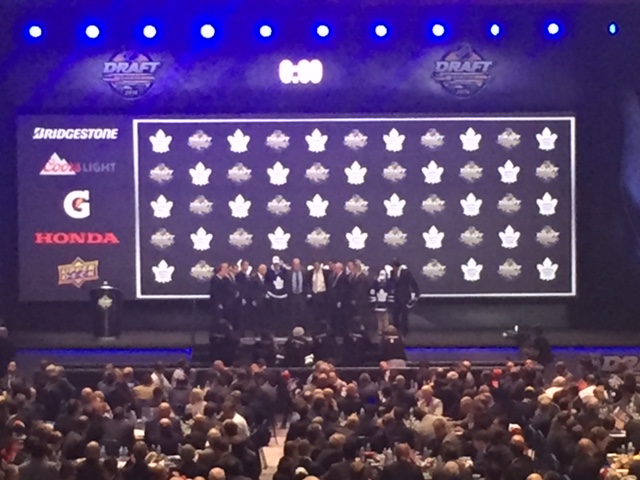 Congratulations, Auston Matthews. Apologies for a terrible picture.
7:24 p.m.
TRADES! Chicago trades Andrew Shaw to Montreal for two second rounders, and Montreal trades Lars Eller to Washington for two second rounders. Staples Center fan favorite Shaw no longer in the west.
7:30 p.m.
Winnipeg drops the first "organ-EYE-zation." They select Patrick Laine. Winnipeg gon' be good. Maybe not this coming year. But Winnipeg comin'. Like Omar. Also, I just watched three clips from The Wire.
7:35 p.m.
The first (slight) reach of the draft. Columbus spurns Puljujarvi and Tkachuk and selects Pierre-Luc Dubois. Vancouver was expected by many to take him. Montreal was also considering moving up. He's a Blue Jacket now.
8:04 p.m.
Upstairs, checking in with scouts and some friends inside the team suite. BRB.
8:40 p.m.
The view from the Kings' suite: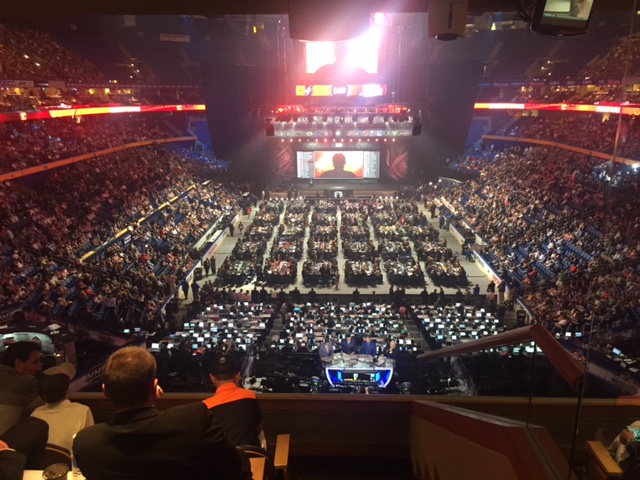 In the suite are members of development and the Ontario Reign hockey staff. Good conversations with Mike Donnelly and Dusty Imoo as we watched Calgary acquire Brian Elliott from St. Louis. The Flames might not have the same structure as the Blues, but Elliott should still raise a team save percentage that finished 28th in the league in 2013-14 and 30th in 2015-16. Also, Tyson Jost, who is colorblind, was drafted by Colorado.
9:13 p.m.
Stammer Time in Detroit?
Wings trade Pavel Datsyuk and No. 16 pick to the Coyotes for Joe Vitale, Rangers' No. 20 overall, and No. 53 overall.

— Greg Wyshynski (@wyshynski) June 25, 2016

Arizona accepts the contract of Pavel Datsyuk, who is headed back to Russia. The Coyotes needed to get to the salary floor, so they'll take on Datsyuk's cap hit and accept a first round draft pick.
9:56 p.m.
So, what are we Angry On The Internet about now? Just checking in. I've got nothing.
10:00 p.m.
Jesse Puljujarvi: not so chatty pic.twitter.com/5f1cBj64XJ

— Mike Halford (@HalfordPHT) June 25, 2016
10:17 p.m.
Classy move by the Dallas Stars. Jim Nill defers to former Sabres coach Lindy Ruff, who announces that Dallas has selected Riley Tufte. Ruff gets a warm ovation here in Buffalo.
10:18 p.m.
Have been chatting a bit with the Kings table and have been informed that there have been no serious discussions to move into the first round, as expected. There will still be an interesting KingsVision feature on the draft floor, as Futa was wearing a microphone during the night's proceedings.
10:42 p.m.
Lucas Johansen, Ryan's younger brother, was drafted out of the powerhouse Kelowna program to the Washington Capitals. Kelowna has a legacy of producing standout defensemen, but man, their jersey colors are like replicas of the late 90's Detroit Pistons. That's not a good thing.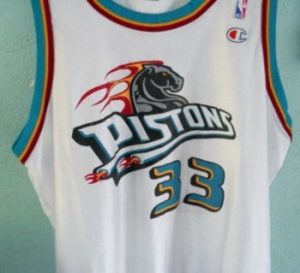 10:47 p.m.:
Pretty cool:
And there it is!!!! History at the NHL draft as Trent Frederic becomes the 12th American-born player drafted in the first round.

— Jamie Hersch (@JamieHersch) June 25, 2016
12:01 a.m.
Wordpress didn't like the emojis on the previous tweet and cut off several of my recent updates. I can't remember what exactly they were, but the draft is over, and as expected, Los Angeles didn't move up into the first round. It's now 12:01 a.m., which means that impending free agents are now free to speak with all NHL teams. Enjoy your night, Insiders.