It's the emergence of a new era for the Los Angeles Kings, who on Thursday named Anze Kopitar the 14th different captain in franchise history. It also comes with an inquiry over why this was the right time in the evolution of the position that Dustin Brown would cede such a role following a run that represented the longest assumption of the captaincy in franchise history, one in which Brown led the team to heights no Kings captain had previously led.
"I was perfectly prepared to walk through this and take the time necessary because you don't solve this, per se, with a player of Dustin's stature, a player who has to be right now the best captain in Kings history – having two Cups on his side that nobody can match – without being prepared to walk him through it as he goes through his own mind what this means," General Manager Dean Lombardi said.
As for the logistics, Lombardi met with Brown roughly four weeks ago, as he noted on a conference call, and told him, "you need to walk out of here, take it all in, and come back and see me when you get good thoughts."
They then met again, touching on several topics from Brown's perspective, before Darryl Sutter flew back to Los Angeles to meet with Brown.
"They talked about it and what his role needs to be and what he needs to do going forward. Then he came back and saw me two more times to get him in a place to … like I told him, [where] he can be a big asset, just like Williams and those guys helped him, he has to help these guys, having been through what he's been through and make them as good a leader as he was. The other part here that's critical, like I told him, and I think part of this is, when you have a responsibility for 23 guys, he perfectly recognizes that for us to be successful as a team, he needs to get his game back to where he's capable."
It's also a complex mix of emotions for Kopitar, who naturally takes pride in inheriting such a role, though one that he absorbs from one of his closest friends on the team.
"The initial thought is obviously it's a very exciting day for me being named captain," Kopitar said from Slovenia on a conference call. "It's something that during Brownie's time I've never given it a whole lot of thought obviously because I always looked to him as being our guy. It's a bit of, I guess, sweet and sour taste in my mouth just because he and I are very good friends and have developed a strong relationship over the course of my 10 years in L.A., and quite frankly he's the only guy that has been there right when I got to L.A. I wouldn't say awkward, it's just maybe a little bitter, but I don't think our relationship is going to change. I'm still going to need him right beside me, too, to obviously help me out with a lot of stuff and hopefully we can just manage and continue working together."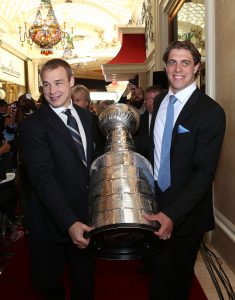 The base for these logistics and this discussion is more nebulous and was obviously spurred by the team's fall relative to the heights that had been met in recent seasons. Speaking more abstractly, this is a different era in Kings history from the one in which Brown was named captain.
"If you look back at the evolution of this team when Dustin took over, we were a very bad team. You essentially had only three young players at that time with Frolov and Cammalleri and Dustin," Lombardi said. "We selected Dustin, obviously, to be the captain of this team, but part of that process, don't forget, was to bring in guys who were leaders in their own right, whether it was a Justin Williams or a Mike Richards, a Jarret Stoll, the Scuderis of the world. But altering that process, you were looking at those extremely young players, the 19-year-olds coming through, that they were needed to take this all in because someday it was going to be their job. But I don't think this is something that you just hand to a young player when he's 22, 21, and he's still formulating his own game and still formulating the idea of what it takes to lead, but take it in every bit, and it's been going on essentially for seven or eight years. So now it's their turn."
That process has been ongoing, and given the success the team has reached earlier this decade, there is no shortage of leadership on a team that still retains 11 players who have won a pair of Stanley Cups with the club.
Darryl Sutter has also spoken about this leadership committee multiple times, saying in March that Kopitar and Jonathan Quick "set the template for our team in terms of leadership and what's going on," and that "our team, the top players are also the captains, so it goes hand-in-hand." Sutter continued: "It's a lot of responsibility for Kopi, but that's good responsibility and it's good pressure. I trust him on and off the ice, so you expect him to be a top guy in both those areas. He's a top player on the ice, and he's our captain."
As for the share of the leadership, Lombardi said that the team is still "working through" the selection of the alternate captains, and that such a decision would be "probably something for down the road." (He also noted that, as expected, the remaining years of Brown's contract wouldn't be bought out, saying, "certainly not at this stage, no.")
He did hint at being able to offer an update on alternate captains shortly, though several conversations with team sources have indicated that many see the reins of this evolved Kings team – which has one playoff win since 2014 following the heights of two Stanley Cups and a conference final appearance in three seasons – belonging to Kopitar and Drew Doughty. It shouldn't come as any surprise were Doughty to be revealed an alternate captain when the time is right, while it may be a stretch to assume Brown will be named as one of the alternate captains.
And that shouldn't have any profound effect on the nature of the team's leadership as a group, and as Sutter and others have noted, there has been direction coming from all corners from the room. Willie Mitchell, Robyn Regehr, Williams and others may not have worn letters on their jersey, but they all combined to both lend a voice and lead by example to assist the team as they saw fit.
"It evolves on its own without the signature of a letter being on somebody, whether it's Derek Jeter assuming the mantle from Don Mattingly," Lombardi said. "Every team, there is a transition. It's generally been a top young player that comes through your system, and it evolves. It just doesn't come out in this dramatic sense where a letter is transferred from one letter to another."
This is, ultimately, a long way to say that Kopitar has been groomed well for this position. He wasn't necessarily expecting such a change, but he has been groomed well by many of the names listed above and is ready to continue to further his mark on the team's history.
"I didn't envision it, but at the same time I'm super excited about it and I get it that it's a great honor and with great honor comes a great responsibility, too," he said. "I've been around a little bit now, I grew in L.A., I've played with some guys that have been captains, have been great leaders on teams, and I think I'm … up for the challenge.
The evolution of the captaincy also represents the continued need for the team to continue to reinvent itself and not try to further stretch the threadbare remnants of prior successes heavily influencing current decisions.
"You've heard me say this before," Lombardi said. "I think that one of the problems that we've had with our success is that thing I said about four years ago that a pretty smart guy said to me, that whenever you've won, it's not recapturing the feeling, it's reinventing the feeling, and that requires these guys now to establish their own identity, their own basis to lead, and their own basis to get to the same place that Dustin took us."