Reign exit interviews were held on Tuesday, May 31 and the media present had the opportunity to speak with NINETEEN players. This is the third entry of "Exit Entries," where what was discussed will be noted player by player. Forwards Adrian Kempe and Justin Auger are two players that will likely be back with Ontario, but have the upside to potentially make the Kings in training camp.
ADRIAN KEMPE
Consistency. That's what it always came back to for Adrian Kempe when evaluating his first pro season in North America.
Remember though, the first-round pick at No. 29th overall in 2014 by the Kings, is still 19 years old. He's hoping his best hockey is in front of him.
"I think that was the thing that I tried to be better on," said Kempe about consistency in his game. "In the Swedish League too I had some ups and downs, I played really good and then I could play not as good the next game. I just try to be more consistent every game and I think I learned that a lot this season and I think at the end of the season I was really good. I tried to keep up my game every game and I think I played well almost every game at the end so just trying to be better at that and hopefully I'm going to be really good at it next season."
He's right in that regard. His play only elevated in the playoffs where he had four goals in 13 games after a regular season that was more of a struggle at times (11 goals in 55 games).
It's all an adjustment though when you consider this was his first full season playing on NHL regulation-size ice rather than the wider Olympic sheet, and playing in a more rough-and-tumble AHL than the free-flowing European style.
"It was pretty hard in the beginning to get into this game but I think after a while you get into it and I think my game fits better here than it does in Sweden," said Kempe, who previously played for Modo and will train in Sweden for the summer. "I kind of like it more over here than I do in Sweden."
If you ask head coach Mike Stothers, you get an up-and-down answer about what next season has in store for Kempe. Stothers saw a significant dip in Kempe's play after he returned from his final World Junior tournament, but by the time the playoffs rolled around Kempe was playing some of his best hockey. He took over Game 4 of the San Diego series, scoring two goals in the third period of a game the Reign eventually won in overtime. Kempe's versatility and ability to play both wing and center helped as the playoffs wore on due to injuries to his teammates (and for the record, he doesn't care where he plays, but he prefers to play where he'll get more ice time).
"Personally, probably yes," Stothers said when asked if Kempe would be better served with one more season in the minors. "But with Kempe, I don't know. This kid goes into training camp, sometimes he can take your breath away. Sometimes he takes your breath away like you got kicked in the stomach. Two different breaths away. But when you saw how he played in the playoffs, that's the way this kid can play.
"So, who knows? He gets up there, who knows, maybe at training camp he gets on a line with, I don't know, [Jeff] Carter and [Tyler] Toffoli. Man, I don't know, how good does that kid become? The potential's there but I think realistically — and the Kings don't usually rush anybody, it's usually spend 2-3 years down in the minors and learn your craft both with play away from the puck and with the puck — he might be better served [with one more year in the AHL]. But, when you've got a talent like him and you can skate — like he's already NHL-ready skating wise and probably from a hockey-sense wise. We talked about [Michael] Mersch and [Nic] Dowd up front, maybe a Kempe just goes in there and blows everybody's doors off. He's quite capable of having that kind of impact in the training camp that's coming up."
Kempe, on his first full season in the AHL:
It's a really tough game. You've got to be on your toes every game, you can't take a day off or anything. You've got to be prepared for every game and the season is very long and you've got to prepare and do all those important things so you can play as good as possible out there. I saw that I some games [I wasn't] on my toes and didn't play good enough.
Kempe, on playing in Ontario and being close to the parent club:
I think it's a really good setup to be so close to the Kings. The development guys are coming here often and you talk to the Kings and all those guys too, so I think that's really good for me and for all the young guys.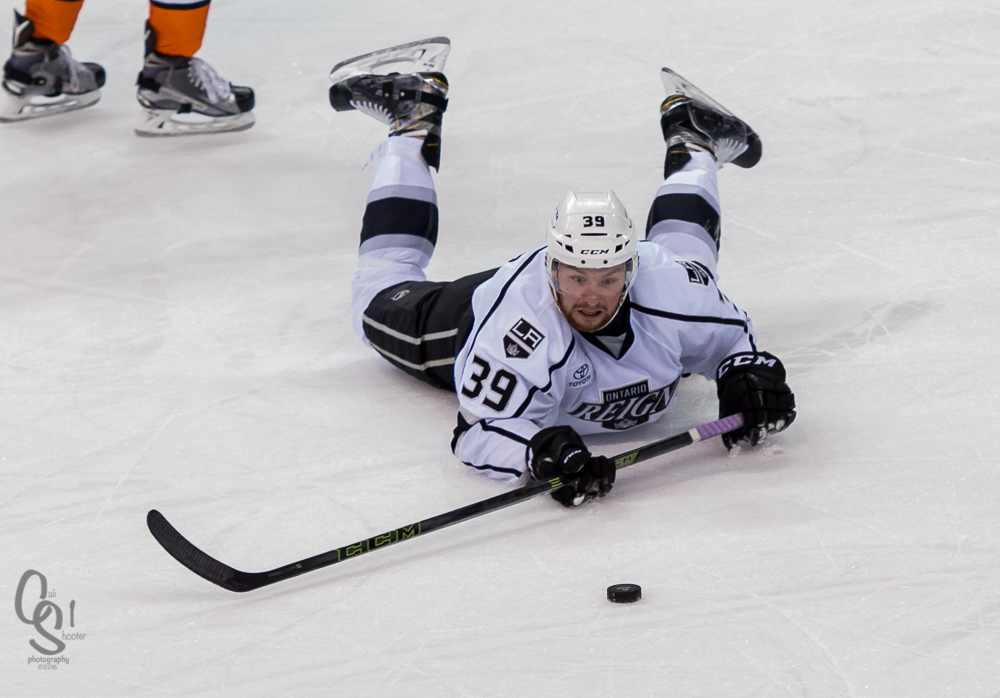 JUSTIN AUGER
The 2015-16 season brought a bigger role for the biggest player on the Reign.
The 6-foot-7 Auger was handed more responsibility in his second full AHL season, took the opportunity, and ran with it.
"Obviously being second-year pro you're looked upon more late in games if you need a goal or something or defensively keep the puck out of the net," he said. "Just being on the ice there in that last 2-3 minutes or just more ice time overall, just being someone Stutts can look to when he needs someone to get the job done."
Of the Reign's seven playoff wins, Auger had three game-winning goals. In the regular season he nearly hit the 20-goal plateau, stopped at 19 while being one of two players to play in all 68 games, Sean Backman being the other.
When asked which player he thought surprised and made the biggest leap in terms of his development, Stothers said, "I might go as far to say that about Auger."
"It's a big body, that's a big man, 6-nine or whatever he is," the coach elaborated. "It's harder for a big-bodied guy but I think his skating's improved, his hands have improved immensely, he's got a real nose for the net. He's pretty aware defensively. He's killing penalties. I think his growth as a player has been huge this year, to the point now where I think people are like, 'whoa, this kid might play.' Obviously the size thing, everybody likes that in the game of hockey but you've got to be able to get around the ice."
For the offseason, Auger's off to Waterloo, Ontario, where he still lives with his parents and works out at Depth Training. How hungry is he to make his NHL debut like some of his teammates did this year? "Really hungry … we're all fighting to get up there and make an impact," he sad.
"It's going to be a good summer," the 22-year-old said. "Get to work and we'll see. Go to L.A. camp and hopefully be knocking on the door there. I'm really excited, started to come on strong at the end of the year and hopefully just carry that in and be a big part of the team next year."
Auger, on his summer goals:
I think it's the same thing. You get stronger, you get faster, you just put in the work that you need to put in over the summer to get you where you want to be next season.