As first reported by Chris Johnston of Sportsnet yesterday, the NHL's executive committee met Tuesday in New York to make a recommendation on league expansion, with the full Board of Governors expected to vote on (and theoretically approve) the recommendation with a two-thirds vote later this month at their June 22 meeting in Las Vegas.
As previously noted, the options weighed by the Executive Committee were:
1) Expansion by one or two teams for 2017-18
2) Defer decision to 2018
3) No expansion
Considering the owners would split a $500-million entry fee, the "no expansion" option is not the most likely outcome of the vote. A site titled The Sin Bin reported last night that the executive committee had formally approved Bill Foley's expansion plan into the Silver State, but we'll hold off on more thoroughly disseminating such a report until it's confirmed by more familiar NHL sources, as is LAKI policy. Still, it does appear, as has been reported for much of the last two years, that Las Vegas is expected to be the sole benefactor from expansion, and that the new team should begin play in the 2017-18 season. Recent reports have Quebec City's expansion bid – backed by former Prime Minister Brian Mulroney, chairman of media conglomerate Quebecor, which is spearheading the attempt to return the NHL to the city for the first time since the Nordiques departed for Denver in 1995 – on hold, with the most likely return brought about by potential relocation, not expansion. (It's probably a good thing that the Nordiques became the Avalanche, just so we were spared this branding redesign, which would've diluted our memories of these beauties. Has there been a better shoulder patch?)
There's a very good primer on expansion, courtesy of The Globe and Mail, right here.
As for potential expansion draft details, "teams only would be compelled to protect players with no-move clauses (and contracts) that extend through at least the 2017-18 season," Larry Brooks wrote yesterday for the New York Post. Previously, it had been expected that teams would have to protect players whose contracts or no-movement clauses expired on July 1, 2017, even though the expansion draft would hypothetically take place only a short time before that. First and second-year players will not be available for selection.
As for the format of the expansion draft, TSN's Frank Seravalli covered some of the details in March.
Teams under the current plan could protect seven forwards, three defencemen and one goaltender or eight skaters (of any position) and a goaltender. That means each team would be subject to losing either a top-four defenceman or a third-line forward should the NHL expand by one team.
Here's a reminder that this is the NHL, and rule changes – or in this case, planned rule changes for an event that isn't yet confirmed – can change.
While we're on the subject, here's a fun story by Lisa Dillman on the 1967 expansion draft, in which the Kings and Maple Leafs got into a compensation dispute over Red Kelly, Los Angeles' first coach and a recent Toronto retiree.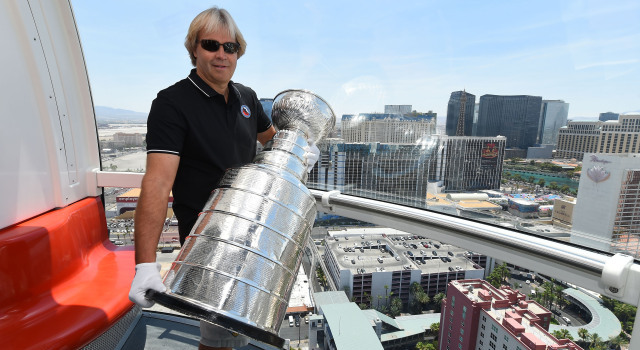 PRESEASON UPDATE: Several preseason boxes have already been checked as teams are in the process of announcing their September and early October schedules. Because the Avalanche announced their exhibition slate yesterday, the confirmed preseason schedule is now up to four games (five, if you count the Black and White Game in Ontario on September 25).
Sunday, September 25: Black and White Game (Citizens Business Bank Arena, Ontario, CA)
Friday, September 30: at Colorado Avalanche (Pepsi Center, Denver, CO)
Sunday, October 2: at Edmonton Oilers (Pat Duke Memorial Arena, Lumby, BC)
Friday, October 7: vs Dallas Stars (T-Mobile Arena, Las Vegas, NV)
Saturday, October 8: vs Colorado Avalanche (T-Mobile Arena, Las Vegas, NV)
There will almost certainly be some weekday games against Arizona and Anaheim embedded in that schedule, though if the Kings play their traditional two preseason games against both teams, they're looking at eight total exhibitions, which includes travel to B.C., plus an intrasquad game.
According to multiple sources, Los Angeles' home opener is expected to be held at Staples Center on Friday, October 14.
2016-17 NHL schedule will be released June 20 or 21, per NHL Commissioner Gary Bettman

— Dave Stubbs (@Dave_Stubbs) May 30, 2016