Reign exit interviews were held on Tuesday, May 31 and the media present had the opportunity to speak with NINETEEN players. This is the second entry of "Exit Entries," where what was discussed will be noted player by player. Reign defensemen Kevin Gravel and Derek Forbort played alongside one another for most of the year and both were up with the Kings during the season.
KEVIN GRAVEL
Kevin Gravel got a taste of what the NHL was like — making his debut and earning a postseason call-up. The lessons learned from those visits and a long season as a top-four blueliner in the AHL are far-reaching.
"You never know what anything's like until you're actually there and experience it," said Gravel, who led all Reign defensemen with 7 points in the playoffs. "Same for here. You never know what the playoffs are like till you experience it, you never know what the grueling season down here is like till you experience it. It's the same with up there. You watch games on TV as much as you want and you can hear about guys tell you about the pace and the strength of the guys and how everything works off-ice as much as you want but until you're up there and you experience it firsthand you never really truly understand it. I think one of the big things [with] getting that taste is you're familiar with the guys. You're comfortable with the guys. That's huge. You're not really walking on eggshells as much as when you're first called up. You're comfortable talking to them and things like that. I think that's kind of undercover a big part of it."
The next step is eyeing a full-time role with the Kings for next season, but summer tasks come first and Gravel's main goal is to add muscle to his (listed) 6-foot-4, 200-pound frame.
"Obviously that's the goal," said Gravel, when asked about making the Kings. "I got a taste this year and that's where everyone wants to be. You want to be up top and first and foremost I have to have a good summer here and put myself in a position to have a good camp and all I can control for myself is to have a good training camp when that time comes. For right now that's a long time away. I'm not going to worry about that right now. I'm going to enjoy my summer, work hard this summer … and put myself in a good spot to have a good training camp."
Gravel works out in the summers with current teammate/former St. Cloud State teammate Nic Dowd in Minneapolis. Including five NHL games and the AHL regular season and playoffs, Gravel skated in 72 contests this season. His role continued to elevate as the season wore on, eventually earning first-unit power play duties at the end of the Reign's playoff run.
"I think I became harder to play against in my own zone," said Gravel, when asked what aspect of his game great the most in the season. "Whether it was with my stick or finishing guys off in the corners, I think that was an area that my game lacked a little bit and obviously it's not where it needs to be yet. But I think I got better at that throughout the year and just in terms of puck-moving and things like that, too. I played some important minutes this year. I got put in a lot of positions this year and that's thanks to the coaching staff. I just tried to do my best when I was out there and when you play so many games and minutes your confidence develops and with that you get more confidence to do things with the puck and everything builds off that."
Gravel, on the season and it being the first one in California:
I think when you look at it as a whole, it was a good season. It's our first year out in California. I don't really know if many guys knew what to expect. I think from all aspects of it it was a pretty great success. Fan-wise, crowds were great all year. We were received really well here. I think ultimately we made strides as a team, too. We fell short of our ultimate goal obviously but Western Conference Finals, it's tough to get there. We were one of the final four teams. It's still a good year.
Gravel, on his goals for the summer:
That's one of the main things I've got to work on as a player taking the next step is to add a little bit of muscle to my frame. I have a little bit of room for that. But you just want to continue to improve on all aspects of your game. You get on the ice and work on the skill side of it, you work on your conditioning as training camp comes closer so you really don't have to worry about that for a while. … You'll get together with a group of guys and go through skates and things like that. Either play shinny or run through certain drills for a little while but first and foremost my main goal is to add a little weight to my frame here.
Gravel, on having the Kings' development staff so close:
They were here a lot more this year than my time in Manchester. I'm sure they enjoyed it a lot more than having to make that cross-country flight, too. It's great. Any time that you can get these guys down here and they can either watch a practice or watch a game and kind of give you that immediate feedback is something you're looking for. It lets you know right away and obviously they know right away too what's going on down here and how everyone's playing.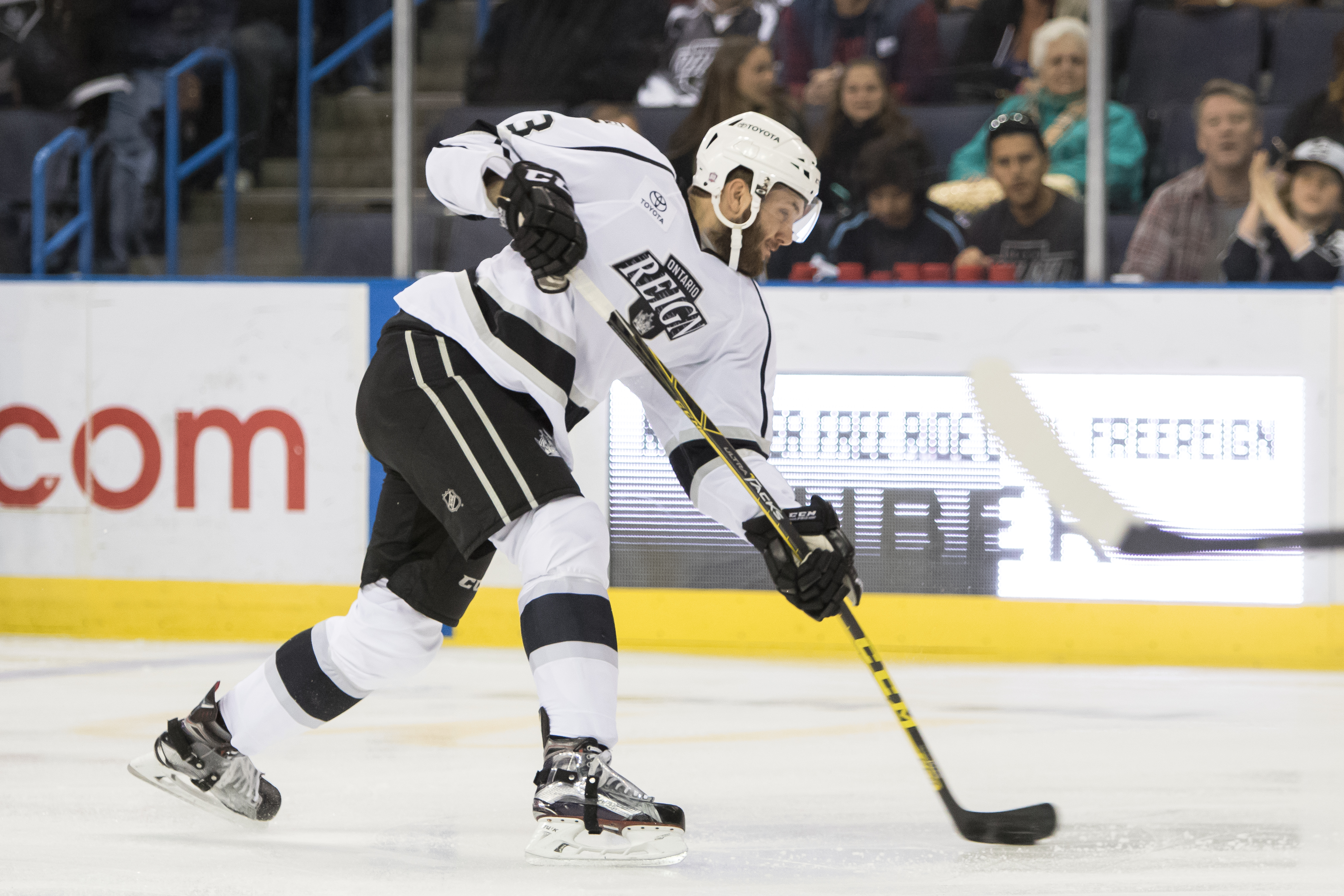 DEREK FORBORT
The early part of the season and the offseason were much different for Derek Forbort. Forbort earned a spot with the Kings in training camp but was sent back down the AHL on a full-time basis when the Kings traded for Luke Schenn in January.
"It's hard but you've got to do everything you can to get back up there and you've got to play well down here to get back up there," said Forbort, who goes back to his native Minnesota for the summer. "I think I've just got to keep improving my game and hopefully I get another chance up there."
Forbort, more of a stay-at-home type than his partner, is also a restricted free agent who wants to be back with the organization that drafted him in the first round in 2010.
"Yeah. Yeah, definitely," he said when asked if he hopes to be back. "I love playing in this organization and if I get the opportunity to keep doing that I would 100 percent love to."
Forbort played in 14 NHL games and scored his first NHL goal against Vancouver in late December but after the opening three months of the season was sent back to Ontario. Head coach Mike Stothers was consistently pleased with Forbort's game, usually using the word "reliable," to describe his work.
"Obviously we didn't get to where we wanted to but I think it's pretty rare when you find a team like this where everyone really wants to win, especially in the American League you find the guys that maybe just want to get home but I think on this team everyone really just wants to win and it's easy to come to the rink every day and want to get better with this group of guys, it was a good year," said Forbort.
Forbort, on hockey in California:
It's actually a pretty cool hockey culture out here. People really like the sport and it's fun to play out here.