Good morning, Insiders. Thanks for the patience and understanding during a slow period on the site as Baby Stuff segued into a long weekend with family and now towards a shorter work week. Regular coverage is set to continue.
SO, WHERE WERE WE? There was some great channel flippin' between the hockey and basketball games on Monday night. As you're aware, Pittsburgh claimed a 1-0 series lead as Brent Burns lost his stick behind the net late in the third period of a tied game and had to contend with a pair of bodies below the goal line in Kris Letang and Carl Hagelin. Letang ultimately freed the puck to the low slot for Nick Bonino, who poured himself a cup of coffee, read the New York Times wedding announcements, scheduled a dog grooming appointment for later in the week, and then beat Martin Jones up high as Paul Martin had a front row seat to the scoring chance. It's good to see the LA Times staff the Cup Final; Helene Elliott has your recap, as well as a piece on the influence former Kings and Ducks have in the season's final series.
SLO-LYMPICS Helene also called to attention a report out of Bled that Anze Kopitar will play for Slovenia in an Olympic qualification tournament from September 1-4 in Minsk, where the Lynx will match up against Poland, Denmark and host Belarus. Qualification for the 2014 Games – where Slovenia upset both host Denmark and Belarus en route to punching a ticket to Sochi – took place in February, 2013, so Kopitar was unable to take part, and instead held a press conference from a practice rink in Nashville, where he told reporters that he was too nervous to watch the clinching game and instead relied on a text from his mother to learn that Slovenia had qualified. His brother, Gaspar, played in those qualification games as his father, Matjaz, coached the team to the Olympic berth.
Only one team of the four will qualify, while one country of a group of Austria, Japan, Germany and Austria will also emerge from separate pool play in Riga, Latvia. Canada, Russia, Sweden, Finland, the United States, the Czech Republic, Switzerland, Slovakia and host South Korea have already qualified.
Whether Kopitar and other NHL-based players will have an opportunity to play in the actual Pyeongchang Games is unclear, perhaps even doubtful, given an update National Hockey League Commissioner Gary Bettman provided prior to Game 1 of the Stanley Cup Final. The major discord between the NHL and the IOC and IIHF is over the source of payment of special subsidies related to the logistics of getting players to the Olympics.
"Among the carious things that have to be covered, whether it's the transportation or insurance or accommodations, it's many, many, many millions of dollars," Bettman told reporters. "This is no small ticket item."
Those funds have previously been paid by the NHL. If the league believes people will still pay attention to a World Cup tournament in September to any sort of a relatable degree to which a wide net of hardcore and more casual fans follow men's hockey at the Olympics, it will be hit with a surprise come October 1.
It could be a busy end to the summer for Kopitar, who would take part in the World Cup of Hockey, which begins on September 17, shortly after his Olympic qualifying campaign.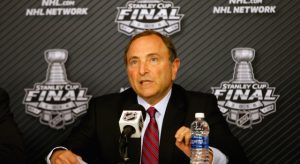 DRAFTS OF EXPANSION The league is inching towards a decision on expansion, one that could be finalized when the Board of Governors meet and vote in Las Vegas on June 22. There are three options, based on Bettman's remarks and reports from the Stanley Cup Final: "expansion by one or two teams for 2017-18, deferring expansion until 2018, or putting it on hold altogether," as noted by Steve Carp of the Las Vegas Review-Journal. Bettman noted that he would like to have a firmer plan in place in advance of the Board of Governors meetings, and that a hypothetical relocation of the NFL's Oakland Raiders to Las Vegas would not have an impact on expansion proceedings.
Details of a potential expansion draft are continuing to emerge. Wrote Carp:
Daly said some tweaks remain for a potential expansion draft and also where an expansion team would be slotted in the 2007 entry draft. First- and second-year profesionals would be exempt from an expansion draft, players with a no-move contracts would not be exposed and players with no-trade clauses would be vulnerable. Also, there would be no guarantee an expansion team would get the No. 1 overall pick in 2017 or that the team would be part of the draft lottery.
This, of course, affects a Kings that has explored options of how to best handle Dustin Brown and his contract, which runs through 2022 at a $5.875-million cap hit. Los Angeles has explored trade options with Brown but is yet to find a taker for his contract. By virtue of what was clarified to reporters, Brown, who, according to General Fanager has a "modified no-trade clause," would eligible for exposure in the expansion draft. Chris Johnston of Sportsnet has a good write-up of the proceedings here.
VOYNOV This wasn't really any sort of breaking news, but rather a reiteration of what had been shared by Deputy Commissioner Bill Daly in a statement last week: Slava Voynov will not be eligible to participate in the World Cup of Hockey. "There has been no change in his status," Bettman said. "He has been suspended from the league, and the Russian Federation was told that he was not eligible to play in the World Cup."
FLATLINED CAP? More on this as the off-season progresses, but there was this ominous note from Johnston on the potential increase of the cap: "Daly said the 2016-17 salary cap is "looking relatively flat" from its current spot at $71.4 million, which will come as bad news for those flying close to the sun. At one time it was projected to rise by as much as $3 million."
Here are several snippets of Bettman's state-of-the-game remarks in advance of Game 1. Note that the press conference had been edited down from its original length.