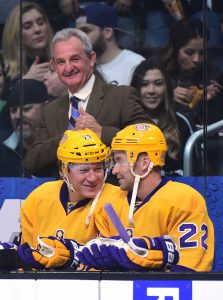 The Los Angeles Kings and Darryl Sutter have agreed to terms on a contract extension, the team announced Friday morning. Though term and financial details were not included in the release, Lisa Dillman of the LA Times had previously reported that the contract was for two years plus an option year, and that Sutter will earn "in excess of what Todd McLellan received from the Edmonton Oilers and less than what Mike Babcock got from the Toronto Maple Leafs." McLellan signed with Edmonton for a reported $15-million over five years, while Babcock signed with Toronto for a reported $50-million over eight years last May.
Though Sutter had previously stated that he was gauging the Kings' off-season work as it relates to free agency, the salary cap and team prospects, several team sources expressed optimism in conversations with LA Kings Insider over the past week that the new contract would be finalized relatively quickly.
Another hockey operations source told LA Kings Insider that no changes or additional titles are expected to be made with the coaching staff, which is expected to return intact.
Sutter has been attending AHL playoff games in Ontario, where his son, Brett, plays for the Reign. He's had a firsthand look at many of the club's top prospects, who are expected to contend for an array of roles on the 2016-17 Kings. Because Los Angeles has spent to the salary cap ceiling during their window of championship contention, the team will be looking to fill available depth spots with players who have served key roles on the 2015 Calder Cup championship Manchester Monarchs, and this year's Ontario team, which leads its second round, best-of-seven series with San Diego two games to one.
The 24th head coach in Los Angeles Kings history, Sutter is 186-112-45 in the regular season and 42-27 in the postseason with the Kings, whom he guided to Stanley Cups in 2012 and 2014. He was originally hired on December 20, 2011.
There's lots more to come today on Sutter, so stay tuned, Insiders.