Some notes from today's 10 a.m. practice at CBBA as the Reign, with a 2-1 series lead, prep for Game 4 against San Diego on Friday. After being shut out in Game 3, the Reign are looking to rebound and may have some bodies back …
–Forward Jonny Brodzinski has not played a game in this series due to injury but on Wednesday, although wearing no-contact red, was skating on the right wing with first-line center Nic Dowd and left wing Michael Mersch. "We're optimistic for a return," head coach Mike Stothers said. "Not sure when but all things are pointing favorably anyway." Brodzinski, who had two goals in the series against San Jose, had plenty of jump in practice. "It's going to be game time, coming up to this next game on Friday," Brodzinski answered when asked on a scale of 1 to 10 how close he is. "Hopefully everything's positive coming back from the doctors, but it will be game time." Brodzinski will see the doctors Thursday. "Last week I did a lot of conditioning, just staying in the loop as far as that goes," he said. "Yeah, I felt like I was right back in it this week." The Reign have missed his shot and goal production. No player on the team has more than two goals in the postseason. "We have to wait and see," Stothers said. "I don't know where you could put it in 1-10 but he's practicing so that's great. I would say we're closer than farther."
–Forward Ryan Horvat has been cleared to play after missing the last six playoff games after suffering an injury in Game 1 against San Jose. "We're looking forward to getting him back into the lineup and he'll play Friday," Stothers said. "I think that's good for us. Gives us a guy that can play the wing, can play in the middle. He's a penalty killer for us so I think that's important. And he plays a physical game. Certainly going into San Diego on Friday it's usually a lot of banging, a lot of crashing. [He] provides that for us, so that's good." Horvat was skating on the left wing with center Kris Newbury and Paul Bissonnette. If that line stays that way it gives the Reign quite a rugged option.
–Veteran center Brett Sutter has been limited to just three postseason games due to injury and there is no timetable for his return. He did not skate on Wednesday. "It is what it is," Stothers said. "It's got to heal up." Defenseman Kevin Raine also did not practice and is in the same boat after missing the last two games of this series. "He's banged up, he just needs some time," Stothers said. "It's too bad for him, had a great [Game 2] him and Schultzy that night and woke up the next day a little stiff. Again, him and Sutter are basically 'time.' Some days are really good and they're making some huge improvements for us so we're optimistic like we were for Crescenzi, he came back, we're optimistic for Horvat, he came back. We're optimistic about Brodz, so he's at least skating." With Raine out of the lineup, Nick Ebert has jumped into the pairing with Jeff Schultz.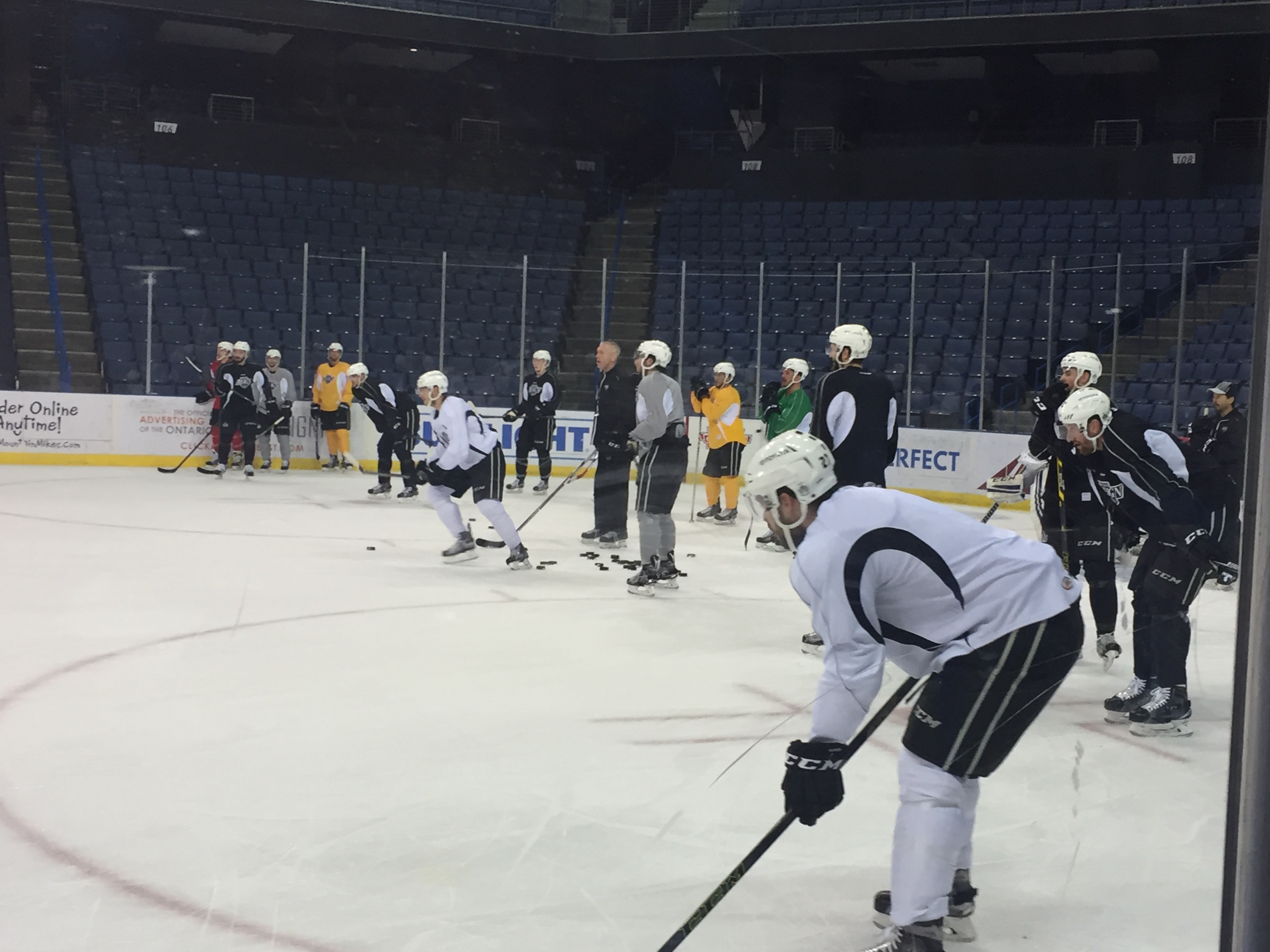 –Stothers had rookie Mike Amadio centering Adrian Kempe and Sean Backman late in the Game 3 loss as he shuffled the lines in an attempt to get a spark out of his team. That line, full of some of the faster skaters on the team in Backman and Kempe, was together again on Wednesday. Provided Brodzinski can return and not cause a ripple effect on the other lines, we may see this new line in Game 4. Perhaps that could provide a spark for the veteran Backman, who despite leading the team in scoring in the regular season with 55 points, has been held without a goal in these playoffs. I'll have another post on Backman coming Thursday about how he's looking to bust out of this slump.
–The Reign were on the ice for just 33 minutes in a fast-paced practice that included plenty of forecheck work, regroup work, and skating in general.
–Starting goalie Peter Budaj, who has by no surprise played every game this postseason, was given a rest day with the Reign in the middle of this 1-1-1-1-1-1 series. "There's a lot of hockey to be played in a short amount of time," Stothers said of Budaj, who like the team carries a 5-2 record. "The way the schedule is … he really doesn't need to take any shots today. Good day to just kind of hang out. Hopefully the weather's good for him. He can lay low. He had a great practice yesterday, so he'll be back in tomorrow." Rookie Jack Flinn and usual backup Michael Houser were both on the ice.
Stothers, on the focus this week and how to rebound in Game 4:
We just got back to work, refocused. I think Sunday night's behind us. I've liked what I've seen. We had a recovery day Monday, Tuesday was a real good practice and I liked the focus and business-like approach that we had today, too. Tomorrow's Thursday so we've got one more practice day and then we're back down to San Diego. I'm looking forward to it. It's going to be a good rebound game for us.
Stothers, on breaking through on Gulls goalie Matt Hackett:
I think we just had a big game from Merschy, right? Just talked about him and his grandpa, weren't we? And Augs scores a big goal for us in overtime. That's what you've got to do. Every goalie's good if they can see the puck. We've got to make sure, as we did with some of the goals, get it front of him, get some traffic. But he's been playing well. Their team's been playing well. It's not surprising. It's two good teams. We knew goaltending was a strength for them even if it was Khudobin or Hackett. It's just the way it is.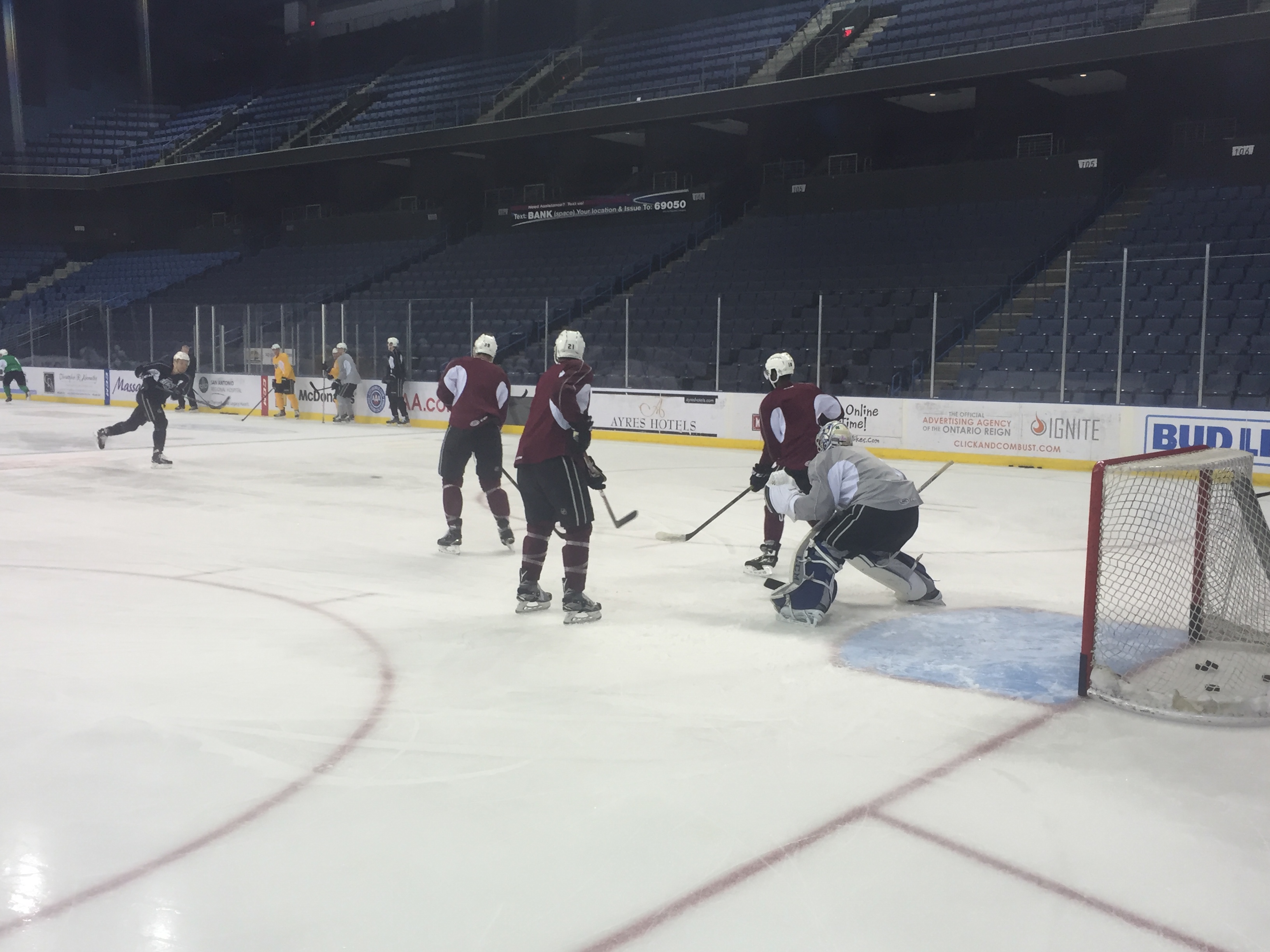 Mersch, on how to avoid what happened in Game 3 in Game 4:
Just have a better start and carry it out. Get out on the forecheck at little bit more and go from there.
Mersch, on beating Hackett:
We won the first two games, so do the same things we did in those games. Get to the net. Our D have done a really good job at getting the pucks from the point to the net. We as forwards just have to bear down on those opportunities.
Backman, on how to avoid what happened in Game 3 in Game 4:
Just back to hard work this week in practice. Obviously you don't want to lose any game but we knew coming in a sweep was probably unrealistic with a team like San Diego. So we just get right back to work. Nothing changes from us. We try to just put that game in our rear-view and focus on the next one.
Backman, on the focus this week in practice:
Today we worked on our forecheck a bit. We talked about that, keeping pucks away from Hackett so it's not as easy for them to break out. Also, goal scoring too, getting pucks to the net with traffic and capitalizing on those chances that we get.
Backman, on the series as a whole:
They've been physical games. They've been tight games. Stuff we've seen all year from this team. There really hasn't been too many surprises.
Backman, on the physicality:
The stuff after the whistle is what we've seen all year, it's expected playing against these guys. This is playoff hockey so guys are going to be physical, there's going to be hard hits and that's stuff to be expected.