Reign game breakdown
A 3-0 series lead was in the Reign's reach going into Game 3 on Sunday on home ice against San Diego, the end of three games in a four-day stretch. The kind of 3-0 Ontario was seeking was instead flipped by the Gulls, who outplayed the Reign in a 3-0 win to get back in the series trailing two games to one. "They were the better team," Reign head coach Mike Stothers said. "That's all I got to say about it. They were the better team. We weren't nearly good enough to even think that we were going to beat them tonight. Kudos to them. Good push, good game." It started at puck drop for the Gulls — a deflection in the first minute and the red light behind goalie Peter Budaj was on, but later the officials ruled no goal. Again, with just under 8 minutes left in the opening period Harry Zolnierczyk hit a flying rebound down and into the net, but it was rightly called a high stick on the ice and stood under review. Finally the Gulls broke through with 1:33 remaining when Adrian Kempe lost his coverage of Kalle Kossila in the corner and Antoine Laganiere found the rookie for an easy shot into the empty net to Budaj's right. A night prior, Gulls goalie Matt Hackett saved his team time and again but took a 2-1 overtime loss. On Sunday, he did more of the same against Ontario, weathering their 10 shots on goal in the first period. The Reign's closest chance at a goal all game was a post hit by defenseman Jeff Schultz with less than 8 minutes left in the second period. "I don't know how many shots we had tonight but I don't know how many opportunities we really had," said defenseman Kevin Gravel. In the two wins in the series for the Reign, their power play came through, but it was a miserable 0-for-3 on Sunday and couldn't control the puck to get quality chances on Hackett, even when starting the third period with 1:35 of man advantage time and down 1-0. Instead, San Diego capitalized on theirs. With Schultz in the box for cross-checking, Nick Ritchie scored on a rebound with just two seconds left on the man advantage to put the Gulls up by 2 at the 8:18 mark. It was the first power play goal the Reign have surrendered this postseason. Stothers tried mixing the lines in the third to get any spark from his team. "I can only watch for so long," he said. "If I don't like what I'm seeing then I'm going to change it up. … We didn't have anything going, so doesn't make much sense to keep rolling the same guys out if there's nothing going on." But nothing seemed to work, and afterwards Stothers admitted that his squad was, "not quite in sync, not quite in focus." Budaj was pulled with 3:39 remaining in regulation in hopes of a comeback, but instead Jaycob Megna fired into the empty net deep in his own zone 28 seconds later. Hackett finished with 29 saves in the shutout performance and Budaj had 24.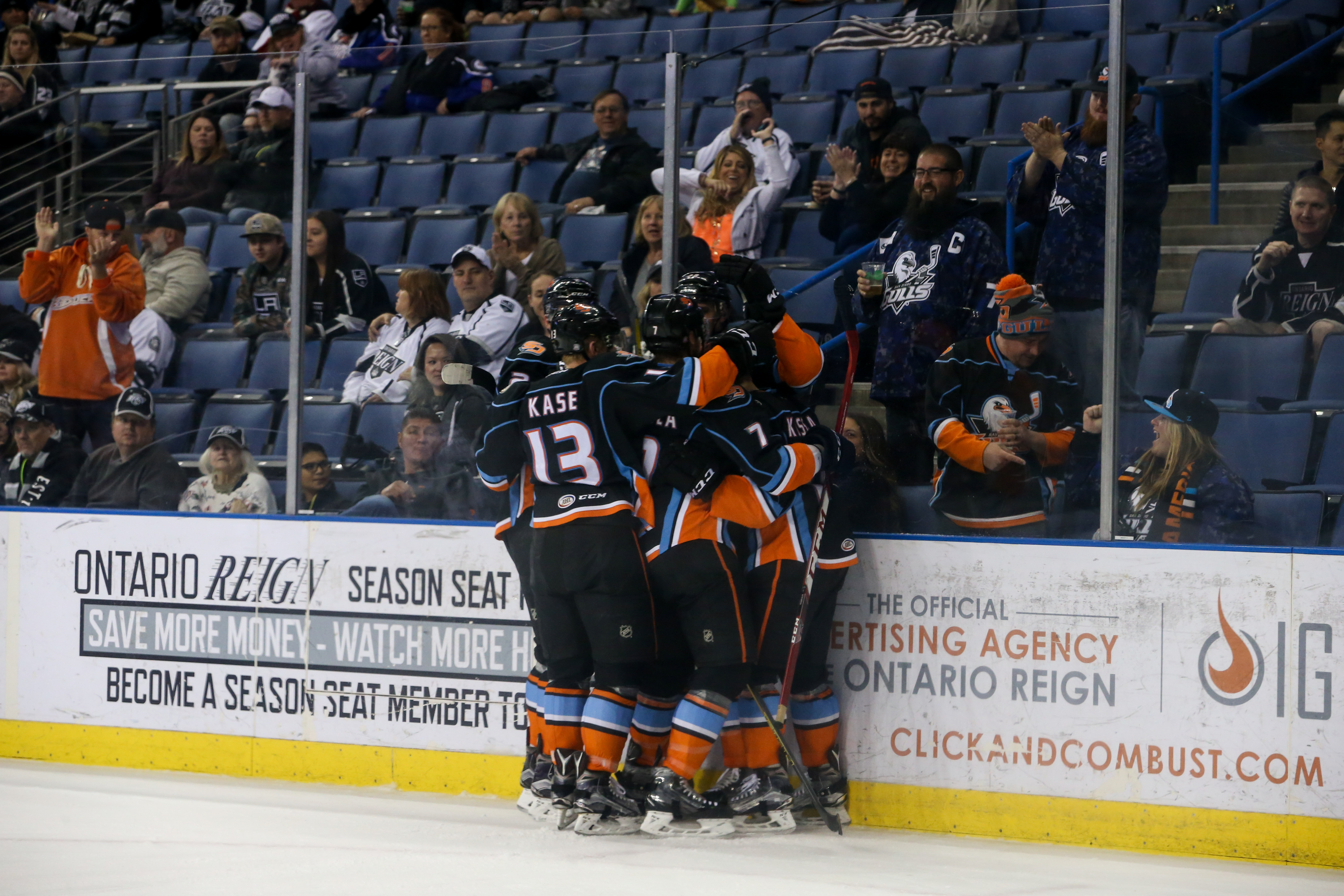 Best quote
Gravel, on moving on after a loss: "It's a long series. Everyone expected it. Obviously you want to win every game you play but we got four or five days here to regroup, take a step back and evaluate where we're at and evaluate our game here and have a good week of practice."
Three stars
–Matt Hackett – The Gulls goalie faced 44 shots a night prior and after this shutout, had 73 shots fired on his net in less that 24 hours. This was a redemption win for the netminder who was devastated after the OT loss in Game 2, and tweeted to his fans thanking them for the support. Hackett, the backup in for the injured Anton Khudobin, won his second game of the playoffs and he celebrated this one with a ferocious fist pump. "We needed that game," he told the San Diego Union-Tribune.
–Kalle Kossila – San Diego coach Dallas Eakins may be wondering why on earth he scratched the former St. Cloud State forward in Game 2 of this series. Kossila scored in San Diego's 5-3 loss in Game 1 and was a big-time contributor in this Game 3 win. Kossila beat Kempe to get open on the first goal and also took the cross-check from Schultz behind the Reign net that resulted in Ritchie's power play tally.
–Nick Ritchie – Stothers has called Ritchie a talented, "big son of a gun," and the presence of the Gulls star would not be denied in Game 3. Ritchie scored his fifth goal of the postseason and his second in as many games to help his team's talented power play finally solve the Reign's equally talented PK. Ritchie hammered the puck through Budaj's five hole after Brandon Montour's shot from the top of the blue line left a juicy rebound to put his team up 2-0.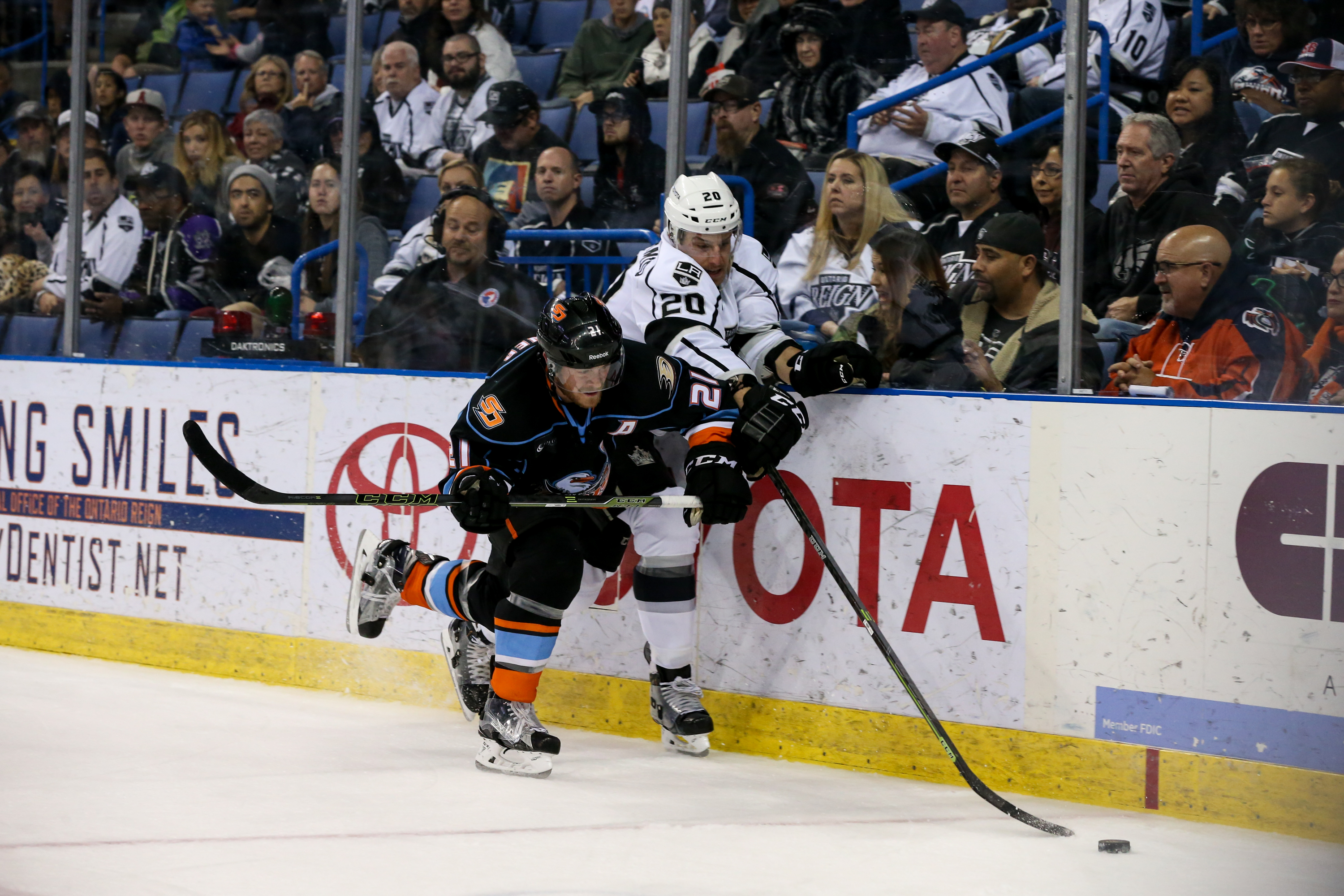 Turning point
No one was on the big-bodied Ritchie on his power play goal and the play alone deflated Ontario. With the Reign generating little chances (just 6 SOG in the third period) and San Diego up 2-0 and moving into its neutral zone trap, there was also little hope for a comeback.
Stat fact
–19 – Perfect penalty kills to start the postseason for Ontario before surrendering the goal to Ritchie.
This and that off-ice
Kings assistant coach John Stevens was in attendance, as well as head coach Darryl Sutter, who's been seen at games lately.
Next up
The Reign have a recovery day on Monday and will get back to practice the rest of the week before Game 4 on Friday night in San Diego at 7:05 p.m.