Reign game breakdown
With one swing of his stick in overtime Justin Auger put an end to what had been the story all night — the top notch play of Gulls goalie Matt Hackett. The Reign winger scored at 11:55 of overtime on his team's 44th shot, a rebound of a Kevin Gravel wrister from the right point following a faceoff win by Adrian Kempe. Once Auger beat Hackett just outside of his crease, the goalie laid on his back in disbelief. He could only be wondering what else he had to do to beat the Reign as they took a 2-1 win on the Gulls' home ice and a 2-0 series lead with a Game 3 turnaround Sunday in Ontario. It had been his night. Too many times to count, Hackett's glove stopped bids by Nic Dowd, Nick Ebert, Gravel and more, enough so that after the game Reign head coach Mike Stothers compared his performance to that of a golden glove center fielder in baseball. When the Gulls' Nick Ritchie scored the first goal 3:22 into the opening period on Peter Budaj, who finished with 24 saves, the Valley View Casino Center was rocking. Ritchie snuck in below the right circle and Chris Mueller found him with a pass from behind the net just ticks after their power play expired. From there the game was all Hackett, who had 17 saves in the first period alone. Finally after 38:17 of scoreless hockey, veteran Kris Newbury broke the Reign's silence on a power play goal at 1:39 of the third. As Vincent LoVerde fired from the right point, Newbury got in front of Hackett for a deflection that put some belief in Ontario's sticks again. "It's pretty challenging when a guy gets hot like that. Personally, he made like four or five saves against myself," said Dowd. "It's tough but that's the only thing you can do is keep chucking pucks on net and hopefully good things will happen. Finally we get a tip and the puck goes in." Still, Hackett came up with more stops in the third, including one on Ebert who could only look to the sky afterwards. Overtime seemed inevitable and at the start of the extra frame, Newbury missed a wide-open net. "Discouraged? No. Reload. Run out of bullets? Reload. Empty the magazine, let's go," Stothers said of his team's mentality. Reload they did, outshooting the Gulls 8-3 in the extra frame before Auger's second of the postseason finally put them on top.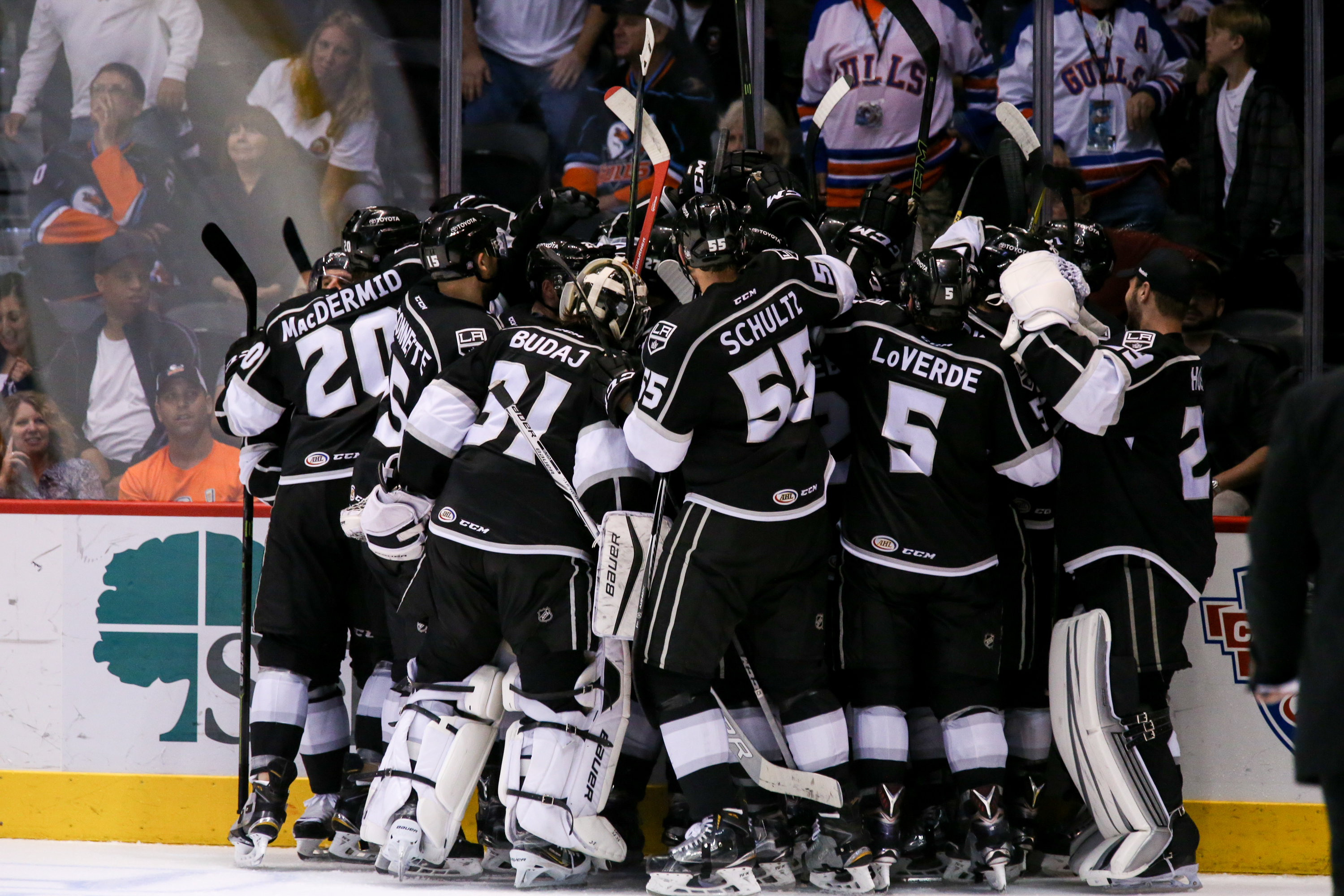 Best quotes
Auger, on his game-winning goal and the celebration that followed: "I think I got a couple face-washes in there. I was actually surprised. I didn't know it went in until everyone all started celebrating. I was kind of in shock for a couple minutes there."
Three stars
–Justin Auger – "Tonight, very opportunistic. He's a big body. As the game wears on, those bigger bodies are harder to move out," Stothers said of the 6-foot-7 Auger. As season ago, Auger wasn't the force his coach is expecting him to be in these playoffs. Auger in turn is embracing the extra ice time and the confidence Stothers has in him. No Gulls player was near Auger on his game-winner and he made them pay, scoring on his fifth shot of the game.
–Matt Hackett – The Gulls goalie had the names of nearly all the Reign players in his glove. He stopped Michael Mersch in the slot in the first period, Dowd on a 2-on-1 with Mersch in the second period. One after another in the third period he stopped Gravel, Dowd and Ebert. Subbing in for injured starter Anton Khudobin, Hackett did all he could to steal this game for the Gulls and was impressive in his attempt.
–Kris Newbury – On his game-tying goal the veteran threw the puck up the boards from behind the net to LoVerde and then had the presence of mind to get in front of Hackett, who was stopping everything he saw. "Just able to get to the point and my first instinct was get to the net and was able to get my stick on it. It was a big goal for us," he said.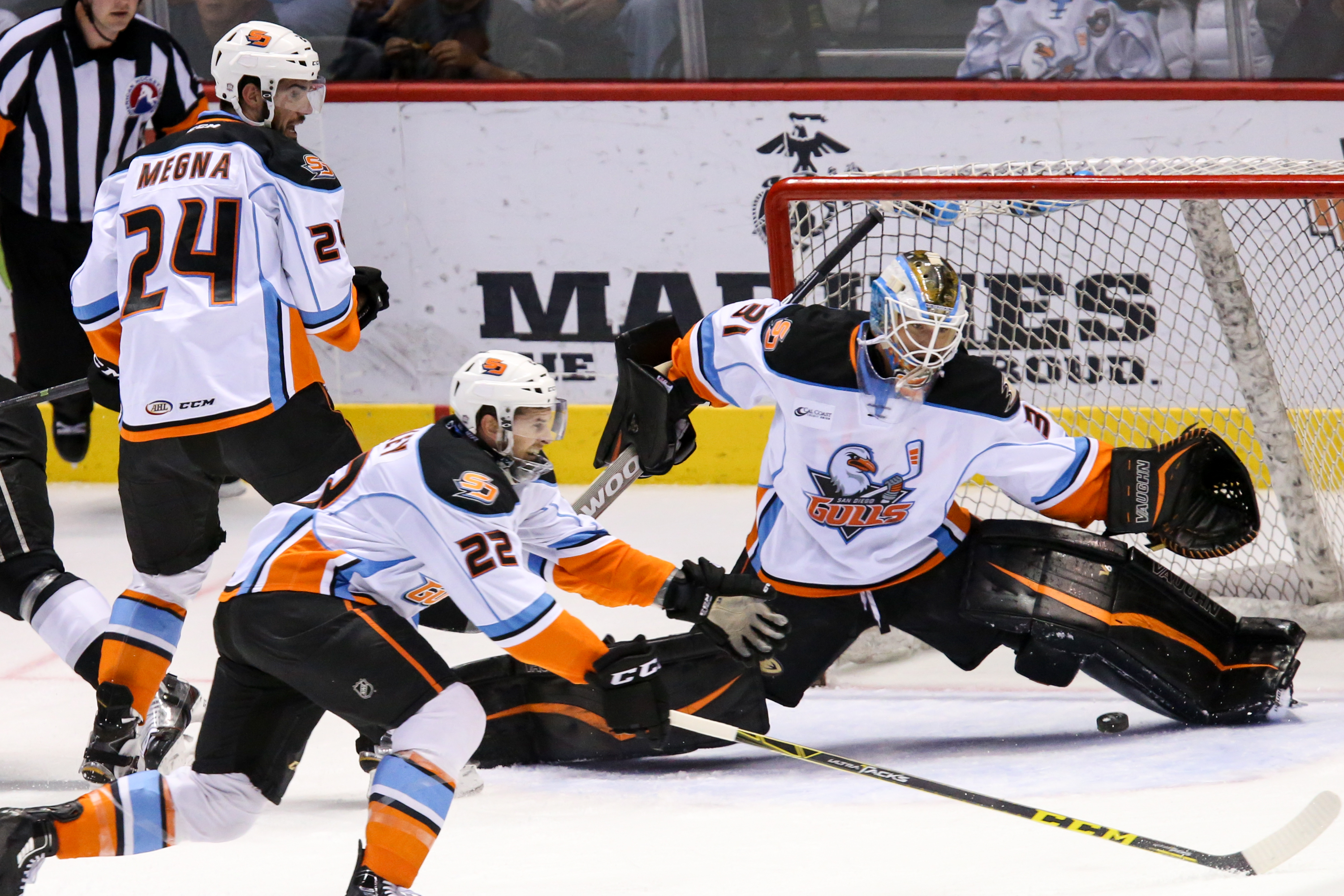 Turning point
Newbury's goal at least ensured, if anything, that Hackett wasn't invincible. Newbury's fist-pumping celebration was for all his teammates who had been stopped before to enjoy. And it was a power play goal no less. The Reign's power play has two goals in the series and the PK has kept San Diego scoreless on all of its 7 tries.
Stat fact
–34 – The Gulls were 34-0-0-0 when leading after two periods in the regular season and postseason combined. This loss ended their unbeaten streak.
This and that off-ice
The Gulls, who were second in attendance league-wide during the regular season, had 7,621 fans at the game.
Next up
Hello, Sunday. The Reign wrapped up overtime of this one an hour and 40 minutes before midnight. The teams square off in Game 3 in Ontario at 7 p.m. and the Reign have the chance to go up 3-0. "We're looking forward to the opportunity tomorrow," Newbury said. "It's good to get right back on the horse and try to get another one tomorrow and then we've got a couple days off after that. We can get our rest after tomorrow night."