Much of the success the Los Angeles Kings generated in recent peak years stemmed from their ability to mesh the calculable with the intangible. They have been, at the same time, a team that possessed the puck to a greater degree than any other National Hockey League team, while also relying on a leadership group that had forged its own identity in constructing the pillars of a team culture. "Resilient" was among the adjectives to describe the 2013-14 Los Angeles Kings, a team that colloquially was referred to in the playoffs as "cockroaches" because of their unwillingness to go away.
But as data and "advanced" statistics have proliferated past arbitration hearings and throughout far reaches of the sport over the last decade, the way many observers follow and analyze the game has evolved, and there is still a divide over how best to incorporate new schools of thought when there can be a pervasive old school approach exhibited by those who have played, coached and managed the game for virtually their entire lives.
"What do you think my chances are to go downstairs and hand Darryl Sutter a computer sheet?" Dean Lombardi said during media availability last month. It was an anecdotal statement, and it's also fairly misleading. The Kings, winners of two Stanley Cups this decade, do have a finely tuned analytics approach, and to think that Darryl Sutter isn't aware of particular aspects of performance – namely possession, zone exits, entries and starts – and methods in which he can wring the highest level production out of his team would be to underestimate someone who is the smartest person of any room he enters. Sutter does rely, to varying degrees, on numbers, statistics and data in many of his decisions.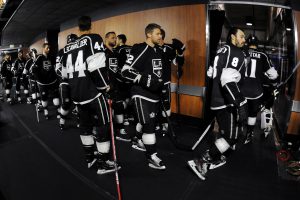 The Kings may actually be a team that effectively walks the tightrope between being overly reliant on cold, hard data, and the intangible, emotional aspects of a game that is among the most unpredictable throughout organized team sports. LA Kings Insider wrote about this in the summer of 2014, when Lombardi cautioned against using analytics as the "holy grail" of player and team evaluation. Several of those sentiments were re-aired, in slightly different words, when Lombardi met with reporters prior to the start of the playoffs.
"You've got to be careful with some of these things," said Lombardi, who has declined to discuss the focus of his implementation of analytics publicly, and said in 2014, "You can get my book when I'm done."
"The one thing that's missing in all of this – nobody's shown the correlation to winning," he continued last month. "So what you have is some statistics being created in a vacuum, where I could say, 'on a sunny day, this is going to happen.' And that's, in essence, what a lot of this is. They haven't shown how strong the correlation is to winning. And I've had some pretty smart guys in here. … I get it, and I'll use it as a touchstone. I think it's a great check-off. But … they can't prove it, and there's a reason they can't prove it. It probably doesn't have the weight on winning and losing you'd like to think. And, this is what I come back to. Again, it has relevance. But to think you're going to design a game plan on it? No game is still more in touch with emotion and will and heart than hockey. It's the complete equalizer, and no sport can close the talent gap with lesser talent with heart. Baseball can't do it. Football, close, and basketball."
These topics are something to consider when there have been debates over why the team acquired Player A, or why Player B isn't being as acutely considered in certain situations. There are reasons, both calculable and incalculable, that go into the team's decision making process at both the coaching and managerial levels.
"That whole intangible of things we started talking about initially – the transition of leadership, the culture – you can't put a number on that," Lombardi said. "It's still not verifiable, other than when you know it when you feel it and see it. I say it to you guys all the time. You guys know it when you go in that locker room. What is that? It's not statistics, but you know it when you see it. Body language, the way of the locker room, the tempo, how loud or soft, it's there."
Has a device that measures neutrinos been invented yet?
"For somebody to figure that out, you'll make a fortune."