ANDY ANDREOFF
This season: 60 games, 8 goals, 2 assists, 10 points, 76 penalty minutes, +1 rating, -6.8% CFRel%, 8:34 time on ice
The good: In an evaluation of Andy Andreoff's rookie season last spring, it was written that "if he's able to make a leap from an 18-game body of work to a 60-something game body of work and shows improvement in his analytics and production while continuing to build his identity, it'll be close to as positive of a season as could reasonably be expected," and hey! That's awfully close to what happened. His possession metrics didn't take a step forward, though his production did as he was more firmly able to chisel out a niche with the team and ultimately finished with eight goals – on only 46 shots – as he widened his workload from 18 games to 60. It was a non-always-linear but definite forward step for the versatile depth player, who is capable of lining up at both wing and center. Most notably, Andreoff increased his offensive output, which was important for a team that entered the year looking to boost production from its third and fourth lines. His 10 career goals have come on only 60 shots, a 17.4% shooting percentage reflective of his ability to cash in around the net. His .92 goals per 60 minutes in five-on-five play ranked third on the club, between Tyler Toffoli and Milan Lucic, so he was helpful when in the offensive zone. His plus-three penalty plus-minus tied for fifth on the team, and he won half of his faceoffs. Andreoff's strengths were much more visible on most nights over the final 20 games of the season, and he really began to round into form at the time the playoffs began, having totaled four goals, five points and a plus-four rating over his final eight regular season games. In his first playoff experience, he generated a pair of scoring opportunities on both a denied deflection from in front of the net and on his cross-slot feed to Kyle Clifford late in Game 1, but didn't suit up in the final four postseason games.
The bad: Andreoff started 40% of his shifts in the offensive zone, the highest offensive zone start rate amongst Kings forwards. Despite those cushioned minutes, only 50.5% of all shot attempts while he was on the ice were directed towards the attacking net. That inability to drive play towards the opponents' net has been a bit of a concern through his first two NHL seasons. Even in a period when he experienced a scoring spike, Darryl Sutter said on April 8, "…if you actually broke that down and looked at that game, those important goals that Kris [Versteeg] scored and that line scored, they were also too many D-zone starts for them, which icings, things like that, which result in penalties and goals against, and that costs you series. So there's a lot more to it than what you think." By War-on-Ice's tally, the Kings claimed 48.1% of all scoring chances while Andreoff was on the ice, and that's a rate that will have to improve for a team that places heavy value in claiming the greater share of threatening oportunities. Andreoff's numbers actually improved when Jordan Nolan was lost for the season in late February. The two were on the ice for 237:06 together, which represented the most minutes Andreoff logged with any teammate. But they compiled just a 44.8% raw, five-on-five Corsi-for rating while averaging just 1.27 goals per 60 minutes. After Nolan (237:06) and Clifford (221:45) – the two individual players with whom Andreoff saw the most ice alongside – he averaged less than one goal against per 60 minutes (that's a very good thing!) with the next five players with whom he saw the most ice, a group that included Drew Doughty (197:57), Jake Muzzin (184:34), Brayden McNabb (164:13), Alec Martinez (158:42) and Nick Shore (141:23). But as long as the group remains Kings, it's not a stretch to think that he'll see a plurality of his ice time alongside Nolan and/or Clifford, so those possession and goal rates amongst depth forwards will need to improve in the coming year. For a player to play regularly, he'll have to command more than eight minutes and 34 seconds of ice time per game. Andreoff did not factor into special teams, so that will be an area in which he'll expect to grow towards and contribute more regularly in the coming season.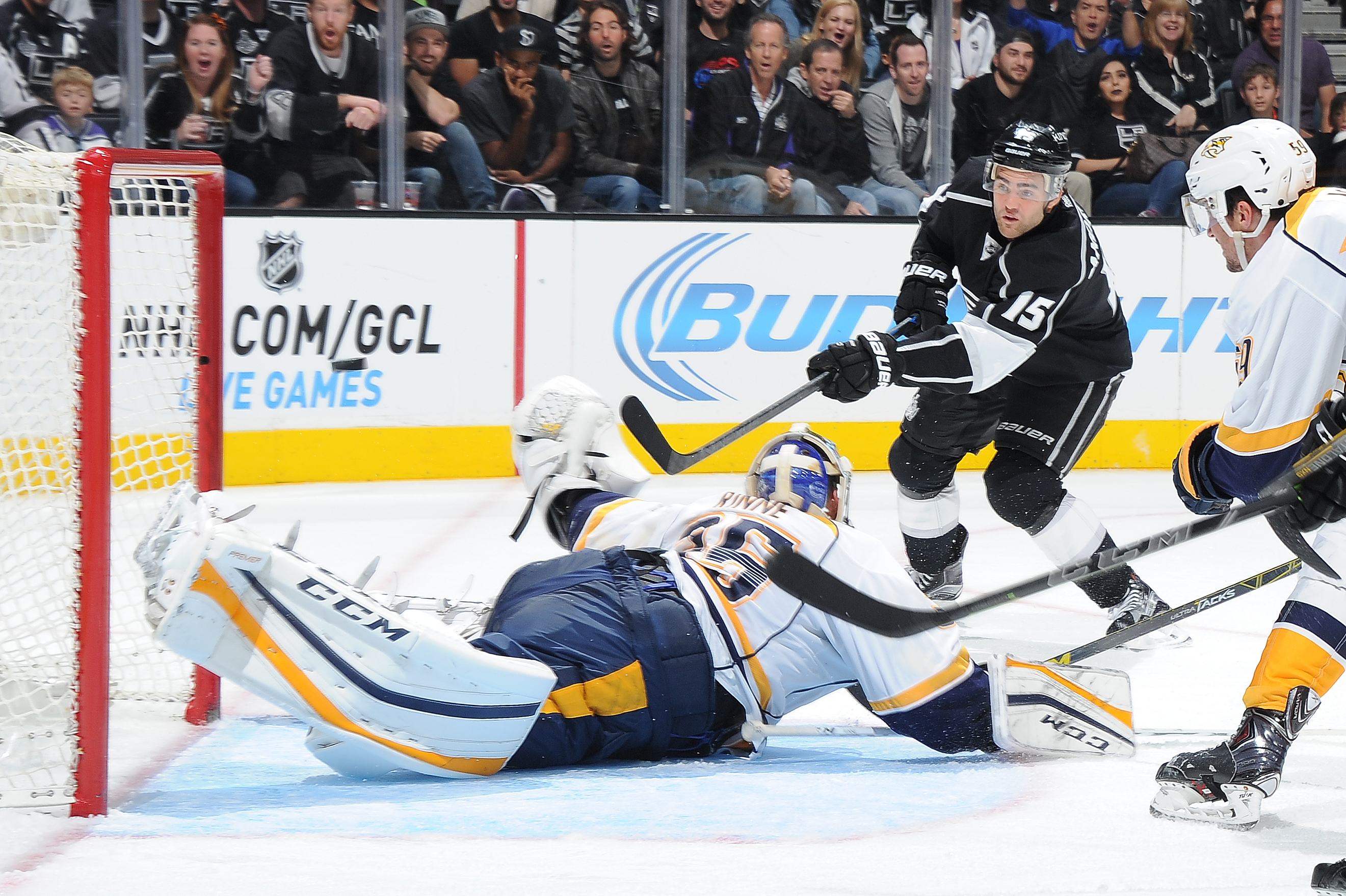 Going forward: There was some visible growth this season from Andreoff. He had made the 2014-15 team because he was out of waiver options, and the team didn't want to risk losing him. He more often than not was written into Darryl Sutter's lineup card in 2015-16, and en route to a late-season scoring binge showed that he had more forcefully played to his role as a hard-nosed, competitive checking forward capable of playing both on the half wall as well as down the middle. He showed good hands around the net, and for $587,500, his services will continue to come at a relative bargain for as long as he remains productive. A big season lies ahead for Andreoff, who has not yet answered in full whether he's capable of holding down a regular lineup spot on a good NHL team. There were encouraging results earlier this spring, but as Nic Dowd and Nick Shore also compete for depth minutes, the question is also raised as to whether he'll be a better fit on the wing. For him to earn more trust from the coaching staff, he'll have to play more frequently in the offensive zone and avoid the icings and hemmed in play that at times became overlooked from the outside by the production he was able to generate. Trevor Lewis is an unrestricted free agent, and while Andreoff doesn't quite have the same experience as the two-time Cup winner, he does have a skill set that could be forged into a similar role as Lewis', should financial circumstances make re-signing the Utahn difficult. It will be a positive season if Andreoff averages in the neighborhood of 10 minutes per game next season while building on his late-season production and improving his all-around possession and attacking metrics.
Andreoff evaluations: 2015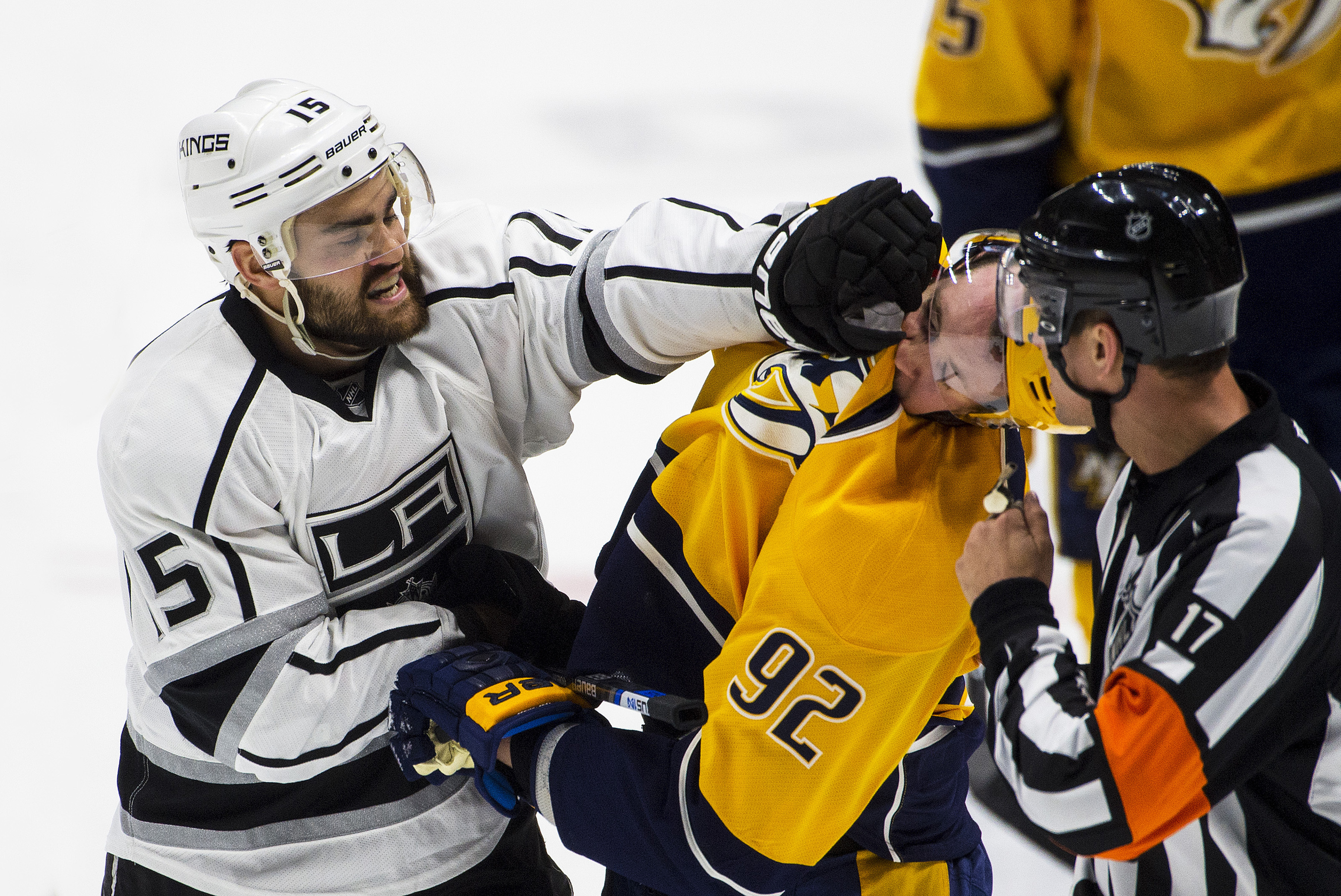 Player evaluations: ANDREOFF (more to come!)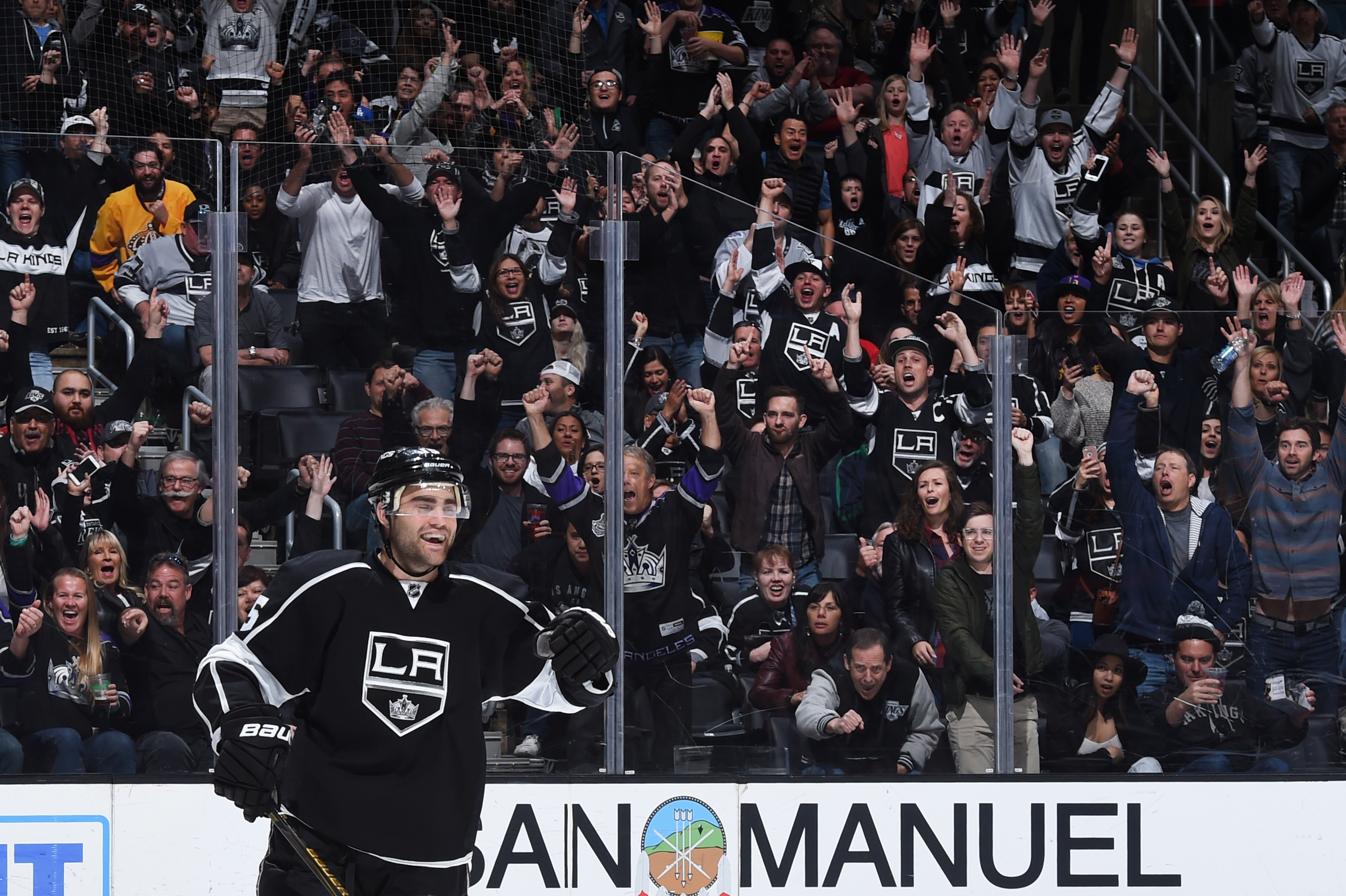 -advanced stats via War-on-Ice, Stats.HockeyAnalysis.com