Reign game breakdown
It took one punch. The Reign are moving on. Given the chance to end San Jose's season in Game 4 on Friday night, Ontario dipped into the pockets of their third-liners and came out on top 4-1, winning the best-of-5 first round series 3 games to 1. Andrew Crescenzi almost didn't play. The center who was injured in Game 2 last Saturday took warmups and cracked the lineup at the last minute. He instead ignited the offense and finished with a goal and two assists. Justin Auger, the rugged right winger who had yet to arrive in the series, scored the eventual game-winner and assisted on another goal. The Reign needed the best that their role players had to offer in a matchup with San Jose that ultimately turned in their favor as soon as home-ice advantage came into play. Each of Ontario's wins in the series came after scoring the game's first goal and Nic Dowd buried a rebound in the first period on Friday to put away the all-important starter. Grabbing the momentum wasn't easy though, as San Jose came out firing on Reign goalie Peter Budaj right out of the gate. Once the Reign settled the pace, Dowd put them up. Kevin Gravel sent a puck on net from the right point and a Sean Backman try was pushed away by San Jose netminder Aaron Dell, but Dowd roofed the second attempt at the 9:12 mark. Into the second period Ontario controlled the play, but, as the Barracuda proved opportunistic in the majority of their goals in the series, they took advantage of another play to tie it. At their own blue line the Reign couldn't clear and Barclay Goodrow opted to fire a long shot on net from the left circle. Goodrow's bid glanced off Jeremy Langlois in the slot and the puck changed direction enough for Budaj to lose it at 9:58. Clearly outplaying their opposition but having just given up the tying goal, the Reign pushed on. As hard work has followed the names of Michael Mersch, Auger and Crescenzi around for most of the season, the three connected for the next goal to put the Reign up just over three minutes later, and for good. Mersch gobbled up an errant Mirco Mueller breakout pass through the middle of the ice and turned and threw it on Dell. That shot left a rebound that Crescenzi and Auger kept alive and as Dell scrambled to get back into position Auger out-waited him and threw the puck over the goalie's left shoulder. An insurance mark late in the third period at 15:33 by Jordan Samuels-Thomas started first on a chip by Crescenzi out of the Reign zone. Samuels-Thomas chipped it again and with Auger chasing down the puck, San Jose's Karl Stollery could only hope to negate Auger and by poking the puck left it sitting wide open and free for Samuels-Thomas to bury from the left circle and over Dell's glove. San Jose was simply outworked all over the ice and sustained little zone time in a do-or-die third period. Crescenzi added an empty-netter in the final two minutes to cap his return.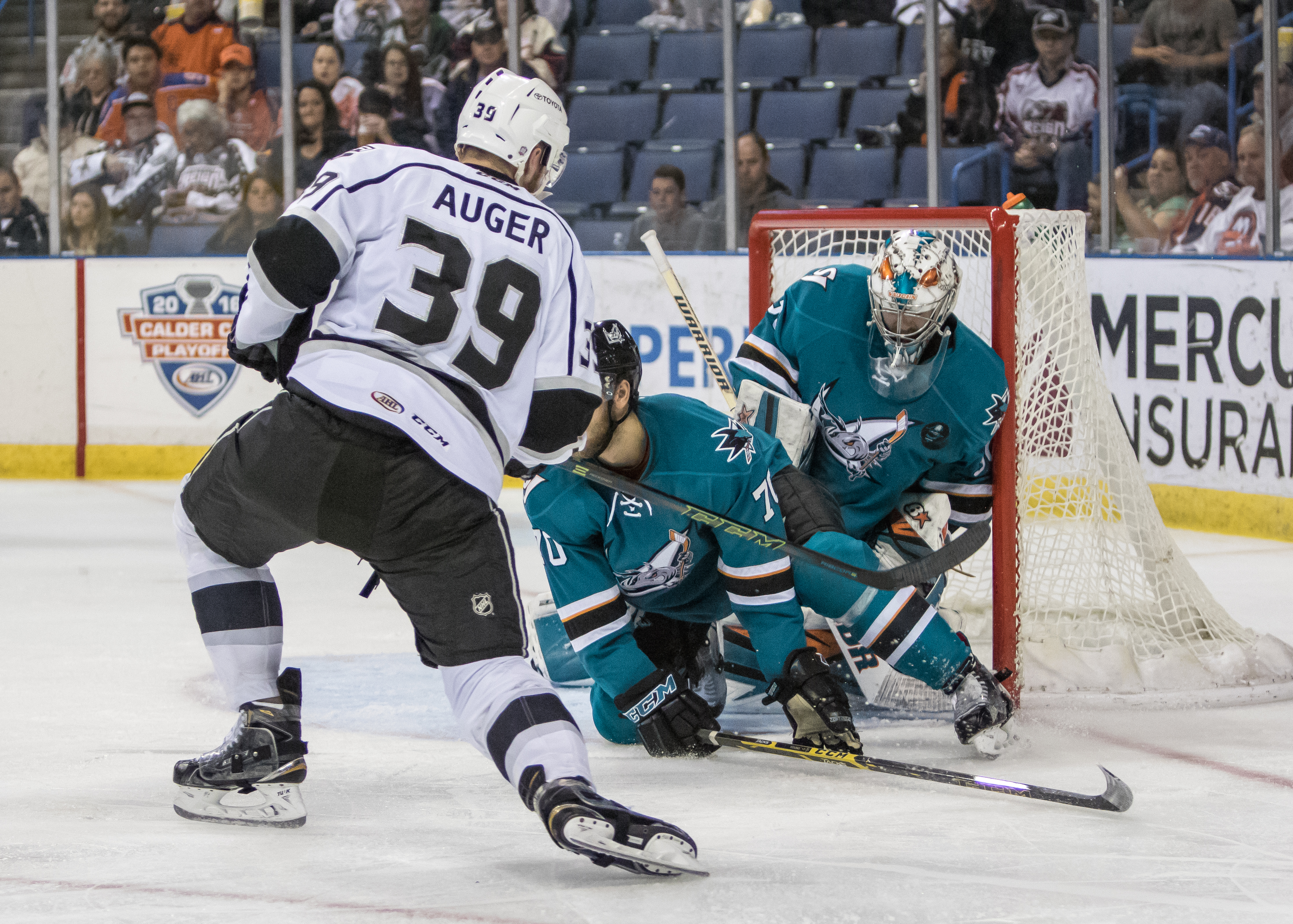 Best quote
Stothers, on the importance of Auger's goal and being able to take back the lead: "It was pretty good, pretty important. It's weird. Again, there's times on the bench when you get a sense or a feeling that maybe things are getting a little unraveled, or a little unglued, and there wasn't that tonight. … You can kind of read off the players and their demeanor and if they're not getting overly excited or concerned about it then you can tell by the way you're playing. I was pretty happy with the way we played these last two games. That was pretty impressive."
Three stars
–Andrew Crescenzi – When asked if he had to convince Stothers he was well enough to play, Crescenzi said after the game: "Just feeling better." And in more ways than one he was the best player on the ice. After missing five full periods of hockey due to an injury suffered in the first period of Game 2, the Reign needed the reliable play that Crescenzi consistently provides to win. "That went right down to the wire," Stothers said on the decision for Crescenzi to play. With Brett Sutter banged up and out of the lineup, Crescenzi's role as a center became that much more important in the potential series-clincher, a game where in the critical moments of the final period the team could not expect to turn to the services of rookie Mike Amadio. Crescenzi, who had just three points in a game once during the regular season, had a gutsy performance and was impeccable on the dot, finishing 11-5 as reported by Sheng Peng. "[He] could have had two days [of rest] and maybe if there is a Game 5 he would have been better for that one," said Stothers. "I don't like to live that way. I like to live like there is no tomorrow, let's get it done." Crescenzi didn't disappoint his coach and his three points in Game 4 tied him overall for the series lead with Dowd.
–Justin Auger – Stothers called for the 6-foot-7 Auger to be a difference-maker before the playoffs began and he was one on Friday. Said Auger, who had all his points in Game 4: "You can't depend on your first- and second-line guys every night. You need your third- and fourth-line guys to come out and contribute." Auger's size is intimidating, but at times it overshadows his patience around the net, which was on full display when he roofed the puck over Dell on the game-winner. "We don't talk about him enough," said Stothers. "You guys don't talk about him enough. I can say he's really grown and you're going to say, well he's 6-9. But his development and where he's at right now, this guy's come a long way."
–The defense – San Jose could barely get pucks through the neutral zone to attack on Budaj, who finished with 18 saves and had to stop less than 20 pucks for a second night in a row. That was due to the play off all six of the Reign's blue liners. The third period especially carried a wear-them-down approach for the Reign. While the forwards forechecked hard, any time they did happen to get beat on San Jose's breakout, the Barracuda were met in the neutral zone by the Reign's wall of defensemen. Ontario fiddled with an edge, almost riding the line of risky at times, but in turn they forced San Jose to make plays, most by which the time they tried they were too tired out to do so. "I think it's a subtle thing but our D-men did such a good job of taking away space in the neutral zone, great gaps," Dowd said. "They were attacking guys before they even got to the red line, which was brutal."
Turning point
After San Jose clawed to get back into the game, Auger quickly put the Reign back on top again. San Jose led in one game in the series, their Game 2 win. Ontario allowed just one goal in Games 3 and 4. "That's what you do, you play the regular season to prepare for this right now," Stothers said.
Stat fact
–0 – Power play goals for San Jose, which finished 0-for-9 in the series and 0-for-2 in Game 4.
This and that off-ice
Veteran centers Ryan Horvat and Sutter were out of the lineup. Horvat missed his third straight game due to injury and a dinged-up Sutter played Thursday but couldn't go in Game 4. … Loud roars were heard from the hallway outside the Reign locker room after the victory as the team celebrated.
Next up
San Diego clinched their series against Texas with a 6-2 win in Game 4 on Friday night and the Reign will meet the Ducks affiliate in the next round. Game 1 is set for Thursday at 7 p.m. at Citizens Business Bank Arena and the best-of-7 series will feature a rare 1-1-1-1-1-1-1 format.